I swear, if one more person emails me a link to that high school kid who built a wooden bike, I am going to lose my mind.
For the lucky ones among you who haven't yet received this email chain, an online woodworking newsletter has an article about Marco Facciola, a 16-year-old kid who built a bike — even the chain — out of wood.
Here he and his bike are: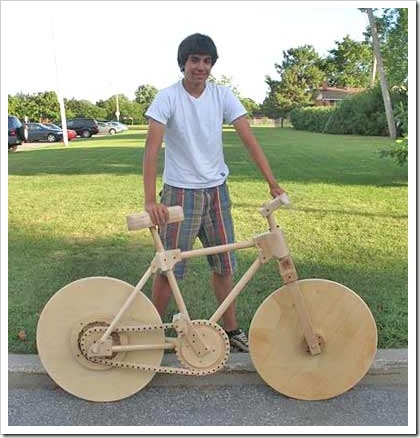 And here's the detail of the drivetrain.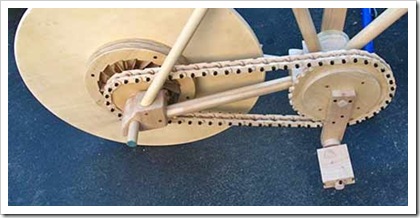 Sure, I can understand why some people would be impressed by a project like this, but I have more exacting standards. So, Marco, here are a few questions I have for  you.
Where are the derailleurs? I suppose if you're lazy, single speed was an option, but I think that if I had a bike like that, I'd want to at least set it up as 3 x 8 (though I think we can all agree that a nine speed cassette would be required if you want an A+ in the project). Or maybe — if you're feeling like just phoning it in — make a nice wooden 14-speed internal-geared hub. Diagram included for your convenience.
Isn't that bike too heavy? Looking at that bike, I would estimate it weighs at least 30 pounds. It's going to climb like a pig.
No suspension? I expect a wooden bike is going to have some measure of vertical compliance built in, but if you want to do ledge drops, you're going to want to build your next wooden bike with wooden suspension. Perhaps you might want to look into some sort of wooden leaf-spring system. Or something.
26" wheels? Dude, all the best wooden plate wheels are being built as 29-ers now. Get modern.
Is your pedal system acceptable? I suppose some casual riders are OK with a wooden platform system, but next time you might want to build some wooden Speedplays. I'm thinking a nice mahogany-color.
No kickstand? What's a modern bike without a kickstand?
Stuff I Have Built Bicycles Out Of
I'm sure some of you are thinking, "Well, Fatty, if you're going to lecture this kid on how he should have made a better wooden bike, you'd better have done something equally impressive.
As it happens, I have.
Here is an abbreviated list of the materials from which I have built bicycles.
Money. I once built a bicycle using nothing but US currency. Curiously, that bike still cost less than half as much as the Arantix.
Pasta. I was surprised at how easy it was to build a bike using nothing but dry pasta. By wetting the pasta a little bit, it would flex, adhere to itself, and then reharden. Unfortunately, I found the ride quality of the bike problematic. Dry pasta provides a stiff, brittle ride, which is to say, it felt exactly like a GT.
Tinker Toys. This was almost too easy. Took like twenty minutes. And the cool thing was, when I got to a water crossing I took the bike apart and made a bridge out of it.
Granite: This was the most beautiful bike I ever made, but it climbed terribly. The nice thing is, when I decided to abandon it, I just leaned it against the side of the mountain and walked away. I'm pretty sure it's still there.
Bubble Wrap: I built this bike in answer to the question, "What if a bike protected you when you fall?" The bike was also remarkably light. The biggest problem with this bike, in fact, was that if I turned my back for even a minute, riding buddies would start impulsively popping the bubbles, and then I'd have to walk home.
Kryptonite: The only time I ever beat Kenny on a ride, I was riding my Kryptonite bike. You do the math.
Duct tape: Taking the statement "You can fix anything with duct tape" to its logical extreme, I figured I could also build anything with duct tape. And it turns out you can. As an interesting side effect, I was constantly being pulled over by other less-fortunate cyclists who needed a piece of my bike to fix their bikes. I never stopped using this bike per se; it just got assimilated into a multitude of other bikes.
I'm certain you're grateful for my guidance in this matter, Marco. You're welcome.
PS: Just to be ultra-clear, I'm joking. I'm amazed by Marco's wooden bike.