A Note from Fatty: This is the latest post in my effort to tell the story of Susan's fight with cancer. Eventually, this will be part of my next book, Fight Like Susan.
If you were to visit my house, you'd notice one artist's work dominates the whole place: Lori Nelson. Exactly twenty of her paintings can be found on our walls (I just counted).
The biggest part of that has to do with the fact that I genuinely love her work.
Part of it is that she's my sister.
And part of it is that she's helped my family get through some times I wouldn't have thought we could get through.
When the twins were born, Lori's gift was a painting she made for the occasion: Entwined.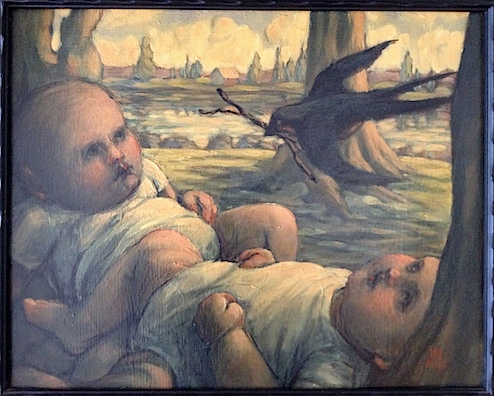 This painting now hangs in the twins' bedroom, and is one of the things I would grab for if the house were on fire. The other identifying feature in the twins' room is a wall mural (about eight feet wide) Lori painted for them: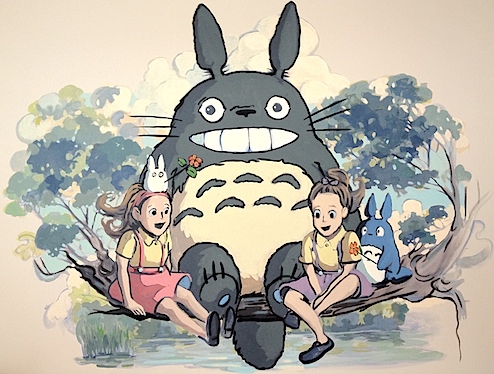 Those of you who have kids that love My Neighbor Totoro as much as my twins do will have a pretty good idea of how awesome this mural is.
But I'm drifting away from the story I need to tell.
First House of Three
While Kenny and I drove to Washington — saving us the money it would have cost to transport the cars, which meant Microsoft gave us that badly-needed money, instead of the car transporting company — Susan and Lori flew the family to our new home state. I met them at the gate (this was back when you could meet people at their gate), and was astonished that everyone seemed to be in a good mood.
I then drove us to the apartment we'd be living in for the next two weeks, while we waited for the larger rental home we'd been promised to open up.
And we set about doing our new jobs. I went to my first day of work at Microsoft. Susan met with her new oncologist — Tena (my friend and manager's wife) — had done all the research to find us a fantastic oncologist, so all we had to do was transfer Susan's records and show up.
And Lori took care of us for a week. She bought and made food, entertained the kids, and in general helped us feel a lot better about the temporary apartment we'd be living in while we waited for the temporary house we'd be living in while we looked for a house to buy.
And when Lori wasn't taking care of us, she painted. But she didn't show us what she was working on.
Odds
The night after Susan's first visit with the oncologist, Lori told Susan and me to take the night off. Go out on the town. Explore Issaquah. So Susan and I went to see a community theatre production of To Kill a Mockingbird.
While we waited for the play to start, Susan told me about the visit, and about the plan. Susan would start chemo very soon — as soon as she had recovered enough from the mastectomy to handle it. Just a couple of weeks. She'd feel sick sometimes, but mostly just tired. They had good drugs for combatting nausea now, and since we had superpremium health insurance (I felt a surge of pride), we could get whatever we needed, whenever we needed it. The cost of meds was no object.
Even so, Susan told me, cancer treatment was a game of odds.
If she had done nothing — no surgery, no chemo — the odds of surviving breast cancer were very low. Negligible.
With surgery by itself, the survival rate went up, but not to a very good number. I think about my grandmother — my dad's mom, who I never met.
With surgery and chemo, the survival rate went up well into the 80-percent range. With surgery and chemo and radiation, the number budged a tiny bit more.
I don't remember the exact numbers, but I remember being struck by both how good and simultaneously bad eighty-something percent sounded.
That would be a "B" if it were a grade, I thought. Not an "A."
"Everything will be fine," I told her. And me.
Video Night
The next night, Lori got out a DVD she had brought with her — something she had gotten on NetFlix (yes, NetFlix was around back then): American Splendor, a semi-autobiographical movie about Harvey Pekar.
What none of us knew going into the film was that Pekar had gone through cancer, and this film went into a gritty, darkly-realistic depiction of his treatment.
With Susan's chemo about to start in a couple weeks, the timing for this kind of thing couldn't have been worse. Susan cried and went into the bedroom, where she sobbed for the rest of the night. I followed and comforted her as best as I could, wishing I knew enough to be able to say, "It won't be that bad."
And then, even though I was still thinking about the percentages Susan had told me about, I told her, "We'll get through this. You'll be fine, and then we'll forget about cancer forever."
Meanwhile, back in the living room in our apartment, Lori was mortified.
I told her later that night that it was OK; she couldn't have known. We'd have to get used to hearing about cancer. I didn't realize at the time how sensitive I'd eventually become to the word "cancer" in the following months and years.
Parting Gift
Susan's mom was coming to help out the following week, so Lori got ready to go back home. I think if I could have found a way, I would have kept Lori with us permanently, though. There was something incredibly reassuring about having my sister with us. Smart, funny, practical, and — above all — kind: that's Lori.
The day she left, Lori gave Susan the painting Lori had been working on while she was with us: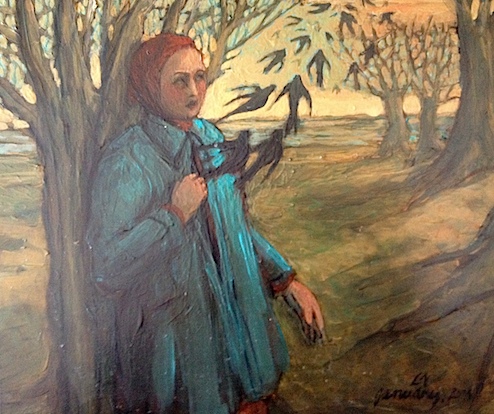 It's a small painting: about 10″ x 8″. I don't think it has a title.
But it expressed, perfectly, what we all wanted.