A Note from Fatty: I know, I said I was going to start writing up my Crusher in the Tushar race report. But today I have my 100 Miles of Nowhere race report fresh in my mind, so I'm going to write it instead. Are you cool with that? Awesome.
There's some irony to my 100 Miles of Nowhere routes. You would think that — as the inventor of this thing, as well as the guy who encourages people to be creative and even outlandish with their routes — I would have really out-there rides planned.
But I don't.  
I've done it going around a neighborhood block. I've done it going up and down a neighborhood climb. I've done it going around a fun mountain bike trail near a friend's house. I've done it indoor, on a trainer or rollers, more often than any other way.
And for the past few years, I've been thinking to myself that I'd like to do the Cascade Springs climb as a 100 Miles of Nowhere  route. 
Not because it's wacky. It's not. It's just a beautiful, challenging mountainous road that climbs from Cascade Springs Park — a dead-end road, not on the way to anywhere — to the summit of the Alpine loop.
Seven miles of little-used pavement. It starts with a hard-climbing three miles on rough chipseal: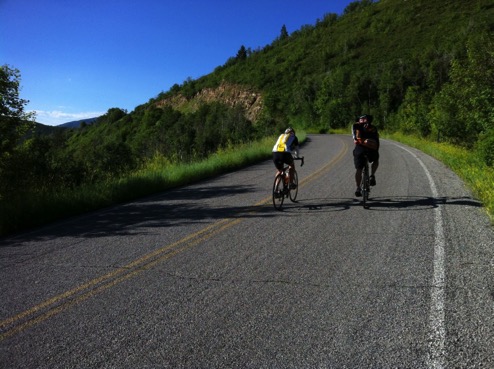 During which you'll pass a pullout with this incredible overlook: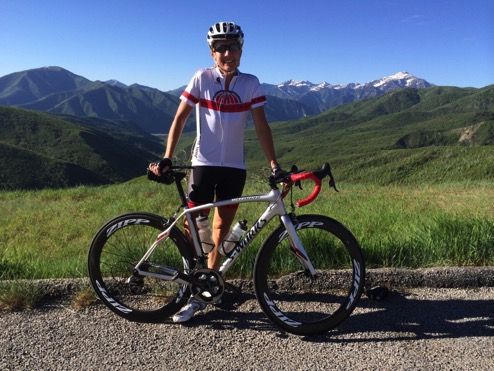 And if you're lucky, maybe you'll find someone else there too, who can take pictures of both of you.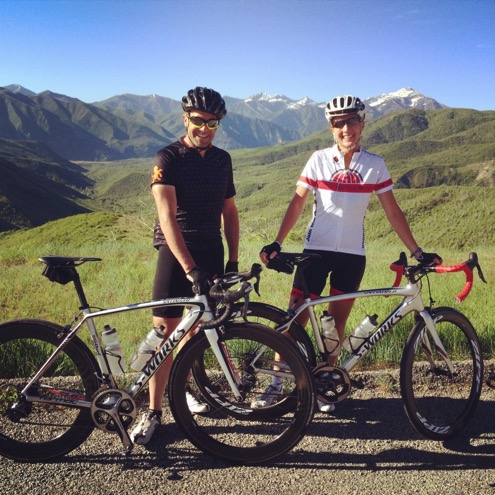 This is followed by a mile of descending…during which you'll see a moose watering hole:
Once that's over, you've got the hardest 1.5 mile climb of the trip ahead of you: between a ten and twelve percent grade for fifteen agonizing minutes.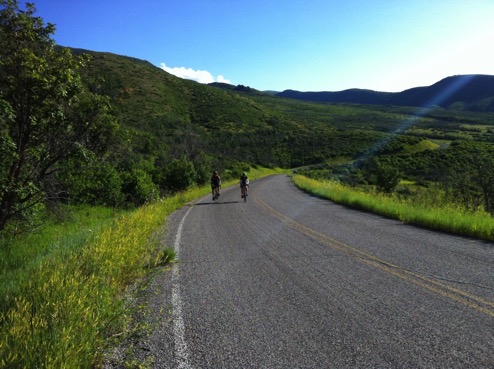 The final mile to the summit, in comparison, is downright easy.
Then you turn around and come back down (with an intermission of down) the way you went up (and down).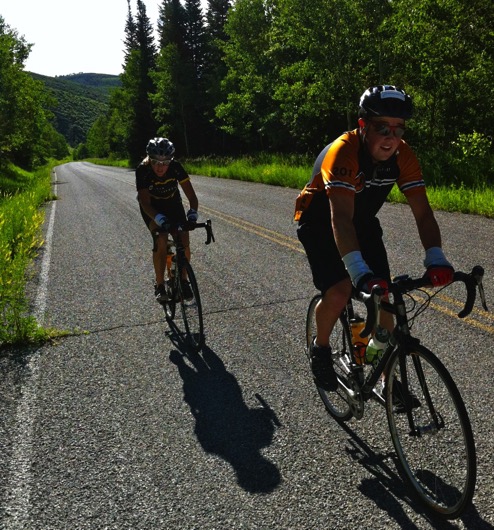 One out-and-back iteration earns you 14.3 miles (and just a little more than 2500 feet of climbing). Which, coincidentally (truly, it is a coincidence), means that seven repetitions of this route gets you almost exactly 100 miles.
Without, naturally, having gone anywhere.
Nerves
The Hammer and The Monster joined me for this edition of the 100 Miles of Nowhere, and all three of us were pretty nervous about it, for a few reasons.
First, because we're into the very end of October, and none of us are in the best riding shape of the season. The Hammer and I have been strictly riding for fun, and The Monster has been running more than riding.
Next, we all knew enough about the Cascade Springs climb to have a healthy respect for doing it even once in a ride. Doing it seven times? I think all of us were kind of scared whether we'd be able to do this.
And finally, this was a race against the sun. With a sunrise at 7:50 and sunset at 6:30 (ten and a half hours, basically), we were in serious danger of running out of light before we ran out of miles.
The Bad Beginning
One of the things I really love about The Hammer's and my relationship is how well we work together. I mean that entirely honestly and without any kind of joke payoff coming down the pike. We really do make a great team in doing normal tasks, cooking dinner, getting ready for the day, stuff like that.
And on race / big ride days, that teamwork goes into overdrive. 
We've done so many big rides and races with early morning starts that we don't even have to talk about who's going to do what. We just seamlessly get the bikes and breakfast and  food and bottles ready together. 
It's something to behold, and — thanks to our efficient routine — it's been an awful long time since we've forgotten something on one of our rides.
Until this ride.
As we unloaded our bikes at 7:30am and I put on my bike shoes and helmet, I thought to myself, "It's cold enough that we're going to want to wear windbreakers on the way down."
But I didn't go to my clothes bag — the one I had packed the night before with clothing for practically any contingency. I didn't need to.
There was no point.
There was no point because I clearly remembered that after pulling out what I wanted and dressing that morning (Bibs, kneewarmers, long-sleeve jersey), I had left my clothing bag sitting on the bedroom floor. 
I had no jacket for wind or rain. No tights in case it got colder. No short-sleeve jersey for when the day warmed up.
"I have no clothes but what I'm wearing," I announced, embarrassed. "I guess I'll be cold on the way down for a few laps, and be hot on the way up for the rest of the day."
And then — like the wonderful overpacker and amazingly prepared human being she is — The Hammer handed me a windbreaker. In my size.
"I don't have a jacket either," The Monster said. 
And of course, The Hammer had a jacket for her too. In her size.
"Maybe you can wear one of my short-sleeve jerseys when it gets warmer," The Monster said. 
"Uh huh," I replied.
Full Disclosure
Now, before I get started with the riding part of this race report, I should confess: none of the pictures I've posted here so far are from last weekend's 100 Miles of Nowhere. They're from the right road, but taken during different times of the year, on different rides.
That should explain why everything looks so green in those pictures. And also why the IT Guy is in a couple of the pictures. 
The scenery is decidedly much browner now. Like this: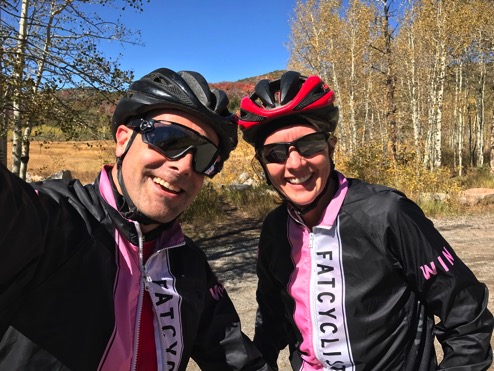 OK, I'll be honest and admit that I took this picture about a month ago (but it is on the correct road). On this particular day, I didn't take a single picture. 
I was just too worried about time. It was no sure thing we were going to complete this at all, so there was no time for jibber-jabber or whatnot. 
The Monster Attacks
As we had driven to the parking lot where we'd be staging our 100 Miles of Nowhere attempt, The Monster had said, over and over, "You're going to wait for me at the top, right? So I see you guys more than once during the day?"
I rolled my eyes. The Hammer rolled her eyes. We both knew that The Monster has been running and riding roughly ten times as much as we have been. 
And — as both predicted and expected — The Monster began half-wheeling almost immediately, then attacked before we had finished climbing our first mile.
"Think she'll still be charging ahead the fifth time up this mountain?" The Hammer asked.
"Baby, I won't be able to hang with you the fifth time up up this mountain.
The Monster Breaks Her Collarbone
Amazingly, we all finished the first climb to the Alpine Loop Summit within a minute or two of each other, and we began our first descent.
And that's when I found out how wonderful it is to descend with big wide (38mm!) tires and disc brakes. 
The rough chipseal we'd be on all day turned to perfectly smooth pavement. I was confident and stable. And I was just really really enjoying myself.
Sure, I knew that I had only done the first of seven big climbs, but I felt good. 
I got to the bottom first, stripped off my jacket, rolled it back up and put it back in my jersey pocket.
I wasn't wishing for a short-sleeve jersey yet.
The Hammer and The Monster rolled up within moments and I looked at the timer on my GPS. 
We had completed the first lap in about 1:20. We were ten minutes ahead of schedule. Awesome! We had reasoned that if we could bank ten or so minutes for each of the first three laps, hit our 1:30 target exactly on the fourth lap, and then use our banked time in the fifth through seventh lap, we could finish our hundred miles before it got dark.
But there was a problem: The Monster's rear tire was slowly going flat. "When did that happen?" The Hammer asked.
"A couple rides ago," The Monster replied.
Kids. I tell you.
I swapped in a new tube. I'm slow at tire changes, so we had lost our banked time by the time we got going again. Even so, we still had a good chance of finishing before it got dark.
Again, The Monster half-wheeled, then attacked, beating The Hammer and me to the top.
Again, I bombed down, opening a gap quickly and finishing alone.
I looked at my computer: we had banked at least fifteen minutes this time.
While I waited for the ladies to arrive, rolled up my jacket (still didn't wish for a short-sleeve jersey, to my relief). I filled my bottles. Then ate a donut. 
Neither The Hammer nor The Monster had arrived, and that could mean only one thing: The Monster had crashed on the descent and now The Hammer was tending to her.
I was certain of it. 
So I jumped on my bike and rode back up, hoping I was wrong.
And I was. The Monster had just flatted. Again. 
Luckily, The Hammer was behind her when this happened because — as it turns out — while The Monster did have a tube and CO2 cannister, the CO2 cannister was…used.
Kids. I tell you.
Shut Up and Ride
There were more flats. All in all, I think The Monster had a dozen flats. Or maybe just (!) four. 
And so we just could never seem to bank any time. Although we also managed to not get into time debt.
I found myself constantly doing math, trying to figure out how and whether we'd finish this ride before it got dark. We hadn't brought lights, so if we didn't finish before dark, well…we wouldn't finish.
The numbers were close, and if we somehow managed to not slow down, we'd do it.
But of course we were going to slow down. We were climbing thousands of feet every single lap. 
Hoping for reassurance, I voiced my concern to The Hammer during our fifth climb up: "I don't think we're going to make it."
This was not the thing she needed to hear right at that moment, because she had a few choice words for me.
"Well excuse me for saying anything at all," I said. I turned on a podcast and stopped talking. At all.
We all go into a dark place once in a while. 
The Second-Halfer Asserts Herself
That argument — or what passes for an argument in these parts — didn't last long, because The Hammer started going faster.
Or maybe I was going slower. The effect was the same, either way, because neither The Monster nor I could even pretend to hang with her. We'd yo-yo back and forth, surging to connect, and then falling off the back.
The Hammer just kept ticking over the pedals, steady as could be. Thirteen, fourteen, fifteen thousand feet of climbing.
The Hammer rides a strong second half.
Principled Stand and a Strong Finish
Even so, The Hammer does get tired. And as we summited the sixth time, she wondered aloud, "What if we made this the 83 Miles of Nowhere?"
The idea was tempting. I wouldn't have had a difficult time at all writing this story with an ending saying something like, "We climbed 15,000 feet of nowhere, and that's plenty."
But I wanted the hundred miles. I wanted to have a ride with more — lots more — climbing than I've ever done.
So I said so. "We've kept up a good pace, even with all the flats. Let's check our miles when we get to the bottom, then climb enough one last time so we all cross 100 miles when we descend."
And we did. Best of all, on this final lap, all three of us stayed together (even though I had to keep yelling at The Hammer to slow down).
Then one final seven-mile drop (OK, two three-mile drops, interrupted by a one-mile climb) and we were done.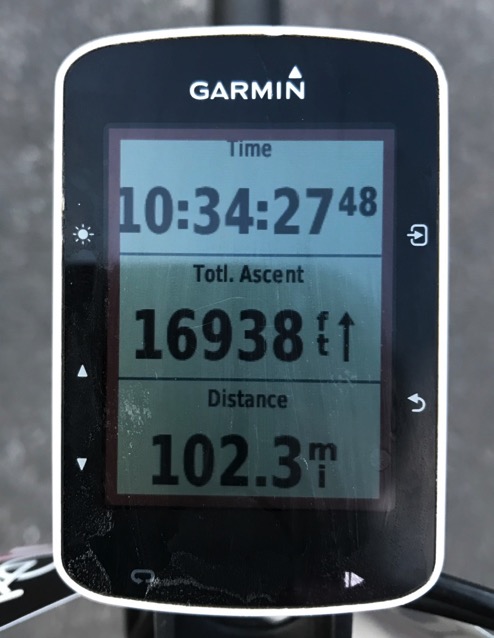 We had started minutes before sunrise, and finished minutes after sunset. 10:34 of ride time, 9:00 of moving time.
Same place we started, but having climbed 16,938 feet (my distance was a little more than 100 miles because of my bonus distance checking on The Monster's phantom collarbone break). Which, when I uploaded and corrected on Strava, upgraded to 18,150 feet of climbing.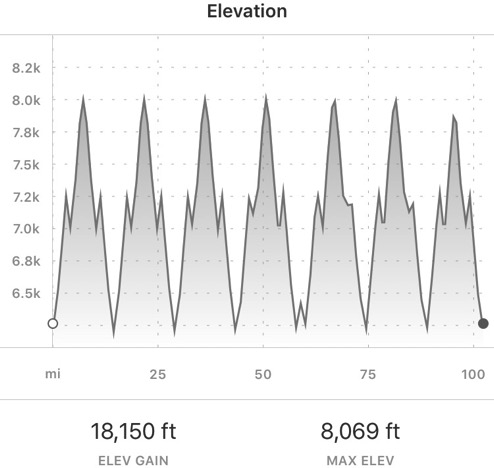 Whichi is the elevation I'm going to tell people we did when racing the 2016 Hundred Miles of Nowhere: Cascade Springs Edition.
Obviously.
PS: I never wished I had a short-sleeve jersey on the entire day. So once in a while, you get away with something.
Maybe that's the lesson of the day?