I started my third lap of the 6 Hours in Frog Hollow. Physically, I felt fine. The wind was making each lap slower and more difficult than usual, but at least it was now a known adversary: I knew how hard it was blowing, how much it would slow me down on the parts I usually think of as fast. 
And now I knew something else, too. Something that…well, something I simply would not have expected.
Because a moment ago, as I was getting gels and a bottle for my next lap, I had asked Blake (who I shall no longer refer to as "DevFoKnAIG," because it's too much work to type) a very simple question: "How are the ladies doing?"
"The Swimmer was about two minutes behind you after the first lap."
Woah, I thought. She's really doing well. And — as this photo Blake took from the beginning of the race — she was having fun, too: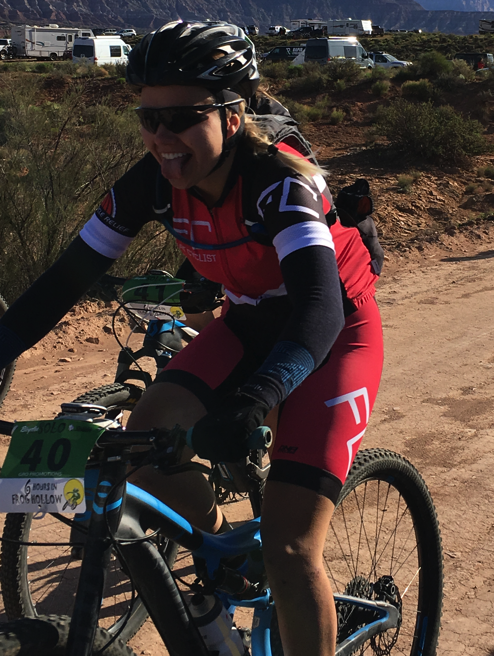 Blake continued, "And my mom's about two minutes behind her."
What? The Hammer is two minutes behind The Swimmer?
What?
So now I had a few things to contemplate as I rode this third lap. Namely, I thought about whether The Hammer had wrecked, or whether racing SS against a harsh headwind was just that much harder.
I contemplated whether it was possible that The Swimmer had gone out too fast, and that the report Blake had given me — which was already a lap old by the time I heard it — was no longer correct and The Hammer had raced past a fading Swimmer.
Finally, I contemplated the possibility that this was confirmation of something The Hammer and I had been privately observing a number of times: The Swimmer is way stronger and faster than a first-year cyclist ought to be.
As I began the big climb, I knew that by then both The Swimmer and The Hammer had to have finished their second laps, so Blake knew what the current status was for both his sister and mom. Normally, I'd text or call so I could also know, as quickly as possible.
But this wasn't normal. Racing time isn't phone time, so I would not know for another forty-five minutes what was going on. I was going to have to live with data that was an hour stale for this whole race. 
And that's what I was thinking about as I approached the hump-ledge-exposed hairpin move for the third time.
Not fretting about it this time, I rode it without incident.
More Strangeness
I finished my third lap in much the way I raced the third lap: wondering more about how The Hammer and The Swimmer were doing.
Blake had everything ready for me; I didn't even have to ask. Which is nice, because my race wasn't all that interesting to me anyway: I had just turned in a third lap within seconds of the time I had turned in the previous two laps: one hour, one minute. Again.
What I wanted to know had nothing to do with me. I had just one question on my mind:
"What about the girls?"
"My sister was about six minutes behind you after her second lap."
"And your mom?"
"And my mom was about six minutes behind her."
"So, umm…" I stalled, not exactly certain how to ask the big question on my mind. "…how's your mom doing?"
"Oh, she's having fun. She and the other single speed rider are having fun, racing it together."
And it was true: The Hammer was just happy and having fun. You can see from the  pictures Blake took of her between laps: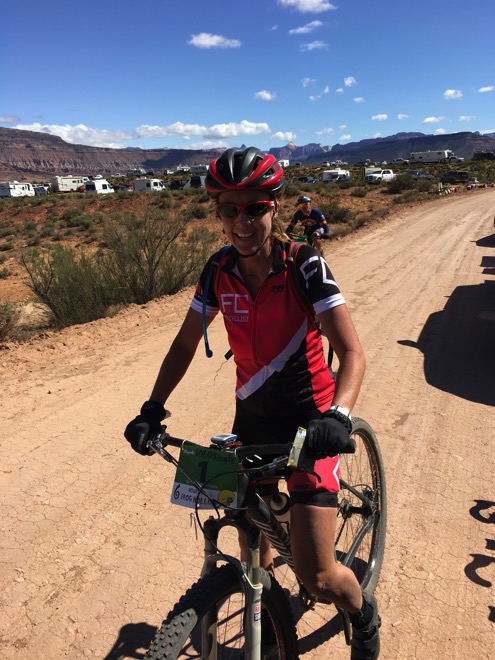 That face is way too relaxed to be The Hammer I know and ride with.
But even as Blake told me what their relative gaps had been — had given me the most current information he possibly could — I knew that it was outdated. By now, The Hammer and Heidi could be fully duking it out.
Or The Swimmer could have faded. Or — much more likely, considering her history — she could have crashed.
I was eager for this race to be done. Sure, partly to be finished with this hellacious wind, but more because I wanted to know how the other two racers from Team Fatty were going to do.
Just two laps to go, and then I'd know.
And so will you.