A Note from Fatty: The Hammer applied to be one of the three Team World Bicycle Relief Ambassadors for 2014, and I'm indescribably happy to say that she won! More info as she sets up her donation page and we figure out how she (and we) are going to use this opportunity to talk about a cause we love. For now, though, I thought you might like to see her application. 
Lisa Nelson
Team WBR Ambassador Application
Basic Information
"Tell Us About Yourself"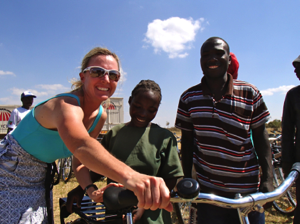 I would love to be an ambassador for WBR. After traveling with WBR on one of their Africa Ride tours I developed a great love for the people of Zambia.
I saw, firsthand, how rural Zambians struggle daily just to live!
I saw how few creature comforts they Zambian people have. They live in huts, they have no indoor plumbing or electricity, they grow their own food — and the majority have no form of transportation, save their own 2 legs.
Despite these hardships, the Zambian people always seem to be smiling. There is a great sense of community and love among the people.
I have seen firsthand how the addition of a bicycle can affect an entire community. As a nurse here in the United States, I can relate to the volunteer healthcare workers in the villages of rural Zambia. They are willing to sacrifice hours of their time helping others…but the majority of this time is usually spent walking from place to place. The addition of a bike can greatly affect their productivity.
As an avid cyclist and lover of all things bike related, I would love to share the vision of WBR and what with other cyclists.
"What Interests You About WBR, and Why?"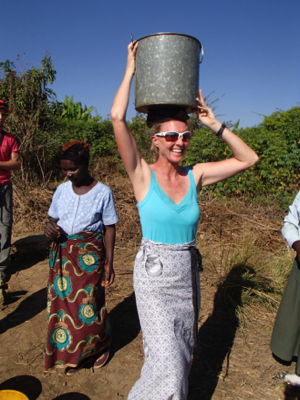 What I've seen and who I am both make me love the mission of World Bicycle Relief.
As a woman, I know and appreciate the value of having an education. It can empower a woman and offer them endless opportunities.
As a mother of three girls, I understand how important an education can be to them in fulfilling all their dreams. I would love to see the dreams of thousands of Zambian women fulfilled by the addition of a bike in their lives.
As a nurse, I know the benefits of one-on-one communication with my patients. I know the time constraints of travel and know that by moving fast I can see and care for more patients. I would love to see more caregivers with bicycles, so that more patients can be seen thus making their village a safer and healthier place to live.
As a cyclist and athlete, I know the benefits of having a bike in my life. Biking and being outside make me happy and productive in all areas of my life. I would love to see more people in rural Zambia—and elsewhere!—develop a love for the bike.
"My Favorite Riding Adventure"
I like to say that the mountain bike helped me discover who I am and what I am capable of. About fifteen years ago, I was a mother of three young children and a wife in a failing marriage. I was being forced to leave my stay-at-home mom job and return to full-time work as a nurse.
In the process of finding a job, I had also been training for a "little" mountain bike ride called the Leadville 100. I had never raced before in my life. My one attempt at a marathon ended in an injury two weeks before the event.
Leadville would be my first attempt at racing-first attempt at pushing myself beyond my limits. I spent hours riding my mountain bike and hours fretting about my nutrition. And in many ways, the race itself was a disaster in ways I could never prepare for.
Just forty-five minutes into the race, I felt a wobble in the rear of my bike. What was it? A flat tire! After an agonizing forty-five minutes changing the tire (believe it or not, I had never actually changed a tire by myself) I got back on the bike. I was literally the last person in the race. Every single rider had passed me; I was alone.
For the next forty miles, I pedaled as fast as I could, and slowly started reeling cyclists in. By mile fifty, all seemed to be going well — I had made it to the halfway point, with six hours to go. Barring a catastrophe, I would finish this race within the twelve-hour allotted time.
And then the first raindrops began to fall. The downpour began. For forty miles I rode through a torrential downpour and lightning storm. The temperatures at 10,000 feet (and higher!) were probably in the fifties. I was soaking wet, wearing shorts on and only a windbreaker for a jacket.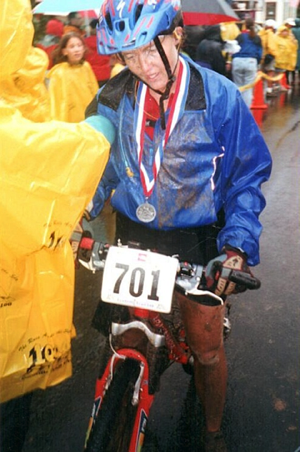 By eighty miles, my fingers were so cold I could no longer shift. The dirt, mud and grit had destroyed my brake pads (this is before disc brakes). I stopped eating. My blood sugar levels were in the toilet and I was freezing.
But I kept pedaling. I had started this race, and I was going to finish it. I would overcome the obstacles before me. No matter what.
With only five minutes to spare before the twelve-hour cutoff, I crossed the finish line. (I then spent the next several hours in the medical tent warming up!)
This race taught me that I can do anything I set my mind to. No matter what obstacles are thrown at me, I can work through them and succeed. This lesson has carried over into all aspects of my life. This twelve hours literally changed me.
My determination is infinite!
"What Will You Do as a WBR Ambassador?"
As a WBR ambassador, I plan on:
Joining forces with my husband (Elden "Fatty" Nelson of FatCyclist.com) and help him spread WBR's message with the world through blog posts describing my races and encounters with other racers. By doing this, I'll be able to help make WBR a focus of the blog throughout the year, instead of something he just talks about annually during his "Grand Slam" fundraiser.
I intend to continue to fundraise for WBR with Elden/Fatcyclist.com, doing a WBR fundraiser on the site specific to my being an ambassador with WBR.
During our busy racing season this summer, I would love to wear the WBR kit and spread the word at the races and events that we attend.
Event Resume
20+ Half Marathons
10 marathons (including Boston in 2012, 2nd in age group Ogden marathon 2013)
Wasatch Back RAGNAR (1st place, coed team ultra distance 2011)
5+ Sprint triathlons
5+ Olymic triathlons
LOTOJA 2008
St George half Ironman 2013 (4th place in age group)
St George Ironman (2010)
Nine-time Leadville 100 mountain bike race finisher (3rd place in age group 2012, 1st place in single speed division 2013)
100 miles of Nowhere X 4
Rockwell Relay (1st place Coed division 2011,2012, 2013)
Breck Epic (3rd place Duo division 2012)
Crusher in the Tushar X 2
Salt to Saint Relay 2013 (1st place solo, First woman to ever complete as solo rider)
25 Hours of Frog Hollow 2013 (1st place solo single speed woman/new women's record)
2014 Proposed Race Schedule
Canyonlands Half Marathon (March)
6 Hours of Frog Hollow (April)
St George Half Ironman (May)
Ogden Marathon (May)
100 Miles of Nowhere (May)
Rockwell Relay: Moab to St George (June)
American Fork Half Marathon (June)
Leadville 100 MTB Race (August)
Fall Marathon (TBD)
25 Hours of Frog Hollow (November)