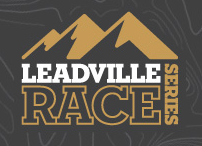 A Note from Fatty: As you may know — because I have kind of centered my life around it for the past sixteen years or so — I kinda like the Leadville Trail 100 MTB race. A lot of people do. And so a lot of people think about signing up, hoping they'll get past the registration lottery so they can race it. 
Well, this is just a friendly little reminder for those of you who have been thinking about signing up this year, but haven't yet: today is the last day you can do so. Register by midnight MT today if you want a shot at getting in. Good luck!
Winter is such a special, wonderful time for cyclists like me. It's snowing outside. In fact, there's a lot of snow outside — check out this photo I just took of my backyard: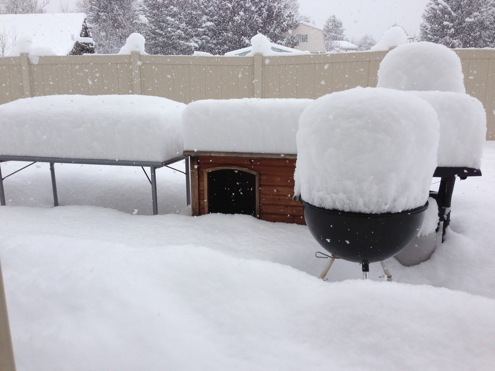 There's a fire crackling in the fireplace. There's lots of food in the fridge, and I'm wearing pajamas with an elastic waistband, making it much more comfortable to eat a second desert.
Furthermore, while it's cozy inside, there's ice on the road. The frost on the windows serves as a warning of what would happen to me, should I venture outside. Wisely, I heed the warning, and remain indoors, stocking-footed, often with a pair of woolly slippers on. Just in case.
In the garage, the Stan's goop in my bikes' tires pools, then congeals,. My biking shoes grow dusty. It has been so long since I have put a helmet on that I dont't even remember what color it is. Its location is but a vague and distant memory. 
Idly, I hope that by not wearing my helmet for so long it has ceased to stink quite so badly. Then I wonder if a chamois starts to get brittle if you don't use it for months on end. This train of thought doesn't go far, as my thoughts return to the task at hand: eating lots of bean dip.
I try to remember whether I have loaned my floor pump to a friend, or simply left it outside one fateful evening before the first big snowfall, now to remain undiscovered until the Spring thaw. 
I note to myself, wistfully, that many of my riding friends (Dug, Rick Sunderlage [not his real name], Mark, Adam) have a Winter sport they go on: backcountry skiing. Naturally, they all would very much like me to join them skiing, by which I mean: none of them have ever asked me to join them skiing.
Which is just as well, because I would have to decline, making up some feeble excuse like, "No, I don't know how to ski, and I am afraid I will kill myself as I try to learn."
I would then add, "Besides, most of your videos make it look like you spend 95% of the time doing a forced march up a mountain, which doesn't look nearly as fun as eating this here bean dip with a spoon." 
And then I would stuff a spoonful of bean dip into my mouth, just to underscore my point.
Temptation
I have a problem, though. A problem that has gotten a toehold in my mind, tempting me to step out of doors before the month of May.
Fatbikes. 
Specifically, my friend Ricky (you can see that we're friends because Facebook explicitly says so) got a fatbike for Christmas, and now he has begun to pester me, continually, with tales of his exploits. 
And with photographs, like this one: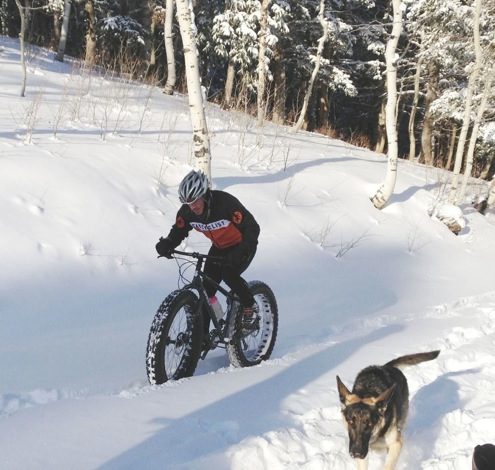 But you know, I could look at this and just dismiss it. I mean, sure, a friend of mine, out there on a bike, at the summit of the Alpine Loop (my favorite place in the world), on a beautiful day, having a blast.
I could dismiss it just like that.
The thing is, though, it's not like Ricky's the only out there riding a fatbike right now. It's not like he's some kind of wild-eyed, tongue-chewing outlier. These things have gotten popular around here this year. Ricky sent me this picture from one of his recent group rides, featuring an envy-inducing bunch of Salsas and Surlys :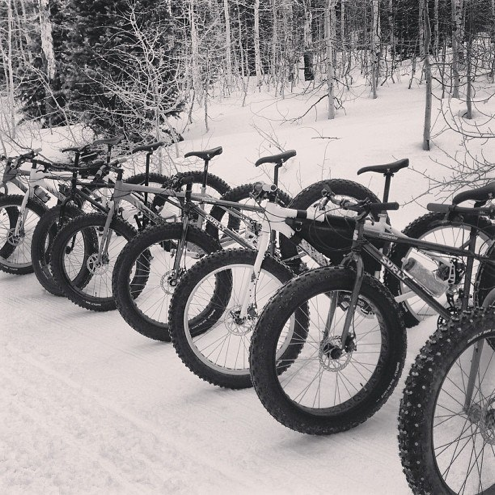 During this ride, I believe I was sitting at home, watching — among other things — a Bad Lip Reading of Beyonce on YouTube. In my heart of hearts, I find myself questioning whether I had as much fun as the guys on bikes were having.
And yet, I am  concerned over whether a person with the nickname "Fatty" should own a fatbike, due to the confusion the similar names would no doubt inspire.
Hence, I find myself faced with a dilemma. Get a fatbike and join the throngs of riders who are seemingly enjoying winter?
Or open another bag of chips?
I think you'll agree this is a conundrum for the ages.
PS: Since beginning this post, I have finished my bean dip and have moved on to a rotating dip triumvirate of salsa, sour cream, and guacamole. Just FYI.