A Note from Fatty: This Monday kicks off the 2009 LiveStrong Challenge. I'll be setting up teams at all four events as soon as I possibly can, and will post on how you can join the team — either with plans to go to the event in person, or to be a virtual team member.
Also, on Monday I will be announcing the beginning of the first LiveStrong Challenge Team Fatty raffle. You're going to want to check that out, because there are three prizes you are really going to want. Here's one of them: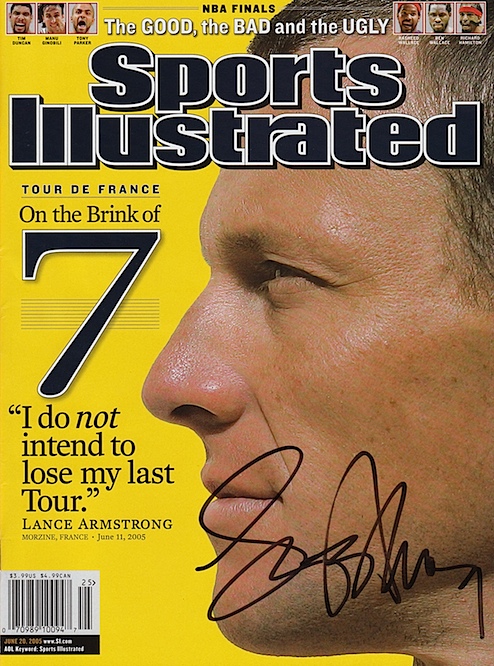 Yes, it's real. And yes, it's the whole issue. And yes, it's in great shape. And yes, it has real value as a collector's item.
You'll find out what the other two things are you can win in the first (among several) Team Fatty raffles this Monday.
Another Note from Fatty: About this time last year, Mike Roadie — a frequent commenter on this blog — emailed me, asking if I'd help him raise money for the LiveStrong Challenge in 2008. I said I'd be happy to and made a little ad I put in my blog sidebar.
Then, earlier this year, I asked Chuck Ibis if he'd help, too. Chuck and the rest of the great guys at Ibis Cycles and Shimano came through in a big way. And so did Fat Cyclist readers. Together, we raised around $38,000 for the LiveStrong Challenge, in ten days.
Thanks to you, Mike Roadie had more individual donors than any other person in the 2008 LiveStrong Challenge, and that meant he got the VIP treatment at the Ride for the Roses.
And Mike Roadie made sure everyone knew how he got there.
By the way, Mike was the one who came to me this year with the suggestion that we do a Team Fatty in the 2009 LiveStrong Challenge. I've come to trust — and like — Mike so much that I immediately agreed. Mike will be acting as my advisor and primary helper in this endeavor, so this is a great chance for you to get to know him a little bit.
Here's Mike Roadie's Ride for the Roses report.
Ride for the Roses Weekend, October 2008
I guess since this is Thanksgiving week already, I should start out by saying how thankful I am for all of you out there in fatcyclist.com land. What started out for me as just an overly-hopeful goal of trying to raise more money for The Lance Armstrong Foundation than I did the year before ($15,000+ in 2007) by networking through Elden's blog, turned out to be the most meaningful few months of my life.
When I went to the LiveStrong Challenge in San Jose back in July, I was amazed to be approached by people who just wanted to shout out to FatCyclist and share their wishes for Susan's health. I was truly touched by all the folks who wanted to get their picture taken with my "Win Susan" placard, later placed on my helmet during the ride.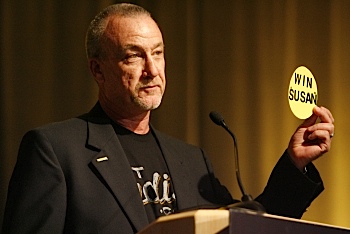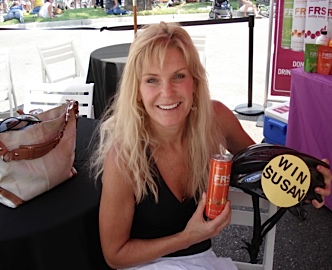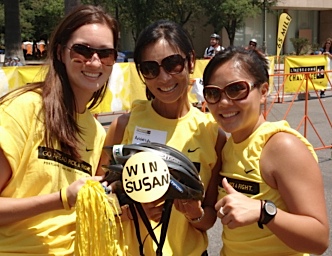 The success of LSC San Jose got me invited to the annual Ride for the Roses as a member of the Yellow Jersey Team. The weekend in Austin went to a completely different level! On Friday night, the invitees (as distinguished from riders in general) were taken by bus to a "secret" location for a Welcome to Texas Dinner. Because of my wife's travel schedule, I was not able to attend, but FC.com was well represented by Medium Brad and Clydesteve. I went to last year's dinner, so I was OK with missing Willie Nelson playing for our private group at the famous Salt Lick BBQ…..are you kidding me?!?!? Oh well, there was plenty of weekend still to come!
On Saturday morning there was the LSC 5K race, which ran down Congress Street from the Capitol Building. I ran it in 2007, so I just decided to watch the pain on everyone's faces as they ran and walked at 7:30 in the morning. If you have never been to Austin, it has a fabulous bar, music, restaurant, nightclub scene that could ruin anybody's Saturday morning!
Following the run, the Yellow Jersey and Polka Dot Jersey teams were bussed out to the Hill Country to a private ride with Lance and a lunch. With police escort we rode in a peloton behind Lance, and then came up one by one for a chat and some photos. Here I am giving him some fitness pointers and a rah-rah about racing next season: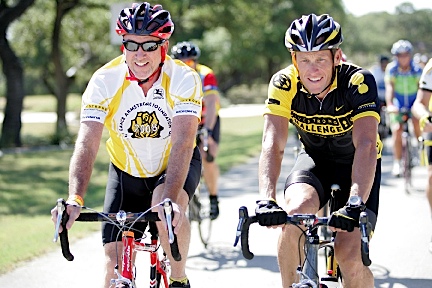 Believe me, the guy is totally ripped and ready to tear up the races next year! After the ride, I was able to give him a FatCyclist t-shirt and exchange a few words about how much the LAF has meant to me by giving me a way to channel my energies to help others.
Saturday night brought the awards program dinner; an always emotional and motivational discussion of how much we still have to do in the fight against cancer. This year, the focus has turned to what we also can do on a global stage, where healthcare is even more behind in this battle. The amazing thing was that, just as I had done in San Jose, Brad won the Messenger Award for having the most donors to his site for the Austin ride! Even better, I was recognized for having the most individual donors for the whole series (the four event cities), so we both got speak in front of the crowd. Brad talked about his inspiration from his mom's fight (WIN Diane!) and I represented the FatCyclist.com community. Lance presented me with an autographed and framed poster for the award: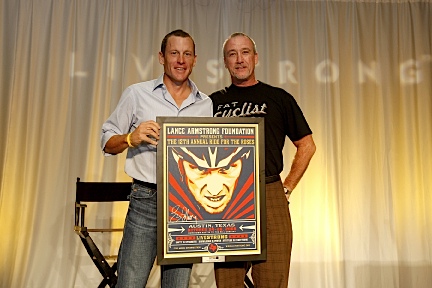 And I got to make a presentation back to him: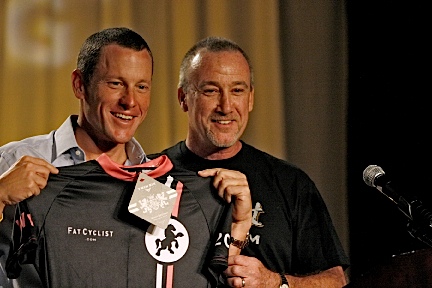 Now he can be a winner and stylish!!!
A good portion of Sunday morning's ride was spent by me trying to catch up to Clydesteve after being left in the dust by my new protégé, Mr. Armstrong. He was probably finished, showered, massaged and had eaten by the time I crossed the finish line…..but I was still smiling!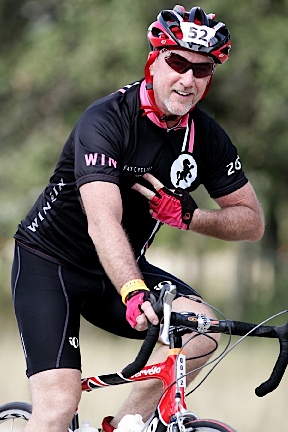 It was a great time for a great cause and I hope that many of you will join us in 2009 by joining Team Fatty and making the biggest impact the LAF has ever seen!!!!
Happy Holidays to you all, and…………WIN!!!
PS: Here's the video from the event: