Before I get going with the prize-announcing, I'd like to take a second and say "Thanks" to some companies. Because the reality is, the economy's tough right now that makes it easy to say "no" when people ask you to give.
But Shimano hasn't said "no." Shimano has said "yes," and has provided an incredible amount of support and product as I try to find great incentives for all of you as you work to raise money in the fight against cancer.
And Intense Cycles hasn't said "no," either. They ponied up a frame for a top-of-the-line bike.
And Twin Six — an alternative cycling apparel company so good at seeming big and professional — hasn't said "no" all year. They've been with me in more LiveStrong fundraisers than I can count, and they — pretty much every time — always give more than I ask them to.
These are all good companies, making good things, filled with good people. Thank them by supporting them, OK?
The Grand Prize Intense Spider 2 Winner
The winner of the Intense Spider 2, complete with his choice of the new 2011 Shimano XTR group, is Jim F: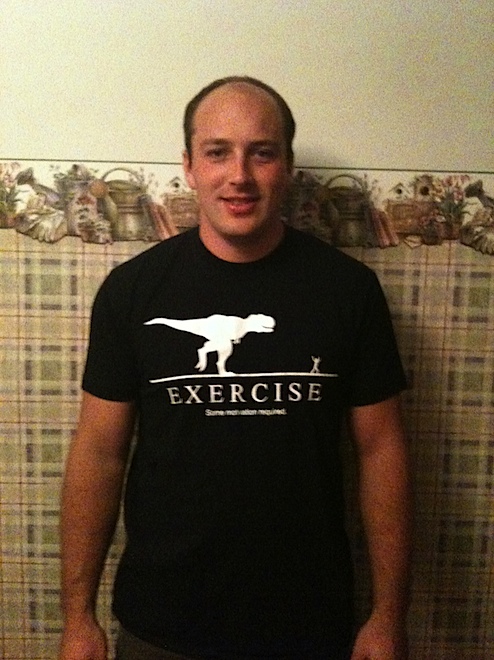 Here's what Jim had to say about himself when he learned he won this bike:
WOW, that's awesome! My old mountain actually just started falling apart, this is perfect.

I am a 25 year old engineer working in Fort Wayne, Indiana. I started out riding mountain bikes on a local trail around a reservoir. Then I bought a used Giant OCR2 from craigslist to ride on the road. I think I will have to travel to some better trails to fully appreciate the Spider 2.

I donated in honor of my aunt who died from bone cancer a few years ago. It started out as breast cancer, then went onto remission for a year, then came back more aggressively as bone cancer. Thanks for all you do in the fight against cancer, I think it will/is making a difference.
Now, of course, the hard work begins for Jim. What color of frame should he go with: Raw, white, or green?
And should he set the bike up with the Race version of Shimano's new XTR group, or Trail?
Kinda fun to have to make those decisions. I'm sure that Jim will appreciate any suggestions you care to give him.
Congrats, Jim!
First Prize: Twin Six Shopping Spree
My good friends at Twin Six were good enough to make this contest extra-spicy by donating two $250 shopping sprees, which will make it possible for the winners to genuinely ride in style.
The first winner of this spree is Tommy F, who used psychic powers to somehow be aware that a genuinely useful message — i.e., he had won a $250 shopping spree from Twin Six — had been routed to his junk mail folder.
Which brings up something I've really been struggling with: do you have any idea how difficult it is to craft a "Congratulations, you've won a prize" email that doesn't contain enough language to send it to junk mail folders?
It's not easy. And evidently, I'm not succeeding (at least in this case) anyway.
Says Tommy:
I had to dig your message out of the [Junk E-Mail] folder in my Outlook. What does it know anyway? That may turn out to be my favorite folder from now on.

I'm becoming a big fan of Twin Six and I have ordered my third Team Fatty jersey in the last preorder.

I had a blast in Philly with Team Fatty. I told Philly Jen that since you couldn't make it, she had a lot of pressure on her to make sure I had a good time and she delivered.

Hoping I can get to Austin!
The second person to win was none other than Noodle, the person we've all come to know and love not just for her incredible 100 Miles of Nowhere video, but for the fact that she's been riding her bike across America to raise money with Team Fatty for the fight against cancer.
Here's what Noodle had to say about winning:
Your email came in at exactly the same time as one telling me I'd reached my LIVESTRONG fundraising goal for Team Fatty. Shopping sprees are great, but that is better. Now I have to set my goal higher since I still have one month left on the road on my ride across America and I'd hate to waste this momentum.

It's been very tough so far, what with the recovering from the broken wrist shizzle and not riding my bike for 9 weeks and then jumping in straight at the Appalachians. They are no joke. Also, not sure if you saw but my bike is tweeting as it goes. All for Team Fatty. :)

http://yesiamprecious.com

Hope you are well, and congrats on not crashing at Leadville this year.
A little aside here: this is the first time, in all the contests I've run, that somebody I've "met" before has won something. (I put "met" in quotes because I've actually never met Noodle in person or talked with her on the phone or anything; I've just seen her video, read her blog, and think she's triple-awesome.)
Congrats, Tommy and Noodle!
Second Prize: LiveStrong Jersey Signed by Lance, Levi, Bob Roll…and Me
The second prize in this contest is a LiveStrong jersey that's been signed by three cycling celebrities: Lance Armstrong, Levi Leipheimer, and Bob Roll.
Check it out: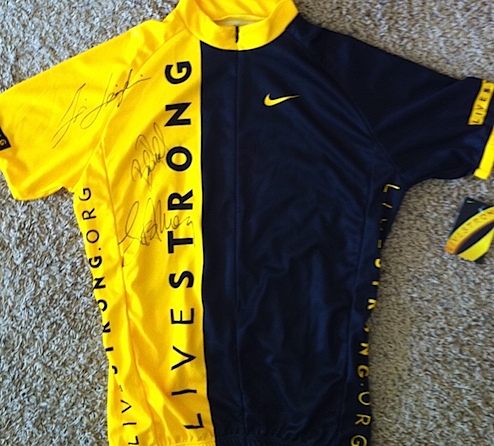 The winner of this jersey is Jen W, and she had this to say:
I hate to be needy, but I neeed one more thing. No jersey full of cycling bigshots signatures would be complete without your signature.

Sorry you couldn't make Philly. It was a great time.
I am also — especially after reading Philly Jen's incredible 2-part story (part 1 here, part 2 here) — really bummed I couldn't make it to Philly for the LiveStrong Challenge. And to be honest, I felt kind of weird about signing a jersey that's been signed by actual cycling champions, seeing as I am what is known, in technical cycling terms, as a "goofball."
But OK: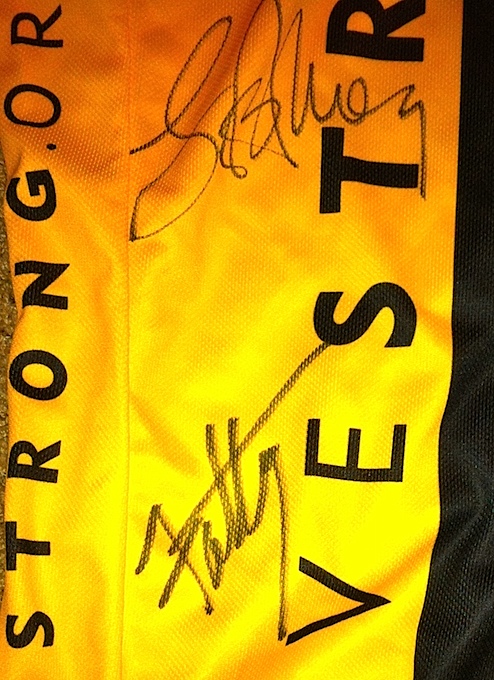 Ugh, I still don't feel good about that.
Still, congratulations, Jen!
We Are Not Done Yet
With three LiveStrong Challenges and two dream bike giveaways behind us, you'd think that we'd be close to the end of the year, cancer-fighting wise.
Well, we're not. In fact, the biggest event and the biggest bike giveaway are still ahead of us.
I'm not going to tell you what the next bike will be (yet), but I will tell you that you will be excited about it. I'll go a step further and say that I'm excited about it, in spite of the fact that — as administrator of the contest — people would probably take a dim view of me if I won it.
And the Austin LiveStrong Challenge — AKA Ride for the Roses — is the biggest event of the year. It's the one that started it all, and it is huge.
So you've got a couple reasons to join Team Fatty Austin right now: because you might win a bike — remember, all the money you raise in your own LiveStrong Challenge account gets counted toward each bike giveaway — and because you'll be helping in the fight against cancer.
And I think that by now it's pretty obvious (based on the Seattle, San Jose, and Philly accounts from the Team Fatty Co-Captains) that Team Fatty is a pretty great group of folks to spend a weekend with, so if you can make it to Austin, we can pretty much guarantee you a great time.
So, why don't you join Team Fatty right this second? And help us as we continue our fight against cancer. It's fun, it's important, and — who knows? — maybe you'll win a dream bike.