Cast your mind back. Way back. Think about PowerBars. No, not the 12 different kinds of PowerBars you can buy today (ProteinPlus, ProteinPlus Reduced Sugar, ProteinPlus Reduced Sugar With Extra Calcium, ProteinPlus Reduced Sugar With Extra Calcium and Caffeine and Just a Hint of Cheez Wiz, among others).
The original PowerBar. The PowerBar that required a full-body workout to tear a piece off, and resulted in aching jaw muscles if you tried to chew it. The PowerBar that you could use, in a pinch, to repair a broken bike frame.
I don't know if those kind of PowerBars were where energy food started, but they're the first energy food I remember.
Then Clif Bars came along, and I was hugely relieved, because here was something I could stuff in a jersey pocket, but which didn't — and I am not exaggerating here — hurt to eat.
And then PowerBar came out with PowerGel: 100 calories you could choke down nearly instantly, provided you didn't mind consuming something with the consistency of toothpaste and the sweetness of concentrated stevia.
At which point Clif came out with the original Clif Shot, which came in what looked like toothpaste tubes and came in several flavors, all of which tasted exactly like molasses straight from the bottle.
Epiphany
Those were the dark years. But they were necessary; you've got to start at a trailhead if you're going to go down a trail.
And somewhere on that trail, maybe someone had a crucial epiphany: It doesn't matter how many nutrients an energy food has if, while riding, the thought of eating said energy food triggers your gag reflex.
Or maybe the epiphany was more succinct: People like food that tastes good.
And that's where Honey Stinger — a little energy food company in Steamboat Springs, CO — comes in.
And I shall now spend the rest of the post talking about how much I love — yes, love — what they make.
Full Disclosure
OK, actually, before I talk about how much I love Honey Stinger, I'd better do the full disclosure thing: Honey Stinger sends me food for free.
However, this full disclosure should come with an explanation.
Honey Stinger sends me food for free because I contacted them and told them how much I love them and that more than anything else in the world, I would love to have an ongoing supply of Honey Stinger food, both for myself and to hand out to other riders, acting as a kind of "First Hit's Free" kind of sales guy for them.
In other words, I'm not shamelessly plugging Honey Stinger because they give me free stuff. Rather, Honey Stinger gives me free stuff because I begged them to and happen to be an award-winning superstar cycling ultra-megablogger.
Or more to the point: I'm not selling out; I was already sold.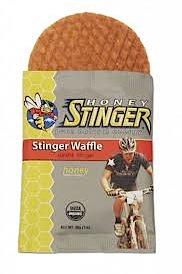 OK, Now On With the Honey Stinger Love Fest
The most important thing you can do today is to find where you can buy Honey Stinger Waffles (you can also get them online), then pick some up, and then go out on a ride and try one.
And it's very important you try it while you are on a ride or you will mistakenly think you have just had a really delicious treat, and that — hey, why not? — you'll have another. And so forth, until you've eaten all of them.
So you've been warned.
Here's what Honey Stinger Waffles have got going for them:
They taste good. Seriously, like eat-them-recreationally good. Not as in "This is OK for on a bike but I wouldn't eat it otherwise" good.
Texture-licious. Crisp waffle on the outside. Honey on the inside. Yum.
They are flat. There's something to be said for energy food that goes into the back of your jersey without bulging it out. Stylie.
They actually give you energy. I've been eating these while riding and they work. The Hammer and The IT Guy and Kenny and Heather have all been riding using these too. All agree: these are the real deal. Sadly for me, since everyone's been snarfing my Honey Stinger Waffles, my supply has run low much sooner than I told the Honey Stinger guys it would, and now I'm going to have to give them a call and ask for more about a month early.
Are the Vanilla or Honey Waffles better? I don't know. I like both the same. Which is a lot. In fact I'll say this very quotable thing which I'm sure the Honey Stinger people will find eminently suitable for their marketing materials:
At 160 calories-worth of deliciousness, Honey Stinger Waffles are the best energy food in the whole world.

Elden "Fatty" Nelson
Award-Winning Blogger
www.fatcyclist.com
I like the Honey Stinger Waffles so much, I am now going to spontaneously write a free-verse ode to them:
O Waffle!
Honey Stinger Waffle!
I look at you from afar
Across the room
I would eat you
Right here
Right now
'Cept I have promised myself
That I would forebear
And not snitch
And otherwise try to be good
So that I do not run out of you
Before my next bike ride.
Alas!
I remain tempted!
And find myself making
Rationalizations and justifications
And well, you know, maybe it's a good idea
To carbo-load a little
Before I go out riding
In a couple hours
O Waffle,
Honey Stinger Waffle
You were just as delicious
As I remember
And maybe I will have just one more.
Thank you.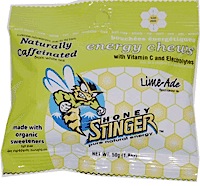 Honey Stinger Energy Chews
First off, major props must be given to Clif for inventing (as far as I know; I don't actually do research or anything) energy chews in the first place. For years, Shot Bloks have been my go-to energy source for long bike rides.
But not anymore.
Honey Stinger Energy Chews are easier to chew, taste better, and are easier to get from the package into your mouth than Shot Bloks.
The Honey Stinger Energy Chews are, in fact, the thing that got me interested in other Honey Stinger stuff in the first place.
They open easily — just tear the package open in one tug with your teeth — and then squeeze the package so that the chews slide into your mouth.
A crude — but easy to learn and master — technique to be sure. But on-bike eating has never been a proper affair.
They're delicious and soft — they go down quickly and easily, so you can get back to mouth-breathing ASAP.
These come in lots of flavors: Pink Lemonade, Lime-Ade, Fruit Smoothie, Cherry Blossom, Pomegranate Passion Fruit, and Orange Blossom.
My favorite flavor is Orange Blossom. Honestly, I don't know what the "blossom" part of the name is about, and have to say I avoided these for a while because I thought they would taste like a flower. In reality, they taste like Orange Crush. As they should.
The Hammer's favorite flavor is Lime-Ade. I suspect this is because she is a caffeine freak.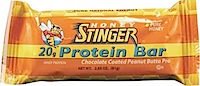 Protein Bars
I've really ramped up my protein intake in the past couple of months, and I'm finding that I'm down in weight and riding stronger than I ever have. I dropped fourteen pounds between the beginning of May and the beginning of June. Well, the Honey Stinger Peanut Butta Pro Protein Bar was an important part of that. Specifically, it's loaded with protein and it tastes pretty much like a giant Reese's Peanut Butter Cup.
I eat one of these (when I don't have time or access for the egg whites and avocados) and I stop being hungry.
For smaller snacks, I've been eating the Dark Chocolate Mint Almond Protein Bar — if you like mint-chocolate (and I do), you will love it.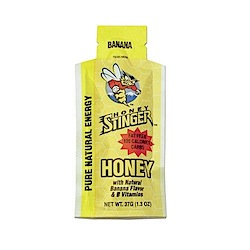 Energy Bars and Gels
I know that Honey Stinger actually got their start with honey-based Energy Gels, but you know what? That's the one thing of theirs I just have not been able to get into. Is that ironic? I don't know.
Anyway, my ambivalence toward Honey Stinger Gels has to do with a couple of things:
Honey-ness: These really are pretty much honey, with a little bit of flavoring (except the "Gold" flavor, which is just straight-up honey-flavor). It's too strong/sweet for me. So sweet they feel like they're burning the back of my throat. If you love the taste of honey, you'll be fine with Honey Stinger gels. Otherwise, maybe buy one and try it on a ride before you buy a whole box of them.
Stickiness: Since these are honey, they're sticky like honey. Which means that if you don't execute a perfect open-eat-dispose sequence, you're going to get honey on your gloves or mouth or in your jersey. So far, I have never executed a perfect open-eat-dispose sequence.
As to the Honey Stinger Energy Bars, well — they're really good. But they have the "Great defeating the Good" problem: any time I could have one of the bars, I'd rather have one of the Waffles, or a packet of Energy Chews.
And in fact, I believe I will.
Again.