In an hour or so, I need to get in a car and head to the airport; I'm on my way to Santa Rosa for Levi's Gran Fondo. And, more importantly, for the first-ever GranDonut race, which you probably have never heard of, because I haven't really been talking about it here on my blog, nor on Twitter.
Ha.
Yeah, I know. I tend to latch onto things and not let go. But there are some very good reasons why. And I'd like to make my closing argument here, in the hopes that maybe you'll donate to either Team Fatty or Team Levi. Or both.
The Causes
I've kind of been focusing a lot on the silly part of this race, mostly because this is indeed a very silly race. But here's the thing: this ridiculous race is all about raising money for some amazingly good causes, some of which you'll be really familiar with, some of which you won't.
Forget Me Not Farrm: This farm is the Leipheimers' pride and joy: a farm to help kids who are victims of abuse and neglect heal from trauma. The farm teaches these kids how to value and care for living beings, develop respect for all life forms, and create a compassionate way of behaving and relating to others that is the antithesis of their violent experience.
LiveStrong: I've seen this organization up close, both as a recipient of their help, and as a person who has helped them raise money for general cancer support and very specific programs like Camp Kesem. LiveStrong is making a difference for good to thousands and thousands of people who are fighting cancer. I'm incredibly proud to help them out, and am grateful to those of you who join me.
VeloStreet : VeloStreet works to improve cycling resources throughout California and in Sonoma County in particular.
The Prizes
But as you know, it goes against my nature to ask you to donate your money without giving you a shot at some pretty cool prizes.
The big one, of course, is a trip to the 2013 Levi's Gran Fondo. That's not a trivial prize, nosirree. Especially when you consider that you'll get to bring someone along with you. Airfare, hotel, ride registration, the fancy-schmancy VIP dinner: the whole thing. Pretty darned sweet.
And there are other awesome prizes that will be given away, too: two complete gran fondo kits, two signed (by Levi) Gran fondo jerseys, two Gran Fondo helmets, and two Gran fondo Messenger bags.
Pretty sweet.
The Stakes
I'm going to be honest with you: I don't think Levi has ever taken a good hard look at what he has to do if he loses this race.
Let's recap, shall we?
If Team Levi (consisting of Levi Leipheimer, Patrick Dempsey, and Rebecca Rusch) loses, he must:
Wear a propeller beanie for the rest of the Gran Fondo, including during the ride.
During the live panel for The Levi Effect — which will be broadcast hither and yon for the whole world to see — say something along the lines of, "You'll have to excuse me, I'm a little winded. I just got my ass handed to me in a bike race with Fatty of the awesome fatcyclist.com blog."
Consent to a live interview on the Fat Cyclist blog sometime during the year of 2013, discussing a topic of my choosing.
The item I'm really focusing on here is the first one: the propeller beanie. If Team Fatty wins, Levi has to wear a beanie for the rest of the Gran Fondo events.
Yesterday, in order to be prepared for this eventuality, I procured the following: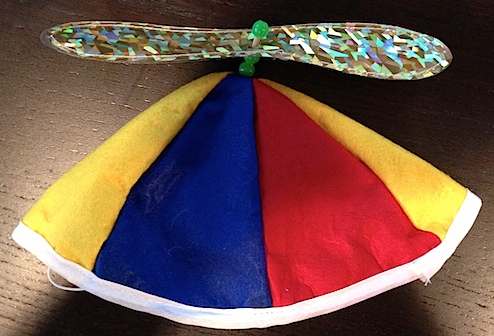 I am going to so enjoy having Levi walk around in that.
The Race Itself

Of course, the race itself is going to be pretty awesome. It's evolved into a relay race, with the two teams being Team Fatty (Kristin Armstrong, Tom Danielson, me) and Team Levi (Levi Leipheimer, Patrick Dempsey, Rebecca Rusch).
The pre-race trash talking on Twitter has gotten pretty awesome, and includes photos of Levi, Tom, and Rebecca all training for the big race: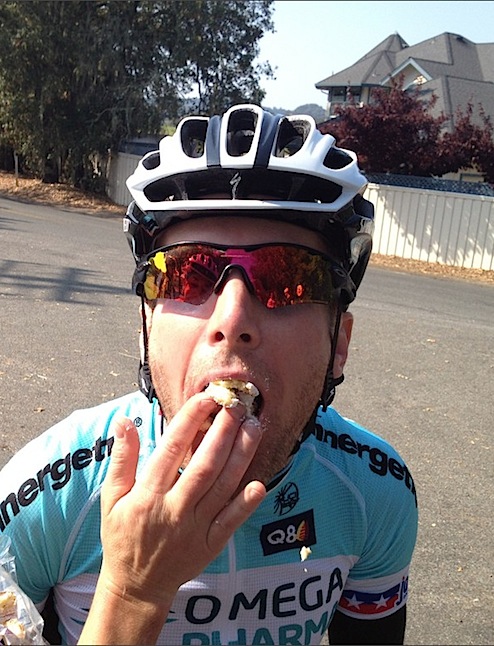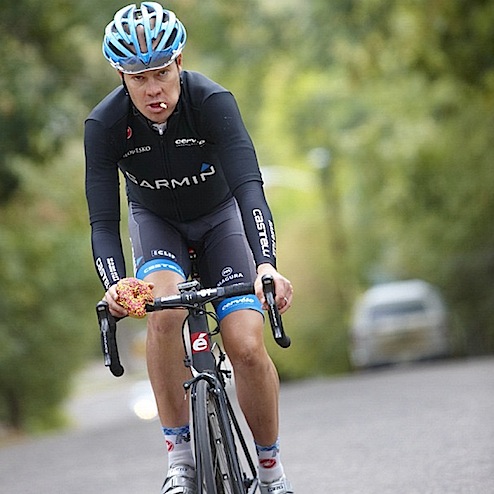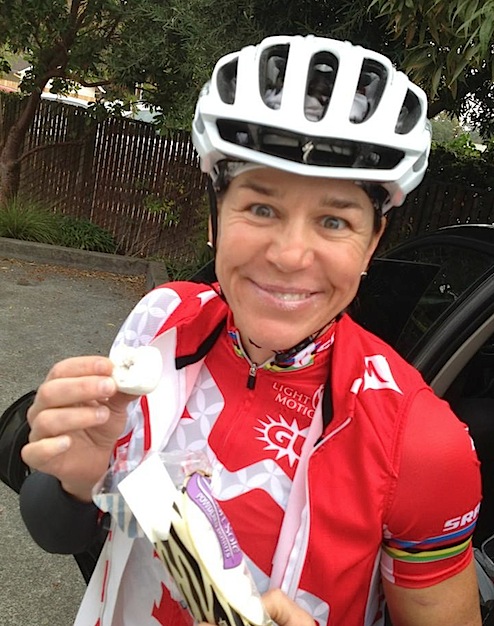 Of course, all of these people are going to learn a valuable lesson: don't let a guy with the nickname "Fatty" rope you into a race that features eating as the most strategic component: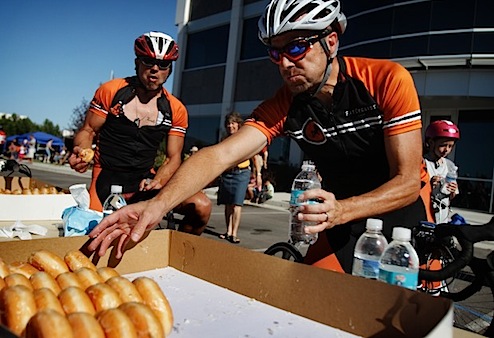 You see the difference between their faces and mine? They're clearly goofing off, having a bit of a laugh.
I, on the other hand, am dead serious. I've got the eye of the tiger, baby.
Not to mention the stomach of the hippopotamus.
Move Along, Nothing to See Here
By the way, these racers seem to have not noticed that the rules on the course length and type, not to mention the type of bike to be ridden are rather . . . vaguely expressed.
I wonder why?
Oh, I'm sure there's no reason.
Just In Case You're Going to Be There
The race itself will be at 2:00pm on the northwest corner of the Finley Center parking lot, in Santa Rosa, CA. It's free to attend, so if you can show up, you should show up. And please cheer me on.
Note, however, that there will be a press conference at 1:00pm prior to the race. You should come to that, too, because there will be very important and serious questions both asked and answered there.
Follow Me This Weekend
Penultimately, allow me to recommend that you follow me on Twitter. See, I plan to be posting photos and short pithy statements all during the big event, starting today and going through the weekend.
Sure, a lot of that will eventually wind up here on the blog, but it's kind of fun to see what's going on as it happens.
Plus, you can suggest things to me in something like real time, and I'm easily influenced by peer pressure.
One Last Plug
There. That's my case. Go ahead and donate to either team — Team Fatty or Team Levi — but please donate.
But bear in mind that as the guy who both defined the race and wrote the (strategically vague) rules, I would be very astonished indeed if I lost.
I'm just saying.