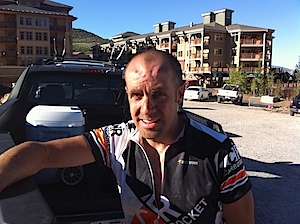 If you do something
Enough
There comes a time
Where once there was
Terror
Or at least apprehension
There is now only
Expectation
This is what I tell myself is
Happening
With regards to the race
The race I will race
Tomorrow
The
Park City
Point
to
Point
I have done this race
Once before
And I remember well
How completely shattered
I was
At the end
(As well as well before the end)
Fourteen
Thousand
Feet of climbing
in
Seventy
Eight
Miles
Should I be anxious?
Should I be worried?
Should I be afraid?
Yes, yes, yes
But
I
Am
Not.
I have not
Made lists
Gathered gear
Or pored over
Elevation profiles
I have a plan
A simple plan
I will just ride
Until I cross
The finish line
Is this shoulder shrug
Of a plan
Because I have become
Used to racing
Week after week
After week?
Or is it because
I am a fool
And shall shortly
Learn
A valuable and
Painful
Lesson?
I will know the answer
To a degree, at least
By this time
Tomorrow
Thank you.