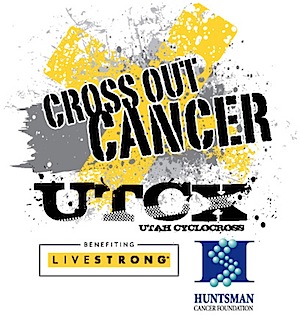 A Note from Fatty for Locals: I'm going to be out of town this weekend, which kind of bums me out. Not because what I'm doing bums me out — what I'm doing is actually pretty exciting and I'll talk about it another time — but because it means I'll miss Cross Out Cancer on Saturday.
Cross Out Cancer is this November 3, 2012 at Canyon Rim Park, located at 3100 S 2900 E Salt Lake City, Utah 84109.
This year's event will include musical performances by the School of Rock and Peter Breinholt, food, a 5K run; cyclocross races for all ages and abilities throughout the day, a CROSS OUT CANCER cyclocross relay race modeled after the world famous Little 500 (featured in the movie Breaking Away) and a fabulous silent auction.
The 5K run will start at 8:00 am and runners will enjoy the fall weather ambiance while running through the surrounding area. Regular scheduled Utah Cyclocross Series races start at 9:30 am (visit www.UTCX.net for start times for all the days' races) and the CROSS OUT CANCER relay race will begin at 12:00.
The Silent auction will open at 9:00 am and will be open for bidding until 3:00 pm. For more information or to register for the event visit www.UTCX.net. Proceeds will benefit LiveStrong and Huntsman Cancer Foundation.
A Note from Fatty: This is part of my race report for the the 2012 Breck Epic. My writeups for all parts of this story can be found here:
The Hammer and I stood together at the starting line for this, the final day of the Breck Epic. I was feeling surprisingly good. Better, in fact, than I had for the first five days of this race.
"It would be awesome," I told The Hammer, "If we were the fastest coed team today."
"We'll go the speed we can go," replied The Hammer. She is so maddeningly philosophical sometimes.
We took off — starting from the very back of the group, as was now our tradition — and got rolling up the couple miles of paved road that led to today's massive singletrack feast:

It was to be a "short" day: just 31.5 miles, with 3853 feet of climbing: two big climbs, two big descents.
Before we even got to the end of the pavement, The Hammer and I had pulled in front of the other two coed teams. Climbing was our thing. The question was, could we put enough time on the other teams during the climbs that we'd be able to hold them off during the descents?
The answer came quickly. As soon as the trail turned downhill, Team Bliss passed us. We expected it; those two are very nearly as fast as The Hammer and I in the climbs, and waaaaayyy out of our league in the descents.
But the climbing wasn't over. And we had gotten a whiff of what the lead smells like.
It smells like victory, FYI.
The short mile of downhill brought us to a big 2+ mile climb. The Hammer and I got back in front of Team Bliss, riding with a sense of purpose that quite frankly served no purpose, because there was no possible way we could move up in the overall standings. My miserable first- and second-day performances had seen to that.
But you know, even if you have no GC chances, sometimes it's worth it to go for a stage win. In fact, especially when you don't have GC chances.
Mile 12 – 17.5 might have been my favorite 5+ miles of the entire trip. It was exquisite, beautiful, perfect downhill. Twenty-three minutes of it.
I know you probably don't have time to watch the whole thing right now, but I'm not going to be posting for a few days (I'll explain later), so maybe you'll want to come back and watch this.
After you do, I'm pretty sure you're going to book a trip out to Breckenridge for next summer. It's that good.
If you watch this video (and I'm sure you will), you'll notice at some point that Team Bliss passes us, so at the halfway mark, they were in the lead.
But you should not count Team Fatty out. Not yet.
Last Climb
My knee was no longer hurting at all, which mystifies me to this day. And I wanted to win. So I told The Hammer to grab on (not literally…that was a different team) to my wheel; we were going to catch — and if possible, pass — Team Bliss.
We had a stiff headwind. I was pulling The Hammer, but Team Bliss was riding in a train of two or three other riders.
We passed them, nice and wide. Team Bliss and their train tried to grab on, but — and you have no idea how happy it makes me to say this — they could not hold our wheel.
We made it to the summit with an excellent lead. Was it enough? Maybe.
It would be close.
No Time for Picnics
The last aid station of the race was right at the summit at 24-point-something miles, before the big sevenish-mile descent.
It was our last chance to stop and say "Hi" to Montana's dad — one of the aid station workers — who had become one of our favorite people at the event.
But there was no time. We had to keep going through. Which turned out to be one of the real tragedies of the day, as we found out later. At the finish line, Montana's dad came up to us and showed us what he had set up for us at the aid station: a complete picnic spread, with a checked picnic cloth and basket and everything.
What a great guy.
For now, though, we had to get down the mountain as fast as possible, both of us wishing that it had been a climbing finish.
We were fast. We were really fast.
But we were not fast enough. Team Bliss passed us with just a few minutes left in the race, and we crossed as the second coed team for the day, and third coed team overall.
Which means we got this cool third-place framed prize: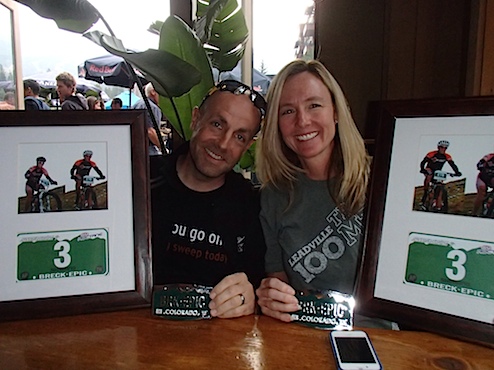 Here's a more zoomed-in view: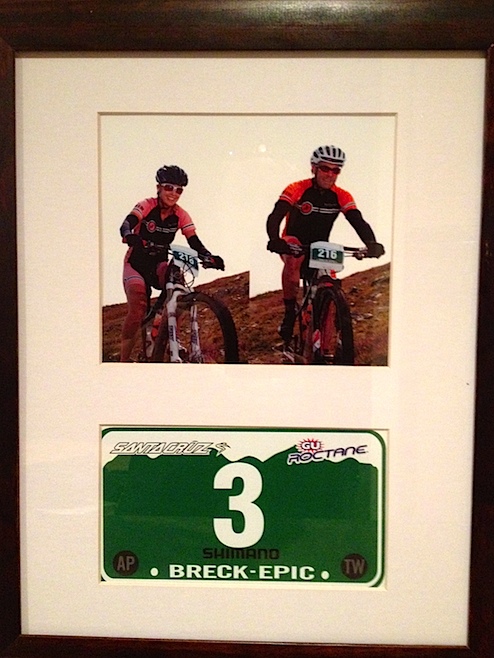 More importantly, though, we also got the coveted Breck Epic finisher's buckles: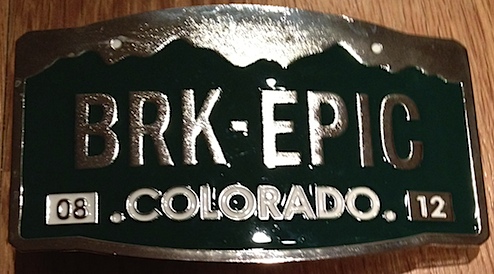 This is what they have stamped on the back: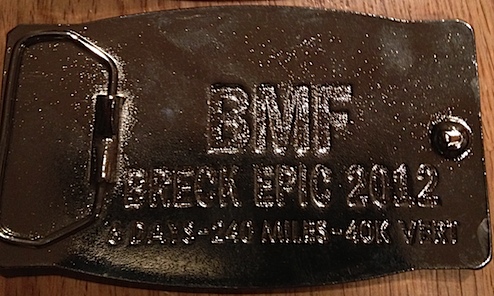 Seven days of racing. We had done it. We had finished the Breck Epic, the most understatedly-named race in the whole world.
The Stay-Puft Man
The next morning, as we started packing, I commented to The Hammer, "I feel weird."
"Like what?" she asked.
"My face feels tight. In fact, everything feels tight," I said.
"Like youre muscles are sore?" asked The Hammer.
"No, more like my skin is stretched," I answered.
The Hammer looked at me. "You're all swollen," she said.
And I was. My face was moonish. My ring was tight.
And my legs. Oh wow, my legs.
They were so swollen it was hard to bend my knees, and my ankles had disappeared completely.
And then there was the bruise.
Huge and purple, it went all the way from the bottom of my butt down the backside of my right leg to the bottom of my calf.
I cannot believe I didn't get a picture of it.
Which leads us to the final piece of advice I have for potential multi-stage endurance racing cyclists: There is in fact such a thing as too much ibuprofen.
PS: I won't be posting again 'til Tuesday. I've got my reasons, most of them having to do with a very cool new project I'm revealing on Tuesday.