A Note From Fatty: I had planned to leave my "new and improved design" I rolled out Friday as a nice weekend-long April Fool's joke, while some friends and I went out on a well-deserved, post-end-of-quarter mountain biking trip to Utah.
And then this happened (I know, I know. I'm giving away the ending before I even get to the beginning):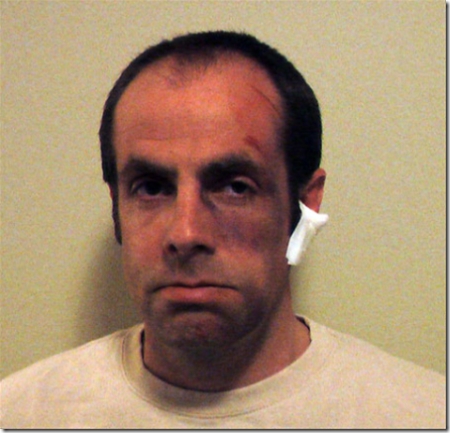 Sorry about the poor quality of the photo — it was taken in the hospital by a stranger, using my phone's camera.
Anyway, I'm back to the real Fat Cyclist design, so you won't think today's post is part of my April Fool's joke. If, however, you want to see that design, I made a screenshot of it here.
Big Surprise
Normally I wouldn't post on a Sunday, but some stories simply can't wait to be told. This is one of them. Though, to be honest, I'd just as soon not have this one to tell.
As I've mentioned ad nauseam lately, this has been an intense month. I haven't had a lot of time to train, and I've had practically no time to go out on a fun mountain bike ride.
So imagine — if you can — how flabbergasted I was when, at 5:15 Friday afternoon, Dug stopped by my office.
"Get in the car," Dug said. "We're going to Moab."
"Yeah, right," I replied, sagely (hey, I hadn't had time to prepare a clever comeback).
"Just follow me," Dug said.
Humoring him, I walked out to his car. There, on Dug's bike rack, was my Rig. So was Kenny's Rig. So — on sundry vehicles in the parking lot – was BotchedExperiment's (brand-spanking-new, never-been-ridden) Rig. So was Rick S's (not his real name) Rig. So was Dug's Surly (a 29″ SS) and Brad's WaltWorks (a 29″ SS).
Rick M had planned to come, I was told, but he had an important meeting crop up at the last moment.
It occurs to me: everyone in my group of riding buddies now rides 29″ single speeds. I wonder if there's something to that whole 29″ SS thing?
Nah.
OK, back to the story.
Verification
I admit to being confounded. I had not gotten clearance for a trip. I had not put my gear together for a trip. And yet, here I was, evidently on the cusp of going on a trip.
"Whhh?" I asked.
"We've cleared it with your wife," said Botched. "In fact, she packed for you."
I looked. Helmet, camelback, bottles, shoes, shorts, socks, jerseys, Shot Bloks, lights (charged!), comfy post-ride clothes. Everything I needed. My wife had done a good job.
"Let's go," Kenny said. "You can call your wife and thank her while we drive."
So I did. And it turns out that I had in fact been tricked into a Moab trip.
Not a bad trick, if you ask me.
Night Ride
I firmly believe that there are certain things every person should do at least once in their lifetime.
Furthermore, I believe that there are certain things every person should do a maximum of once in their lifetime.
I contend that the Slickrock Trail at night belongs in the second category.
Regardless, by the time we got to Moab, everyone was excited to ride.
So we did.
And it was a blast. Moves looked weird and otherworldly — and, frankly, kind of spooky. A light setup throws big shadows on normally-easy ledges, making it seem like you're about to drop into an abyss.
You want to know what real fear and uncertainty feels like? Try this: Drop down into an essentially vertical halfpipe in the dead of night, using nothing but a helmet-mounted light to see where you're going. It's impossible to see both the drop and the rise at the other end at the same time. You get to either know where you are, or where you're going. Not both.
I Should Never, Ever, Ever Show Off
The first time I did the Slickrock halfpipe this way, it took me minutes to work up the courage to drop in.
Before long, though, I had gotten comfortable. I was dropping in with a little hop, and was hitting the lip at top of the other end at speed, so I could catch air.
Stupid, stupid, stupid.
Chain Reaction
The strange thing about doing a ride where you do a move, wait for your turn, do another move, and then rest again is that since your lungs never get taxed, you don't notice your legs are getting tired.
At least, that's the excuse (actually, the first of many) I'm currently using for what happened next.
Dug, Kenny, and Botched were all on the far side of the halfpipe, waiting for me, Brad, and Rick S to come across one last time, then we were going to move on to the next move. It was my turn to drop in.
I zoomed down, then noticed as I got to the bottom that I was a little to the right of the white "do not cross" line. No big deal; everyone crosses that line from time to time. It's just a little bit steeper on the way up.
This extra steepness, combined with the accumulated fatigue in my legs from having done this move — and the others before it — probably half a dozen times meant that by the time I pulled up behind and to the right of dug, I was going verrry sloooowwwwly.
And then I couldn't get out of my pedals. The sand had jammed my cleats in solid.
I started rolling backward, back down the halfpipe.
I admit it: I panicked.
Flailing, I grabbed out, and managed to snag Dug's jersey just long enough to knock him off balance (but not long enough to stop me from continuing my fall down the halfpipe). As Dug toppled, his front wheel hit Kenny's back wheel hard enough that Kenny went over. Kenny, in turn, collided with BotchedExperiment.
Now everyone's in motion. Excellent.
Gathering reverse momentum, I finally got the bright idea of grabbing brake. The result of this was suboptimal — my bike became a lever, my back wheel the fulcrum. I fell over backward, twisting around as I landed on the sandstone on my back, face, and shoulder, the left side of my helmet bouncing off the sandstone floor (time for a new helmet!), with the effect of cheese-grating off a piece of my ear.
Still clipped in, naturally.
And the fun had just begun. During the next half-second or so, the following events took place:
Dug managed a stutter-step before he went over, giving him enough time to tangle up with his bike and stretch out his hands to catch his fall.
Note to people who think it's a good idea to stretch out your hands to catch your fall when you're falling seven feet or more: it's not.
Dug's right wrist snapped on impact. Good news: not a compound fracture. Bad news (for me): Dug's left elbow — carrying plenty of both weight and force — chose my ribcage as a good landing spot.
The doctor in Moab says I have cracked two ribs. The doctor closer to home says I have cracked only one, but my sternum is severely bruised. Not much to do about it either way. You know what's a strange sensation? Being painfully aware of each and every single breath you take. I find myself trying to ration them out. ("Am I blacking out right now? No? Well then, I think I'll hold off taking that next breath for another three seconds.")
The Chain Reaction Continues
Kenny, meanwhile, fell sideways, landing on his left hip and shoulder. If Kenny didn't have Osteoporosis, he'd probably have walked away from that fall with some scrapes and bruises instead of a hip fracture.
And then there was BotchedExperiment.
Nobody knows exactly how he managed this, but while everyone else got knocked down and busted up by my stupid move, Botched managed to pivot his front wheel forward and ride out of the mess.
Well, that's not precisely accurate. I should say, he rode over the mess, because that's what he did. Yes, Botched Experiment rode over Kenny's right leg, Dug's right forearm (just above the break in the wrist), and right over my right shoulder.
In Botched's defense, it's not like he planned it out, and it's not like he could see where he was going — Botched's lights were off (conserving power) when this happened.
Eventually, we came to a rest.
Noises
I should admit here that I am relating most of this story second-hand. The conk on my noggin gave me a concussion (would've been much worse if I hadn't been wearing a helmet) and I don't remember the fall or what happened afterward.
From what my friends (you're still my friends, right?) say, though, there were three distinct kinds of sounds after this crash:
Yelling: Kenny was simply yelling in agony. Dug, however, was furious. Screaming every obscenity he could think of (which is a lot), Dug alternated between expressing his pain and his assessment of me as a human being and rider. I gather that I was found wanting in both respects.
Evaluating: Perhaps the strangest thing — according to everyone except Botched — about this whole experience is that while everyone was still lying in a bloody, broken heap, BotchedExperiment started giving a dry evaluation of what had happened, along with practical tips on how to avoid such an event in the future. Evidently, I should not have flailed, and the rest of the riders should have had their bikes pointed in such a way that they had a clear line in the event of an emergency. Excellent advice, Botched, but your timing was questionable.
Laughing: At the other side of the halfpipe, watching the whole thing, was Rick S and Brad. I'm pretty sure that Rick S had whipped out his phone and started dialing 911 while the sound of Kenny's hip cracking was still echoing across the sandstone dunes. Brad, on the other hand, was laughing his head off. When asked at the hospital whether he would have laughed had he known the wreck were so serious, Brad said, "Oh, I could see how bad it was; my light was on. But you've got to admit, that was pretty freaking funny. I'm mostly just beating myself up for not having a camcorder rolling at the time."
I swear, Brad just doesn't have any sense of propriety.
Aftermath
So, after Lifeflight came and took us to the hospital (two trips were required, which they said was fairly unusual) and I had become relatively cogent again (evidently, I kept asking what had happened and where we were for about ninety minutes), I went and talked with Kenny and Dug in their hospital rooms.
Surprisingly, they were both very nice about what I had done to them.
"You know, I knew it was just a matter of time," said Kenny, pointing to his hip. "I was getting kind of burned out on the whole cycling thing anyway. I needed a break. I'll be back next season."
"I didn't really want to ride Leadville anyway," said Dug. "This is as good an 'out' as any, I guess. In fact, I see this as a good thing. Since I won't be able to ride this season, I'll be able to spend more time with my heroic wife, as well as with my toilet, which I love more than life itself."
OK, I may be exaggerating about the part about what Dug said…and the part about what Kenny said. But the rest of it — well, you just can't make that kind of thing up.
Except I just did.
PS: Props to my wife for the seriously good work on the bruise-and-cut makeup.