A Note from Fatty: If you came here hoping for The Monster's LT100 Race Report, Part 2, well…you're going to have to wait for a while. She's a full-time college student and the soonest she's going to be able to write part 2 will be during this weekend. I'm guessing part 3 (because I'm guessing this is at least a three-parter) might be yet another week away. 
I'm probably the only person in the world who gets outrageously busy, unexpectedly. Right? Oh, that happens to you too? Good. You understand why I've disappeared for the past several days. 
Let me assure you, though: the registration for the 100 Miles of Nowhere 2016 edition will be coming soon (I know, I thought it would be this week, but it's going to have to open this Monday instead). 
Here, let me show you what the t-shirt will look like: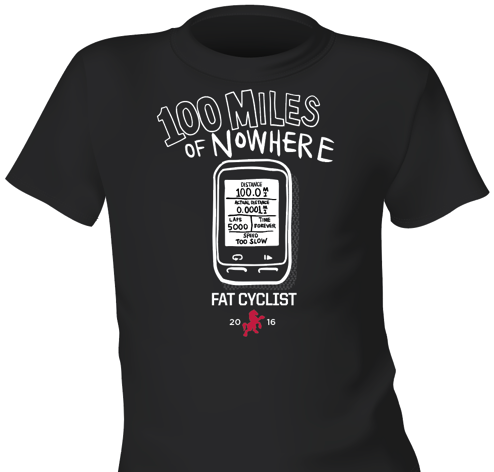 And since that GPS is a little bit tiny, here's a close-up of the fields: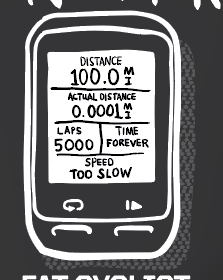 Between the old-time horror movie title treatment and the GPS fields, I feel like this is the most accurate 100 MoN t-shirt, ever.
But I haven't shown you everything about it. Further, I am coyly happy to announce that the part I haven't revealed is probably something you won't have expected. And it's not the back of the t-shirt, either.
I will tell you that this will be the least-expensive 100MoN ever. And that there won't be much (OK, any) swag beyond the t-shirt. This year, it's going to simply be about raising money for Camp Kesem. It won't cost you much, you'll get your t-shirt soon, and more of your money will go to Camp Kesem, instead of overhead.
So, watch for the registration to go up this Monday, and mark November 11 (the Saturday during the Camp Kesem Leadership Summit) for doing your ride (of course, you can do it later or sooner…that's the beauty of the event).
NEW! Paceline Podcast
Of course you know that I participate in the Red Kite Prayer Paceline Podcast. And I love every single episode. But I especially love this one, because at the very end, you get to hear Duke go completely nuts when the doorbell rings.
And also you get to hear me contemplate how weird it is to find that I am now blocked by Lance Armstrong on Twitter.
Listen to The Paceline below:
You can also get more details at Red Kite Prayer, or subscribe on iTunes. Or both. Yes, now that I think about it, I definitely recommend both.
New Pinnacle Podcast
I'm also working with Yuri Hauswald on the GU Pinnacle Podcast — inspiration and information from athletes and experts at GU. In this episode, we talk with Magda Boulet, who has done a lot of inspiring things. Like, an insane number of insipiring things.
She's represented in the Olympics — where she endured tragedy and came back stronger. She's won the Western States 100. She's been the NA Ultra Runner of the Year. 
And most recently, she's clobbered the Ultra Trail Mont Blanc (UTMB), the toughest, most prestigious 100-mile trail race of them all. 
When she's not destroying the field on the trail, Magda leads Innovation & Product Development at GU Energy Labs. Magda is an incredibly smart and inspiring athlete. You're gonna love this episode of the GU Energy Pinnacle Podcast:
You can listen to it above, download it directly, or subscribe on iTunes.
What About the FattyCast?
You've probably noticed that I haven't released an episode of The FattyCast in a while. That's because I just…don't have time, what with a new job and working on three other podcasts.
Will there be a new episode of The FattyCast? Ever? Honestly, I don't know. I really liked doing that podcast, but my life is pretty full right now.
What About Regular Posts?
I have stuff I want to write for this blog: a post about gloves I love (really!), a post about my new road bike (hint: it's not new and it's not a road bike), and a writeup about the Crusher in The Tushar (I'm guessing it's about a five-episode story, and is hardly at all about me, and is therefore a lot more interesting).
And In Conclusion
Come back Monday morning, ready to register for the 100 Miles of Nowhere. It won't cost an arm nor a leg. (In fact, it will cost $39.95 including shipping.) And it will do a lot of good — I've seen myself what an amazing charity Camp Kesem is — and you'll get an awesome t-shirt. 
Huzzah!