UPDATE: If you're the kind of person who doesn't generally read the comments, let me recommend that you make an exception this time. I love reading about the amazing things readers are describing having seen from their bikes. And to those of you who have posted comments: thank you. We're all so lucky to have seen such amazing things, aren't we?
I've been riding for more than two decades now. Not contiguously, mind you; I do take breaks. For example, I'm not riding at this moment.
You'd think — or I'd think, anyway — that by now I'd have run out of things that amaze, surprise, or delight me about cycling.
But I haven't run out. Not even close. And there are three really cool little bike-related surprises I want to tell you about today. 
The First Cool Thing
Years ago, a guy named Wade asked me to link to his new blog, CyclingTips. I took a look at it — a nice site with a lot of good information in it — and added it to my blogroll. 
Now, of course, CyclingTips is way more than tips about cycling. It's a mainstream cycling site, and one of my favorites to read.
And as of right now, I'm contributing to it. Specifically, I'm co-hosting their new weekly CyclingTips Podcast. You can subscribe on iTunes, use its RSS feed with many podcast managers, download it directly, or just listen to it here:
You can read more details on this first episode over at CyclingTips. And let me know what you think.
The Second Cool Thing
Last Saturday, The Hammer, The Monster, and I went on a nice long, flat road ride around Utah lake. It's our go-to ride for when we want to put in a lot of hours, but not a lot of climbing. Plus we wanted The Monster to have a good experience for her first century.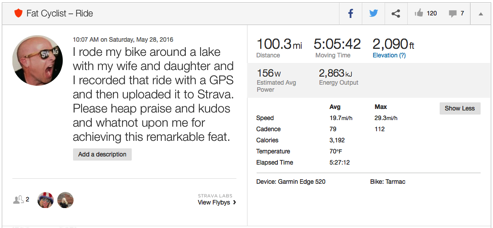 I have really stepped up my Strava Ride Description game lately.
The ride went great. Somehow there was little or no wind, and it was at our backs more often than not. We kept a good pace. We had no mechanicals.
And traffic was light — not many cars. But — and this is the important part — we did get passed by about 700 motorcycles.
I am not exaggerating. At least I don't think I am. Basically, about forty-five miles into the ride, one Harley-Davidson motorcycle passed us, followed by another and another.
And then, for the next four miles, at least one motorcycle passed us every single second. Beautiful motorcycles, obviously cared for and loved. All of them were a pleasure to look at, and many were straight-up eye candy. 
Many of the riders waved, all of them gave us plenty of room. And Harley-Davidsons just sound wonderful. 
We had been taking one-mile pulls, fading off the back at the green mile markers, but while this unbelievable parade went by, we just held the formation we were in.
Finally, they had all gone by and we had the road to ourselves again. I looked back and laughed. "Can you believe that?" I asked.
"That was amazing," The Hammer said.
"That had to have been every single Harley in Utah," The Monster said. 
We hadn't expected to see a parade, weren't after a parade. But out in the middle of nowhere, we had been the lone spectators to an incredible parade.
I'm not 100% certain it's the coolest thing I've stumbled upon while biking, but it was certainly close.
The Third Cool Thing
That brings me to the third cool thing. Which is your cool thing. Which is to say, after seeing all these motorcycles, I started thinking about all the amazing things I've seen because I happened to be on a bicycle. I've seen a wild turkey, running at top speed down a road, looking for all the world like a velociraptor. I've seen a moose, standing stock-still and facing me down. I've seen people hugging and crying at finish lines. I've seen stars, clearer and brighter than anywhere else.
And I'll bet you've seen some amazing, memorable things, too.
I'd love it if you'd share one of those things with the rest of us, in the comments.