I cut a ride short last weekend. I had to. I was in too much pain to go on. 
You need to know exactly how serious of a thing this is with me: last weekend was supposed to be my last long day of riding before the Leadville Trail 100. And it was going to be my first really long day on the bike I'll be riding at Leadville: my Ibis Tranny 29, built up as a singlespeed with a Gates Carbon Drive Belt System drivetrain.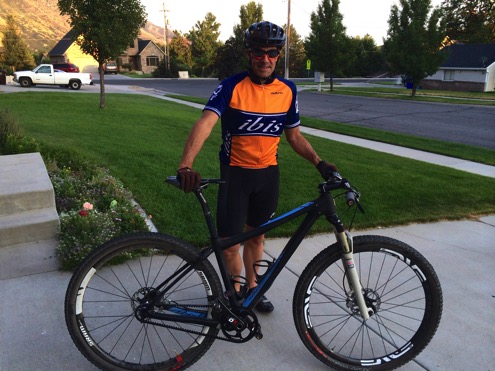 I'll be doing a not-live-blog of the story of this bike tomorrow (it's a surprisingly dramatic story), but here's the spoiler ending: it's awesome.
The Hammer and I planned to go up Pole Line Pass, down to the Wasatch State Park visitor's center to fill up with water (and buy ice cream bars), then climb back up to the summit of Pole Line Pass to hit some rolling singletrack along the Ridge Trail to Mud Springs, reconnecting to Tibble Fork for a fun downhill to the reservoir.
At some point along the way, The Hammer was supposed to take pictures of me riding my new bike, for use in the end of my bike build-up post. 
But we never took the pictures. I wouldn't let her take them. Because by the time we got back to the top of Pole Line Pass — where the actual fun part of the ride should begin — I couldn't stand the thought of being in my shoes that much longer. I needed to get down to the truck and out of my shoes. 
And I was in a terrible mood.
That's right. I — the guy who just never ever ever gets tired of biking, the guy who loves riding more than anyone has ever loved riding, the guy who is pretty much always happy whenever near a bike — chose to skip riding a fantastic long section of perfect singletrack, in favor of getting done sooner and out of my shoes. 
The name I chose to give the ride on Strava pretty much tells the story.
Something's up with my feet, and I need to get that something fixed. And I don't have much time to get it done. 
So I'm asking for help. Guidance. Advice. Whatever.
The Backstory
Little by little — over the course of the past year or so — my feet have started hurting after long rides. Especially my left foot. Here, let me show you where: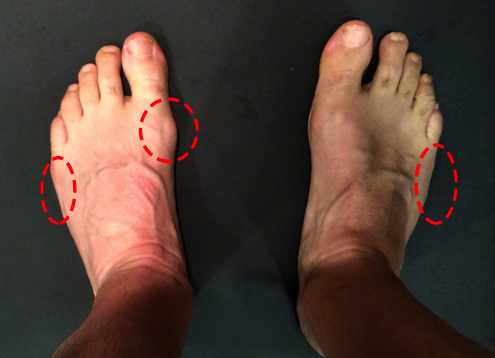 I fully expect, anticipate, and look forward to the jokes about the hair on my toes and my horrible toenails. Feel free. 
The thing is, this pain isn't limited to one pair of shoes. I have several pairs of mountain bike shoes.
An old pair of Specialized S-Works MTB shoes, which used to be comfortable but aren't anymore. 
A new pair of Specialized S-Works MTB shoes, which hurt so bad I took them to a shoe repair place to have them stretched. It didn't help.
A pair of Sidi Dragon 2s, which I took to get stretched, and which I thought were going to be OK… but which were in fact the shoes that just about killed me on that ride a couple days ago I just described.
A VERY old pair of Specialized Expert MTB shoes, which seem to do OK for me, and are my current fallback plan for the LT100. They're at a shoe repair store right now, getting new velcro attached; the old velcro is all worn out and doesn't fasten at all anymore.
The thing is, those old Specialized Expert shoes are really worn out, and won't last much longer even once repaired. I'm going to need some new shoes, ones that fit, soon. 
What I've Tried and Considered
I should have started attacking this problem sooner, but I thought I had things figured out. A while back, I ordered some new Specialized S-Works MTB shoes, this time in wide sizing; I thought they would work. But they took a long time to arrive, and then they fit me really badly — they weren't just wide, they were tall, and the shoe cut into my ankles.
So I traded them out for regular-width S-Works shoes, but those — even post-stretch — hurt so bad I can't wear them for even an hour of hard riding.
I've stretched my Sidi Dragons — that seemed to help some, but not enough. Four hours into a ride with a lot of hard standing climbing left my feet begging for mercy.
I've looked into semi-custom shoes like Shimano and Bont. But the Shimanos seem designed to tighten around your feet, not make room for them. And Bont shoes are difficult to get ahold of; I emailed them and they said they don't have my size (Vaypor XC 42 wide according to their fitting system) and I'd be looking at a 5-6 week wait for them to make and send some.
I Need a Hero
What I need right now is a heroic shoemaker. A company that can talk to me, hear what's bothering me, and give me a pair of shoes that I can ride — as a hard-mashing, standing-climbing singlespeeder — for all of the Leadville 100. 
Or someone else, who can achieve that same result — me not being unable to pedal hard due to foot pain — in some other way (inserts? magic repositioning of cleat?).
If you're out there, help me out. I guarantee you'll get so much grateful high-profile bloggage in return you'll need to hire another intern just to cope with the increased social media load.
Please. Help me. I'm begging.