A Note from Fatty: Thanks to everyone for your ideas on how I can get my feet feeling better. I used / am using several of your ideas, and hope to get them feeling OK for Leadville as a short-term plan, and to get them all better for riding in general as a long-term plan. I'll let you know how it goes.  
Another Note from Fatty: For the next little while — leading up to and through the 2014 Leadville 100 — I'm going to be talking about the Leadville 100. A lot. 
Obsessively, really.
You've got to understand. I've done this race every year since I was 31. 
So, today's post was going to be about my bike — what I'll be riding in the Leadville 100 this year, and why. But I've got something I just couldn't wait to tell you today. So my bike decisions, build, rebuild, testing and other obsessing — a story I think I will title "How I started getting my calls screened out by Ibis, Gates Carbon Drive, my favorite bike shop, and SRAM, all by building one bike" will have to wait 'til Monday.
But here's a sneak preview of how it ends: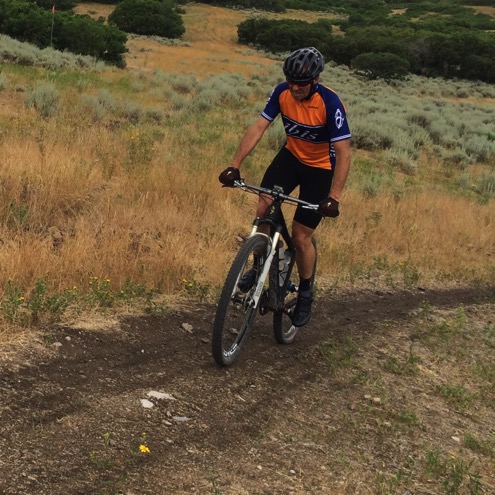 Yeah, that's a grimace on my face. But it's a good kind of grimace.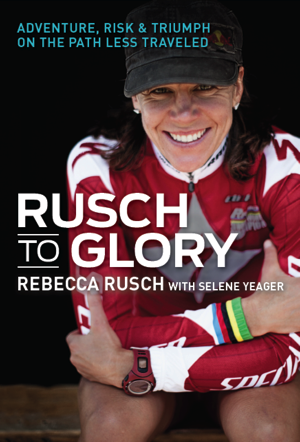 Meet the Queen of Pain
I'm a big fan of Rebecca Rusch — sometimes known as "The Queen of Pain." I've been astonished at how fast she is on a bike. How nice and approachable and real she is in person. And how hard she works at promoting good causes — IMBA and World Bicycle Relief among them.
But until very recently, I didn't really know much about her.
But I managed to get an early media copy of her autobiography, Rusch to Glory, and — well, it's simply the best cycling pro's autobiography I can remember reading. 
This in spite of the fact — no, because of the fact — that you don't get to Rusch's career as a pro cyclist until you've been to her careers as an adventure racer, business owner, rock climber, barista, and aerobics instructor. And more. And not in that order.
Rebecca Rusch — Reba to her friends — has had an astonishingly full and exciting life. And she'll be launching her book in a select few places before it's available at bookstores and online in October.
The first of those places is in Leadville, where next Thursday, August 7, from 6 – 9pm, she'll be reading from the book and answering questions from the audience at the famous Tabor Opera House in Leadville.  
And I'll be acting as moderator of the Q&A part (that's why I got to read the book before it's available).
If you can be there, you definitely should be there. Because beer purchases there will all go toward The Hammer's WBR fundraising campaign. And you'll get to keep this very cool Miir-made Rusch to Glory / WBR pint glass: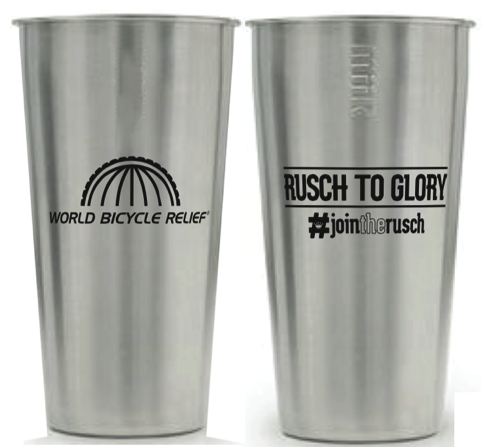 And, by the way, this book reading / signing / Q&A will be one of a lot of pre-race awesomeness with Reba. She'll be conducting pre-race clinics on critical parts of the course, conducting a session on how to set up your bike and food for the race, and a lot more. Check out her schedule for more info.
Buy a Book Early, Change a Girl's Life
As I mentioned, this book won't be available to the general public until October. But if you can't wait 'til then — and you'd like to help The Hammer in her WBR fundraising, make a donation for $50 to The Hammer's WBR fundraising page and she'll personally buy a copy of the book for you, get Rebecca to sign it, and mail it to you (US shipping only, please; The Hammer and I will be paying for all of this out-of-pocket). 
And if you want something special in the inscription, note that in your donation's comment field. Easy.
But you've got to do that by Wednesday, August 6. Any later than that and we won't be able to get you the signed book. (But we'll still appreciate your donation.)
I Saved The Best Part for Last
OK, I'm excited about Reba's new book. And I'm looking forward to moderating the Q&A at her reading for the book. And I'm stoked at the fact that Reba's using that reading as an opportunity to raise money for good causes.
But all of that pales to the thing I'm most excited about. I hope you don't mind if I go ahead and write it in all caps, bold, and bright red.
REBECCA RUSCH WILL BE RIDING THE LEADVILLE 100 WITH THE HAMMER. 
And by "with," I mean "directly in front of." See, Reba's "finish line" this year has been getting her book out the door; training hasn't been a priority. But she wants to line up and be at the Leadville 100 — the race she's won four times. 
So she had an idea: what if she mentored, guided, and rode with someone else, to help that woman get her best Leadville time possible?
And what if that woman were The Hammer?
So yes. Reba is talking with The Hammer, giving her guidance and advice. Developing a strategy for racing smart and eliminating time where it can be eliminated.
Then on August 9, they're going to line up together, they're going to race together, and they're going to cross the finish line together.
How's that for a kind of awesome way for The Hammer to complete her tenth Leadville Trail 100, qualifying her for her own 1000-Mile Buckle?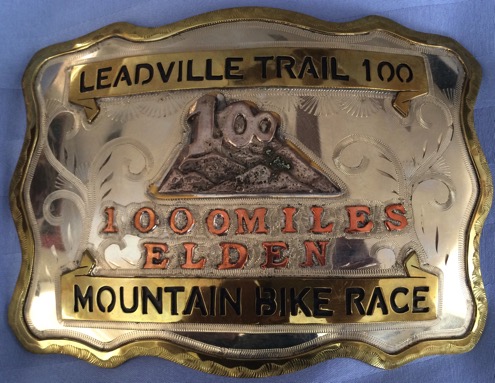 My 1000-mile buckle, shown for reference, and because I like to show it off whenever I can. 6" wide by 4.5" tall, in case you're wondering.
I cannot even begin to tell you how excited I am to see how that turns out. But I suspect it'll make a pretty darned good blog entry.