A Note from Fatty: Remember when I talked about the weight loss grace period? How I was giving us until the beginning of March to lose weight without having to divulge our starting weight? How I was giving us one last try at keeping our new year's weight loss resolutions without subjecting ourselves to public humiliation and ridiculous gamification tactics?
Well, that grace period is about over. 
I won't be posting Monday cuz that's The Hammer's and my anniversary (our fourth) and we'll be out cycling and hiking in Southern Utah. But this Tuesday I'll be revealing a new weight loss contest — one that focuses on accountability and long-term success. 
So. Find your scale. We're about to lose some weight together.
Concession Speech
Good morning. Thank you for taking the time to be here today. I have a short statement to make, and then will answer questions.
I am a competitive person. I love a challenge, and have in fact based an inordinate amount of my adult life on my willingness to participate in contests, whether the contest is a weight-loss contest, or a race.
Because of this trait—call it a weakness if you will—I agreed to a weight loss contest with Adam Schwarz last year. We both succeeded in our goals (although he has since kept his weight off, while I have not). 
Following the conclusion of this contest and my subsequent participation in last year's inaugural St. George Half Ironman, Adam challenged me to race him in the 2014 edition of this race.
Recklessly, I agreed.
Since that time I have watched, chagrined, as Adam related his podium positions in numerous triathalons, not to mention his relentless training in all three disciplines.
Meanwhile, I have enjoyed what I like to call my "off season." Which is to say, I have ridden little, and eaten much. And have reaped what I have sown.
And in short, I am currently as pudgy as a pot-bellied pig.
Clearly, Adam would handily defeat me in St. George. I began  to mentally compose my mental blog post, wherein I would set forth my list of excuses, in a manner that somehow was simultaneously self-deprecating and convincing. It wouldn't be an easy challenge, but I felt like I was up to the task: I would lose the race between Adam and me, then write a post that cheerfully acknowledged his win while making it seem trivial and ridiculous. 
And then, suddenly, I was confronted by a genuine, actual problem: Kenny — without consulting me, if you can believe it — had the temerity to have his fiftieth birthday on the same weekend as the St. George Half Ironman.
Further, Kenny elected to host his annual Ride Around White Rim in One Day (RAWROD, where I — almost nine years ago — got the idea for this blog) on that same weekend.
And then Bob said he's coming. And so is Dug. And Ricky. And in short, the whole core team. And possibly a very recent winner of Survivor. And they're riding the 7Up – Mag7 trail the day before RAWROD. And then having brats the night before.
And in short, Kenny is putting on what I would describe as the most perfect Moab weekend possible for his fiftieth birthday.
And I just don't want to miss that. Which is to say, I won't miss it. Which is to say, I'm going to Moab.
For this reason, I feel it is necessary for me to proclaim to the world that — had we raced the St. George Half Ironman — Adam would have absolutely, positively kicked my ass. 
He would have demolished me. Destroyed me. Left me sad, lonely, and questioning my life choices.
Let's take a look at my splits from last year: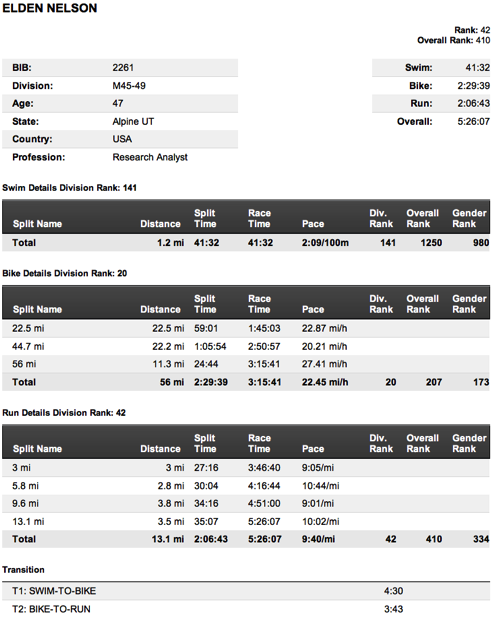 My swim time was 41:32 (pathetic). My bike time was 2:29 (pretty fantastic). And my run time was 2:06 (astonishingly slow).
Now let's assume that this year I would have been exactly the same as I was last year (in spite of the fact that my current fitness is nowhere like where I was this time last year).
I get the sense that had we raced, he would have been about eleven minutes faster out of the water than I was. That puts him at 30 minutes. 
On the bike, things would have gone (somewhat) better for me. Thanks to the fact that I live about 3,000 feet higher than St. George and he lives about 3,000 feet lower than it, combined with the fact that I own a high-zoot TT bike and he doesn't, I would have reversed the time deficit, so I would be five minutes ahead of him. That gives him a cumulative time of 3:20.
And then he would have slaughtered me on the run. There's no two ways around that fact. I am not running at all this year. Every time I've tried, I've been crippled for about a week after. Meanwhile, Adam has taken to running as if it were actually an enjoyable sport, rather than a hideous mockery of all that is good in the universe of exercise options.
Hence, let's be generous (to me) and say that Adam would be about a minute per mile faster than I am. He'd do the run in 1:53, for a total time of 5:18. 
All up, this totals out to him beating me by approximately eight minutes. That's close, yes. But still a clear and convincing win. 
My speculative numbers don't lie, probably. Adam would have beat me. And thus I concede to him. 
Adam, you are the superior athlete. I bow down to you.
That said, I reserve the right to retract this concession if Adam has a slower race time than 5:26:07. And don't think I won't be checking.