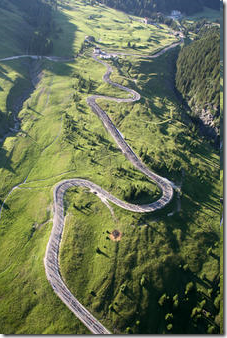 If you could pick any place in the world to ride for a week, where would that place be?
The correct answer, by the way, is "Italy."
And, thanks to Ciclismo Classico, you may very well be riding in next year's Maratona dles Dolomites.
This is, without question, one of the most awesome prizes — a $4000+ value — I've ever had on my blog. And all you need to do to get a chance at winning it is to donate $5.00 (or more) at Brad Stratton's LiveStrong Challenge page.
What You Can Win
Ciclismo Classico is donating one slot in their weeklong Maratona of the Dolomites Tour for the week of June 29 2009. That includes accomodation and most meals, use of a bike, support, and an entry in the Maratona dles Dolomites, the largest amateur cycling event in Europe. And it ain't easy to get an entry into this race.
So you won't only tour in Italy, you'll get to race in the Dolomites.
Folks, this is about as dreamy as dream vacations get.
By the way, if you win and the date of this particular tour doesn't work for you, Ciclismo Classico will let you pick another 12-or-more-person tour to go on instead, as long as you go sometime in 2009. Sweet!
For more info about the Maratona of the Dolomites Tour, click here. For info about what's included (and what's not), click here.
Oh, and I'll throw in a 2009 Fat Cyclist jersey, too, as long as you promise to send photos back of you wearing it during your trip.
Other Prizes
Of course, only one person's going to win the Ciclismo Classico grand prize, but we've got cool second- and third-place prizes, too.
Not too shabby, eh?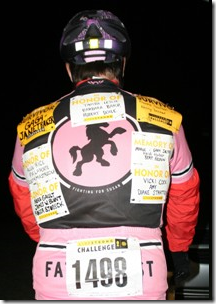 How to Win
I'm doing the Maratona of the Dolomites giveaway in much the same way I did the Ibis giveaway: you get virtual raffle tickets by donating to the Lance Armstrong Foundation, via Brad Stratton's LiveStrong Challenge page.
This time, though, there's a twist.
Like last time, $5.00 gets you one raffle ticket. But this time, as you donate more, you get additional — bonus — tickets. Here's how:
$5 donation: 1 ticket
$25 donation: 5 tickets + 1 bonus ticket
$50 donation: 10 tickets + 3 bonus tickets
$100 donation: 20 tickets + 8 bonus tickets
$250 donation: 50 tickets + 25 bonus tickets
$500 donation: 100 tickets + 60 bonus tickets
The more you give, the more your chances improve. Click here to donate now.
All the money goes directly to the Lance Armstrong Foundation — nobody's skimming anything off the top.
When Is The Winner Announced?
This contest goes for One Week Only. I'll choose winners randomly on Wednesday, October 8.
Why This Matters
Of course, it's really cool that Ciclismo Classico is donating a trip, and it would be really cool if you won it. But the reason we do these raffles goes way beyond that. We're having fun, but we're also fighting cancer. And the Lance Armstrong Foundation is doing a great job in advancing this fight.
I'm doing this raffle with Brad because his mom is engaged in a very hard battle against cancer right now. I can identify with his need to do something to help. Not just help his mom, but help anyone and everyone who's trying to win this fight.
Thanks very much joining in.
PS: A big thanks goes out to Brad for seeking out Ciclismo Classico, and to Ciclismo Classico for stepping up to the plate with an outstanding prize.