There've been a couple of stories going around about cheating and cycling. The highest-profile one, of course, is about Floyd Landis and his admissions and accusations.
The other story hits closer to home: a woman who used another woman's registration to race the Leadville 100 last year, and then — having placed second in her friend's age group — got caught and prosecuted with a felony (plead down to a misdemeanor) charge.
I've been thinking about both of these events and have a few random and unresolved things to say about them.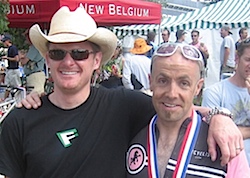 The Problem With Floyd
I am not the best person in the world to detail what the progression of events was in the case of Floyd Landis and his four-plus-year-long doping scandal epic. Here are the facts (at least I think they're facts) that seem relevant to me right now:
Floyd was accused of doping.
Floyd spent a lot of his money and time — and a lot of other people's money and time — defending himself against this accusation.
I believed Floyd, just like I believed Tyler. (I like to believe people.)
Floyd admitted he was lying.
Floyd also accused a bunch of other people of doping and helping people dope.
So as far as I can tell, here are my choices with regards to believing Floyd:
I can believe that he was lying before, but telling the truth now about himself and others.
I can believe that he was lying before, is now telling the truth now about himself, but is making up a new batch of lies about others.
I can believe that he lied before, is lying about himself now, and is also making lies up about others.
Which is the most likely scenario? Well, probably not the third one, although it's only a third more ridiculous than the other two options. But seriously, I have no compelling reason to believe scenario 1 or 2 is more likely.
Why can't I make a good guess? Well, I have already proven that I judge his motivations and degree of honesty poorly; it'd be stupid for me to think that I'm any better at it now than I was then.
But one thing's certain: no matter how much truth he's choosing to tell now, he took a long time to choose to tell it. And I really doubt that this is a conscience-clearing decision; I have a very difficult time imagining that Floyd would be making these confessions and accusations if he had never been popped for doping.
Everyone makes mistakes. No, that's weak; we're not talking about mistakes here. Everyone does bad things.
But not everyone gets so twisted up in their errors that they can't ever be taken seriously again, even when they make very serious allegations.
The Problem With Wendy
Last year, Wendy Lyall (36) took Katie Brezelton's Leadville 100 spot. Then she finished second in the women's 40-49 category.
Those of you who are good at math will have noticed that most women who are 36 years old are usually not between the ages of 40 and 49. It's incredibly rare, in fact.
Most people, when talking about this story, focus on the — admittedly ridiculous — aspect of Mark Hulbert's pursuit of felony charges against Wendy and Katie (now plead down to misdemeanor).
As far as I can tell, nobody at all has mentioned Jacqui Wood, who was the person Wendy knocked off the podium by cheating.
And of course nobody at all considers that a certain woman known here as The Runner might have found the legs and heart to push herself to be a mere 26 seconds faster if she had known that's what it would have taken for her to be on the podium herself.
If other people hadn't cheated.
So here's the thing: The right time to have made that apology would have been before the awards ceremony. Wendy and Katie apologized, but they did it only after being caught. Which makes the apology feel a lot more like "I'm sorry you caught me" than "I'm sorry I stole a spot on the podium."
The Problem With Fatty
I should point out, though, that I'm at fault as well. I've cheated before; the difference is I haven't had to admit it because I never got caught (do you think Floyd would be saying anything at all right now if he had never been popped for doping?)
I'll give you an example.
I was racing the Brian Head 100 one year — I forget what year, honestly, because I did the race several times — and found myself in a surprising position early in the race: very far ahead of where I ought to be, relative to the field. I was surprised, yet pleased.
It was only later that I realized that I had made a wrong turn, cutting a couple miles and a big climb off the course.
I finished with a fast — though not winning or even podium-ing among my age group — time. So I didn't say anything to the organizers.
But who knows? Maybe I knocked someone out of the age group top-10 spot they were hoping for, or something like that.
Until now, it never occurred to me that my not speaking up might have affected someone else's race results. Now, however, I know: I should have told the organizers that I should be DQ'd, and now I really wish I would have.
And maybe that's the lesson here. When you race, the main thing your entry fee buys you is the right to compare yourself to other people. And if you cheat, you're screwing up the yardstick for everyone.
So here's the giant epiphany, the big payoff for this big ol' navel gazing session: cheating is bad. And as a sub-epiphany: you don't know who you're damaging by cheating, nor how much. And as a tertiary minor epiphany, if you've been caught cheating — as opposed to openly confessing it, you can forget about moral high ground.
It's almost enough to make me consider cutting back on the EPO.
After the season ends, I mean.
PS: The last real day of school for the kids is today; we're going on a little vacation. I'll be back Tuesday.
PPS: All profits from the Johan Bruyneel collection continue — through the rest of this month — to go to Team Fatty's LiveStrong Challenge. Read details here, then go get yourself something Johanesque to wear here.