A "I Have Women's Gear Available and Didn't Even Know It" Note from Fatty: In my most recent post, I pointed out that I have men's Fat Cyclist gear — bibs and jerseys — available to be shipped immediately. And I still do. Let's take another look at them: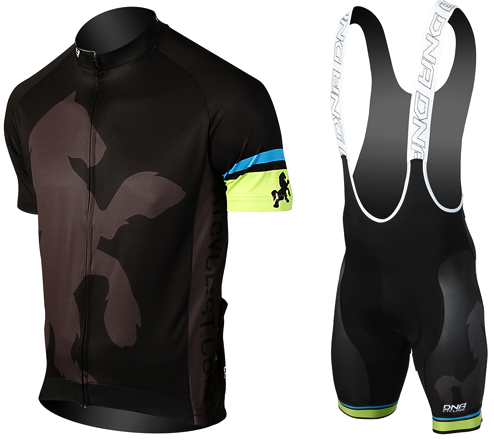 Oh my. Those are nice.
However, I didn't even mention the women's gear. This was because I was mistaken, thinking I didn't have much (if any) available. As it turns out, that was wrong. I have pretty much all sizes of women's jerseys and shorts available and in stock, now, in all sizes.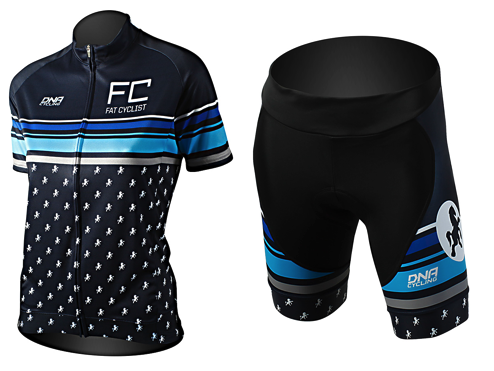 The Hammer, The Monster, and Lindsey all wore this kit at the Crusher in the Tushar and agreed they're comfortable enough for a full day in the saddle: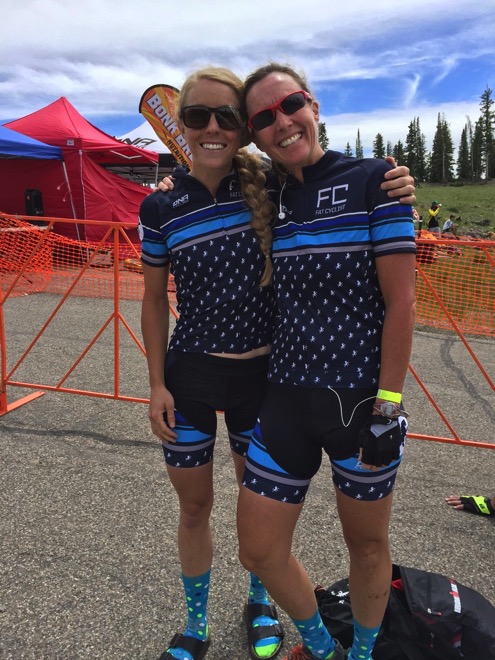 And The Monster wore hers at the Leadville 100, where she showed that badass is beautiful: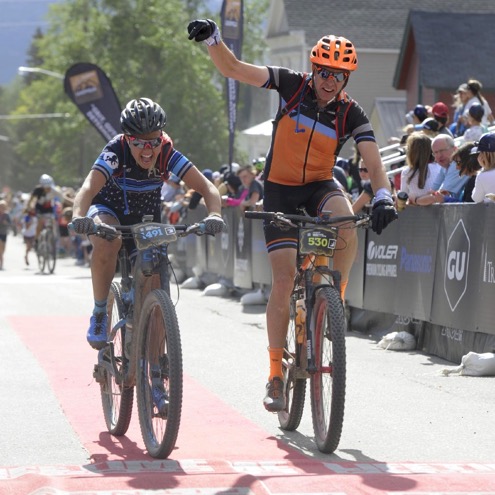 I don't consider it a spoiler to show The Monster at the finish line, because I don't think there was ever any doubt that she would finish. (That helmet angle though.) 
So, yes. My point is the men's and women's FatCyclist gear this year is great. Not just great looking, but full-on great. So please: buy it.
Race Report, Interrupted (by a Different Race Report)
I should be writing part 5 of my LT100 race report right now. I know I should. But right now I really want to talk about the race I did last weekend — the Draper Fall Classic.
Why? Two reasons. First, because it's fresh in my mind. Second, because I just can't get all the "what if's" out of my head. 
Oh, and one more reason: because of the "why" I was out there racing at all.
I Don't Feel Like Racing, So Let's Solve That Problem by Entering a Race
After I raced the Leadville 100, I was tired. OK, that may well be the single most obvious thing I could ever have written, but the duration and depth of my tiredness caught me off guard. 
Specifically, when I got back on my bike for the first time after the race — probably a few days after Leadville was over — I just had no oomph whatsoever. I went out with the intention of riding to the top of the Alpine Loop, but changed the ride to a slow spin to the Tibble Fork parking lot. 
Riding didn't hurt, but it wasn't fun. And I had no power for climbing at all. 
This oddness continued the next day. And the next. And so on and so forth. Usually I recover quickly. This time, I didn't seem to be recovering at all. 
And even weirder (for me), I just didn't feel like riding. So of course I did the smart thing and listened to my body, giving myself a full week off the bike.
Ha ha, just kidding! I actually signed up for a really hairy, big-mile (45 miles), big-altitude (6300 feet of climbing), technical (almost all singletrack) mountain bike race: The Draper Fall Classic.
And I got The Hammer to sign up for it too. And I almost got The Monster to sign up, but she changed her mind at the last minute and didn't register (even though, now that I think about it, she was the one who brought up doing this race in the first place).
It's a local race: about a fifteen-minute drive from home, in Corner Canyon. It's a very small race: there were only three people signed up in my category (expert men 50+), and only three women signed up in The Hammer's category (expert women, all ages).
And since Doug Bohl was in the area, getting paid to release poisonous chemical gasses into the air (yes really), I convinced him to sign up too. We even loaned him The Hammer's geared Stumpy S-Works. 
I Think I'll Give Something Away The Ending Right Here
I really believe that most of my race reports are about what happens during the race, not about how they end. So let me show you the podium for the men's 50+ group: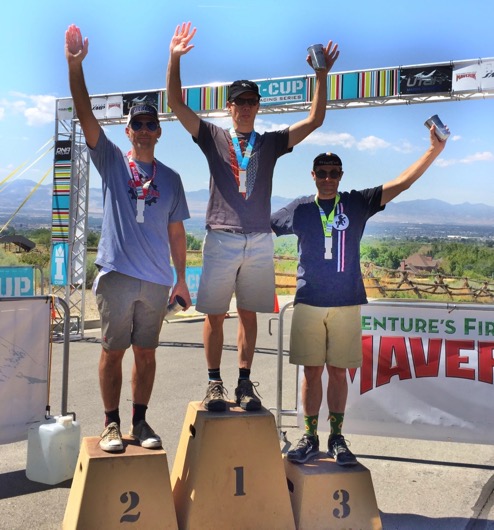 That's me. Third place of three 50+ racers. But the fact is, I actually finished second. And that was a bad thing.
And I very nearly finished first. And that would have been a worse thing.
And to be completely honest, I probably shouldn't have been on that podium at all.
And that brings us to the story I actually want to tell.
Which seems like a good place to…no, just kidding. I'm going to tell that story right now.
Modern-Day Warrior
I'm not going to say a terrible lot about most of the race, except that it's really hard, no matter what. I will also say that it's especially hard if you're lacking motivation and power thanks to a very demanding race a couple weeks ago.
I will furthermore say Corner Canyon is very dusty and loose right now, due to the fact that it hasn't rained in my part of Utah since 1972. Give or take a month.
And that's the excuse I would like to give for why I crashed three times during the race.
After quickly scrambling up following the first crash (I slid out on a loose downhill turn), the guy you see on the top step of that podium passed me, remaining ahead of me for almost all of the rest of the race (more on that later).
The second crash was of no great importance. Honestly, I don't even really remember it.
The third crash was face-first right into a very thorny bush, scratching my face up pretty thoroughly (but not at all seriously). Also, that crash somehow deposited a very long, painful thorn through my right shoe into my foot. Painful enough, in fact, that I was barely able to ride for another half mile or so before I just had to sit down (I chose to sit near a picturesque bridge across a cheerful water crossing), take off my right shoe and sock, and dig at the thorn with my fingernails 'til I successfully pulled it out. 
KC Holley, the leading elite women's racer, passed me as I put my sock back on. "What are you doing, Elden?" she asked. 
I considered how I must look: in the middle of the race, shoe and sock off, by a little stream. I bet she thinks I'm going wading, I thought. And that's not such a bad idea, really. 
But I didn't go wading. I finished putting my sock and shoe on and battled my way up Clark's. 
That, at least, led me to Rush, one of the very most fun parts of Corner Canyon. Here's a video of the entirety of that descent (it's a downhill-only trail), filmed a few years ago, but still mostly accurate:
If you happen to watch this video, pay special attention to the trail between 2:12 and 2:15.
I sure wish I would have.
It's Only Quitting If You Actually Quit
The Draper Fall Classic is a two-lap race, which means you're only done when you've ridden two laps. 
Except I was pretty sure I was done after just the first lap. I was just beaten. Exhausted. Weak.
So I developed a plan.
I would stop at the ice chest The Hammer and I had set at the beginning of the course to swap our bottles from, where I would wait for her, and then we would ride the rest of the race together. I'd be her domestique again. It would give me purpose.
So I stopped, drank a Coke, and waited for The Hammer.
And I thought.
And while I thought, it occurred to me that The Hammer hadn't asked for a domestique. Nor would a domestique help in a race like this. There's literally no place to draft.
Also, I had signed up to race, to get my mojo back. Changing my purpose mid-game wasn't a strategic move, it was a cop-out. 
I put down the Coke, got back on my bike, and began the second lap. 
I had wasted time, but had recovered some self-respect.
The Trees of the Damned
The second lap was harder than the first lap, for some reason, making the Consuming of the Final Gel (when I am pretty darned certain that I am less than half an hour away from finishing the race) an especially glorious occasion. 
I finished climbing Clark's and began, once again, descending Rush. Which meant that all the meaningful climbing was behind me. Yay!
And then, a couple of minutes into the descent, I noticed something. Something I had not noticed during the first lap.
An arrow. Pointing right. diverting me off "Rush," and onto "The Trees."
Damn it. Damn it. 
It's not that I don't like "The Trees." It's a fine trail, although I rarely (ok, never) take it. I'm generally just too into the Rush descent, loving the flow of it, to even consider this longer trail diversion.
I turned right and finished rode onto "The Trees," no wind in my sails. I had missed this turn the first time down, not even looking for places where I might turn. Riding by muscle memory.
I considered: back when I had stopped and drank a Coke at the end of the first lap, I should have taken my time and finished it. My race was already over; I just didn't know it. That traditiional Rush descent had shortened my lap by three minutes or more.
I finished the race casually and without pushing myself:
I rode at the pace of the DQ'd.
Close But Not Close
As I got near the finish line, I saw something peculiar: the fast 50+ guy. The guy who I hadn't seen since he dropped me halfway through the first lap.
I had closed in on him, somehow. Interesting.
He finished half a minute or so in front of me. He was still breathing hard, resting on his top tube as I crossed the line.
"You almost got me," he said. 
"I'm glad I was able to motivate you," I replied. "But I'm afraid it wasn't as close of a race as it looked."
Then I walked over to the race director and explained why I had to be DQ'd from the race. He understood and said he appreciated me coming forward.
Then Doug walked over. Changed and clean. "Did you switch to the one-lap race?" I asked. It wouldn't have been a bad call for a guy who lives at sea level.
"No, I missed a turn early," Doug said. "Never found my way back onto the course."
I took a moment to consider the strangeness of our circumstances: He had DQ'd because he didn't know Corner Canyon at all, I had DQ'd because I know Corner Canyon too well.
Coulda Shoulda Woulda
I sat down in the shade, drinking can after can of Coke, watching for The Hammer to finish. As I relaxed, a question occurred to me: 
What if I wouldn't have seen The Trees turn in the second lap either? 
The answer was easy.
The three (or so) minutes taking Rush down would have shortcutted me would have definitely put me in front of the fast guy who in the end finished a half minute or so in front of me.
Without him (or me) understanding how, I would have magically teleported ahead of him, and would have been sitting there at the finish line when he finished. 
I wouldn't have known what the problem was, and neither would he. But knowing myself, I would guess I wouldn't have just handed over my winning spot.
Suddenly, I was so glad I had seen that turn the second time. It made things easy and clear.
(Also, I'm glad I had to stop and take off my shoe and sock and fix my foot, because that also ensured I didn't wind up with an illegitamite win.)
The Hammer rolled in a few minutes later. First place in women's expert division, riding her singlespeed. She had missed a turn too (that's three of three of us), right at the beginning. She didn't need to DQ herself, though because all three of them had missed the turn and worked themselves back onto the course together. 
So The Hammer, at least, was where she belonged: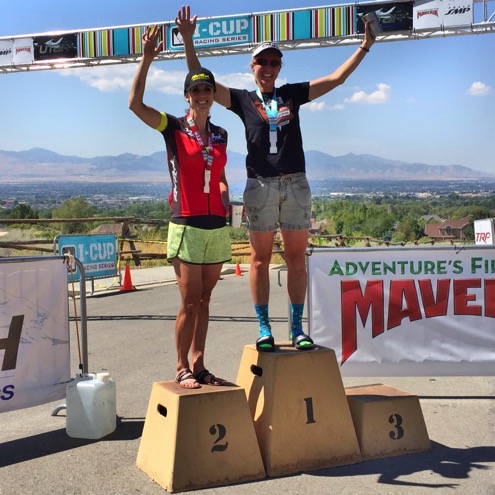 Third place hadn't crossed the line by podium time.
When it came time to call podiums, they had me come up anyway, in third place, even though I had DQ'd myself. Hey, nobody else was going to stand there.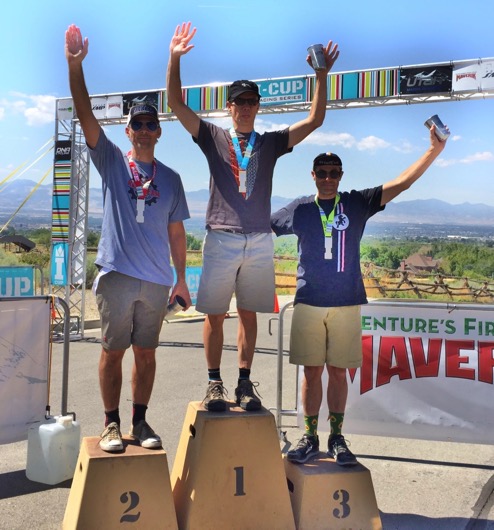 And I was perfectly happy to. Because, hey, it's not often you get to stand on a podium at all, much less because you very nearly stood on all three of the steps.
And besides, I was very stoked to show off my new podium socks.