A Halloween-Related Note from Fatty: Happy Halloween, everyone! I hope you all plan to eat as many Reese's Peanut Butter Cups as I do. Although, come to think of it, that may not actually be possible, since I plan to eat 50.1% of all Reese's Peanut Butter Cups that exist in the universe.
Those of you who have seen me in action know exactly how serious I am here.
Speaking of serious things and Halloween, I'd like to show you a couple of pictures of my twins, in the costumes they're wearing to school today for Halloween. 
First, Katie. She is going as Dean Winchester, from Supernatural.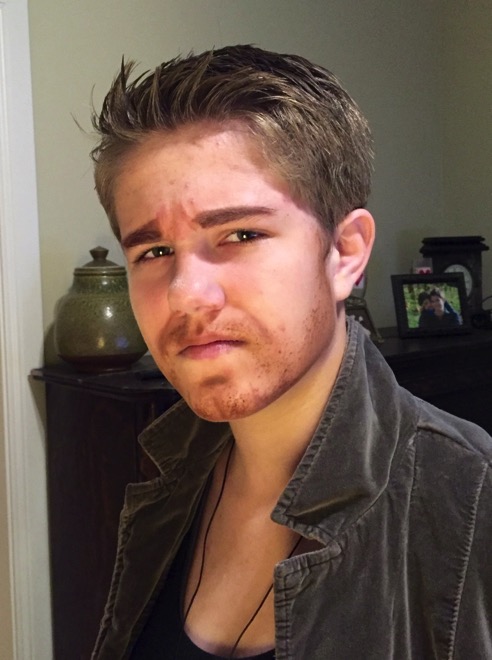 I've never seen the show, but I've googled it, and she did a pretty darned good job. 
Meanwhile, Carrie is went with something a little more Halloween-traditional: a zombie.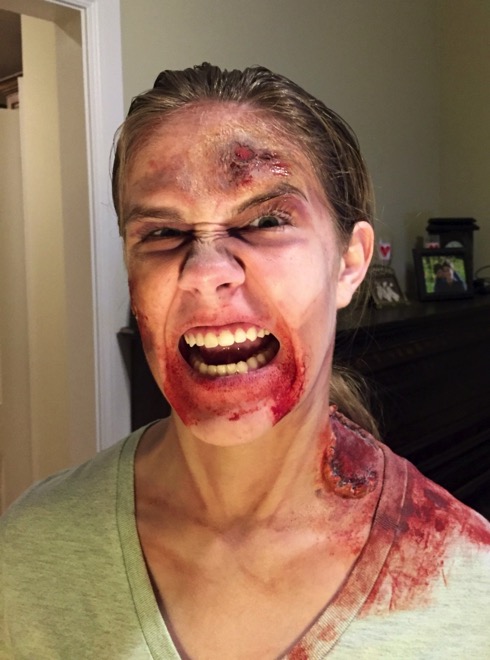 Killed it. (Literally?)
Big thanks to my eldest son's girlfriend, who does stage makeup and got up at 5am today to set the twins up before school.
A Hundred Miles of Nowhere Note from Fatty: I'm really excited to start the tradition of weekly 100 Miles of Nowhere race reports. And while many of you will be doing the 100 MoN next weekend, Jim Tolar has already done his.
As a result, he wins the "First Report Completed" prize, and we all get to read about how he's set up the 100MoN as an amazing friends-and-family tradition with a big extra helping of fundraising.
Enjoy! 
I completed my sixth 100MoN last Saturday, October 24th. It coincided with, as it does every year, our 100 Miles to Nowhere (Dobson Ranch Edition) bike ride, so I had plenty of company.
"Why is your event called 100MtN when the real event is 100MoN?" I can imagine you asking.
Good imaginary question.
Way back when Fatty started the 100MoN and I joined up, I thought it would be fun to get my family and friends to make a day of it and all ride bikes and eat brats and raise money. So, we did, and we had a blast. All the kids and grandkids had fun and it became clear it would be an annual event for us too.
And it has been.
"But what about the name?" I imagine you asking again.
Oh yeah, the name. Turns out, I made a mistake when I first organized the family event and called it "100 Miles to Nowhere (Dobson Ranch Edition)" instead of "100 Miles of Nowhere (Dobson Ranch Edition)". All the kids and grandkids and friends learned it as 100MtN, so that has stuck. What are ya gonna do?
So, every year I sign up for the 100MoN and we put on the 100MtN. By signing up, I help raise money for Camp Kasem. The participants of the 100MtN then help raise money for our charity, the Cardon Children's Medical Center Pediatric Oncology program.
We have historically held the 100MtN sometime in the late Spring because our Phoenix weather gets hot early and stays hot long. This year we switched things up and held it in October and it was fantastic. We'll probably switch to the Fall for a while and see how it goes.
Our course is flat (7.5 feet of total elevation change) and fast (unless you're slow, in which case it's flat and slow).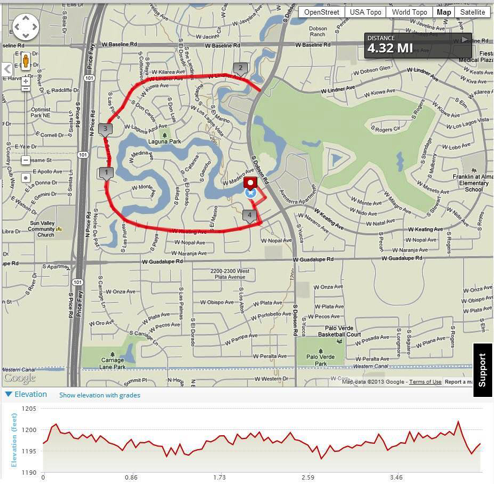 We had around 40 participants this year, and raised around $3500 for the Pediatric Oncology progam!
There were many notable participants. First and foremost among them was my Mom, Jean Tolar, who has pretty much retired the age-group distance record for the 100MtN, completing 25 miles at 87 years young. She is also the 65+ distance record holder with 40+ miles (set last year). But next year I'll take that record from her…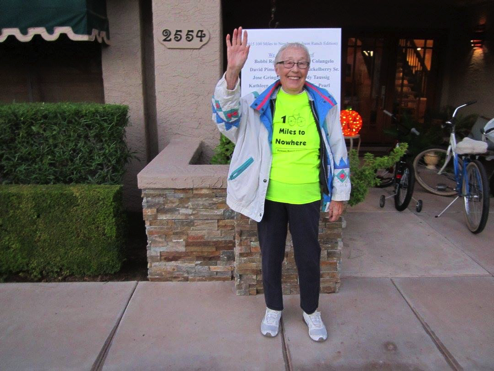 Out of the 40 or so riders, we had two 100MtN Centurians this year, both repeat Centurians and both completing their third 100MtN Century.
Three-time 100MtN Centurian, Russ Trotter: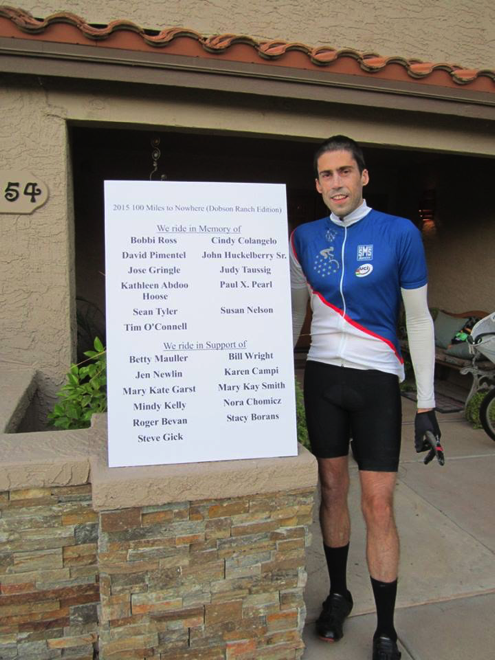 Three-time 100MtN Centurian, Jim Tolar: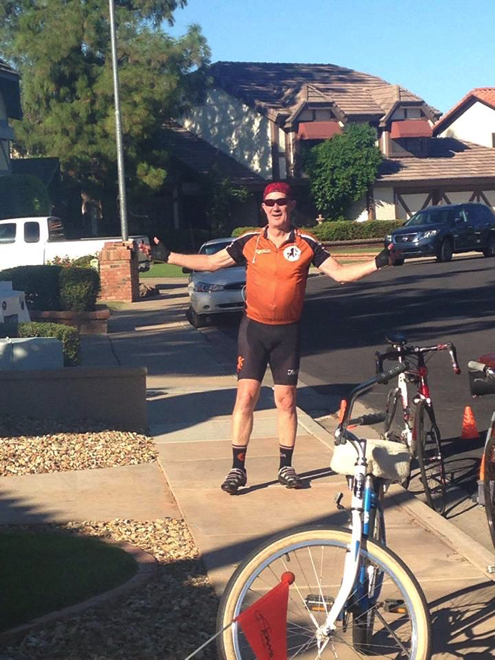 Each year we solicit names for our Honor Board, a list of people for whom we ride in support of, or in memory of. Here is this year's Honor Board.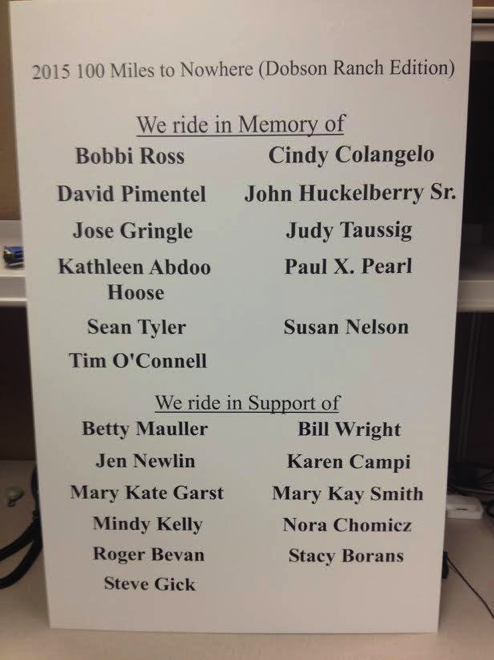 You might imagine it takes a big support crew to run an event of this magnitude, and you wouldn't be wrong. Here they are: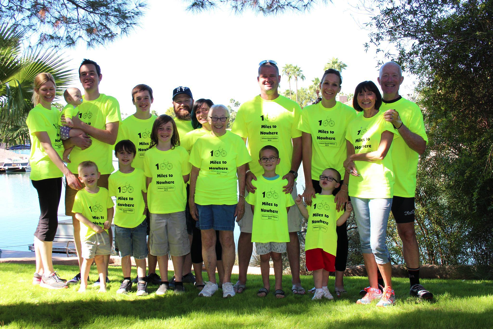 And finally, here is a collage showing many of the other participants that make our 100MtN (Dobson Ranch Edition) the success it always is: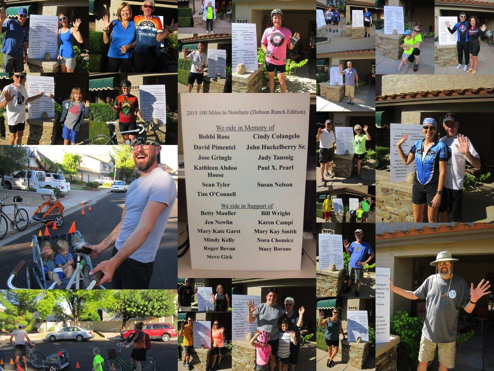 You can see all the photos and reports from this year and previous years on our Facebook page.