So I just finished my final Time Trial for the Banjo Brothers Big Bad Bulky Biker Bodyfat (B7) Challenge.
The upshot? I lost 31 pounds and dropped 5 minutes off my uphill Time Trial time since January. I'm 25% faster in the climbs than I used to be.
Did I beat everyone? Nope. The results aren't all in yet, but I figure I'll probably have to buy about a dozen jerseys or so. And you know what? I'm happy to do it — I'm proud to have anyone who lost more weight and gained more fitness than I did wearing a Fat Cyclist jersey.
I did, however, beat a lot more people than beat me. It'll be interesting to see how many people who lost will honor their agreement.
Humiliation in the Form of Photography
So, let's review where we've been, shall we? Here's a photo of me when I started this blog, back in May of 2005: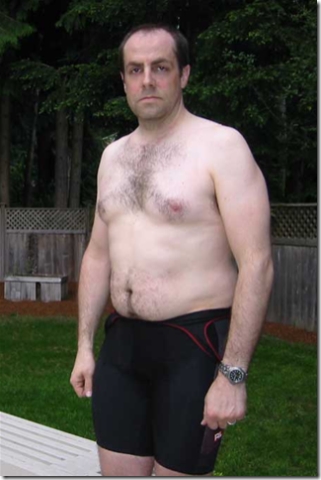 And here I am today: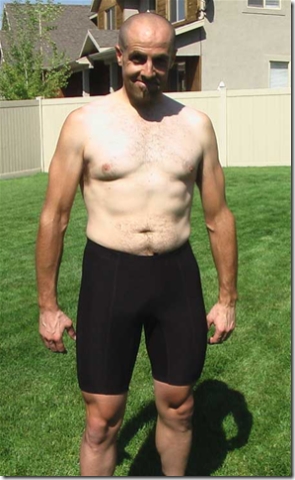 Yeah, I could still stand to lose a few pounds. Or do an occasional sit-up. Or do something about my pasty whiteness. But still, some definite improvement, wouldn't you say? And my legs are freakin' awesome.
The Leadville 100 is less than two weeks away. I'm as ready as I'm going to be. Ever.