First impressions matter to me. They matter a lot. In fact, they form a bias I have a tough time overcoming at all. 
But it can be done. 
Which is what today's post is about.
First Impression
When I first got a Cannondale Scalpel 29 Carbon Team for long-term testing, I was — as is completely understandable — so excited I wanted to take this beauty to bed with me. 
But lots of bikes — almost all bikes, really — are gorgeous-looking. I'd suggest that for die-hard cyclists, how a bike looks in its showroom state doesn't really qualify as its "first impression."
The real first impression you have of a bike is how you feel when you take it out on that first ride.
And on the Scalpel, that first ride didn't go so well for me.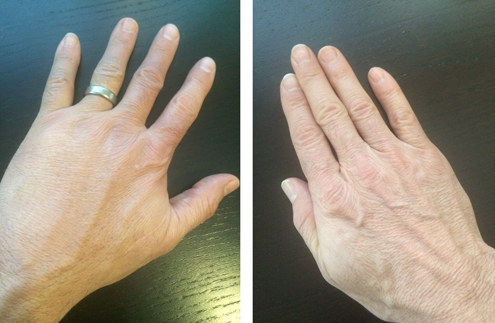 On my very first descent with this bike, in a hairpin turn, I tipped over, put out my left hand to catch my fall (stupid), and bent my pinky finger back. 
This, of course, had nothing whatsoever to do with the bike. It was user error, pure and simple.
[Side Note: Even though I fully acknowledge that I crashed because of clumsiness, I'm tempted to go on a rant here, asking why mountain bike manufacturers spec out ridiculously narrow tires with their high-end bikes. It's not just Cannondale, all major bike manufacturers do this. I suspect it's so they can claim as low a weight on the bike as possible. But I'm not going to dwell on this, except to say that before I rode the Scalpel again, I replaced the 1.95 tires the bike ships with, with some much-more-reasonable 2.2s.]
But still. The wreck colored my perception of the Scalpel. I now associated it with falling down. And as a result, I was way less excited about this technological marvel of a bike than I ought to have been.
[Another Side Note: I wonder how often this happens with real bike reviewers. You know, people who legitimately review bicycles. Not that I expect they crash anywhere near as often as I do, but the truth is, about 84% of how any given bike feels on any given day has to do with what you personally bring to the ride. If you're hung over or hungry or had a quarrel with your dog or have a cold coming on, no bike — no matter how amazing it is — is going to impress you as much as it would if you are personally having a banner day.]
I knew this impression was unfair, and I wanted to give the Scalpel a fair shake. To associate it with something besides my own error.
And last weekend, I had the opportunity to do just that.
Second Impression
For my first time ever, I plan to race what's emerging as one of the premiere early-season endurance races in UT: The True Grit Epic. It's fifty miles of rocky, often-technical singletrack and doubletrack in Saint George, Utah. 
Yeah, I know I said earlier that I was considering the 100-mile version of this race. That was somewhere between Folly and Hubris on the scale of Stupid Things to Say.
Why? Because last weekend, as part of a "Camp Lynda" group ride, The Hammer and I went to pre-ride the True Grit course.
And fifty miles was plenty. 
I brought the Scalpel, knowing that this light full-suspension racing machine is in fact perfect for this kind of course. I knew that if I was going to fall in love with this bike, that it was going to happen here, on incredible trail.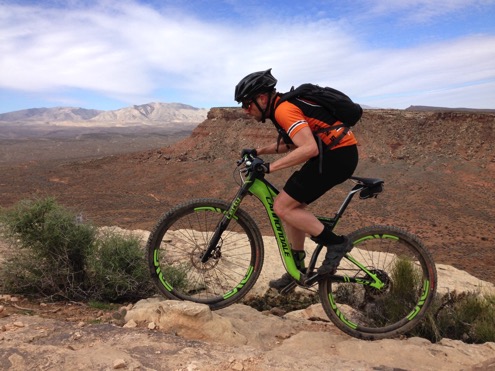 And, within an hour of riding — sure enough — I had fallen in love with this bike.
For the first time in..well, ever…I was able to hang with both Kenny and Brad on all but the most technical of descents.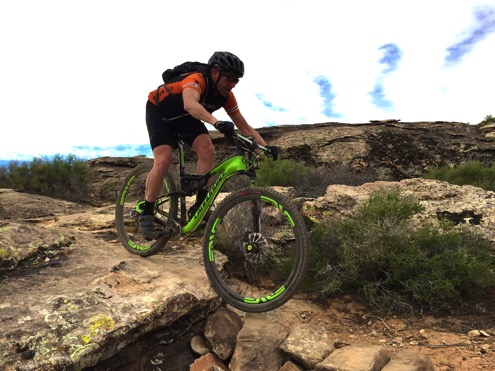 Once, in fact, I actually caught up with Brad on a fast downhill. This has never ever happened before. Ever.
And the Scalpel's a crazy-good bike for climbing, too.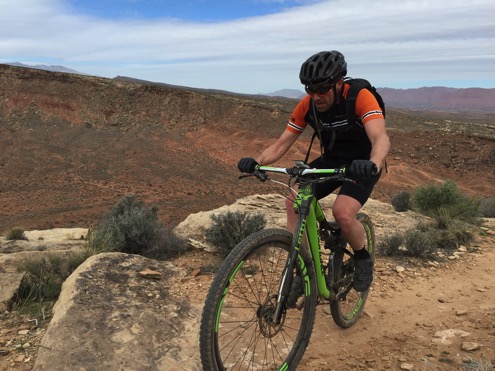 For one thing, this full-suspension, geared 29er weighs a grand total of 22 pounds. Yeah. And for another — and this is important to me — you lock out the front and rear suspension with the press of a single button, letting you swap this bike from a full-suspension descender to rigid climber, instantly.
I didn't count, but I'd guess I did this swap more than 200 times during this ride.
Unfortunately for me, the bike can only do so much. When you're out of gas on a climb, you're out of gas: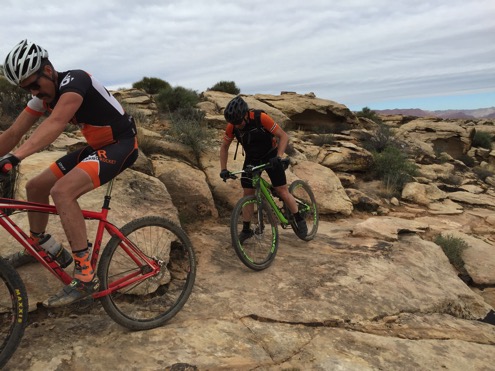 Dropping the ten pounds I've still got to lose will go a long way toward resolving that issue. Nothing in the universe can make you a better climber than you've earned the right to be.
Alas.
Oh, and here's a picture of Brad, sticking out his tongue while poking me in the ear: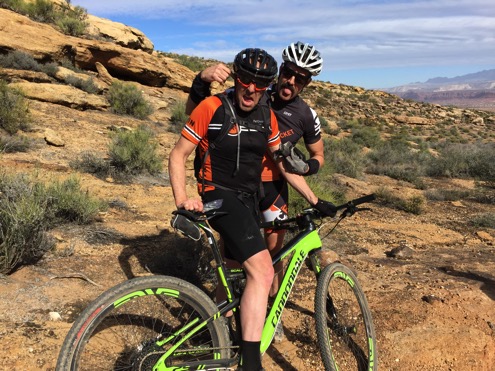 Because: comedy.
Important Additional Observations
Riding a very technical and challenging course (42.5 miles, 5610 feet of climbing, countless technical moves) this early in the year is incredibly educational.
First and foremost, I learned that the True Grit course is amazing. It's tough and technical and beautiful and — above all else — really fun. 
It's an amazing showcase of the fantastic trail network that's evolving in St. George. If you can possibly find a way to get over and race it this year (or next year), I highly recommend it. (But be ready for it — it's not an easy race at all.)
Secondly, I am very, very afraid of The Hammer this year. You see, while I have always talked up how strong she is, my big male ego has remained comfortable…because I was always still stronger and faster than she is.
On this pre-ride of the course — specifically, on the second half of it — this was not at all the case. Over and over, she would drop me on climbs, then have to wait for me to catch up.
Here she is, comfortably hanging with me on a climb I am killing myself on.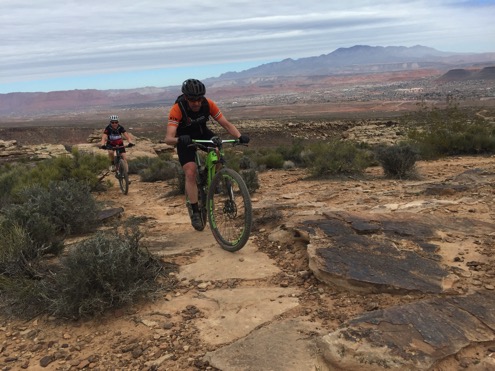 Every year since we've been together, The Hammer has narrowed the gap between our riding abilities. That gap has now been fully closed, and is now beginning to open in the other direction. 
Time will tell if my big male ego can handle it. [Hint: If I stop talking about how well The Hammer is riding, it's because I can no longer bear the shame of it.]
And finally / thirdly, I'm really lucky to have the good friends I've got. If Kenny hadn't hung around, waiting for The Hammer and me, we would never have been able to ride that course. (I just hope it's well-marked on race day, because I have a hunch that Kenny won't want to wait around for me then.)
Oh, and here's a selfie of Brad, Kenny and me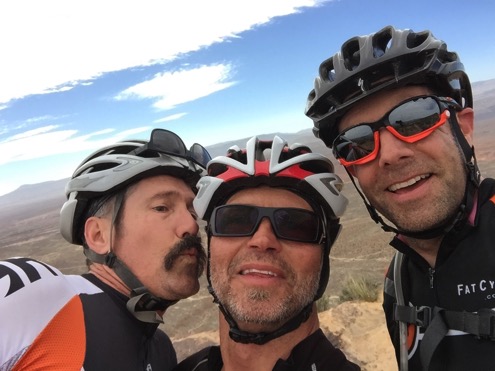 Because: comedy.