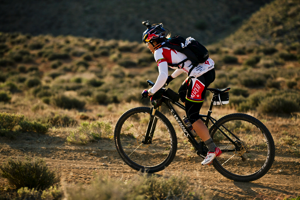 There is something about the Kokopelli Trail that fascinates me. With trailheads in Moab, UT and Loma, CO, it's a huge ride — 142 miles, by my count. Huge, but not overwhelmingly enormous, like the Great Divide, where you'd need to put aside your life in order to ride it.
It's just big enough to test your limits, and show you a beautiful view of the sky and desert along the way.
So when Rebecca Rusch — one of my cycling heroes — said she was going to make an attempt on the women's Kokopelli Trail record, I bugged her about it, gave her tons and tons of unnecessary advice, and otherwise pestered her until she promised to let me do an interview with her about the ride.
That interview happens today. You can watch it here (see below), but you'll be better off watching it over on my Spreecast channel (click here).
Here's the where and when:
Date: Today, Wednesday, May 29
Time: 4pm ET / 3pm CT / 2pm MT / 1pm PT
Where: On Spreecast (Click Here), or right here at FatCyclist.com
The cool thing is, for the first time in the history of all the interviews I've done, I feel like I'm pretty qualified to do this interview. I've ridden it — or parts of it — a number of times. So while a bunch of people have written about Rebecca's Kokopelli race (like this power analysis piece in VeloNews and this story in VeloNews and this hit piece in Outside), I hope to get her to tell the whole story, from planning to starting to where she got water to the finish line to going to the hospital afterward.
Honestly, it won't be so much of an interview as me prodding her to tell her story in as much detail as possible.
Meanwhile, if you'd like some homework on the Kokopelli Trail, I've written a ridiculous amount about it.