Dear Lucky Eventual Winner,
First off, I should probably remind you: you have only a few more days to enter the contest to win a trip to Northern California. The one that is benefitting the Forget Me Not Farm. The contest ends Thursday at 11:55pm PT, October 2. 
But the real reason I am writing you is that I feel I owe you an apology. Not for the fact that you have just won an incredible all-expenses-paid vacation at Boggs, a suite of races — a hill climb, an eight-hour team relay, and a downhill race — in a beautiful location. A race which sells out almost as soon as it opens.
No, I am not apologizing to you for that. Why would I? 
What I am apologizing to you, Lucky Winner, is for what some people might call my excessive exuberance during this event. For my tendency to…shall we say…allow my cup of happiness to overflow. And to slop around and make a bit of a mess, to speak quite frankly.
I recognize now, from the below recent conversation which I had with Levi Leipheimer and his duly appointed legal representative Greg Fisher, that I can celebrate, from time to time, perhaps overmuch. 
Please, allow me to explain what I expect the weekend to be like.
And to ask for your understanding in advance.
Upon Your Arrival
When you arrive in either the San Francisco or the Oakland airport on Thursday, May 30, I will do my best to be waiting there for you, with my arms open wide. If I cannot be there, I will find someone who is approximately the same height and weight as me to take my place.
Whether we embrace or give each other an enthusiastic handshake is up to you. High-fives are not on the table, due difficulties I have with eye-hand coordination.
From there, we shall whisk you away to Santa Rosa, driving in a reasonably-priced automobile, which will be equipped with both air conditioning and a stereo. 
We will take the greatest care to make the automobile comfortable for you, by removing fast food wrappers before your arrival, and adjusting a combination of air conditioning dials and car windows to reach a temperature you find acceptable.
I will see to it personally that the stereo is tuned to play the radio station of your choosing.
An Evening of Luxury
Once you are in Santa Rosa, I will take you to NorCal Bikesport, where we will fit you for the bicycle you will use during this weekend. It will be the very finest in mountain bicycles, and the people at NorCal will treat you with the respect you would expect when you are my guest. 
No. With more respect than you would expect to be given a guest of mine. If that is even possible.
Then we shall pay a visit to the Forget Me Not Farm. Odessa Gunn will perhaps give us a tour. Levi Leipheimer will perhaps saddle up and ride a llama. It will be an unforgettable afternoon, which will be topped off with a dinner at the franchised restaurant of your choosing. 
If you like, you may even order a dessert.
High-Class Camping in a Recreational Vehicle
But your trip has just begun, for on the next day, after staying at a hotel — you need not worry, we will have separate rooms — we shall board a rented recreational vehicle, which has been stocked with tools, our bicycles, and BikeMonkey staff to wait upon our every need.
Also, there will be food. And pie of multitudinous variety, including but not limited to your favorite three flavors. We will feast on pie, you and I.
And I may very well grill bratwurst. Stranger things have happened.
We shall park at a primo spot, and then you, Levi, and I will walk around like we own the place. 
Don't worry, Levi is actually quite well-behaved, once you defeat him in a contest of some sort. I recommend a staring contest or indian leg wrestling.
We shall pick out spots for sleeping in this RV. I shall let you pick first. And if Levi tries to take your spot, well, he'll get what's coming to him.
The Hill Climb
When you and I embark upon the hill climb race on the first day, I shall do everything I can to ensure you do well in the race. This is includes attaching one end of a strong cord to Levi's seatpost and the other end to your handlebar.
I'm very interested in your success, Contest Winner. Very interested indeed.
After this effort concludes, we'll dine on all-beef frankfurters (or a substitute hotdog-shaped vegetable product, if that's your choice) and soft drinks. Also, there may be alcoholic beverages to drink, as long as you promise to drink no more than Levi's body weight (84 pounds).
The Main Event
I will do my utmost to not snore while sleeping in our RV, eventual winner, though you must cut me some slack in this regard. Once I'm asleep, there's really not much I can do about it. Feel free to nudge me if necessary.
In the morning, I shall scramble you some eggs, or pour milk on your breakfast cereal. I am a versatile man, and will go out of my way to ensure your happiness.
Then it will be time for us to race in the 8 Hour Relay Event. I'll go first. Or Levi will. Or you can. It's your call entirely, for you are the boss. Don't let Levi intimidate you into thinking he is the boss, because he is not. 
If you want to go fast like some kind of crazy person, I am all for that, and will follow your lead, absolutely gutting myself in order to win glory for our team.
Levi has indicated he will do the same.
Likewise, however, if you prefer just to relax and rid a lap or two at an easy pace, that's what we will do. The long and short of it is, we will figure out what would make a race fun for you, and then we will go out and have that fun.
And if I get a little bit too enthusiastic and sometimes annoy those around me due to my yipping and hopping around from foot to foot, I hope you will find it in your heart to forgive me. I am who I am.
No matter how fast — or how relaxed — we go, however, I can guarantee you one thing: that we will win our division. The reason I can make such a guarantee is that we will have a division of our very own.
We're going up on the podium, you and I. Yes we are.
The Super D
I understand that we have the option to race a downhill event. I intend to spectate. I know what I'm good at, after all, and what I'm not.
If you choose to race, however, I will cheer you on with all the enthusiasm you could ever hope for or want.
Or indeed, tolerate.
Our Parting
You and I will become melancholy on the trip back to the airport, knowing that our weekend is at a close. And yet we will be grateful for the moments we have shared.
There is no chance we will not embrace.
I look forward to our adventure together. As does Levi. As will you. So you'd better donate now. Before it's too late (For example, Friday is too late).
Kind Regards,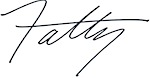 The Fat Cyclist