A few weeks ago, Chuck Ibis was in town as part of the Ibis Demo World Tour. It seemed like a good time for us to finally get together and do something we had talked about for — literally — years: go on a mountain bike ride together.
Yeah, considering that I've been friends with Chuck for years and years (Ibis has been a huge supporter of Team Fatty's fight against cancer) and have been an Ibis junkie pretty much since I've started riding (I've owned a Steel Mojo, a Bow-Ti, a Ti Mojo, a Silk Ti, and a Silk Carbon), it's strange that we've never gotten together for a ride 'til now.
OK, maybe it's not all that strange, but that's the conceit I'm kicking off with, so let me have it, OK? Sheesh.
And when people visit here, looking to see what my backyard riding is like, I always — whether they want to go road or mountain — take them up American Fork Canyon. For one thing, it's genuinely one of my backyard mountain bike rides.
For the other thing, it generally makes people incredibly jealous of where I live.
And Now for Something Completely Different
Ricky M and I met the Ibis guys up at the Timpooneke trailhead, the Ibis guys driving a van that looked just as suited for covert surveillance as for holding a whole buncha high-end bikes: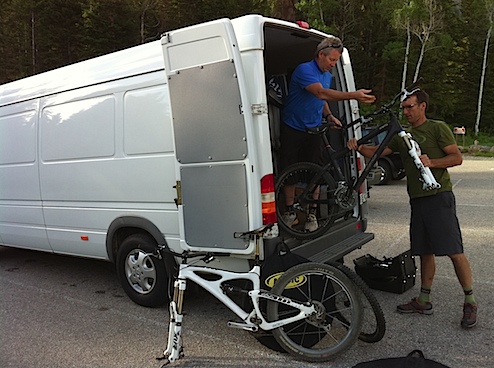 (Kirk Telaneus on the left, Chuck on the right)
Both Ricky and I have been riding hardtails — usually rigid SS — lately, so Chuck and Kirk said we needed to switch things up: Mojo SLs for both of us — plush full suspension and gears galore.
Here's Ricky supervising as Chuck sets up Ricky's bike.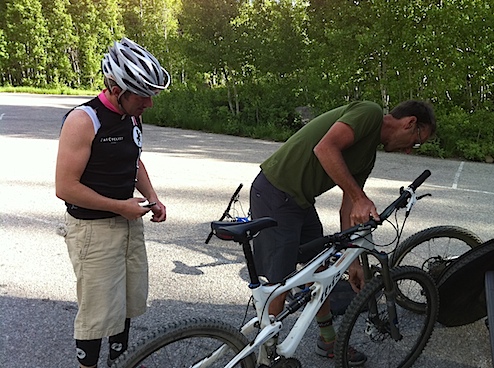 Hey, it's not every day you get a Mountain Bike Hall of Famer to be your own personal mechanic.
I should note at this point that if you ever consider converting your Fat Cyclist jersey into a sleeveless, you may want to consult Ricky on how to do it so that it looks like your bibshorts look like a bra strap. Nice look, Ricky.
Oh, and here's Chuck, setting his shock pressure to 10,000psi.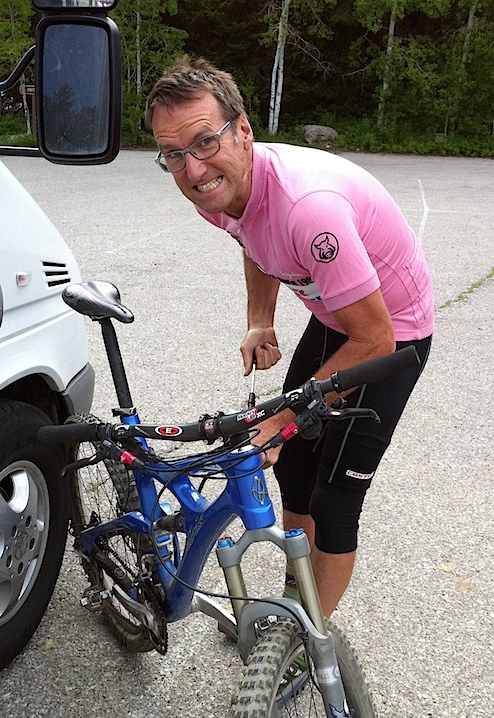 The Hills are Alive
There's nothing quite as lovely as being acclimated to riding at 7000 – 8000 feet and then taking a Californian out for a ride. It does wonders for your ego. Kirk and Chuck didn't have any difficulty hanging with Ricky and me, but they did call attention to the fact that they were feeling it a lot more than when they rode at home.
And also, they expressed appreciation for the fact that AF Canyon is just an incredible place to go riding: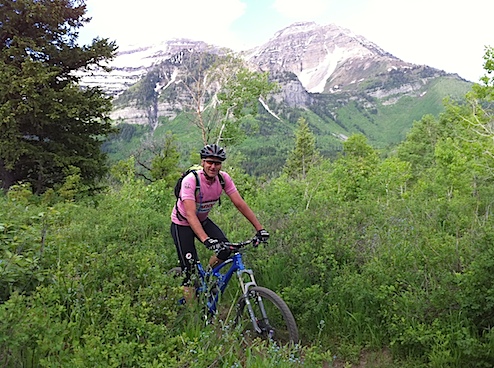 (Chuck, wondering how in the world the Matterhorn got relocated to Utah)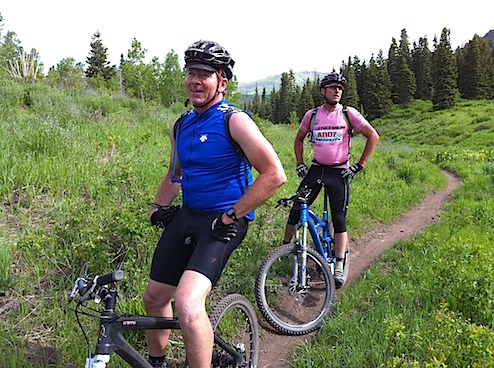 (Kirk and Chuck, doing synchronized posing. Look for it in the 2012 games in London.)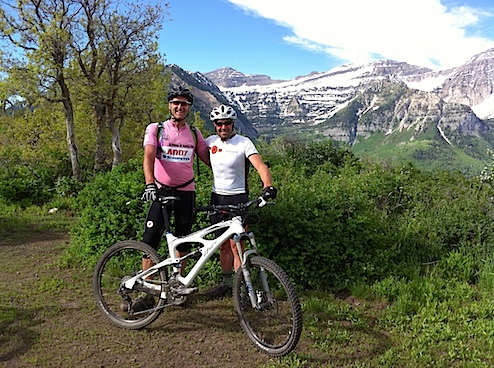 (Chuck and me, showing off the Mojo SL and some beautiful scenery. Yes, he's really that much taller than me.)
Different is Good
I'm convinced that the best way to appreciate the capability of a full suspension bike is to ride a fully rigid bike for a couple years, then hop onto aforementioned full suspension bike.
Because Ricky and I were just grinning and laughing as we bombed the downhill portions of the ride. Just letting the bike go, hitting stuff you'd normally avoid. Letting the suspension do the work.
After flying down Joy in what felt like record time, I turned to Ricky and said, "You know, I am not having any trouble at all picturing a Mojo in my stable."
"I was just thinking the same thing," Ricky replied.
Which is undeniable proof of two things:
The Ibis Mojo is a terrific mountain bike, and riding one makes you want one.
I will never ever be satisfied with the number of bikes I own.
Ow
As the ride went on, Ricky and I were more and more confident on our Mojos, taking more aggressive lines and letting the suspension do its job.
We were, perhaps, getting a little reckless. But we didn't crash. Not even once.
And then, finally, we got to the final downhill. For this one, I knew I should take it more cautiously, because the trail is full of loose rocks, mixed in with plenty of embedded ones. And you never know which rocks are going to slide out of your way, and which are going to stay put.
I picked my way carefully and cautiously. Not exactly mincing, but not aggressive.
So of course I crashed. Good and hard. Taking most of it on my right knee. Here's my bloodied up knee, artfully framed by the Mojo…erm…frame: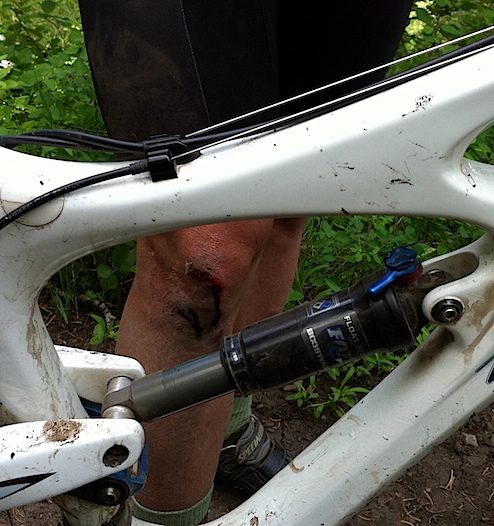 Not Ironic
As I rode — all the wind out of my sails now — back toward the trailhead, I thought about it: how ironic that I'd be just fine when riding aggressively, but crash once I got cautious.
And then I reconsidered. Maybe — probably — it wasn't ironic at all. In fact, it was probably downright causal. Sure, I've had crashes when riding hard, but I have a suspicion that I've had just as many — maybe more — when riding overcautiously.
And I can't even count how many times I've had a second crash during a ride because I'd become hypertentative following my first crash.
The problem, for me, is that this lesson is only easy for me to learn — and I've learned it several times — in my head. I know that riding tentatively just makes you more likely to crash, but when I'm nervous of a trail, I just can't seem to convince my body to stay loose. Nor can I seem to convince my hands to stay off the brakes.
Which explains why I have scars on top of scars on top of scars on my knees, I guess.
PS: I still want a Mojo.
PPS: If you're a Utah local and you'd like to try a Mojo SL, Mojo HD, Tranny or a Hakkalügi out, Chuck and Kirk are going to be in Park City this Sunday, with a whole buncha bikes for your demo-ing pleasure. See below (click the image for larger version) for details of where and when.