Oh, I know what you think of me. Don't pretend I don't. You think of me as a goofball. Yeah, you consider me a lovably lurpy, lumpy guy who stumbles about, writing whatever pops into my head at the moment, only to be forgotten moments later.
And you know what? I'd be very angry at you for thinking that, if it weren't a perfectly accurate description of how I actually am.
At least, that's how I am most of the time. 
Today's post, however, will do two important things:
Announce that the latest prize in the already outrageously prize-laden Grand Slam for Zambia 2 an eye-poppingly beautiful, fast, and comfortable dream bike: The Specialized S-Works Roubaix SL4.
Prove that, from time to time, I actually think ahead and make plans and scheme and strategize and stuff.
Meet the Specialized S-Works Roubaix SL4
As if the Grand Slam for Zambia 2 weren't already prize-laden enough (including an S-Works Stumpjumper FSR Carbon 29er, a trip to NYC to see the SRAM pART show, three trips to Moab for the Africa in Moab experience, a Miir bicycle and six $134 gift certificates from Twin Six), we're now adding an absolute dream road bike: The Specialized S-Works Roubaix SL4.
Look at this beauty (though the wheels and some components will be a little different in the bike given away, which I'll explain in just a minute):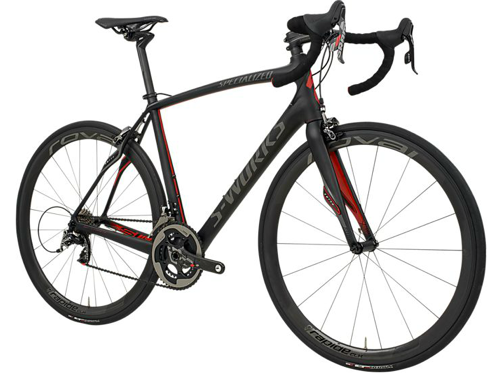 When I call this $8000 beauty a dream bike, I'm not just using hyperbole. See, I actually have gotten to ride one of these. In fact, I got to ride it twice.
Back in September, I got to ride one during the 2012 Levi's Gran Fondo, which may be the ultimate perfect course for this kind of bike. At least, it felt pretty darned perfect to me. This bike is light and fast. And yet, it manages to be incredibly comfortable and smooth. By the end of a long day (right around 100 hilly miles on a mix of good and not-so-good road in and around Santa Rosa, California) in the saddle, I had made up my mind: there is no road bike in the world I would rather own.
But that was the second time I had ridden one of these bikes. The first time was when Specialized joined the good folks at Honey Stinger for a group ride in Salt Lake City during the Outdoor Retailer Show. I got to borrow a new Roubaix for a ride up Emigration Canyon — a popular climber's delight of a road ride.
By the time I had been on the bike for twenty minutes, I had decided: I have to make one of these bikes a grand prize in the World Bicycle Relief contest I was planning to do later in the year.
Yes, back in June I had already started hatching the scheme you are seeing come to fruition right this second.
And as part of that scheme, I knew I wanted someone who actually knows what he's talking about to explain what makes this bike so incredibly great. So right then and there, I asked Chris Riekert of Specialized — who was along for the ride — to describe the Roubaix on camera (In addition to the fact that Chris does a really good job of talking about the bike, you should watch this video to hear my reaction to his use of the term "Cobble Gobbler"):
So, let me be seriously serious for a second: I really do love this bike. I don't have one, and I wish I did. And I'm going to be greenly envious of whoever winds up winning this bike.
How About Some Details?
As with the S-Works Stumpy FSR 29er that'll be given away as part of this contest, the prize is a collaboration between Specialized and SRAM. Which is to say, Specialized has provided the frame, and SRAM is providing the components.
So let's take a closer look at what this bike includes, OK? First of all, there's the gorgeous frame set: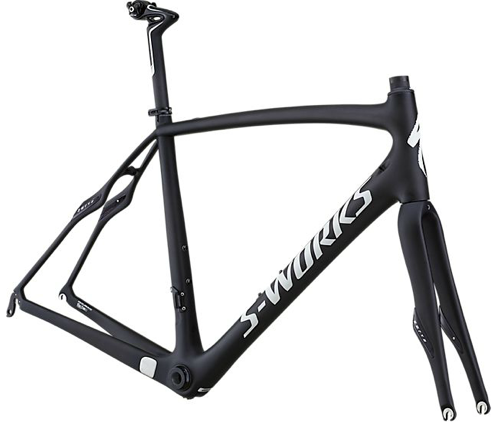 I love that understated, elegant matte-black carbon treatment. This bike is gonna be gorgeous.
You're going to get to build up this frame with a full-on, top-of-the-line SRAM Red group: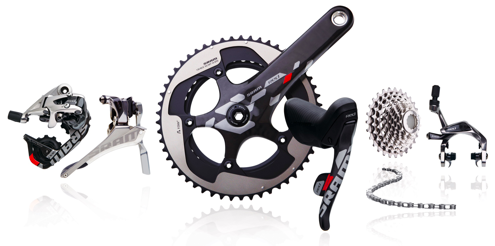 This is an sophisticated, smooth, beautiful component group. Seriously, money cannot buy better. Oh, and just because I happen to have a thing for gorgeous components, let's take a closer look at the crankset: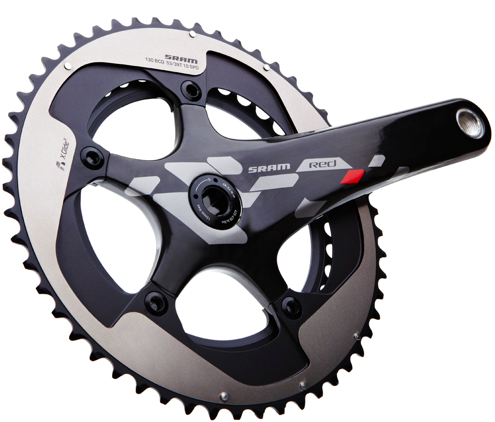 Yum.
You're going to need a nice stem and bar to go with this dream bike, of course, and those will come from Zipp SL line. You'll get to choose the Service Course SL stem in the length you need: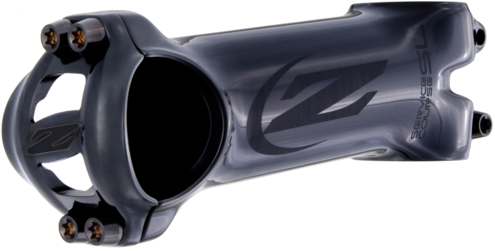 You'll then pair that to a Contour SL Bar in the size that works for you: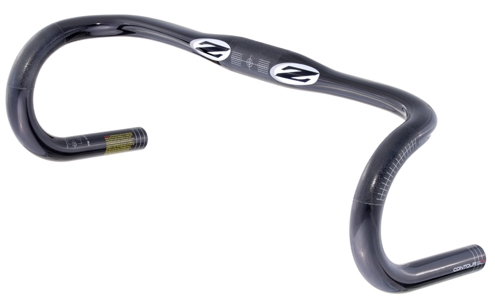 Oh, but we're not done with the whole custom setup thing. No. Cuz you're going to need a set of wheels. And you know what? You can choose any Zipp wheelset you want.
For what it's worth, I think I'd go with the Zipp 404s: 
Or, on the other hand, it'd be pretty hard to resist the 808's: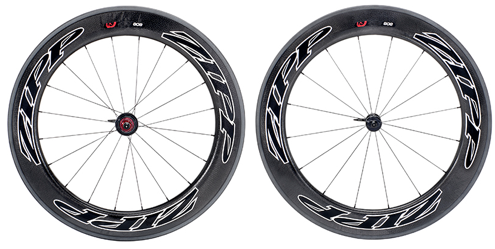 Hey, it's a tough decision, but someone's gotta make it. Maybe that someone will be you.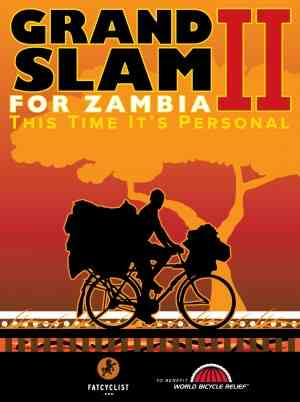 How — And Why — To Enter
Obviously, this is a pretty amazing bike. Perhaps even more obviously, this is one of an incredible number of amazing prizes. Crazily, there are going to be even more astonishing prizes that will be given away as part of this fundraiser.
And all you have to do to be entered to win this bike — and all of the bikes and other prizes — is donate at my Grand Slam for Zambia 2 page. (Click here to go to that donation page).
So here's a question you probably haven't asked yourself: why am I playing against type and actually planning and working and otherwise orchestrating such a monstrously huge fundraiser? (Trust me, the prizes I've announced and the ones I'll be announcing didn't all just fall into my lap.)
It's because I've been to Zambia, and I've seen what a huge difference a bike makes in a person's life there. That improvement is immediate and wonderful and lasting. And I've seen for myself that World Bicycle Relief is doing a fantastic job of doing this work thoughtfully, of making our work and donations count.
In other words, I'm doing this because WBR is doing good work, and I believe in it.
And also, because I really love giving cool stuff away. 
So, click here to donate. Thanks, and I hope you win.