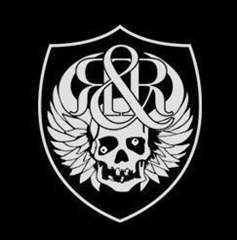 Much has recently been made of the "Rock Racing" professional cycling team, what with the wacky, hilariously insane behavior of the owner, Michael Ball, as well as some of the cyclists he has hired for the 2008 season. And while Ball's management style can be truly be called anything but dull, the same thing can also be said of a pickaxe to the groin.
What, then, should a self-respecting cyclist think of Rock Racing? Certainly, you've been asking yourself that question, along with others, such as:
Should I root for them, since they've got some of my favorite racers of days gone by?
Should I hate them for face-slapping a sport which frankly is all slapped-out at the moment?
Should I just grab a bag of popcorn and enjoy the circus?
These are all excellent questions, none of which I intend to answer. I will, however, endeavor to answer some of your other pressing questions about this most unlikely of pro racing teams.
Question: So what's the deal with this Michael Ball guy?
Answer: Michael Ball is the owner of Rock & Republic, a clothing store not in any way affiliated with Banana Republic. If you find yourself confusing the two, you can easily resolve your befuddlement by remembering that Banana Republic sells clothes in more colors than black and also carries some items that cost less than $300.00 (I think that converts to about 0.4 Euros right now).
The reason that Rock & Republic is able to sell clothes for the square of their actual value is because Michael Ball brings attitude to those clothes. And by "attitude," I mean that he augments his natural unlikeability with aggressive meanness, and the confidence brought on by the self-certainty that he is never, ever, ever wrong.
In fourth grade, you called people like this "bullies."
Well, now he owns a bike team. And he has not yet realized that at some point (possibly already reached), nobody is going to want to do business with him.
For this reason, you should by default hope for the failure of the Rock Racing bike team, and feel a certain amount of glee whenever a racer leaves the team or Ball has a tantrum stemming from his staggering oafishness.
And as a point of honor, you should never wear jeans that cost more than $40. (a sum which no longer translates to anything at all in Euros).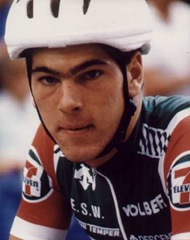 Question: Why isn't Frankie Andreu the director of Rock Racing anymore?
Answer: This separation stemmed from an honest disagreement between Frankie and Mr. Ball.
On one hand, Frankie thought the directeur sportif of Rock Racing would be in charge of both strategic and tactical operations for the team, from the hiring of the racers to the race-day plans.
On the other hand, Michael Ball thought main job of the directeur sportif of Rock Racing was to run odd errands, chauffeur the team Escalade, and give Mr. Ball soothing neckrubs when he is feeling stressed out.
The truth is, though, Michael Ball fired Andreu because he discovered that Andreu had used — and then kept secret for many years — EPO as a professional cyclist, and that kind of unethical behavior is simply not to be tolerated on this team.
BWAHAHAHAHAHAAH! Sorry.
Question: I heard that Tyler Hamilton's on the team, too. Is that true?
Answer: Yes. Yes, it is. Here's a picture of him in a group picture at the Rock Racing Spring camp (from the Bahati Racing blog).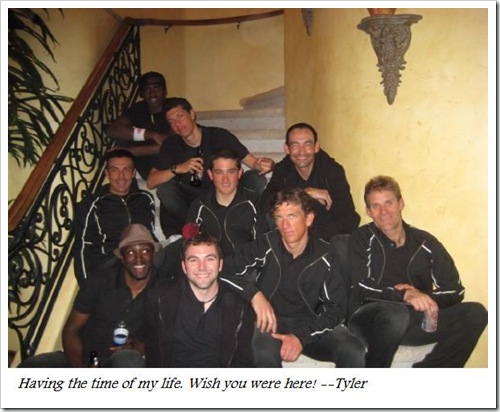 Looks like he's really enjoying himself, doesn't it?
Question: But I thought Tyler was supposed to be this really nice guy. I can't imagine him wearing the Rock Racing skull and crossbones kit and hanging around someone like Michael Ball.
Answer: Maybe he's become bitter and angry.
Question: Do you think maybe he's become bitter and angry enough that at some point he'll punch Michael Ball in the throat?
Answer: That would be awesome.
Question: I heard Mario Cipollini is also racing for Rock Racing. When was Cipo caught doping?
Answer: Actually, you aren't strictly required to be a known doper to be on the Rock Racing team.
Question: So why is Cipollini on the Rock Racing team, if he is in fact on the racing team?
Answer: If Cipollini is on the Rock Racing team — and we are happy to both confirm and deny that this is the case — it is for one extremely important reason: Cipollini looks like someone who would wear $300 pants.
Question: I understand that Michael Ball told his racers he had to win, or be fired.
Answer: Actually, he now claims he said something different, but with the same meaning.
Question: OK, that's fine, but really my question was: does Ball know anything at all about bike racing? I mean, even one little thing? Does he even know what a domestique is?
Answer: No.
Question: You know, now that I think about it, "Win or Be Fired" would make a great premise for a reality show.
Answer: You mean, every week have a bunch of semi pro racers do a race and the winner gets to be on a newly-formed pro cycling team?
Question: Yeah, that's pretty much what I was thinking.
Answer: You're right. That would be a great reality show. Michael Ball has missed his calling.
Question: So what is "Fast Freddie" Rodriguez doing on the team?
Answer: Regretting his decision, most likely.
Question: Do you suppose it's ever occurred to Fast Freddie that putting "Fast" in his name is a little bit weird? I mean, are there any professional cyclists that aren't fast?
Answer: You miss Fast Freddie's point. He's not putting the "Fast" in "Fast Freddie" because he thinks he's faster than other cyclists. He is merely asserting that of all Freddies in the universe, he is among the fast.
Question: And how about Oscar Sevilla and Santiago Botera?
Answer: I'm sorry, I'm losing interest. Could we wrap this up?
Question: I just have a couple of questions left. What about the Rock Racing jerseys — Is it OK for me to wear their jersey?
Answer: Only if you also wear an eye patch and have a parrot perched on your shoulder.
Question: What would happen if you put Team Slipstream / Chipotle in the same room as Rock Racing?
Answer: The universe would implode in much the same way as if matter and antimatter were to collide.
PS: The banner photo for February is of Jill Homer, of Up in Alaska fame. Jill's going to be competing in the Iditarod Trail Invitational on the 24th of this month. Make sure you swing by her blog and wish her a great race.