Friday, about 4:30AM, I woke with a start — a terrible truth racing through my head.
"The Hammer," I said, gently shaking The Hammer awake (while wishing I had given her a nickname that didn't start with "The," due to the awkward sentence constructions it creates during ordinary conversation), "I just realized: I haven't boiled the bratwurst for RAWROD."
"Mmm," replied The Hammer, helpfully.
So I headed downstairs and got the brats boiling in my own special blend of PBR, chopped onion, and store-brand Worcestershire sauce.
Holy smokes, I thought to myself. If I almost forgot something as important as preparing the bratwurst, what else might I have forgotten for this trip?
Hey, it had been a busy week at work.
Friday Night
The IT Guy (the Hammer's 22yo son) was coming with us, and was in fact volunteering to let his truck be used as the Sag Wagon for RAWROD (if you don't know what RAWROD is, maybe you should read this, this, and this. Or this. Or just watch this). But I still had a more-or-less full workday, so we didn't get out the door 'til late afternoon, and we didn't get to the campsite at the top of Horsethief trail 'til about 8:30.
Kenny and I had a brief conversation about this fact via text message: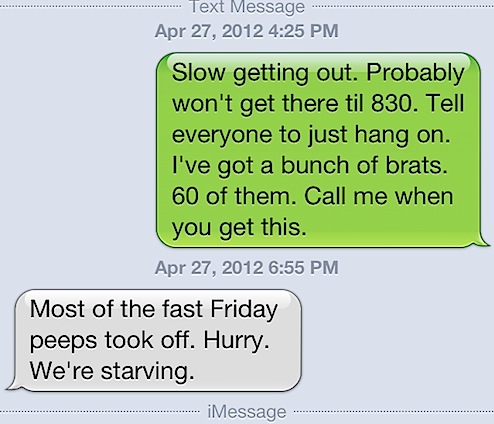 By the time we arrived — 8:30 as I predicted — it was dark. And most people had found something else to eat.
Which is a shame for them, because the people who waited (or who decided that due to the fact that we'd be riding our mountain bikes for 10-12 hours the following day it was just fine to eat a second dinner) discovered the indescribable beauty of beer-boiled bratwurst grilled over a wood fire under the stars in the desert.
Trust me: it lives up to the hype.
A Little About the Bikes
For a while, RAWROD was getting out of control — more than 50 people. This year, it was at a much more manageable size of around 20. We headed out at around 8:00am, riding an easy all-day pace.
I was riding my Specialized Stumpjumper Carbon 29 SS — currently my very favorite bike, geared at what I consider the most magically perfect gear there is: 34×19. The Hammer was on Her Gary Fisher Superfly SS, geared considerably lighter at 32×22 (it would be a high-cadence day for The Hammer).
The IT Guy was riding his Specialized Epic, but now equipped with brand new Shimano XTR brakes (he had fallen considerably out of love with his old brakes after a grabby front brake helped him endo and break his collarbone last August).
And Kenny — his cast freshly removed from his wrist — was riding his Niner SS. I should note that Kenny had recently used a fiberglass repair kit to fix his Niner. This is interesting primarily because of the reason Kenny had to repair the frame: he had worn a hole in the chainstay by his heel rubbing it each revolution of the cranks.
You want to be fast like Kenny? Ride your bike so much that you wear a hole into it.
The Ride Begins
The day started cool — but not cold. Armwarmers were just enough to make the ride comfortable.
The first 13 miles of the ride around White Rim (if you're going clockwise and starting at the top of HorseThief) is a very moderately uphill, well-groomed, wide uphill dirt road — the perfect place to get your legs warmed up.
The pace was mellow, I loved the company I was in, the weather was looking good, and there was no wind to speak of.
The day was looking good.
We got to Schaeffer, — the only sustained descent of the day — and I took a minute to look out into the basin of the White Rim, where we'd be spending the rest of th day riding: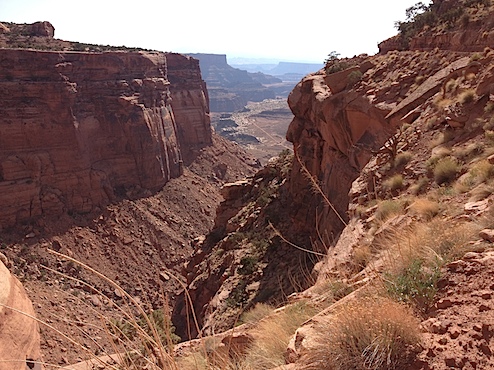 I wish I were a good photographer; my photos do this incredible place no justice whatsoever.
The drop down Schaeffer is always a little bit spooky, but it went off without any trouble.
Unfortunately, the same can't be said for what happened about twenty minutes later.
Ooooops
The Hammer and I were riding along the rough, rocky dirt road, side by side. Talking, enjoying the spring morning. Everything was going great.
And then, suddenly, our handlebars touched. Locked together.
Did I move into her line, or did she move into mine? I don't know.
But I do know that when I pulled left to get our handlebars apart it made her veer hard right. She unclipped! Got a foot out and onto the ground! It looked like she was going to get out of this fall on her feet.
No. She had too much momentum. She fell forward off to the side of the road, landing on her side and hitting her head against rocks and dirt.
Apart from a headache, she was OK.
I, on the other hand, felt like a total absolute dork for about two hours.
Tomorrow: Part II