A Note About Susan from Fatty: Susan is showing — once again — how tenacious she can be. She's begun drinking again — water, Gatorade, and Guarana Antarctica are her favorites — and is talking more. The doctor has said he's just amazed at how resilient and strong she is. And I am too.
Big Tease
I recently gave you a clue about the next big Fat Cyclist fundraiser for the Lance Armstrong Foundation. It was a very difficult clue: "the prize will rhyme with "Orbea Orca with a Shimano Dura-Ace Di2 build."
Well, are you ready for your second clue? The prize will look very much like this (click the bike to see a larger version):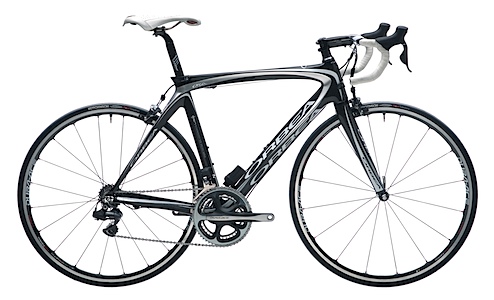 Oh, OK. I know these clues are too hard. I am actually going to be giving away an Orbea Orca (or Orbea Diva, winner's choice) with a Shimano Di2 build.
That's a $9,600 bike, people.
And you know what? The contest begins this Tuesday. So you might want to check in then for details.
Including the story of why and how I am giving away the most insanely delicious bike ever given away by anyone.
Big Tibble
For years, I have talked about Tibble, describing it as the best trail in the world. And now, finally, I have video from earlier this week of a group of friends and me riding this trail. I just couldn't compress that much wonderfulness into a one-song video, so I went with two songs. I hope you'll understand.
I don't know about you, but I could watch this video over and over.
In fact, I'm going to go watch it again right now.