I like energy bars. There, I said it: I like energy bars. I like the way they fit conveniently in my jersey pocket. I like the way they keep me from bonking. I even like — and I know some of you will scoff, but it's true — the way they taste.
But energy bars have a huge problem. An obvious problem. A terrible problem. A huge, obvious, and terrible problem. And it must be fixed. Now.
The problem is this: their wrappers. The wrapping material is incredibly difficult to tear. And if it tears, it tears in the wrong direction and may as well not have torn at all.
It's as if the energy bar manufacturers have forgotten that they're making food that is intended to be unwrapped and eaten while gloved and riding a bike, and are instead focusing on creating contrivances designed to keep their precious food away from raccoons.
Allow me to demonstrate.
Here is a ProBar Fruition bar, a delicious (and Vegan!!!) energy bar.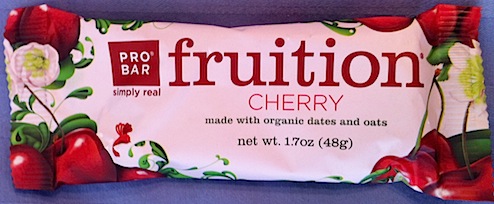 Currently, it is my favorite on-bike food, because it's about the right amount of food I like to eat while riding, it's moist, and it tastes good. I like these so much that I even eat them sometimes when I'm not on the bike.
But they are murder to get open.
Using the "Hold with one hand while ripping the wrapper with your teeth" method, here's what I got on the first attempt: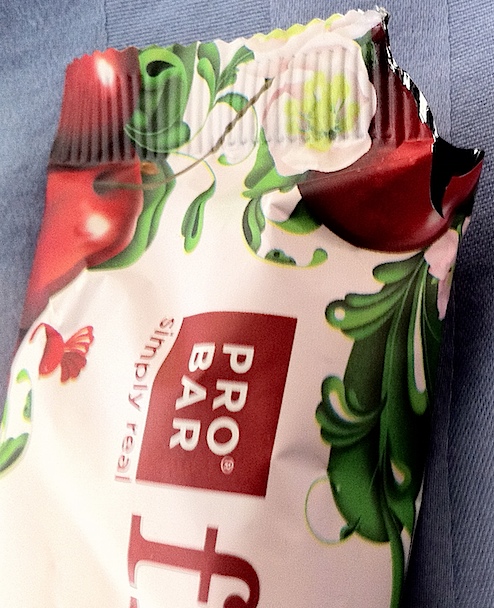 Yeah, that teeny little corner in the top right. Not going to be sufficient. So I try the same technique, but from the other corner: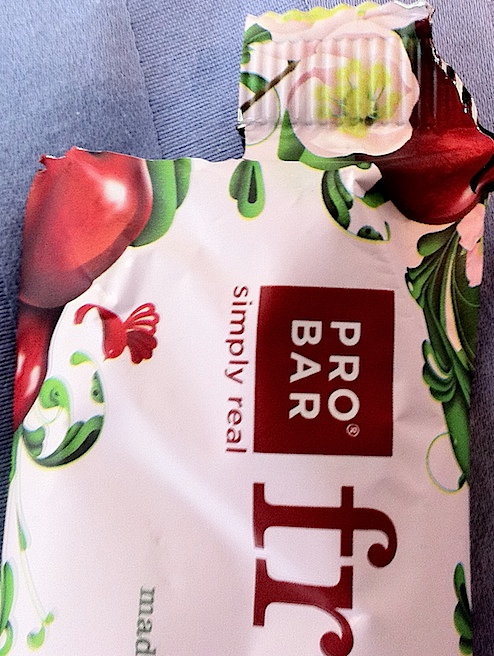 How is it possible that the tear actually went perpendicular to the angle I'm pulling it? How?!
And it's not like the tiny little pieces of wrapping I've just torn off with my teeth have vanished, either. They're flapping in the wind, hanging from my clenched teeth. Which means I have to somehow discard the tiny little piece of paper. Sure, I could spit it out, but that's littering. Or I could swallow it, but then I'd probably get excruciating cuts all down my throat as the foil made its way down my gullet (and really, that would just be the beginning of my problems).
So I have to get the tiny piece of paper into my jersey pocket, which means performing the following steps:
Put the energy bar back in my jersey pocket so I have a free hand (or ride no-handed, but that option is usually not a good one if I'm in a paceline or am mountain biking)
Grab the little piece of paper and stuff it in a jersey pocket.
Re-fetch the energy bar.
At this point — and I reach this point pretty much every time I try to open one of these — I'm confronted with several options:
Try the whole "ripping with teeth" process again.
Try using my tongue to enlarge the little hole I created.
Weep pathetically, due to overwhelming hunger pangs.
Try to squeeze the food through the small hole I've created.
Ride no-handed and see if I have any better luck opening the package with two gloved hands than I did with a gloved hand and my teeth.
I usually go with the first option — hey, maybe third time will be the charm — at which point I wind up with something like this: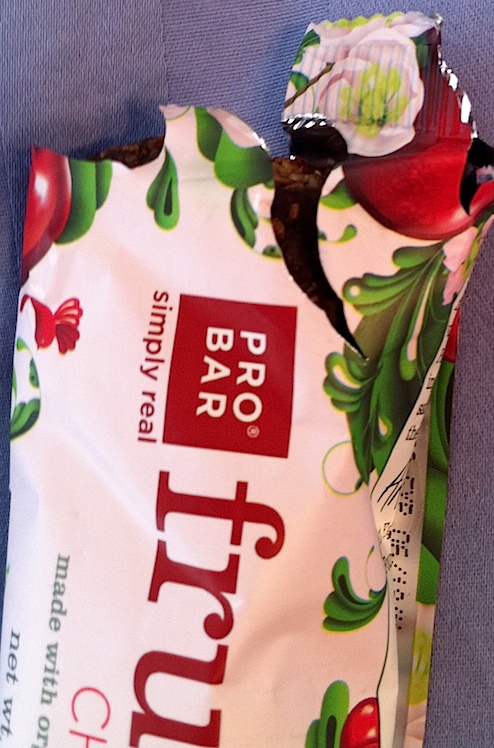 Um. Success? Maybe.
Meanwhile, though, I've completely dropped away from the group I'm riding with, and have probably also veered toward oncoming traffic.
The Ideal
So, how would I like my energy wrappers to behave? Well, at the risk of sounding crazy, here is my list of desirable energy food wrapper attributes:
Wrapper has a tensile strength less than Tyvek or steel belted radial tires.
Wrapper does not require scissors, boxcutters, or high-powered industrial lasers to begin a tear.
Once the wrapper begins to tear, it continues to tear in the direction at least roughly similar to the direction of force from which the tear came. In other words, the tear should not capriciously turn and run in some direction cunningly calculated to prevent food from escaping from the package.
If the package has a "Tear here" indicator, it shall be printed sufficiently large that one does not need a jeweler's loop to find it, seeing as how I often forget to bring my jeweler's loop on rides.
If the package has a "Tear here" indicator, one should be able to reasonably be able to assume that tearing there will produce a desirable effect (Note: Having a teeny-tiny corner of packaging coming off in your teeth does NOT count as a desirable effect).
Honestly, I just want to get to my food. Without falling down. And without having to try over and over and over. And over. Is that so much to ask? I'm begging here.
Standardized Rating System
I propose that, in order to halt the travesty of nearly-impossible-to-open energy food wrappers, the following rating system be implemented, with the wrapper rating being clearly printed on the wrapper of the food item, and the rating being set based on real-world, on-bike tests by hungry, (full-fingered, medium-weight) gloved cyclists after riding a distance of no less than 40 miles (or 15 miles when being tested on MTBs):
P1:

This package can be opened easily and on the first try by pretty much anyone on a bike. Just bite the wrapper on any corner and give a simple tug. Mountain bikers can open this package even when riding semi-technical uphill trail. (As far as I know, no existing energy bar or chew would receive this rating, though most gel packages would.)

P2:

This package requires sustained effort and multiple attempts to open, but if you practice and are hungry enough, you'll eventually get this open. Safe for experienced riders to open while riding in a group. Mountain bikers should only attempt opening this if they are on a two-mile stretch of non-technical trail.

P3:

This package will resist your efforts to open it as if it were guarding the contents of the package with its life. Do nor attempt to open when riding with other people, because you will almost certainly cause an accident.

P4:

Attempts to open will likely result in severe paper cuts. Attempting to open while riding a bike — regardless of bike type or terrain — is severely dangerous and is not recommended under any circumstances. This package is, in short, just trying to be mean.
If you ask me, this is what the UCI should be focusing on right now.