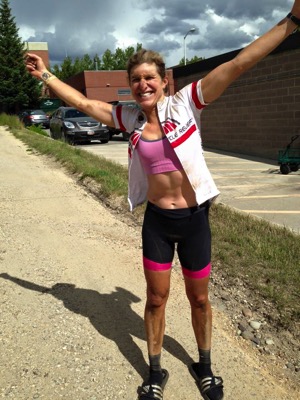 A Note from Fatty About this Guest Post: Waaaaay back in December, I did a little fundraiser and drawing for WBR. One woman won a bike, and one woman won an entry into the Leadville 100. 
Sarah Barber was the person who won the entry into the Leadville 100, which proved that I am incredibly good at randomly picking contest winners. Why? Because not only was she excited about winning the entry, but she's a bona-fide kick-butt elite racer (and the defending champion of Rebecca's Private Idaho).
We've become friends, chatting by email ever since she won. She's got great  enthusiasm, sense of humor, knowledge of racing, and just a general niceness that makes her a lot of fun to be around — virtually or in the real world.
This is her race report. I should note, however, that — as is my way — I have sprinkled photos from her race throughout the report. Sarah did not ask me to place these pictures; I just rummaged through Facebook, WBR's photos from the Leadville race week, and photos posted along with Sarah's race time. 
My Leadville 100
While a big part of my job involves flying around in helicopters tending to the sick and injured, the other part is managing Life Flight's quality assurance program. The key element of quality management is root cause analysis—essentially, the thorough investigation into why something happened in order to prevent it from happening again.
At worst, root cause analysis reviews a major catastrophe, and in the air medical transport business, the possibilities are limitless.
Root cause analysis has become a mental habit for me, and at times I find myself studying my life like an outside observer, especially when I'm having trouble focusing on the task at hand.
Not surprisingly, climbing up the backside of Powerline during the 2015 Leadville Trail 100 Mountain Bike race, my mind began to wander (for the umpteenth time). One could hardly call my participation in this event a catastrophe, but at that moment it felt like enough of an adverse event to warrant some serious inquiry.
Why on earth had I gotten involved in this insane endeavor? And are all sixteen-hundred-something of us equally crazy??
I guess it all started at 0630 on Saturday, August 15, on the corner of 6th and Harrison in downtown Leadville, Colorado, when the gun went off. No—wait. It started before that. It started just a few weeks ago when Claire Geiger of World Bicycle Relief sent me an email with a registration code that made my entry into Leadville FREE! I'm a sucker for free stuff, so I signed up.
But wait. It actually started months before that when I first learned that I had an opportunity to participate in the LT100. By pre-ordering several copies of Fatty's latest literary masterpiece (both with thoughtful personalized inscriptions!), I got my name entered into a drawing for one of two prizes. Fatty drew MY name for the prize that was a free entry in to LT100. Um…Thanks? Niiiice prize. Sheesh, Fatty, it's YOUR fault! I thought as I trudged up the 26% incline behind a train of loonies all doing the same thing.
But wait. That wasn't really fair. After all, I was the one who had ordered the book. But what I wanted was just the book. And In time for Christmas. I had no designs on winning prizes in random drawings. That sort of thing doesn't happen to me…
But hold on a sec. If I hadn't started reading Fatty's blog, I never would have known about his book. So I never would have bought it, I never would have won the prize, I never would have signed up for Leadville—it wasn't even on my radar. I'm a roadie, for Pete's sake! (Who is Pete, anyway? And why did I read Fatty's blog? I thought as I ticked off the tenths-of-miles on my Garmin, inching closer to yet another false summit on the Powerline climb.
But wait. I'm still wrong. All of this really started last fall when, just before participating in my first-ever gravel grinder, Rebecca's Private Idaho, I happened upon Fatty's blog while looking for beta on the event, as he and The Hammer had participated the previous year. So all this is somehow MY fault, I concluded, finally remounting my hardtail 29-er, now more motivated to get to the finish line. I got myself into this. I'm the only one who can get me through it now.
Now, more than a week has passed since the ride. My legs feel like themselves again. My lungs are enjoying the usual abundance of oxygen at a modest two-thousand-something feet above sea level. Everything is back to how it was.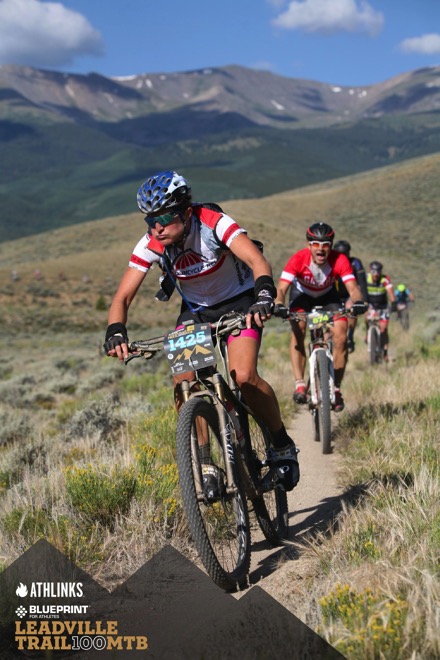 Except it's not.
Something is different. Prior to riding this year's LT100, I had never spent more than six consecutive hours on a bike. I had never pedaled above twelve-thousand feet. And I had never relied on so heavily on loved ones and strangers, both on the day of the event and for months leading up to it, for support and information and encouragement.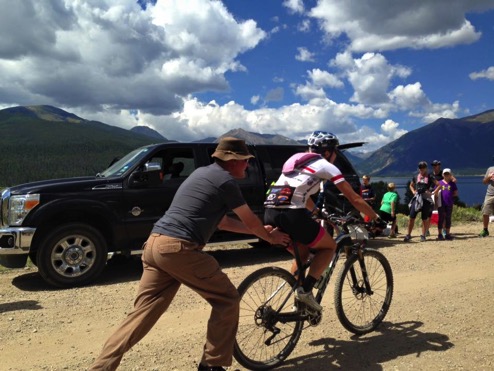 You can read all about the course in people's race reports (heck, you can SEE a lot of it on Race Across the Sky and its sequel), and the descriptions are pretty consistent. To some, the lung-searing, quad-busting final miles of the Columbine climb stand out.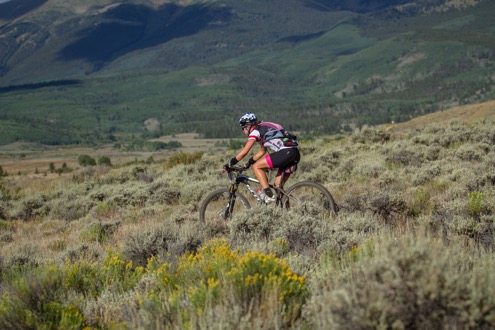 For others, it's the spectacular beauty of the view from the more humane Sugarloaf ascent. Or maybe it's the Boulevard, so close to the finish and yet somehow still way too far away.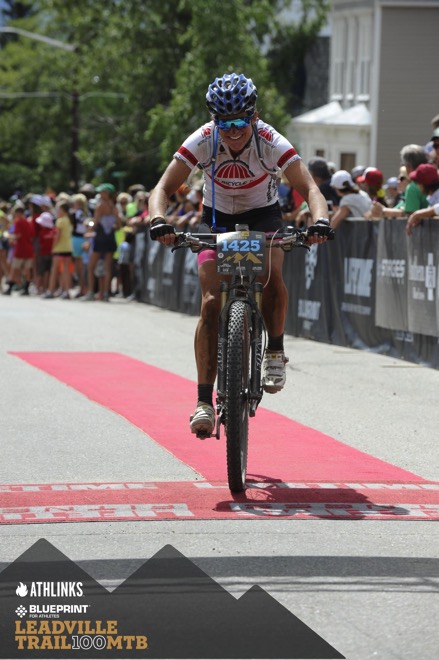 It's all memorable stuff, for sure, but what I'll remember most are the people. I'll remember the pros at the front of the field who took off behind the "neutral" roll out at a shocking pace.
I'll remember the Phoenix Patriot Foundation racers, some with prosthetic arms, some with prosthetic legs, all using their bikes to make their lives better.
I'll remember the Tomorrow Chaser, who started the race in the last row, passed me at the base of Columbine, and stomped his way to 138th place overall, earning five bucks for every rider he passed (the money from Transamerica would then be donated to the local high school).
I'll remember my new friends from World Bicycle Relief who coached my 70-year-old mother and my beloved husband in the Twin Lakes aid station—those two had me rolling through faster than any NASCAR pit crew I've ever seen.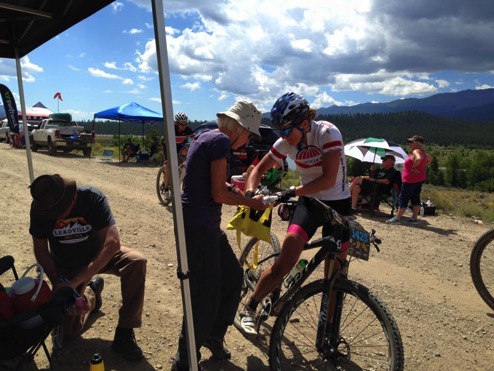 And I'll remember Fatty, as the guy who got me into this mess. Thanks a lot, Fatty. But I mean that with gratitude, rather than straight up blame. Thank you for a once-in-a-lifetime experience!
PS From Fatty: Sarah is fast.