Sometimes, readers, I am amazed at how perceptive you all are. I post a photo, and you notice something peculiar and interesting in the background. I write 800 words about nothing whatsoever, and you notice that I tend to use dangling participles.
Yes, at times I am truly impressed with how astute you are.
This, alas, is not one of those times.
See, a couple of weeks ago I went on a three-day trip out to St. George, Utah to ride with friends. And then I came back and wrote about only two of those days.
"Where," you should have asked, "is the report for the third day?"
"Why," you should have continued, "are you not describing the events of the ride or even where you went riding on that final day of Fall Moab?"
Which is too bad, because if you had asked that, I would have been able to be coy and not answer, or perhaps given an offhanded response along the lines of, "Be patient; I'm still thinking about the last ride of the trip. I'll get to it soon."
In which case I would have had a completely different opening for today's post. And frankly, it would probably have been a better one, because I wouldn't have been attacking you for not tracking the minutia of my life.
Anyway, I'm ready to start talking about this ride now. I think.
A Question of Great Importance
I'd like you to think about your favorite ride for a moment. OK, that may not be easy to do, because you've probably got quite a few rides that might qualify as your favorite, depending on your mood or the kind of riding you feel like doing. So let's think in terms of your three favorite rides. The three rides you would do if you were told that you could do only three rides for the rest of your life.
Since I'm the kind of person who likes "If you had to choose only 3 things" types of questions, I have already given this question some thought, and am prepared to answer that the following three rides are my all-time favorites:
1. Super Tibble (MTB): Tibble Fork Reservoir to Joy to Alpine Loop Summit to Mud Springs to Tibble and back to the Reservoir
2. Alpine Loop (Road): Home to Alpine Loop Summit to Cascade Springs, back to Summit, down to Provo Canyon, and then back up to the Summit and home.
3. Nebo Loop (Road): Start in Provo, go up the Payson side, down the Nephi side, and on the flats back to Provo.
Selecting this short list is a lot easier than you might suspect: these are rides that spring to mind when I think about my best biking memories. They're my empirical favorites because, given a choice to ride and the time to do them, these are the rides I pick.
Disruption
So, back to Fall Moab. For the third ride of the trip, Kenny, who in the absence of Dug was the guide for the trip, said we'd be riding a relatively new trail: Guacamole.
"Fine," I thought. I'm happy to try new trails, though I generally don't really enjoy them until I've ridden them enough to become acquainted. To know how they feel. What to expect. How long the ride is going to go, and where I need to gear myself up for a big effort.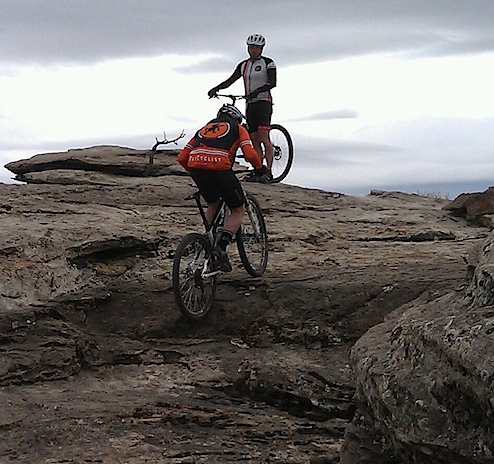 And then something entirely unexpected happened: I loved this ride. More than loved it. I was amazed by it. Petrified wood lay about everywhere, as plentiful as sand. That, along with the rock, bush and valley below was simply beautiful. Similar in some ways to Gooseberry and Little Creek, but with its own personality.
The trail was so brilliantly considered. It was challenging, but not so challenging that it felt brutish. I'd say, in fact, that the tricky, technical sections seemed playful — as if the trail designer liked finding interesting natural features and thinking of ways to make them a part of the trail.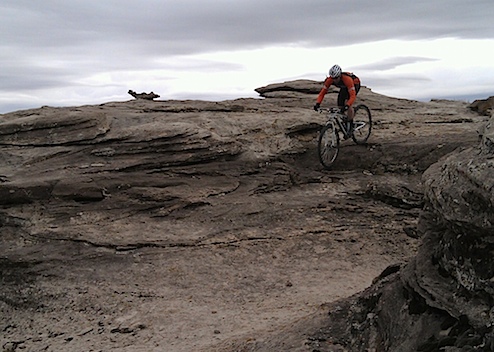 For example, there was a place in the trail where you're directed to take a sharp left turn, climb to the top of a crescent-shaped fin of rock, ride along that fin, drop down the other side, and then continue along the trail. By following the trail markings here, you progress exactly no distance at all, but you do get the experience of riding your bike on the top of a crescent-shaped fin of rock.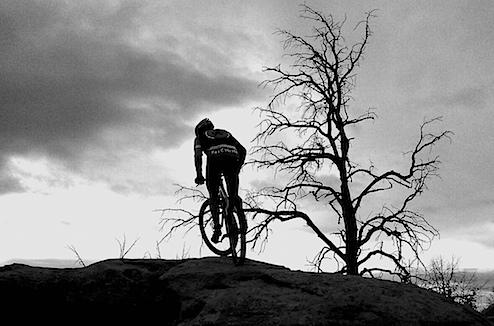 It took me five tries to get to the top of this fin, ride along it, and drop down the other side. I was giddy when I finally got it.
Or for another example, you at one point ride up a hump of sandstone, turn gingerly right and ride off-camber around the circumference of this hump, the whole time with your left shoulder nearly touching the large boulder perched upon this hump of rock.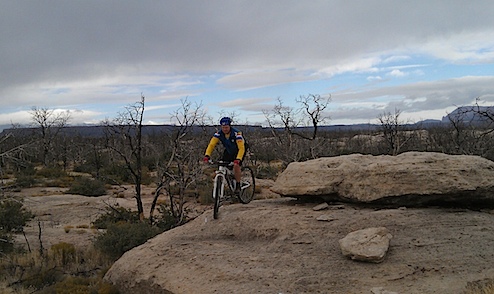 I got that one my first try. It was a proud moment.
Over and over, for the two or three hours we were out there, it's just one quick up followed by a quick down. A natural skills park, carved out by erosion for kragillions of years, then cleverly and entertainingly interpreted into a mountain bike trail by trail-building geniuses.
It's a beautiful, remarkable, entertaining trail. If you mountain bike and you're anywhere near St. George, UT, you must ride it.
ASAP.
Another Question
So after riding Guacamole just once, I've since found myself thinking about it constantly. I've got to get out there and ride it again. Soon. This time with a helmet cam running (I actually had planned to ride with a helmet cam the first time I rode this trail, but the camera didn't work — one of a long line of expensive things broken during this trip).
Because I have a question. It's a question that I can't answer yet; one ride is not enough — nowhere near enough — to make this kind of judgement.
But still, I can't help but wonder: Is Guacamole destined to break into my top 3 favorite all-time rides?