During the 2012 Team Fatty gear pre-order, I made no secret of my enthusiasm for the new Specialized bottles with the Watergate (ha) valves. Twin Six did an awesome design to go on those bottles, and a bunch of you — like, around 500 of you — ordered some of these beauties.
The fact that we sold these bottles at no profit whatsoever (good luck finding these bottles at $8.00 anywhere else) probably had something to do with the number of orders, too.
Well, yesterday my bottles arrived. Here's what they look like: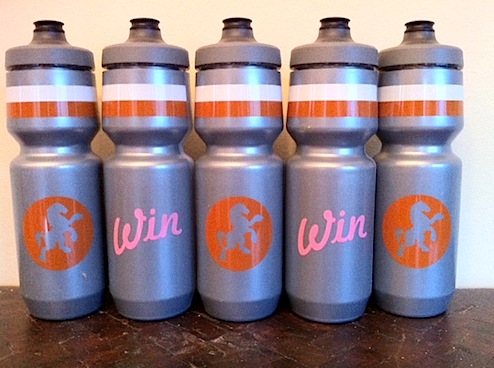 Um.
Ew.
Evidently, someone at Specialized thought that the black translucent bottle TwinSix ordered wasn't a good color, and convinced them to go with silver. But on that silver bottle, the orange color looks…well, brown.
The thing is, those of you who ordered these bottles are probably starting to get them right now.
And I figure some of you, at least, are going to be a little disappointed in the way these things look.
I called the Twin Six guys, and they agreed, this is not what the bottles should look like, and they (the bottles, not the Twin Six guys) are, frankly, pretty ugly.
So, they're going to make things right.
In fact, they're going to make things even righter than right.
Option 1: If You Just Can't Stand the Bottle
If you simply cannot imagine yourself ever using this bottle, email service@twinsix.com. They'll set you up with what you need to return the bottle(s) and get a refund.
Option 2: If You Would Like an Awesome Deal
While I don't really dig the brownish-orange-on-silver look, the fact remains that these are the best-working bottles I've ever had. And if you use it, you'll like it.
So if you got one (or more) of these bottles and want to hang on to it, Twin Six is going to give you a 30%-off code toward any full-price purchase. Which means if you buy a $24 shirt, that pretty much means you got the bottle for free. And if you buy a couple of jerseys, you've more than made your money back in savings.
Stay tuned for details on what this code is and when you can start using it. Twin Six is getting it set up right now, and I'll post it on the blog.
Hey, some times weird things (like brownish orange ink on a silver bottle) happens. I think it's cool that Twin Six is making it right.