The Runner got me a unicycle for Christmas. Which is awesome, for two reasons:
I have always wanted a unicycle. Like, since I was a kid. And yet, in spite of the fact that unicycles are pretty inexpensive (especially compared to the cost of some of the bikes I currently own), I have never owned a unicycle. So this is a realization of a childhood dream.
I did not expect to get a unicycle. When's the last time you got a present that really caught you off-guard and simultaneously opened a whole new world of possibilities? And also, probably, a whole new world of bruises and and abrasions, short-term-wise.
There was, however, a small problem. Here's what the unicycle looked like, when I unwrapped it: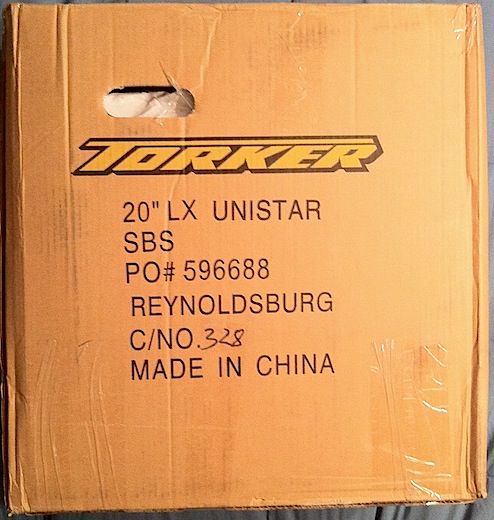 Yeah. It arrived in a box.
Procrastination
I am not a good mechanic. In fact, I think it's safe to say that the only way I could be a worse mechanic would be if, when I went about assembling something, I instead wound up deconstructing said object into its constituent molecules.
And so, I did not open the box on Christmas day. For I was afraid.
Similarly, I did not open the box on the day after Christmas. For I continued to be afraid.
This morning, then, The Runner asked, "So, are you ever going to assemble this unicycle, or do I have to take it to Racer's and have him build it for you?"
"I'll build it today," I said. By which I meant, "I'll open the box and if there are more than two or three parts, I'll take it to Racer's myself."
The Difference Between Feet and Inches
Normally, opening a bike box sends me into a cold sweat. I mean, it's like opening a trunk of a car and finding a dismembered body. At least, I assume that's what it's like, seeing as how I have never actually opened a trunk and found a dismembered body. Which I am totally OK with, by the way.
Anyway, they're at least similar to the extent that in either case I recognize most of the parts, but there's no way that I'm going to be able to put them back together again.
You know, the more I think about it, the less I like the analogy I started with here. Could I just call a comedy mulligan and say something like, "Opening a box full of bike parts makes me feel woozy."
Thanks, I think that's much better.
In this case, regardless, the wooziness was not a factor, because there just aren't that many parts to a unicycle. Attach the wheels and the fork to the body, attach the pedals to the cranks. You're done.
And yet I still managed to screw it up.
You see, one of the steps in the instructions was to tighten a set of four bolts to a maximum of 45 pound-inches. So I got out my torque wrench — yes, I actually do own a torque wrench — and set it to 45 pound-feet.
You see the problem here?
Well, as it turns out, 45 pound-feet is considerably different than 45 pound-inches. Like, twelve times as much.
And so it should come as no surprise that I snapped the first bolt I was supposed to tighten, clean in half.
At which point I figured out my mistake, did some math (45 pound-inches is 3.75 pound-feet), found a replacement bolt (to my amazement I had one on-hand that was a perfect match), and finished assembling the unicycle without incident.
Check it out: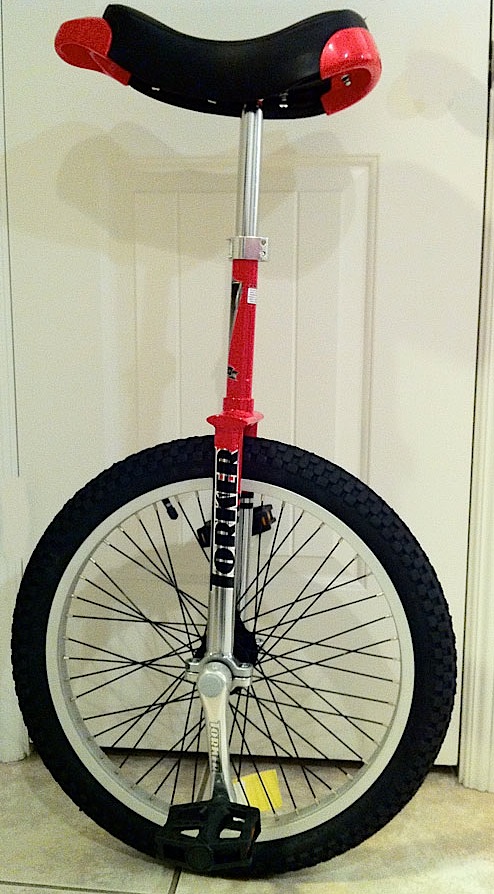 So now I'm the proud owner of a unicycle, which I assembled all by myself. So now I kinda know how Luke felt after building his own lightsaber.
So far, though, I have not tried to ride it.
That comes next.
I am afraid.