A Note From Fatty: The response to Susan's jewelry has been as overwhelming as it has been gratifying. More than 80 of you have ordered bracelets. Having raised $8600 in just a couple days, Susan herself is currently the top fundraising individual in Team Fat Cyclist: Fighting for Susan.
I think that's pretty fitting, don't you?
Wisely, Susan is now requesting that no more orders for bracelets be made until she takes care of this first batch. You can bet I'll post again when she's ready to do more.
Time's Almost Up
Tomorrow (Saturday, January 31) is the last day you can enter the raffle for the Gary Fisher Superfly Singlespeed. I'll do the drawing and notify the winners on Sunday, and hope to announce the winners this Monday.
This bike is one of the most coveted mountain bikes in the world: a carbon-fiber frameset designed to be built up as an incredibly fast, light singlespeed.
And they're not for sale. Anywhere. As far as I know, if you haven't already got one on order, this raffle is the only way you can get one.
Check it out: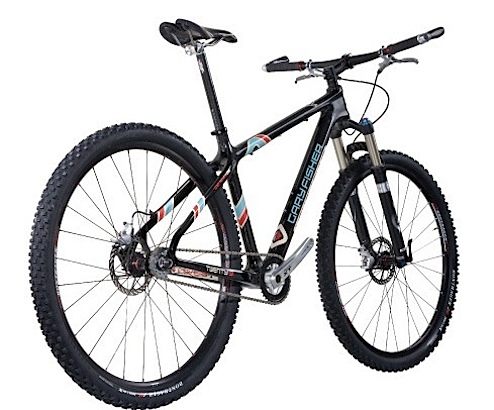 (Build in photo for illustration purposes only. Components will be different on actual bike)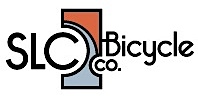 And you're not going to just get the frameset, either. SLC Bicycle Company will provide the build for the bike and ship it to you. Massive kudos to Brent Hulme (owner and operator of SLC Bikes) for volunteering to take this on. Building up a bike like this so that the components are as nice as the frame is certainly not an inexpensive project.
But — just in case you forgot — this raffle isn't just for a bike. You could also win a signed and framed poster of Lance Armstrong: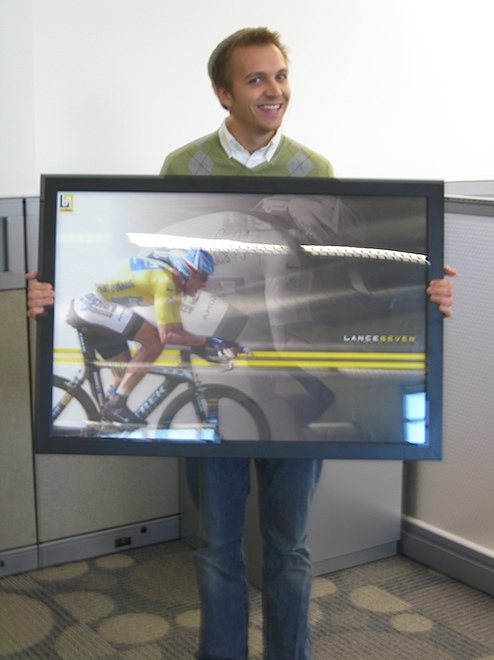 Ladies and gentlemen, please put your hands together for Gary Fisher Bikes, Brent Hulme (SLC Bikes), Travis Ott (Gary Fisher Brand Manager), and Eric "Hootie" Bjorlin (Trek Pavement Brand Manager). Thanks to them, I'm able to offer you some incredible prizes to help make our fight against cancer a lot more fun.
How to Donate to Win
How can you enter to win? Well, you can donate money at my LiveStrong Challenge page, or, if you're a member of Team Fatty, you can collect donations at your own LiveStrong Challenge page. Either way, every $5 gets you another virtual raffle ticket for the drawings I do this Sunday.
And remember, every donation helps, and any amount can make you a winner. Think about this for a second: Last year, Matt Ming put in an extra shift at the restaurant where he works so he could donate $100, on the last day of the raffle for the Ibis. And now he's the owner of the road bike of his dreams.
You Ought to Join Team Fatty
Team Fat Cyclist: Fighting for Susan (Team Fatty for short) has an ambitious goal for 2009: to raise $1,000,000 to help the Lance Armstrong Foundation fight cancer. We've got a good start, but we need more help. Why don't you join Team Fatty today, then get some of your friends to donate at your LiveStrong Challenge page? You'll feel good about what you've done, and you just might win an incredibly cool bike.
To join, here's what you've got to do:
First, you've got to decide which event you want to be part of: Austin, San Jose, Seattle, or Philadelphia. If you're just planning on fundraising — not attending an event — then pick whichever city you most closely identify with. Then, just follow these steps:
Click one of the below links to go to the Team Fatty page for that city:

Click the "Join Our Team" link.
Fill out the form. Note that the $50 registration fee is the same, whether you do one of the rides, the run/walk, or join the virtual challenge.
And here's something to think about: The next big contest is going to be open to members of Team Fatty only. And believe me, you will not want to miss out on it.
A Little Bit of Chest Thumping
To those of you who are members of Team Fatty, thanks for all you've done so far. Here are some bragging rights we've earned together:
As of today, we have raised $102,000. Yes, that's right. We're officially in the six-figure zone!
There are 342 members of Team Fatty. Originally, I had hoped we could get 1000 members, but maybe 500 members is more realistic. Here's what I'd like Team Fatty members to do: ask a friend to join. There is strength in numbers, and we are working for a cause that requires a lot of strength.
We are the top fundraising team in all four event cities.
Team Fatty is responsible for about a quarter (24%) of all LiveStrong Challenge funds raised so far this year.
Team Fatty has raised more than half of all LiveStrong Challenge funds for the Seattle event
In short, we are kicking butt and making a difference. Thank you.