We're down to the last few days of the pre-order of The Best of FatCyclist: Volume 2 – The Great Fatsby. And also—I know this will come as a big shock to a lot of you—beginning with today, everyone is putting everything on sale!
And I didn't want to feel left out.
So, for the last few days of The Great Fatsby pre-order (now through Wednesday), you can use the FAT20 promo code to knock 20% off your pre-order.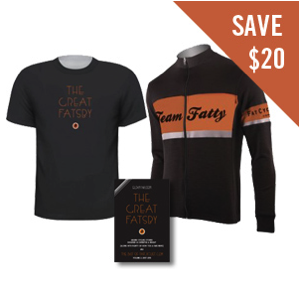 Not just on the book, either. On everything, including the bundles, which are already nicely discounted.
Which means, for example, that you could buy the Great Fatsby Super Bundle—a signed and inscribed book, the long-sleeve wool tec-merino jersey, and the t-shirt—for $123.96. 
Which, if you're not too good at math, means that you're getting the signed and inscribed book and the t-shirt for free. 
Killer.
And just in case you are wondering, yes, the FAT20 promo code will work on your whole order (with the exception of the $10 WBR donation — a $10 donation is still a $10 donation).
But Wait! There's More! 
Even with the 20% discount, you're still getting the cool stuff that makes this pre-order really awesome (besides the fact that you're going to be getting around 350 pages of my very best work, newly edited and footnoted practically into oblivion).
Chances at winning the Ibis bike of your choice: I don't know if anyone else is giving away the Mojo HD3 that everyone is raving about (seriously, everyone is going nuts about this bike). Or you can get my personal choice, the Tranny 29. Or a Ripley 29. Or a Hakkalugi Disc. Whatever your pleasure, SRAM will gear it up with absolute top-end parts.
Chances at getting into the Leadville 100. That's right, you and I could be hanging out and freaking out over racing the hardest-to-get-into, highest-in-America mountain bike century there is. That would rock.
25% of the profits go to WBR: That is a serious donation. And the cool thing is, that 25% donation is going to get matched, dollar for dollar, turning it into a 50% donation. Killer.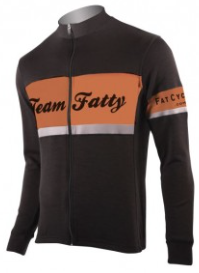 Curious About the Jersey and How It Fits?
One of the things I'm really excited about in this pre-order is the Team Fatty Tecno-Merino Wool Long-Sleeve Jersey.
it's an incredibly comfortable and beautiful jersey—something you could wear both on and off the bike.
Wear it with a base layer or right against the skin—either way works great.
And I've got a size for most everyone: all the way from XXS to 5XL. Those of you who haven't been able to get a FatCyclist jersey before because I haven't had sizes small or large enough…well, now you can.
And they're made in Italy. Yeah. 
And with the FAT20 code, you can score one for under $100 now. Yes, a long-sleeve, high-quality, Tecno-Merino jersey for less than $100. 
But quite a few of you have wondered what size will fit you. And I wondered the same thing. So The Hammer went to DNA Cycling, my partner for these jerseys, and tried on a couple of jerseys with the same cut. These should hopefully help you make a decision.
For reference, here's a little bit about how tall and heavy The Hammer and I are right now (and yes, we're definitely moving into our off-season weight):
Lisa (aka The Hammer): 5'7", 128lbs.
Me: 5'7", 168lbs. (Yeah, yeah, I've put ten pounds on since September.)
Here's The Hammer wearing a size Medium: 
As you can see, it's a loose fit, even though she's got a t-shirt underneath. She could easily wear a Small for a closer fit, which is probably what she'll get for herself. That said, sizing up to a Medium means she can wear it more as a comfortable, loose-fitting sweater. 
(Unfortunately, DNA didn't have any of the Small in stock, so I can't show you how those would fit her)
And here I am, wearing a Medium: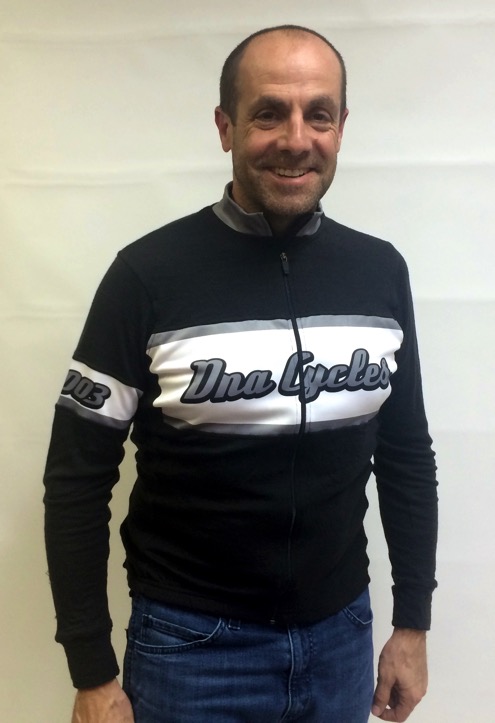 I'm wearing this right against the skin. It fits perfect for riding: not tight, but close-fitting.
If I were just wearing this casually, I'd want a size Large: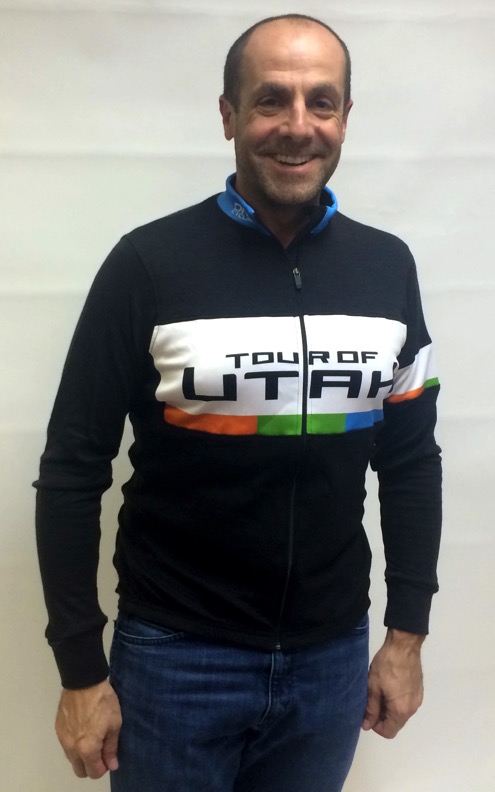 Still fits great, but a more relaxed, looser feel. 
Oh, and just to give you a feel for what the back of the jersey looks like: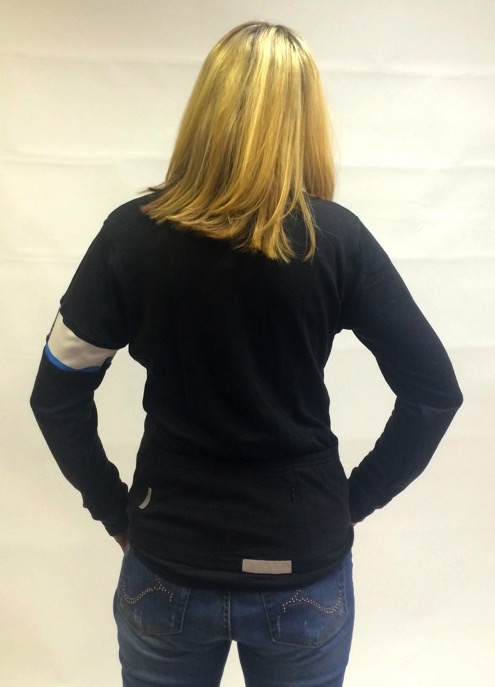 There are three traditional jersey pockets, as well as a zipped additional pocket in the back for your phone. That little white rectangle in the bottom center is reflective. 
And here's a close-up of the color and texture of the wool, as well as the nice easy-pull zipper (the zipper pull is on the left, in case you care):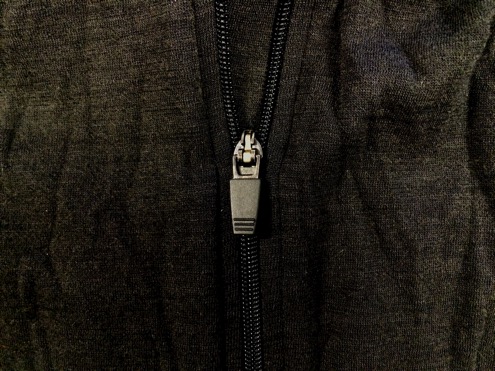 Using the FAT20 promo code, you can get this jersey on its own for $99.96, with a signed copy of the book for $111.92, or with the Great Fatsby t-shirt and signed, inscribed copy of The Great Fatsby for $123.96.
Meet Dan Wuori
One last thing here: Dan Wuori, the hilarious genius behind the back page column in Velo magazine, has written the Foreword (along with a Middleword…and a Backword…which I'll get to in another post) for The Great Fatsby. If you buy a book with a signed inscription today, I'll get him to sign the book as well. 
Which, honestly, raises the value of the book to that of a fully-tricked-out Yugo. Easily.
Why Am I Doing This?
I haven't traditionally done discounts, and I am a little bit nervous about this one. But here's the thing: I'm self-publishing this, and the more books I order from the printer, the less each costs. At this point, I haven't yet hit the 1000 book price break.
Which means that sales aren't as awesome as I'd like them to be. Which bums me out just a titch, because I am outrageously proud of this book. It's about 350 pages (yes, longer than I originally anticipated, thanks to a lot of footnotes) of what I consider to be some of my very best work.
And from a purely selfish, contest-oriented perspective, the lower sales combined with the fact that I'm giving away a bike and an entry into Leadville,  means that this might not be a bad thing for you to jump on, because your chances of scoring a bike in this contest are probably somewhat better than they usually are in my contests.
Regardless of whether you buy one thing, lots of things, or nothing, I do want to thank you for reading this blog. It's been an awesome (almost) ten years.