A Note from Fatty: If you're already on board and are ready to donate, click here to go to the donation page. Thanks!
I think most people would like to think that they're trying to make a difference in others' lives. To be a force for good. And when you help another person, it feels pretty great.
But what if your donation had the power to make a difference not just in one person's life, but in five people's lives?
And what if your donation were automatically doubled, so that it had double the impact it normally did?
Oh, and what if…just by the way…when you donated you'd automatically be getting chances at winning not one dream bike, but at one of five dream bikes? Wouldn't that be cool? (Answer: yes, it would be pretty cool.)
Well, I think you're going to want to read a little more about the fundraiser for World Bicycle Relief I'm kicking off today: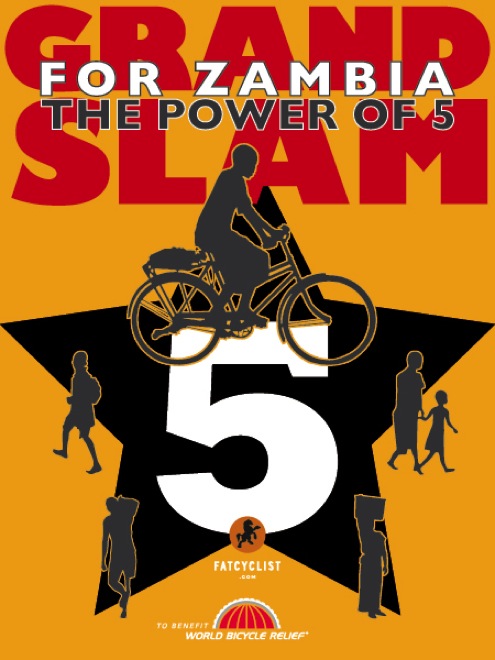 Shouldn't This Be Called "Grand Slam 3?"
Those of you who have followed this blog and my fundraisers for a while might be wondering why this isn't called "Grand Slam for Zambia 3" or something like that. Well, the fact is, this is the fifth fundraiser I've done for World Bicycle Relief. First, there was the one Johan Bruyneel and I did together. Next, there was Grand Slam 1, followed by Grand Slam 2. Then, last summer we took advantage of Trek's generous matching offer and the Trek Madone they were offering to someone who donated.
And that brings us to "The Power of 5," which I think you'll agree is a pretty special number.
Let me explain.
What Does "The Power of 5" Mean?
When a person in Zambia gets a bike from World Bicycle Relief, they can go much farther, and much faster. And they can carry five times as much as they otherwise could: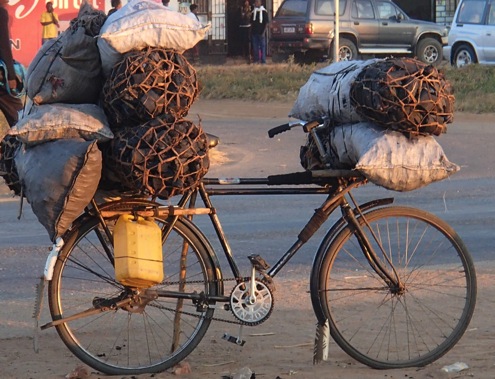 A loaded-up WBR bike I photographed at the market in Lusaka — a very common sight.
That's a very powerful multiplying force.
The thing is, though, a $134 Buffalo bicycle provided by World Bicycle relief doesn't just make one student's (or one healthcare worker's) life better. Each bike improves the lives of—on average—five people: the person who receives the bike, her family, and her neighbors.
And the bikes benefit five common groups. You know about the three I've talked about before: students, healthcare workers, and entrepreneurs. 
But these bicycles also provide jobs to the people who make a living building them: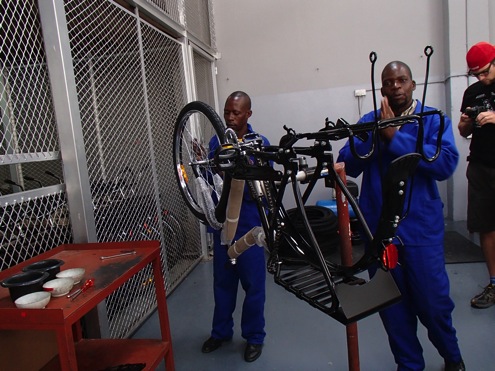 And the people who make a living servicing them: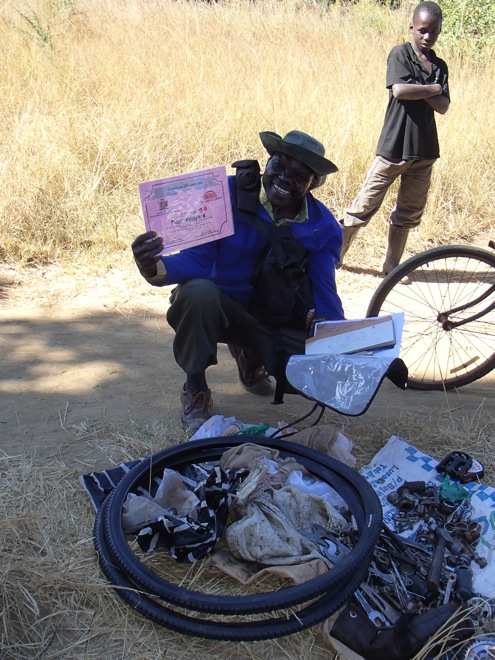 So. This is my fifth WBR fundraiser. People carry five times as much with a WBR bike, each bike affects five people, and they benefit five kinds of people. 
That's a pretty good "Power of 5" story, don't you think?
But there's more. 
The Power of 5…Awesome Bikes
You know that I'm going to hit you up for a donation, and you know that I am going to try to sweeten that donation with some awesome prizes. 
How about this: we're going to give away five dream bikes as prizes in this fundraiser. 
But it gets cooler than that. These five bikes will be come from five different bike makers. In alphabetical order:
That's right. These five different companies—normally rivals—have joined together to show that while it's fine to compete during business hours, when it comes to doing the right thing and making the world a better place, they're more than happy to work together.
And that's an incredibly powerful—and, frankly, beautiful—message.
During the next few weeks I'll be revealing the details of exactly which bikes they'll be giving away as part of this contest. For right now, let me simply say that they are dream bikes, each and every one of them. And they are all outfitted with top-of-the-line components from the SRAM family. 
This Wednesday, I'll be revealing details about what bike Ibis is donating, and how it will be spec'd. As a hint, let me just say that it's a highly desirable bike, and Ibis founder Scot Nicol—aka Chuck Ibis—is choosing the parts himself, ensuring it will be the most amazing bike you could possibly hope for.
So, you may want to make sure you check back on Wednesday, OK?
How Can You Donate (and Maybe Win)?
It's simple to donate and enter the contest for these five dream bikes (and yes, no matter when you donate, you're entered for the drawing of each of the five bikes). Just go to my WBR fundraiser page and make a donation. 
For every $5.00 you donate (yes, I'm looking for every possible opportunity to fit the number 5 into this contest), you'll get a chance at winning these five bikes. So, please donate in multiples of $5.00.
As a bonus, though, if you donate the cost of a WBR bike — $134 — you'll be given an additional (you guessed it) five chances. 
This contest goes through the end of December, at which point a WBR employee will do the drawing to ensure that I don't somehow wind up winning all five bikes myself. (Don't worry; my family and I aren't eligible to win any of the prizes. Alas.)
The Power of 5, Doubled
With this fundraiser, your donation is already working incredibly hard to make life better for people in Africa who need the help (not to mention giving you a chance at an amazing group of bikes). But it gets better, because during this month — all of December — all of our donations are being matched, dollar for dollar.
So if you donate $5, some mysterious person with deep pockets and a big heart is going to donate $5. If you donate enough to buy a bike, that mysterious person is going to donate enough to buy another one.
And in short, your money is going twice as far as it otherwise would. Which means we'll be able to fill warehouse after warehouse with bikes: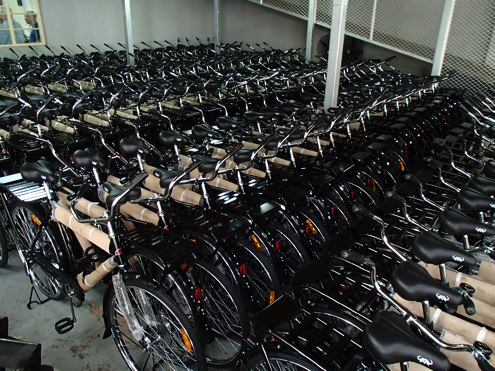 But that's just the first step. Because once we get them built, we get to give them away: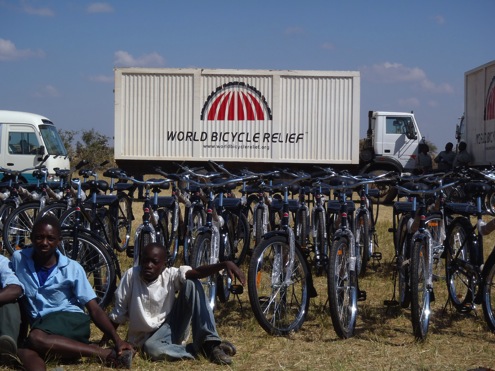 And then, because of our donations, thousands of children will be able to stay in school. And get better jobs. And have better medical care. 
And have better lives.
Because of the bicycle. And because of you. 
That's what Grand Slam for Zambia: The Power of 5 is about. Thanks for donating and being a part of it. 
PS: Plus it's kinda fun to dream about winning a dream bicycle. 
PPS: If you've got questions, leave them in the comments section; I'll try to get to them, and Katie at WBR will, too.