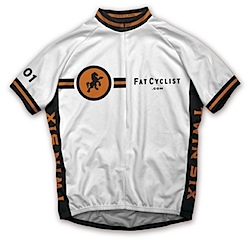 A Note from Fatty: I have many small items of interest before I get to the meat of today's (guest) post.
About the Fat Cyclist 2010 Clothing Pre-Orderama: Tomorrow's the last day you can pre-order jerseys, shorts, vests, socks, armwarmers, hats, bottles, and t-shirts. We're not going to order big quantities of anything above the pre-order amount: just enough to make sure that we're cool for size exchanges, defects, lost shipments, and so forth. So if you want to fly the Fatty Flag (so to speak, since there isn't actually a Fatty Flag…yet), you should probably order now.
I Wish I Were Doing this Race: Today (Monday) is the last day you can register for the Park City Point 2 Point mountain bike race. This is going to be an incredibly epic race, and I'd be doing it if I weren't afraid.
If you're local, you're hardcore, and you're not chicken, you should go sign up. Kenny and Brad have, and I'm looking forward to their writeups. And I'm looking forward to doing this race next year, when I will presumably be less chicken.
I Am Newsworthy: The Deseret News, a Salt Lake City, Utah-based newspaper, ran a really kind article about me yesterday. Many thanks to journalist (and obsessive twitterer) Jared Eborn for not mentioning my horrible body odor in the piece. Read the article here.
And Finally, A Note About Today's Post: One of the frequent commenters on this site is someone who goes by the handle "BikeCopVT." Like — I expect — many of you, I've often wondered if this guy is really a cop, on a bike, in Vermont. And I've wondered what such a job would be like. Dream job? Or nightmare?

Well, I met BikeCopVT in Philadelphia last weekend, and he is in fact a cop. On a bike. In Vermont. So I asked him to write up a guest post describing what his job is like. Upon reading it, I find that I like bikes more, I like cops more, and I like humanity more. BikeCopVT is definitely one of the good guys.
Enjoy!
A Day In the Life of a Bike Cop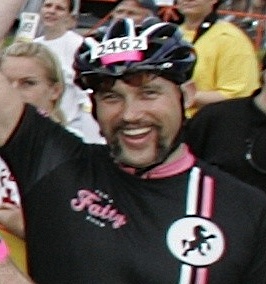 I recently rode in the Philadelphia LIVESTRONG Challenge. If you were there you might remember me as this guy.
You know the one with the crazy mustache, "BikeCopVT."
One of the highlights of my trip was having the opportunity to meet someone I would consider a friend. A friend, that until this trip I had yet to meet. After talking to Elden for a minute or two I got the question I often get from people I meet. "Are you really a bike cop?" The answer is, "yes I am." I have been a bike cop for the last nine years.
After riding the Challenge, Elden asked if I would write about what it's like to be a Bike Cop. He wanted to know, and thought other people might be interested as well. I figured the best way to give everyone a realistic view of what it's like to be a bike cop is to write about one 8 hour shift.
I started my shift at 3:00pm in Patrol Uniform. You see, not everybody is a fan of cops on bikes (even other police officers). So for the first two hours of my shift I was this guy: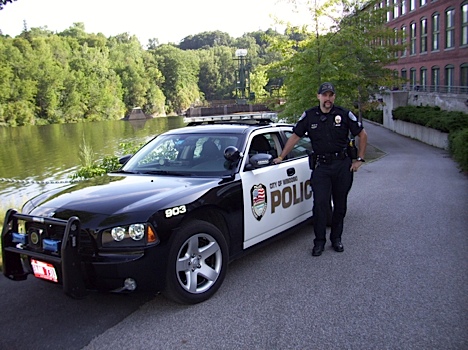 I answered a few calls for service including going to look for a male suspect a neighboring town wanted arrested. No luck.
At 5:00pm I was able to change into my Bike Patrol Uniform: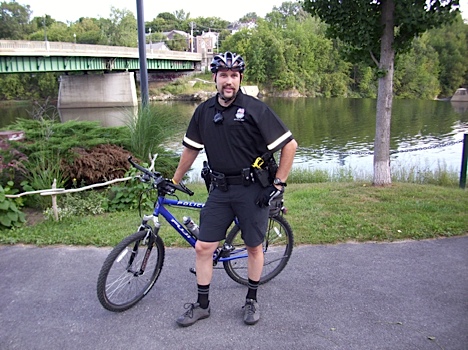 Given the choice — be honest — which would you prefer? I pick the bike every time.
Just a few things I'll point out:
Yes, I am wearing a bullet resistant vest.
Yes, it gets very hot under said vest. Thankfully during this shift it was nice and cool outside. I have an external carrier for the vest I can use when it is really hot which allows me to take it off when I'm in the office.
Take a look at my duty belt. I weighed it once: 28 pounds.
Yep, before you think about the weight of the bike and everything in the pannier, I have already added nearly 30 pounds to what I have to pedal around. The bike is essentially an off the rack bike with Police stickers. One big difference though is the wheels. They are a bit more beefy than the average so I can do the following, without breaking anything: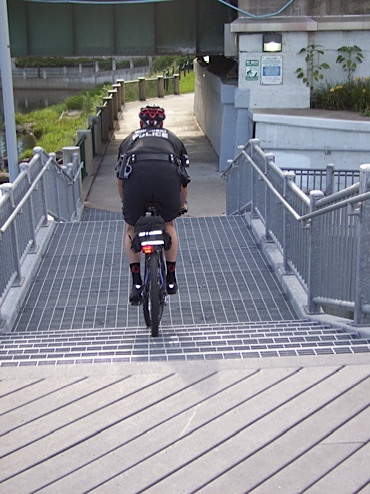 After going out and taking all these pictures it was time to work. When I am on the bike I am treated like any other patrol unit. I just have a harder time transporting prisoners.
One thing the cars can't do, though, is go here: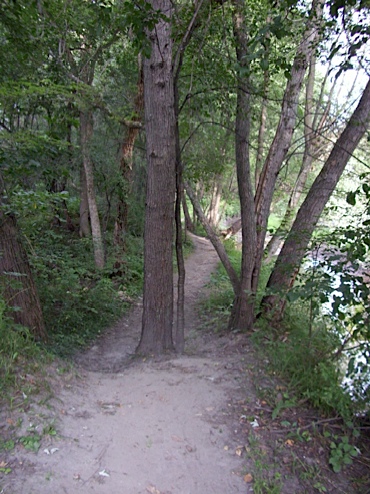 On the bike, though, I can. And believe me, I do — with pleasure. Hey, somebody has to check the trails!
So, from 5:30 to about 6:15 I was out on the trails. But, it's not all trails. A lot of it is more like this: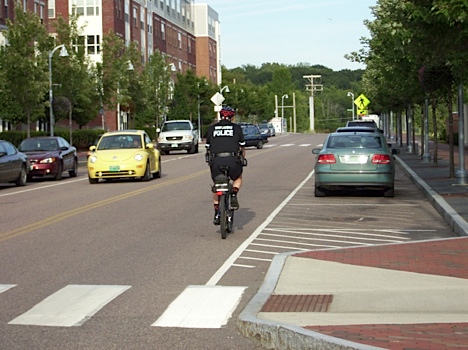 By the way, note the socks. Yep, even on patrol, I'm a "Fat Cyclist."
While we were taking these pictures, a mom and her two year old daughter asked if they could talk to me for a minute. The little girl wanted to let me know she was happy I was being safe and wearing my helmet.
6:30pm and I am checking one of the City's many parks. As I ride by, a man walking with his daughter asks me to stop for a minute. Do you think a cop in a cruiser with the radio blaring, windows up and A/C on would have heard him? You see a big part of bicycle patrol is (I'm going to use a catch phrase here) Community Policing. I spent the next ten minutes talking with Annika and her dad. Annika is 3 years old. She was on her way to get ice cream. She didn't like my sunglasses, but was happy I was being safe and wearing my helmet. (It is good to see that children are getting the message that wearing a helmet is important) She told me what every letter was on my bike and recited her ABC's. As I rode away she said bye at least five times. I think it was only to see if I would keep looking back and waving every time she said it (I did).
6:45pm and I am on another street riding right behind a woman on a commuter bike wearing no helmet. She rode right through a stop sign, never looked, and just kept on going. I caught up to her and, as politely as I could, I reminded her that bicycles are treated the same as cars in Vermont. She is required to stop at the stop signs or risk a $209 ticket and 2 points on her driver's license. She said thanks and well…we'll see if she stops next time.
7:00pm, remember that guy I went looking for earlier in the day while in the patrol car? Well, we got another tip about him walking in the area. This time I'm on my bike. I beat the patrol cars to the area and rode right up to him before he ever noticed I was a police officer. He just turned around put his head down and put his hands behind his back. What is the point in running from a guy on a bike, really?
7:30pm and we get a report of possible domestic violence involving a couple on foot. Once again, due to the heavy traffic, I beat the patrol cars and locate the couple on a side street.
8:00pm dinner, hey everybody has to eat sometimes. On bike patrol you have to be a lot more aware of needing that energy and water. I always carry some food and lots of water, because in my job you just never know if you'll get to sit down and eat.
8:30pm time for some more Community Policing. The downtown district in my city has 6 bars so I always make an effort to stop by a few. People love to (especially when drunk) talk to the bike cop and try and get their friends arrested.
9:31pm one of the Patrol Units asks me to assist him in locating a wanted person. The plan is for me to arrive first and cover the back of the building. The car arrives after me to see if the wanted person runs. No running tonight. As we walked the wanted person to the patrol car he makes note of the bike. "You guys have bikes now?" He also commented about going out a window and running, but what is the point? Here is one of my favorite police one liners: "He'll just go to jail tired."
10:33pm neighbor dispute. Talked to one half, he lost his cat. The other half was having great fun meowing, just to get the first guy going.
10:45pm in to the office. You see, everything I have done tonight requires documentation. I will now spend a good deal of time writing reports about all of it. My shift was supposed to end at 11:00pm, but my relief is 30 minutes late and I can't leave until he gets here. Oh well, more time to get paperwork done I guess.
My total mileage for the night was 16.63. Not bad for a city that is just over one square mile.