A Note from Fatty: Today's post includes about an hour of video, which should give you plenty to digest over the long Labor Day weekend. After this post, we'll resume The Hammer's story  on Tuesday.
Wednesday morning was bright and sunny-not a cloud in the sky. The weather reflected my mood…which was fantastic!
Why?
That was the day Elden said he'd be finishing up his project at work –which would mean he could do a little more playing and relaxing. Also, this was the day we would be checking out of the Super 8 and checking in to our huge party house!
About ten months ago, Elden and I had rented this old bed and breakfast (no longer a B&B): It had nine rooms, ten bathrooms and plenty of room to just hang out in. We had invited all our friends to come stay with us and race.
Finally, this was the day we could check in…and our friends would start arriving as well!
While Elden finished his project, I packed up the truck. We were on the third floor and I think I went up and down the stairs ten times! Luckily, the altitude definitely did not bother me like it had in the past. Coming a week early was already paying some dividends!
A Ride on the Mineral Belt Trail
Elden and I decided we would ride our bikes on the same bike path that I had walked on earlier in the week. We started off from town riding the path counter-clockwise.
But first I wanted to take a detour. On one of the bike rides earlier in the week, I had noticed a small cemetery enclosed by a white picket fence. We went exploring and found a small Hebrew cemetery on one side of the road–and a huge Christian cemetery on the other.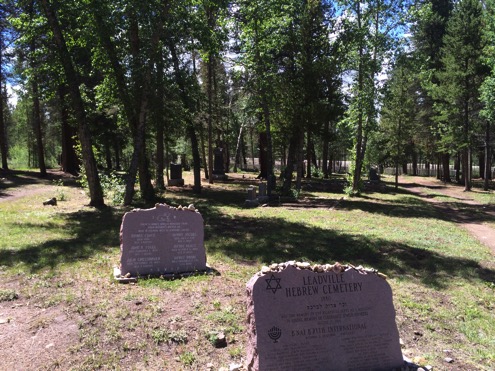 It was interesting to compare the two: both very beautiful and very different.
The bike ride was incredible. We took it at a very mellow pace–I really didn't have much more left in my legs; it was time to relax!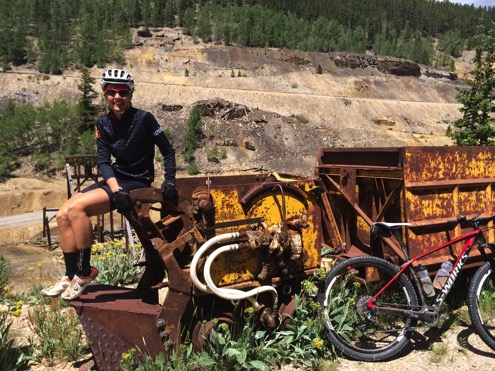 The thought crossed my mind that maybe I had done too much riding this week! My plan was to ride the boulevard with the group tomorrow and then take Friday completely off. But today I was enjoying myself. Elden and I stopped and took pictures along the way!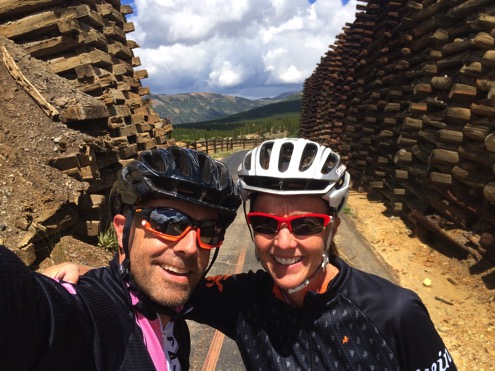 It seems sad now: I'd been coming to Leadville for ten years, and I had never really experienced what Leadville has to offer. It was so nice to finally be correcting that!
Tips from the Race Day Nutrition Strategy Clinic
After our ride, it was still too early to check in to our rental house, so — temporarily homeless — we crashed  at Rebecca's for a shower. [Note from Fatty: Also, I ate all her ice cream].  Then we headed to the Specialized Pop Up Store for Rebecca's clinic on Race Day Nutrition.
This was the class I had been waiting for! How does Rebecca fuel herself for these epic adventures and races she does? We had talked briefly about it earlier in the week but I was ready for the complete rundown! 
It was jam-packed with information. I came away with answers to many of my nutrition questions.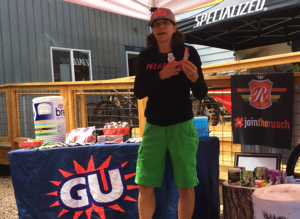 1. What is her secret for race day nutrition?
Rebecca consumes most of her calories in liquid form: Roctane Endurance Drink. She supplements it with GU Energy Gel and Roctane Endurance Gel.
2. Is GU enough nutrition to last me during my Leadville race?
Yes! I need to consume about 200 calories an hour. I decided I would eat approximately one Gu every 30 minutes. (You may need more or fewer calories, depending on how big you are, and what your metabolism is like — you've got to experiment during training to find your perfect calories/hr number.) I would also have my camelback full of Roctane drink to supplement my eating. I would carry a bottle of water to drink if I got sick of sweet stuff.
3. How do you carry all your food?
Rebecca suggested carrying a GU packet under each leg opening on yours shorts. This gives you easy access and it warms the GU–making it a more palatable consistency. (Elden and I have been using this method for awhile.) Rebecca also suggested using your right jersey pocket to carry unopened GU packets and your left jersey pocket to stash your trash. That way you never search through the sticky gross empty packages looking for a new Gu. Absolutely brilliant!
[A Note from Fatty: Oh sure, when Rebecca suggests this technique it's brilliant. But when I described how I use this technique, step-by-step, back in June? She doesn't even remember it.]
4. How do you combat leg cramps?
In all her racing adventures, Rebecca said that Leadville is the only race in which she experiences leg cramps. Which is interesting because Leadville is the only time I have ever experienced leg cramps!
To prevent cramps, Rebecca puts Gu Electrolyte Capsules (with Ginger) into a flip-top Gu Brew canister, which she carries in her middle jersey pocket. When she starts feeling an inkling of a cramp, she pops the lid and swallows a mouthful of tablets! I had never used electrolyte tablets, but it sounded like a great idea. She said the added ginger can help an upset stomach too.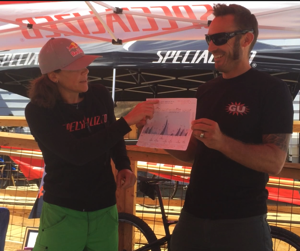 5. Should I try and eat normal food when racing?
Rebecca said that I should really try and avoid my "picnic" technique of eating. Foods like chicken and stars soup are good but there are better choices when fueling quickly.
6. How should I use my crew at the aid stations? Should I have them hand me a musette bag and just keep going without stopping at the aid station at all?
Rebecca laughed at this question! Yes, she admitted to using a musette bag, but only during this race. Further, she and Greg (her boyfriend) actually have to practice this technique prior to the race. Getting that strap over your helmet while riding through a sea of people is harder than it looks— and I think it looks very hard!
Rebecca said to try and minimize your stop time during your pit stop. After looking at my Strava time for my race in 2012, I realized my actual moving time was thirteen minutes less than my over all race time!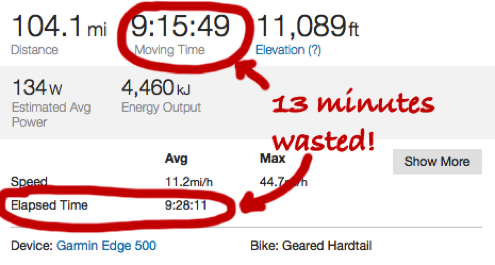 I had stopped for a total of thirteen minutes! That is a huge chunk of change when shooting for a sub-nine time. This was one place where I could easily improve my finishing time!
7. What do you eat the morning of the race?
Eating a normal breakfast–whatever you are used to–is best (so Elden and I would be having…you guessed it, scrambled eggs. But we planned to leave the yolks in on race day). Rebecca suggests you stop taking in fluid at least thirty minutes before the race, so your need to pee during the race (or at the starting line!) is minimized.
After the clinic I gathered up the courage to introduce my self to Selene Yeager–The Fit Chick! I have been reading her articles in Bicycling for years and knew she had done a fantastic job collaborating with Rebecca on her book. Selene is also a fantastic, tough athlete and was super nice in person too.
I couldn't believe I was meeting all these amazing people!
Home Sweet Home
Next we headed to the B&B and finally moved in. The Thompsons (Very Good Friends of Fatty), long-time blog followers and fantastic people, were also there!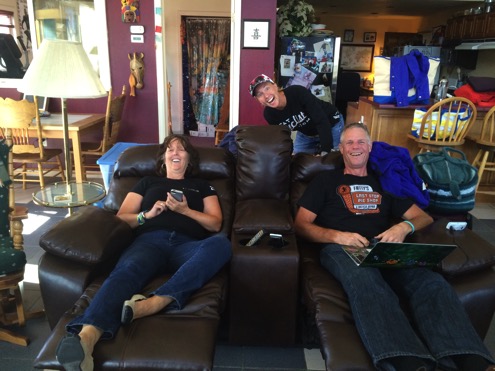 We took the opportunity to pick out the best bedrooms and then headed out for Pizza.
That evening, Rebecca's shipment of books arrived and she was kind enough to come over and autograph the copies that we had purchased for the WBR fundraiser! Thanks to everyone that donated, we've now raised close to $23,000!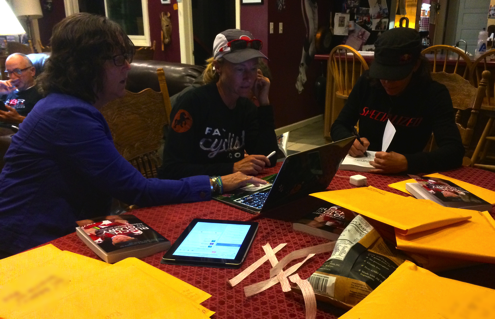 We had quite the assembly line going.
As we climbed into bed, Elden said he had been talking to Kenny about my race. Kenny had predicted I would finish the race in 8:40! "Really?" I said, shocked. "Kenny thinks I can do it that fast?"
I always put a lot of faith in what Kenny predicts–I think he has accurately predicted my time–give or take five minutes–for the last 6 years! My confidence was soaring!
Later, I'd find out Elden lied to me: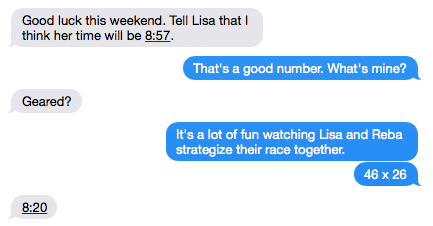 Kenny had actually predicted an 8:57. Elden knew I put a lot of stock in Kenny's predictions…so he fudged the number to one I'd like more!
Thursday morning, everyone in the house joined us for Rebecca's group ride up The Boulevard — a tradition for many racers.
After the easy climb — which wouldn't seem nearly so easy the next time we'd ride it — We stopped at the top of the paved road before the descent to the finish line.
There is a "SLOW" sign posted at the top. The sign has significance to Rebecca. I have also noticed that sign and laughed to myself. "I'm never riding slow here on race day!" said Rebecca.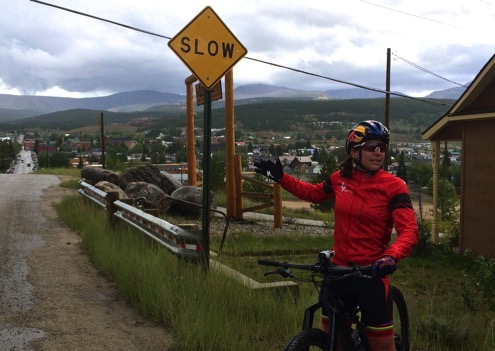 The week before the race had been amazing. I'd been educated and inspired. I'd met incredible people.
Further, the whole summer of riding has also been amazing. Elden and I were able to take Lindsey (Elden's niece) and Jedd, Lindsey's friend, on several long rides and share our love of riding with them. We've pushed our old bodies to the limit; it's remarkable to see them respond. We had made a lot of good memories!
"What will be on Saturday will be," I thought, "but the journey to this race has been unforgettable."
As we rode the last ¼ mile, Rebecca had us visualize our finish on Saturday. I wondered if it would be a sprint to the finish or a jubiliant procession with one hand held high (I can't ride no-handed!).
Would I be happy with my result or would I be exhausted and depressed? I didn't know. I couldn't know.
But I did know today was going to be positive! I poured it on, imagining I would have a burst of energy as I flew toward the finish line. And then I was there, crossing under the imaginery finish line — and Rebecca was right beside me! She grabbed my hand and we raised them in triumph!
That was exactly how I wanted the race to end. 
Preparing
Thursday afternoon was filled and busy.
First, we delivered all of the pre-ordered books to the post office, then headed to packet pick up! I was excited to find that Rebecca and I would be starting in the "red" corral–just 3 corrals back from the start.
Rebecca had actually contacted the race and they changed her official race corral to red, so she could be with me. Of course, she could have started on the front row with the other pros, but she conceded that, so she could start with me. The gesture meant a lot to me.
Elden then prepared our bikes, cleaning them and putting our race numbers on.
Meanwhile, I practiced changing a back tire. Yes, I practiced changing a back tire! I didn't want to act like a total idiot if I had a flat. I just prayed my chain wouldn't break–i only can be so mechanically inclined.
My friend Jilene had arrived in Leadville and was also preparing her bike. It's Jilene's tenth time doing Leadville too. Instead of racing hard, she decided she would "parade her tenth and— she says — final Leadville. She had also convinced her riding partner Bry to do the same.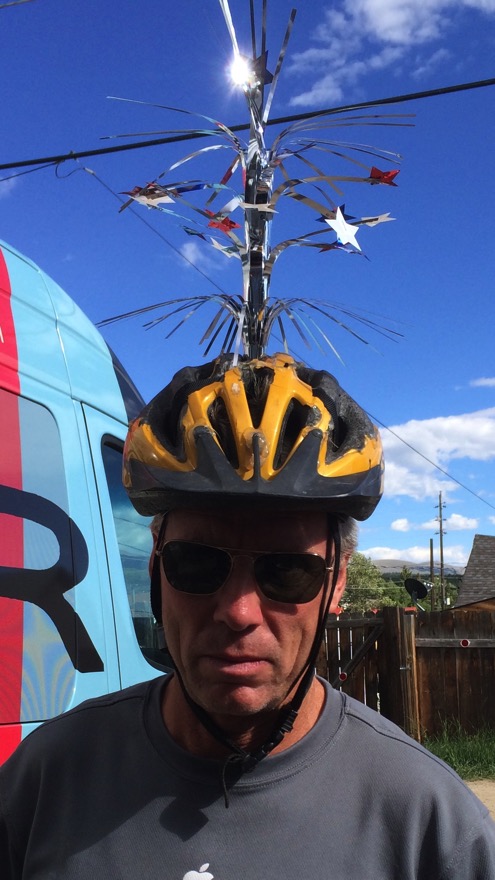 I cant believe Jilene talked Bry into parading Leadville. Jilene is a nut!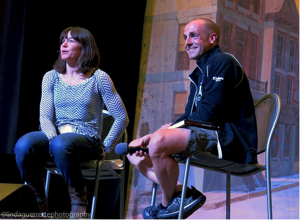 Unveiling Rusch to Glory
Rebecca was launching her book, Rusch to Glory, on Thursday night and had asked Elden to lead a Q&A with her. It was to be a big deal held at the Tabor Opera House. 
Elden was really nervous; when he wasn't working hard on his job, his was freaking out about being on stage and leading the interview. I don't really understand why. He always appears so calm and collected when he talks in public.
At 5:00 we headed for the Opera House. Elden and Rebecca wanted to make sure they were prepared for the evening. Elden had his list of questions ready to go. The night went off without a hitch, and we got video of most all of it. 
And here it is!
First, Rebecca welcomed everyone and had Ken and Merilee, the founders of the Leadville 100, come on stage to talk a little bit about the race and how Rebecca embodies the spirit of Leadville — both the place and the race!
Next came the part Elden had been wigging out about all week: the Q&A about the book.
Be sure to watch this when you have plenty of time — it's 35 minutes long!
I don't think Elden had anything to worry about; both Elden and Rebecca were relaxed and funny.
After the Q&A, Reba did a reading from a couple of different chapters from her book. I have to warn you, you might want to have a tissue handy!
Rebecca finished the evening with a list of twelve "rules" for racing Leadville…and for living life:
The party afterward was a great success. The line for the book signing was long, the burritos were delicious and the Raffle had fantastic prizes!
When we got home, though, I started stressing out. Only one more day until the race!