Before I begin today's post, let me defuse it, because while it would be the easiest thing in the world to make this a dramatic and frightening post with a twist ending, that's only entertaining in the movies.
Anyway, it sure didn't feel entertaining as I lived it.
So: while it won't seem like it for a lot of this post, Susan comes out of it OK.
But that doesn't change the fact that Friday was one scary day for me.
Thursday
Last Thursday, something changed about Susan. She became weaker. Much, much weaker. Where she had been able to get around safely — albeit slowly — with the walker, suddenly her knees started giving out every couple of steps.
Susan never fell, though. She's learned to be extremely careful in how she gets around, and doesn't take a step without being certain that should her legs buckle, she can support herself with the walker, a rail, or something else.
She's learned to not trust her legs, essentially. Consider how different your life would be if you had to think that way. To not be able to assume that when you put weight on your leg, that it would hold.
Susan's feet have been numb — not entirely paralyzed, but effectively without feeling — for more than a month now, but on Thursday some feeling started coming back.
And it felt a lot like how your legs feel after they've been asleep for a long time and now they're waking up. Buzzy, and painful. Enough to warrant breaking out the Lortab, which Susan doesn't often do.
Friday
On Friday, Susan could no longer get out of bed by herself. Or get into the car by herself. Or do anything by herself. Her strength had abandoned her completely, in record time.
By coincidence, this was also the same day she had an appointment with her oncologist. It's a good thing we have the ramp in the garage now, because there's no way Susan could have made it down the two stairs; she would have been trapped in the house.
The doctor ordered some CT scans, but couldn't really offer a lot more than sympathy. The fact is, once cancer has entered the spine and brain like they have with Susan, you can radiate, and that's about it. And we've already done that.
There's a chance, the doctor said, that the symptoms were caused by coming off the Decadron too fast, so Susan should go back on and we'd see if that had any effect.
He didn't sound hopeful.
So we went to our favorite little Italian restaurant for lunch (La Dolce Vita, for those of you who are familiar with Provo, UT), then came home.
And then Susan slept for the rest of the day. Just slept and slept. She couldn't stay awake, no matter what.
And I started quietly panicking.
I took care of the kids. I took care of Susan. I didn't call anyone and ask for help, because I didn't want to say what I was worried about out loud. But one thought kept running through my head over and over: this is what it's supposed to be like when the brain tumors come back. This is how it ends, and it's happening now.
And it's happening fast.
If you've ever been in a situation where you can see disaster coming — like an unavoidable serious car crash or bike crash or whatever — and you've had that moment of terrified certainty that you were about to die, you know how I felt, except that's how I felt the whole afternoon and night.
Later, Susan told me she was sure that's what was happening too, but she still couldn't help but sleep.
Saturday
Saturday morning, Susan told me she felt better. She didn't have the compulsion to sleep. She was able to sit up again. She was able to move around using the walker again — first tentatively, then increasingly confidently.
Just 24 hours back on the Decadron, and Susan had gotten her mobility back. If that's even what it is. I don't know for sure. It makes sense, though: Susan went off the Decadron on Wednesday, and Thursday is when she started losing mobility. She went back on it on Friday, and by Saturday she was doing better.
Looks like we need to wean her off the Decadron more slowly next time.
My sense of relief manifested itself in a weird form: home improvements. I mounted a permanent rail in our bathroom, so it'd be easier for Susan to get in, out, up and down.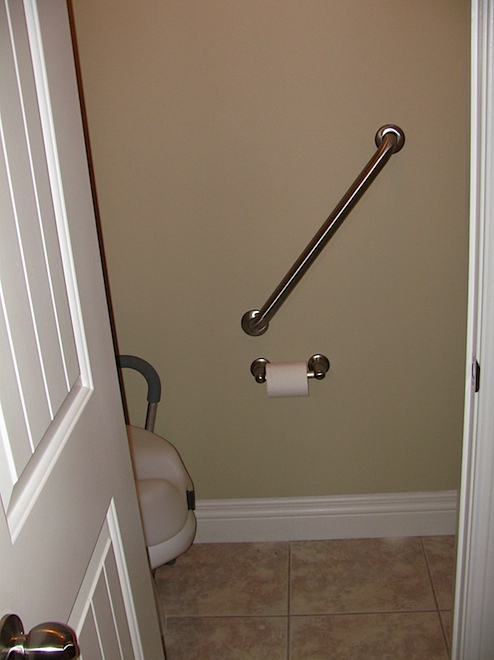 Susan says it's one of the nicest things I've ever done for her. And it really helps. (And so far, it hasn't pulled out of the wall, which is really great, considering my general level of handimanitude.)
Looking at this photo, I just noticed that I haven't cleaned up the sawdust on the floor.
Next, I put in a new hose-style showerhead, making it a lot easier to help Susan get clean: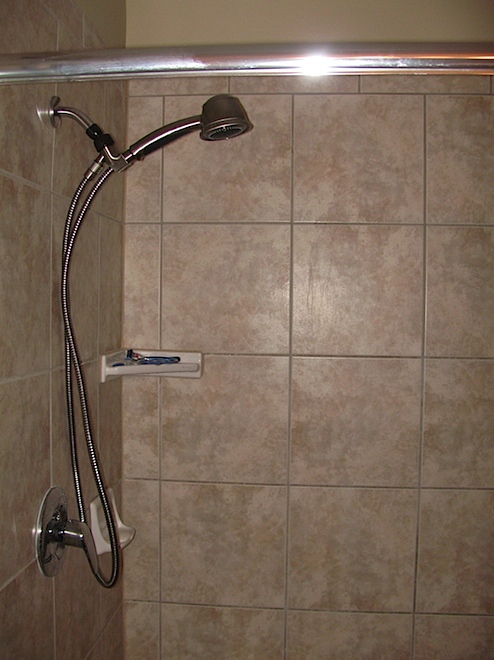 As an interesting aside, one of the real perks of us both being bald is a really clean, spartan shower. No arrays of bottles of various shampoos and conditioners. No hair clumps. Just two bars of soap (mine's Dial, hers is Dove) and a razor (mine).
Next up: putting a rail in the shower. I'm not sure how to drill through the tile yet, though. I'll probably bug Bry about helping me with that; he's going to regret ever having met me.
Paranoid Tendencies
Like I said, everything's OK, this time. But this last few days has told me something about myself that I can't honestly expect to change: I now expect the worst when anything goes wrong with Susan. To tell the truth, I'm still having a hard time believing that she's OK now; it's difficult for me to believe that something could actually get better that fast.
It's like when she had a cold a couple of weeks ago: I was sure the lung tumors were back, even though everyone else in the family (except me) had the exact same cough she did.
I can't help it: I expect worst-case scenarios all the time now. When I sheepishly told the doctor this, he said, "Well, of course you do."
And I can't even begin to describe the relief I'm experiencing at being wrong this time.