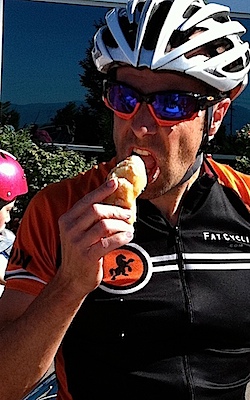 A Note from Fatty: The Utah Tour de Donut is July 7: a week from tomorrow. This is one of my favorite events of the year, for a lot of reasons. First, because it plays to my strengths: riding bikes and eating donuts. Check out my race writeups from 2010 and 2011 to see what I mean.
Second, because it is put on by the American Fork Rotary Club, which seems to have adopted me as their mascot or something (no, I'm not a member of the Rotary Club). Last year, for example, they used the proceeds of this fundraiser to buy a blanket warmer for the cancer center at the hospital Susan went to for treatment.
This year, they're using the proceeds to go toward World Bicycle Relief, as well as to build a new trail connecting Lambert Park with Corner Canyon.
Both of these causes are awesome.
So. If you're local, like bicycles, like to eat, like silliness, like helping kids in Zambia have a shot at a better life, and like seeing more local trails, why don't you come race the Tour de Donut?
It's insane. And wonderful. You'll have a great time, and you'll be doing good things, both locally and far away.
Musings on 2012 Tour de France Contenders on a Calm Summer Morning
The 2012 Tour de France approaches
What shall I think?
For whom shall I cheer?
How can I not know how each stage ends
Afore — perchance — I get to see it myself?
Bradley Wiggins is the toast of the Tour
He is expected to win by all and sundry
Phil and Paul have cried tears of joy
Over the prospect of the rapture
They predict and pray for
Alone in his hotel room
Cadel Evans sulks and frets
"I am the reigning champion!"
He confides to his pillow
"Perhaps I have given cause for concern"
"Perhaps I have not been at my best"
"But should I be truly relegated to 'also appearing' status?"
Dissonance
Not far away
And yet far far away
Another man is lonely
For he misses his brother
"How shall I race without my brother?"
He wonders aloud
To all and sundry
Other racers look on
Uncomprehending
"You know, the rest of us race without siblings all the time."
Chris Horner looks on
Amused and bemused
And enigmatic as hell
All simultaneously
Though he would never use those words
He had been out
And now he is in
Almost as if by magic
And, magically, leading the team
Kinda
Sorta
The pile of Snickers wrappers accumulates
That dude's going to have to watch his weight when he retires
By way of contrast
Levi Leipheimer
Eats a teaspoon of rice
Specially prepared
And seasoned just so
"100ish kilometers of time trials sounds good"
He says calmly, even as his heart is about to burst
"Real good."
Then he punches a passerby in the throat
Just because he can
Oh, let us not forget
Vincenzo Nibali
Who has done magnificently
At shooting himself in the foot
For why would a team
Put their heart and soul
Behind a rider who is halfway out the door
When they could instead
Get behind a young man named Sagan
Who has had some modest success in the sprints
As of late
But what of the others?
For are there not others with prospects?
With hopes?
With dreams?
Like Sánchez?
No, I'm sorry, he has no chance
For he is on Euskaltel-Euskadi
And is therefore tradition-bound to do well on one stage
And then discombobulate
Utterly
Completely
And what of Denis Menchov?
Nobody seems to talk about him
Which seems to suit him just fine
Because really
Why would a proven rider
With multiple Grand Tour victories
And a gift for the Time Trial
On a Time Trial-heavy course
be considered a Tour favorite?
Nothing to see here
Move along
Move along
Thank you