Tomorrow, the lottery opens for the 2016 Leadville 100. At my house, that's kind of a big deal. I'll be signing The Hammer and me up for it pretty much the moment it's possible to sign up.
2016 will be my twentieth LT100 (although it will hopefully be my nineteenth finish). And as you might guess, I'm already thinking about it.
Thinking about how I'll be fifty years old when I race this year. 
Thinking about how I want to do my fastest LT100 at age 50. 
Thinking about what I will need to do in order to make that happen, and the kind of help I'm going to need to ask for.
And thinking beyond this year, to…well, to something new.
Doing Something New
While doing this race is anything but new to me, it is new — and intimidating — to most of the people who try it. And that's awesome. People should do new, scary stuff. Whether it's racing, or trying mountain biking, or getting in shape when you haven't been in shape in years, or writing, or drawing, or singing, or…or…anything. 
I think it's awesome to stretch yourself. To do something new.
As Exhibit A in the "Do Something New" sweepstakes, I'd like to present this very cool print by Cole Chlouber, an artist and a friend: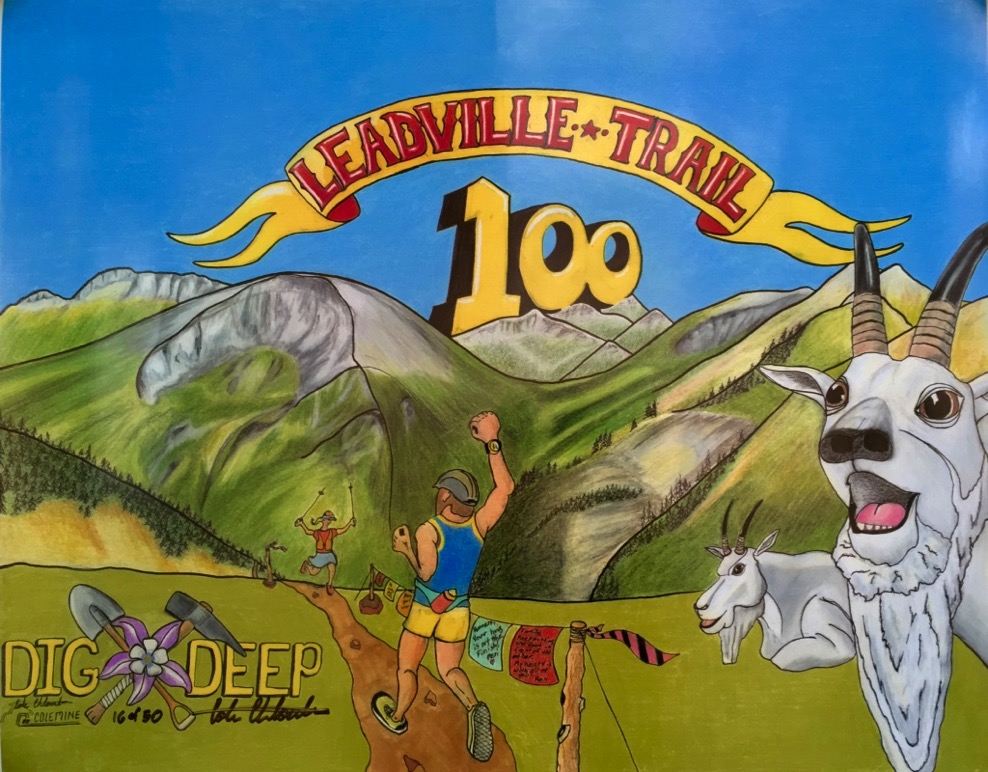 I first became acquainted with this artwork when I saw a photo of it on Facebook, at which point I reached out to Cole and told him I needed a copy (I got #16 of 50) and also said, "Hey, I didn't even know you're an artist; I feel stupid for not having known that."
Cole replied along the lines of, "Until recently, nobody knew." But now we do. Cole's putting himself out there. And that's awesome. 
Something New For You
Maybe you're thinking of putting yourself out there, too. Like, maybe trying to race the LT100. But maybe you've got some concerns. Like, is it even possible to get in to this race? And how can you get ready for it, once you're in?
Well, I can probably help with both of these questions.
First, getting in to this race can be very difficult, if you just try your luck at the lottery. To be honest (but completely unscientific), it seems that about 15% of the people I hear about entering the lottery actually get in. That's not terrible odds, but not great.
But there are a few surefire ways to get into the Leadville 100. Most people just don't know about them. 
Camp of Champions: This is perhaps the simplest way to guarantee yourself a slot in the race, and is a pretty good value. For $2000, you get an entry in the race as well as four days of race course recon, with access to LT100 legends Dave Wiens and Rebecca Rusch. David Houston and Dave Thomas have each gotten into the race this way, and they've each told me that they were glad they went.
World Bicycle Relief: I have it on good authority that World Bicycle Relief is going to have charity slots available this year…and that there are some pretty famous people who are going to be a part of it. (And I'm not just talking about me, either.) If you take one of the coveted Team WBR LT100 slots, you're going to have to do some serious fundraising, but it'll be worth it.
Charity Slot: If you want to make this race be about something larger than yourself, you can get a guaranteed slot in the race by raising money (at least $2000) for one of the race's charities, or for one of your choice. 
CEO Challenge: If you're a C-level honcho at a company that makes at least $5million a year, you can fork over $2K to get into the race, hobnob with other executives, get VIP treatment, network, get an un-earned spot in the blue corral, and otherwise make me gag. 
There are also several qualifier races you can use to get in, which are definitely not surefire, but are a good backup plan if you don't get into the lottery. 
And if all that fails, you can boost your probability of getting into the race the following year by volunteering this year. 
Let me know in the comments if you're planning to try to get into the LT100 this year…and if so, whether you're going with the lottery or some other strategy for getting in.
Sharing What We Know
In the past nineteen years of racing the LT100, I've picked up a few things. Last year, Rebecca Rusch and I did a little webinar series (episode 1, episode 2, episode 3) to help folks get prepared for the race. 
They seemed to do a lot of people a lot of good; while in Leadville, dozens of people came up to us, thanking us for putting these on.
So, this year, we're going to do more of these webinars. But this year, we're going to start much earlier in the year, while you still have time to train and practice fueling smart. And we're going to bring on guests. Like, seriously smart and knowledgeable guests who can help you hit your goal, whether it's to finish in under thirteen hours, twelve hours, or even nine hours. 
Stay tuned for more on this. 
Something New For Me Too
This year, I plan to be fast at Leadville. Really fast. Sub-8 fast. And that's a little bit new. 
But my truly new thing for 2016 isn't even about 2016. It's about 2017. And it's already started.
For my twentieth finish of the LT100, I'd like to also have it be my first Leadman finish. Which means, yes, that I will need to do the LT100 run the week after I ride the LT100. 
I'm going to need to do some training if I want that to happen. And…I've already started. Specifically, I'm doing four-mile trail runs.
Yeah, I've got a lot of work to do if I'm going to make that happen. But hey…I kinda want to stretch myself a little bit.