Last year, all by my sad little self, I rode the inaugural FatCyclist.com 100 Miles of Nowhere. As a recap, this is what the route looked like: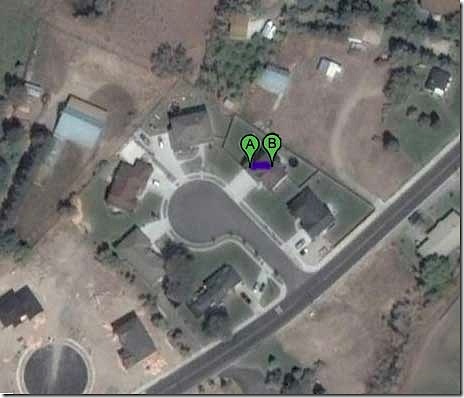 And here was what my GPS reported my turn-by-turn as: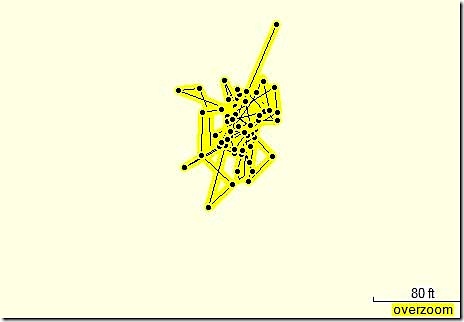 In short, by making good on a bet that I could ride my rollers for 100 miles in one stretch, I raised more than $1000 for the Lance Armstrong Foundation.
The weird thing is, afterward a bunch of you said that if I made it an annual event, you'd want to do it, too. So, foolishly taking you at your word, I am happy to announce that soon I'll be announcing (in other words, I haven't finalized the date yet) the 2nd Annual FatCyclist.com 100 Miles of Nowhere.
But this time it's going to be much more awesome.
How It's Going to Work
Well, first off, there's going to be official registration and everything, with racer schwag approximately 300% better than most racer schwag bags. More on that in a second.
And of course, most of the money for registration will go to Team Fatty's LiveStrong Challenge.
When you register, you will specify your category (choose from one of my pre-made categories or create your own), your race location, and the distance you will ride your rollers or trainer: 25, 50, or 100 miles.
Of course, if you cheat and decide to ride outside, I will give you a stern warning, but will not treat it as cheating outright.
Then, On a certain day in the not-too-distant future, we will all — wherever we happen to be — ride nowhere at all, in a race that is both incredibly local and impossibly far-flung. Racers who normally drop everyone else will note that they are somehow going the same speed as recreational riders.
Above all, as you ride you will have conflicting senses of pointlessness (why am I riding my bike and not going anywhere?) and pointfulness (because I'm fighting cancer, that's why).
And it will be awesome in a whole new way.
What You're Going to Get
I'm currently planning on having a $75.00 entry fee. $25 of that will cover shipping costs and labor, and the other $50 goes to Fatty's LiveStrong Challenge.
And what will you get, besides a sense of satisfaction that you participated in an incredibly strange race and also fought cancer? Well, you get a schwag box of awesomeness, that's what. Here's what's in it so far:
That is not a bad amount of stuff. In fact, if my calculations are correct (and they may not be, because I am far too lazy to double-check my work), the retail value of the FatCyclist.com 100 Miles of Nowhere schwag box is $76.28.
Yes, that's right. You pay $75.00, get $76.28 worth of stuff, and you're still donating $50 to Team Fatty's LiveStrong Challenge.
How is that even possible? I do not know, but it is.
How I Need Your Help
Want to help out? Great. There are a couple things I need.
If you've got pull with a company and think they might want to be a sponsor: I would love to make you a sponsor. You can be a sponsor by either donating something very cool to go in the schwag bag, donating a very cool random-drawing prize (like a bike or a car or a lifetime supply of Diet Coke), or donating a good amount of cash to Team Fatty's LiveStrong Challenge. E-mail me and we'll talk about details.
If you're thinking about participating: Just start talking to your friends and family about how insane it would be to ride your trainer for 100 miles (or 50, or 25). Once they agree, tell them you're going to do it as part of this race, so you can do something completely ridiculous and noble at the same time, and you'd like them to donate to your LiveStrong Challenge page in support of your effort.
We'll be starting registration soon. As soon as I pick a date. Which I believe will be around the end of April. Yeah, I know I should have done this when it was too cold to go do anything outside. But as it turns out I sometimes have other things I have to take care of in my life. So feel free to not give me any grief about waiting 'til now to get to this. Or I will bite your head clean off.
Don't test me.
FAQ
A few people have asked questions in the comments section, and a couple of questions have occurred to me that I expect some people might want to ask but are simply too shy.. I will try to answer them here:
Can I use my spin bike / stationary trainer? Sure. Why not?
I'm more of a runner? Can I do a running version? Of course. It seems that the runner's equivalent of this would be to do a marathon on your treadmill. Your T-shirt will still say you did the 100 Miles of Nowhere, but you can edit it with a Sharpie.
What about riding a really small course outside? Yes, please do that. The smaller, the better. And please have a GPS with tracking on and send me the an image of your ride. I will post it.
My computer is mounted to my front wheel. What do I do? Mount a computer to your rear wheel, or, alternatively, just guess how fast you're going. Guess low.
What if I'm not available on the day you pick? Do it on the day before. Or the day after. Or something like that. With all the time zones and date lines involved, it's not like we're all going to be riding at the same time anyway.
If you've got more questions, ask in the comments and if they seem general enough, I'll answer them here.
PS: A bunch of you should be getting the bracelets you had Susan make for you (and I've gotten really nice emails from several of you saying how much you like them already; thanks!) over the next couple of days. She's only got about 20 more to make, and she's hoping to get them done between this week and next. Susan wanted me to let you know that each of the women's bracelets has one squarish pink bead, which you should think of as her signature and a reminder of what this is all about. Susan also says that once she's done with the remaining bracelets on order, she's going to put jewelry making aside for a bit, so she can concentrate on finishing writing her novel.
PPS: Yes, that's right. My cancer-fighting wife, having just raised north of $8K for the LAF by meticulously hand-crafting more than 80 bracelets, is now hard at work completing her first novel. How awesome is she? (Answer: very)