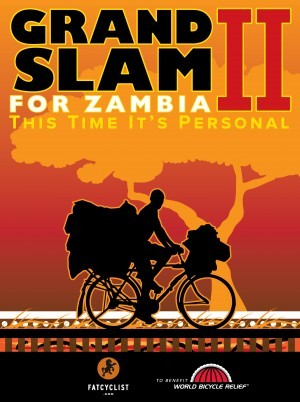 A month and a half ago, I set an ambitious goal: raise $125,000 for World Bicycle Relief (WBR) by December 24. That money, thanks to a dollar-for-dollar matching commitment secured by WBR, would then be doubled to a quarter-million dollars. 
I then set about telling the story of my trip to Zambia with WBR last summer. And I started rolling out the prizes. 
It became the focus of my blog, to the extent that some people correctly complained that I never talked about anything else anymore.
What I didn't reply was that I kind of agreed with them, and that it would be a lot easier for me to write fake news and semi-real observations and about bike rides.
Because — believe it or not — writing fundraiser contest posts are absolutely positively the most difficult and taxing kind of posts there are for me to write. 
But they're worth doing.
And they're especially worth doing when the results are stunning. As in, as of this moment we've raised about $168,500. Which, when matched, will come out to $337,000. And by the time some more corporate matching gifts get factored in, the total matched amount Grand Slam for Zambia 2 will have raised should be at — or very close to — $350,000. That's $100,000 more than our goal.
Yeah. 
In a recent post, I thanked the folks who donated prizes, as well as everyone who made donations. Now, I want to especially want to thank Patrick Dempsey, who did both. Not only did he — along with Tom Danielson — donate a slot in their ultra-deluxe winter training camp, but he also donated $5000 of his own money.
Pretty remarkable, especially considering that all I've ever done for him is give him a donut. 
What Does This Mean?
$350,000 sounds like a lot of money. Because it is. What's amazing, though, is what that money will buy:
2500 bikes ($134 * 2500 = $335,000)
50 mechanics (1 mechanic for every 50 bikes) trained ($250 * 50 = $12,500)
50 (1 for each mechanic trained) toolkits ($50 * 50 = $2500)
Bear in mind, too, that each bike benefits more than one person. So what does this mean? It means that your generosity has made a difference for thousands and thousands of people.
I feel pretty good about that.
What's Next for Grand Slam for Zambia?
My job is done in this project, more or less. Now it's up to Katie over at WBR to generate the random numbers and start sending out email. Within the next few days, some of you will be hearing from her, asking you to select which of the prizes you want to select. 
There are so many amazing prizes here that I honestly do not know which of them I would select out of this batch. I do not envy those of you who will have to make this choice.
No, that's a total lie. I do envy you. A lot. 
What's Next for FatCyclist.com?
So with this project out of the way, what am I doing next? That's a fine question, and I'm glad I asked it of myself. Here's my reply to me, in the form of a bullet list. 
I'm taking a vacation. I'll be back at this blog starting January 7. 
I'm thinking about what I want to do next in terms of fundraising. I plan to continue to fundraise for the two causes I've chosen: fighting cancer and fighting poverty. How much, how often, when, how, and for whom are questions I'm currently considering.
I'm thinking about what kind of blog writing I want to do. When I started this blog, I was in my very-late-30's. Now I'm in my mid-late-40's. This almost-eight-year period has seen a lot of change for me. An unbelievable amount of change, really. It's ridiculous for me to think in terms of writing the same kinds of things I wrote the first few years of this blog; I'm no longer that guy. But I do still want to write, and I still want to write about biking. Do I have any idea of the direction or extent of changes this blog will take next year? No. But I do know that I'm not going to try to make this blog be the same thing it was in 2006. Or even 2010. 
I'm thinking about how long I want to write this blog. I'm closing in on eight years that I've been doing this. For the last year or two, I've been thinking that ten years is the maximum shelf life for any blog. But now I don't know. Maybe ten years is too much. Or too little. 
I'm thinking about other projects I want to do. I want to publish Susan's unfinished novel. I want to write the Caregiver's Companion. I want to write Fight Like Susan. I want to compile and edit Volume 2 in The Best of FatCyclist.com. I know for sure I can't do all of those this year, but I think I can do at least two of them. Which two is the question.
If you've got an opinion on any of these things, I'd love to hear from you.
Until 7 January 2013, thanks for reading, commenting, and — as often as I've asked — donating. Have a great holiday, and make some time to get on your bike — even if it has to be indoors — and ride.