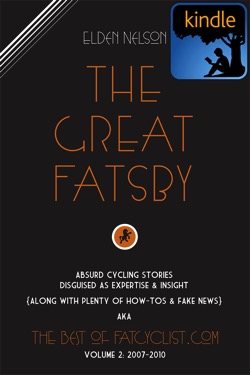 A Note for Kindle-Loving Friends of Fatty: I know that a lot of people these days prefer to read their books as e-books. In fact, I am one of those people. So it bothered me that I couldn't figure out a way to make it possible to pre-order an e-book version of The Great Fatsby and still be entered in the contest to win the Ibis of your choice, not to mention have 25% of the profits go to World Bicycle Relief.
Well, I woke up at 4:00am today with an epiphany. Now I know how to do it, and it's not even all that hard. Well, it will require some work on my end, but it's do-able. 
The catch is, to keep the logistics from being entirely insane, I need to make Kindle the only e-book format this pre-order will work with. I'm OK with that; it seems like an acceptable compromise.
So, starting right now, you can pre-order a Kindle version of this book. Just click here to pre-order, and you'll get a code emailed to you on December 10 to download the book.
Or, if you're giving the Kindle version of the book as a gift, you can specify their name and email (and a gift message if you like) and the code will be sent to them on December 10. Easy.
Huzzah!
Subtraction 
I was on one of those long rides last summer, the kind where you've been out for a couple hours and have another few hours to go. You're on a road you've ridden many times before and there's not much new to see.
It was the kind of ride that lets your mind detach a little bit. To wander. 
And while I was thus wool-gathering, a question occurred to me—one that has grabbed me and gnawed at me ever since.
If I take me as I am, then subtract the bicycle, what do you have left?
It's not an easy question to answer. It's not even an easy question to interpret. But I've been considering it from a few angles.
How Big a Part?
I started listing the ways the bike is a part of my life. 
It's more or less the only way I (enjoy) exercising. I ride a bike probably six days a week.
It's how I stayed stable and centered when Susan was ill, and after she died.
It's how I met The Hammer. 
It's how my wife and I spend our time together. Sure, we occasionally go to a movie or restaurant, but more than anything else, we ride together.
It's what I spend a couple hours each day writing about. Right now, for example.
It's what I think about. When I'm not on a bike, I check bike blogs and news sites and bike manufacturer sites and racing sites and think about my next ride and think about racing. 
It's how I make a difference. For whatever good I've done in the world, a huge chunk of it can be attributed to the bike. I raise money with bikes, I give bikes away, I go to charity rides, and I encourage all of you to do the same.
It's what my friends do. Almost without exception, my best friends in the world…all ride bikes. And not casually, either. It's what we do together. Most of us started in the same company (WordPerfect) long ago, but the bike gives us a reason to stay in touch and do something together.
It's how I make friends. I've made a lot of friends through this blog. A lot of these friendships now transcend the bike, but the bike is still a part of all these friendships.
It's tied to an important personal anniversary. Every year I do The Leadville 100. It's more than a race to me, it's a big chunk of who I am and how I think about myself. 
That is…a lot. And I've spent some time thinking about how my life would be different—how I would be different—if bikes were somehow subtracted from my life.
In a Non-Bike Universe…
Imagine a world where, for whatever reason, the bike simply does not exist. At all. Never has. How would I be different?
Would I still exercise? Would I have been able to be as good as I was to Susan? What would The Hammer and I do together? Would we have ever connected at all? What would I be writing right now (or during the past ten years)? About something different? Anything at all? 
Would I have ever become passionate about fundraising? 
I don't know the answer at all to some of these questions. I can guess at others. I think I'd still exercise—before I had cycling, I played racquetball a few days each week, and I rollerbladed (yes rollerbladed) to work and back each day, about eight miles each way. Don't judge, that's where my quads came from.
But I think exercise would just be something I do—not something I love, not one of the defining characteristics of me.
Maybe The Hammer and I would have gotten together; after all, our first date was a run, not a ride. But because we each are faster / stronger than the other in one of these two events, we have great balance and understanding of the other. I don't know how our relationship would be different without the bike, but I do know it would be massively different.
I wrote—a lot—before I ever took up biking; I'm sure I'd be writing something. Maybe Random Reviewer would have survived if I hadn't been focusing on bikes so much. But probably not.
More importantly than any of these one activities, though, is who I'd be if there were no bikes. Would I have experienced the catalytic moments that have made me do so much fundraising? I kind of doubt it, to be honest. I don't by nature go seeking things like that out. 
Because of the bike, they've come to me and I have helped a lot of people make the world a better place.
Of course, there's no way to check this. No way to verify who I would be in this universe. But I think about it, and I can't help but be incredibly glad and grateful for what the bike has given me, for what it has made me into.
If Bikes Were Taken Away From Me
The other way I could interpret this question is, "What if I couldn't ride?" In other words, what if something were to happen to me and I could no longer ride my bike?
It's incredible, really, how physical my reaction is when I consider this question. I become literally queasy. My anxiety level jumps to the level of near-panic, and I feel smothered. Believe me when I say that I'm not exaggerating here.
I think this is because while a "universe without bicycles" thought experiment is mildly interesting, this second interpretation of the "Who am I without bicycles" question is a little too real of a possibility. 
What if I had an accident? What if I had a disease? And because of whatever the circumstance is, I just couldn't ride anymore? Ever again?
Yes, there it is again: that feeling.
Regardless of whether I think about bikes too much, they've become such an enormous part of me that it affects me physically to consider myself without them as a part of my life. It's like considering what my life would be like without air. That sounds like hyperbole, I know, but take a look at how I described how I feel: it's not that different from how I'd describe what it feels like to be held under water.
Still, it's worth thinking about for a minute, because it's instructive. To consider how important something is in your life, consider the universe without it. Then, make it personal: consider it being taken away from you. 
And then, be grateful for it.
Your Turn
Now it's your turn. Consider the question, "If you take yourself as you are, then subtract the bicycle, what do you have left?"
I'll be very interested to read your responses.