Of all the ways that World Bicycle Relief helps people in Africa, the thing that I love most is the way it completely changes kids' lives, transforming education from a near-impossibility to something they merely have to work extremely hard for.
And the "Ethel" video in the "Mobilize Me" series of videos beautifully shows and tells the story of what a bicycle means to a student:
One thing the girl says in the video really hits home for me. "The bicycle," says Ethel, "has already shown me that I will have a bright future."
Think about that. A $134 bicycle, in a practical and immediate way, has given a person a bright future. 
Wow. 
Can you think of any other way so little money can make such a big difference to a person's whole life (or actually, to the lives around her too)? Cuz I can't.
So — more than any prizes your donations might (or might not) win, your donation in the Grand Slam for Zambia: The Power of 5 is incredible. 
Literally life-changing.
Which is pretty remarkable. No, make that really remarkable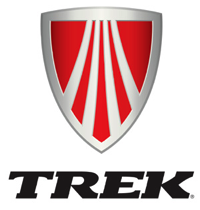 Win a Trek Madone 7 Series, Customized Through Project One!
Last Wednesday, I announced the first of the five dream bikes you might win by donating. Today, I'm happy to announce the second: a Trek Madone 7 Series frame, loaded up with your choice of top-end SRAM parts and components, and customized to be incredibly beautiful through Trek's Project One.
That, my friends, is about as dreamy a dream bike as a dream bike can get. 
We're talking, retail-wise, about a bike that's worth well north of $10,000. 
And you know what? This is the second time this year that Trek's been so generous about donating this kind of bike for me to fundraise for WBR, making for what was truly the best July ever. 
And remember, Trek wasn't just donating bikes in this fundraiser. They were also matching, dollar-for-dollar, all the donations that were coming in. That's beyond generous. That's downright touching to see a bike company doing so much of the right thing. 
Just to refresh your memory, here's what the winning bike from that fundraiser looks like: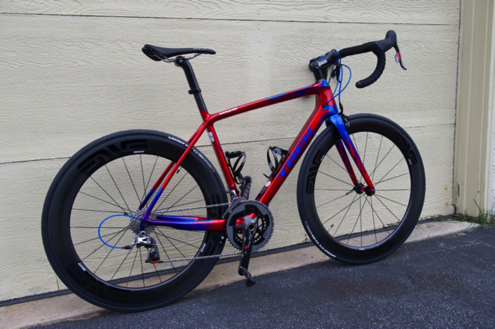 and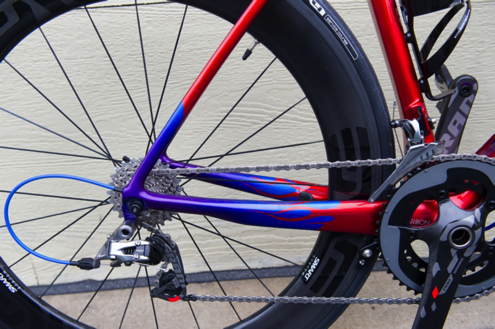 and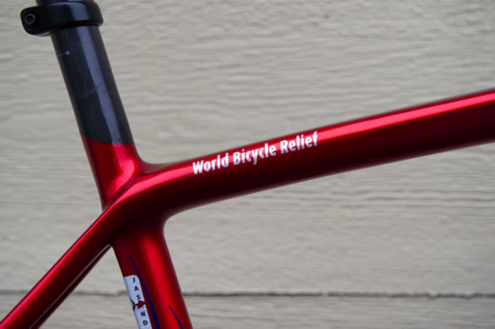 I tell you what: I am still jealous of Jim for that amazing bike he won. In a nice way. 
A Little More About The Bike
The Madone 7 Series is Trek's top of the line frame in the Madone family, hand-built in the USA, and completely customizable through Project One. 
The lucky winner can choose any Project One paint scheme that they desire—from boldly simple to outrageously cool. 
And you can build this bike up with any parts you want that SRAM has to offer, which means, between a SRAM Red drivetrain and some sexy Zipp wheels (I'd personally go with the 404 Carbon Clinchers) and parts, you're looking at a bike that is going to weigh less than fifteen pounds. 
Yeah, I mean it.
This is going to be a beautiful, glorious racing machine.
Why Trek is Supporting WBR  
I asked Brandon Buth of Trek about why Trek supports WBR. Here's what he said:
Trek has been a supporter of WBR since the beginning, and we have continually been impressed by the work they are doing and the countless lives they are positively affecting. 

When you think about it, the bike really has been good to all of us in the industry—we use it for fun, recreation, and competition (to name a few), and it provides our livelihood. 

How many other products can you say that about?

The way I see it, we owe a lot to the bike. So, supporting WBR is such an easy, relatable way for us to help an organization who is focused on improving the lives through the Power of Bicycles. 
Huge thanks go out to Trek for their amazing support of this cause. And just as huge of thanks go out to you, for donating (click here to donate, ok?).
Good luck, and I hope you win.