A "Hey Join Me for this Last-Minute Conversation About the Rockwell Relay" Note From Fatty: I'm a huge fan of the Rockwell Relay. Huge. And on Wednesday, May 4, at 12pm (noon) MDT I'm going to get together with Tyler Servoss on a Google Hangout to talk about this year's Rockwell Relay: what's different, what's the same, new prizes, new sponsor, changes to the route, and more. Be sure to come join us. We're going to keep it short and to the point: half an hour of presentation, and then time for Q&A.
Eben Weiss is the author of the popular bike blog, Bike Snob NYC. Here we are together, in a very recently-taken photograph (six years ago):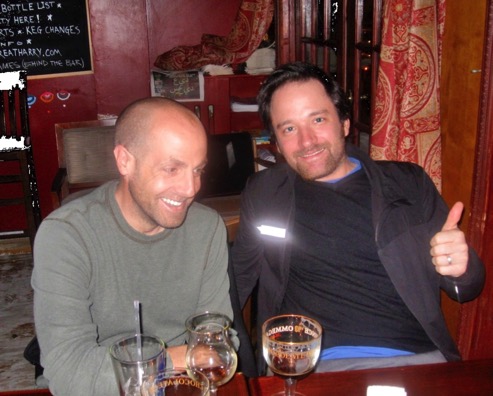 I show this photograph, of course, to demonstrate what it would look like if Stanley Tucci and Hugh Jackman were bike bloggers who hung around together in bars when given the opportunity.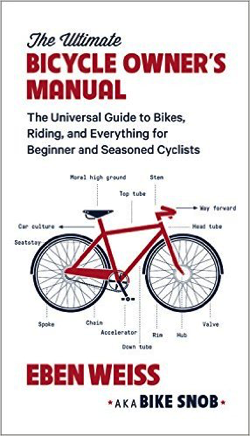 Also, I am pleased to announce that Eben has just published The Ultimate Bicycle Owner's Manual: The Universal Guide to Bikes, Riding, and Everything for Beginner and Seasoned Cyclists. 
He and I recently spent ninety-five  glorious minutes on the FattyCast talking about this book, as well as about how we both regret the names we gave our blogs. 
And whether Stan's Notubes are revolutionary, or merely nifty.
And the fact that we both agree that The Hitchiker's Guide to the Galaxy is the most important book ever written.
Here's the thing: his book is useful, and not just for people who have already bought into cycling as a way of life. No. It's for those people (i.e., us people) and it's for normal people too — people who are new to biking, or just interested in starting, and have a lot of questions.
Eben highly recommends, therefore, that you get a copy for yourself, and one each for all the friends you have who won't leave you alone with their bike questions.
I agree completely.
And meanwhile, you should also listen to our conversation. It's a good one. You can find it on iTunes, on FattyCast.com, you can download it directly, you can get the RSS feed, and you can listen to it right here: