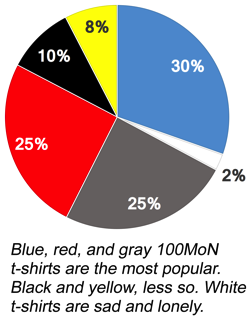 A "Last Chance to Register Note from Fatty: Friday, October 21 is your last day to register for the 100 Miles of Nowhere. What better way to cross the registration finish line this year…than to publish one last race report from last year? 
I'm very pleased to have leroy — a Seriously Incredible Friend of Fatty (SIFaF) — have his story told today. By, naturally, his dog. It's kind of serious, very funny, and extremely inspiring.
Read it, then sign up for the 100 Miles of Nowhere. It's now or never, folks. 
How leroy Won the 2015 Lantern Rouge 100 Miles of Nowhere Competition
By leroy's Dog
Rules are funny things. They keep changing – especially in fashion and cycling.
No white pants after Labor Day was a rule, now it isn't. No stripes with plaids is still a rule (and don't think I don't remind leroy). The ketchup you dropped on your T-Shirt can't be removed by licking; no, don't recruit the dog is an installment in an ongoing lecture series. But it should be a rule.
Cycling specific rules are more confusing: Sunglasses arms over the helmet straps, bib straps under the jersey, shaved legs include ankles (except for show poodles).
The great thing about the 100 Miles of Nowhere is that you make your own rules.
But last year, there was a rule at the intersection of fashion and cycling that bedeviled leroy: Don't wear the jersey if you haven't done the ride.
Plans Made, Plans Changed
By this time last Fall, leroy had signed up for 2015 100 Miles of Nowhere and was making plans for us. Loops around Prospect Park again? A tour of every rideable bridge in NYC? A ride encompassing his annual marshalling at the Tour de Bronx?
And then life intervened, confirming that it really is what happens when you're making other plans.
The chest pains that had been taking longer and longer to go away when he warmed up came back unexpectedly and ran into his jaw. In hindsight, it was a classic presentation of a problem cyclists often think can't happen to them. Here's a good article about that. So leroy rode to see his doctor. His doctor turned pale, told him no more riding, and sent him to a cardiologist.
Two days later, leroy met the cardiologist for a stress test. Of course he dressed for the occasion: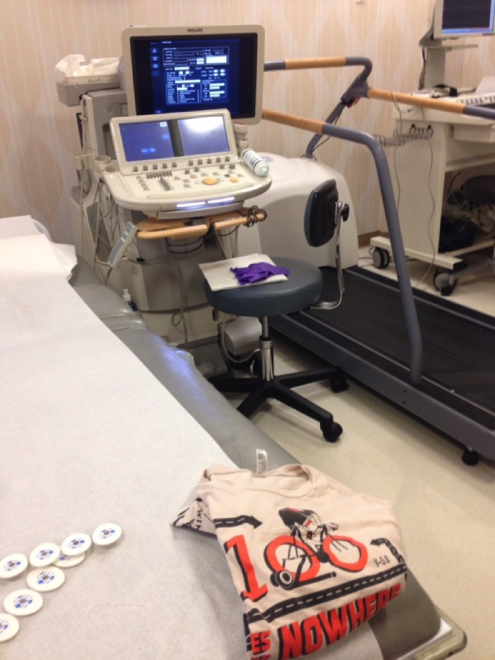 But he didn't pass.
The cardiologist told leroy the bad news was leroy had coronary artery disease and needed a cardiac catheterization. The good news was he "had time to put his affairs in order."
Fortunately, all she meant was he needed a cardiac catheterization in the next few days, not the next few hours.
And again, no riding no matter how good he felt.
New Plans.
leroy scheduled a catheterization, certain it would show there had been a mistake.  He was disappointed he'd miss marshalling the Tour de Bronx that weekend and worried he'd miss the 100 Miles of Nowhere the following week.
The catheterization was very cool. We got to watch. (Of course I went. I keep a companion animal vest for these occasions.)
leroy got two stents. Arteries that looked like winding country roads now look like super highways. He also got a bracelet perfect for Cyclocross.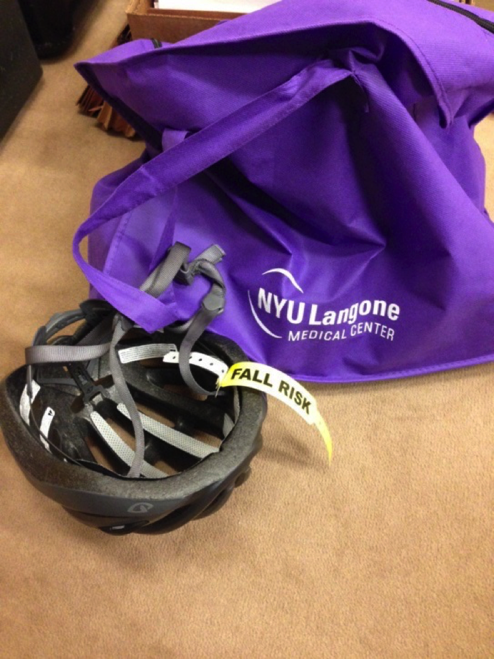 Three weeks later, leroy went for another stress test. This time he wore the 2015 100 Miles of Nowhere T-Shirt which had arrived in the interim with a jersey.
He passed.
It's All In Your Head (Because There's So Much Room)
leroy was told he could start riding again in a few weeks, but he had to take it easy. He went through a 3 month cardio rehab program, mostly to confirm he was fine.
He graduated rehab in Spring 2016 with flying colors, but could he ride 100 miles? He felt fine physically, but riding distance is a mental challenge.
So the 2015 100 Miles of Nowhere jersey hung in his closet. Waiting.
He rode to Nyack a few times — a 65 mile route he's done for years.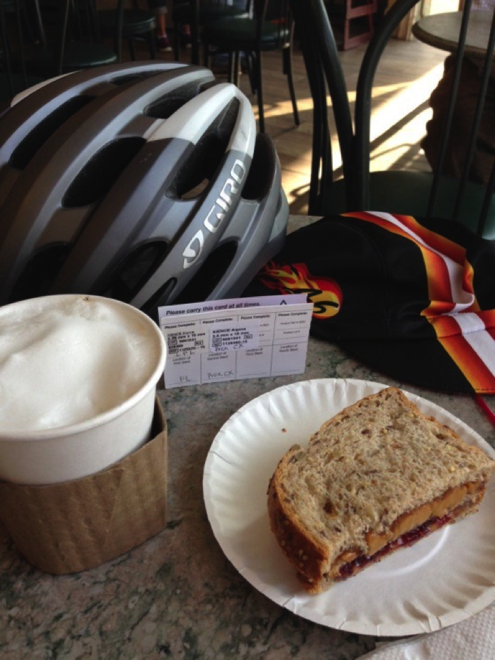 But it wasn't 100 miles.
He rode BSNYC's Gran Fondon't – about a 75 mile ride when the round trip commute from Brooklyn to the Northern Manhattan start/finish is factored in.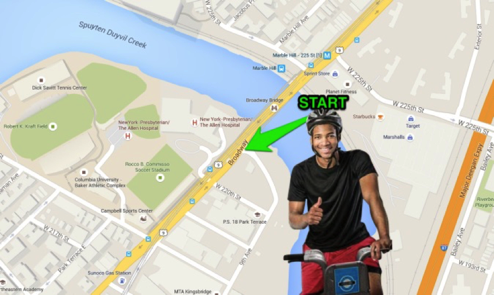 Still no 100 miles.
And still the 100 Miles of Nowhere jersey hung in the closet. Waiting.
His inner monologue asked: What if you can't ride 100 miles again?
His inner voice taunted: How can you wear the jersey if you haven't done the ride?
His inner eight track tape looped: What if the jersey is destined to hang untouched for the rest of your riding career, a silent rebuke, testament to your mounting trash heap of inadequacies physical, mental, and moral; damning evidence of the ravages of age and ineptitude, threatening to crush you under the weight of recalcitrant recriminations, recherché regrets, recondite remonstrances, prancing, parading, perseverating like an endless stream of quick brown foxes jumping over the lazy dog ….
My Life Work As A Dog.
Aughhhhhhh!!!! Enough.
I beaned leroy with a chew toy. I'm not proud of that, but I wanted his attention.
I can put up with overheated inner monologue writing, but that quick brown fox thing is just typing.
Patiently I explained "Doofus, it's just riding a bike. It's just the 100 Miles of Nowhere. You decide what the rules are. You decide the distance. You decide the difficulty. It's supposed to be fun."
And honestly, who are you going to listen to – some random inner voice of doubt and despair or a talking dog? It's silly that I even have to ask.
I sealed it by telling him if he wouldn't wear the jersey, I would…. And no complaints about wet dog smell.
The Lantern Rouge
So in early July, leroy put on the 100 Miles of Nowhere Jersey and we rode a metric century over roads we'd ridden many times. We rode around the hills outside Piermont and then to Nyack, confirming that bears do go in the woods, but not how you think: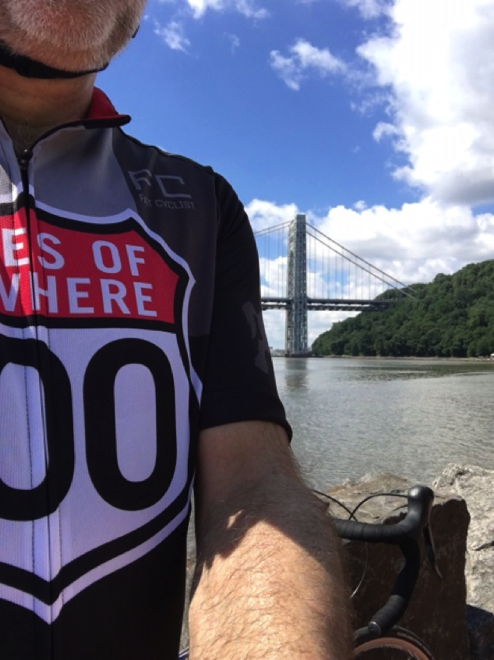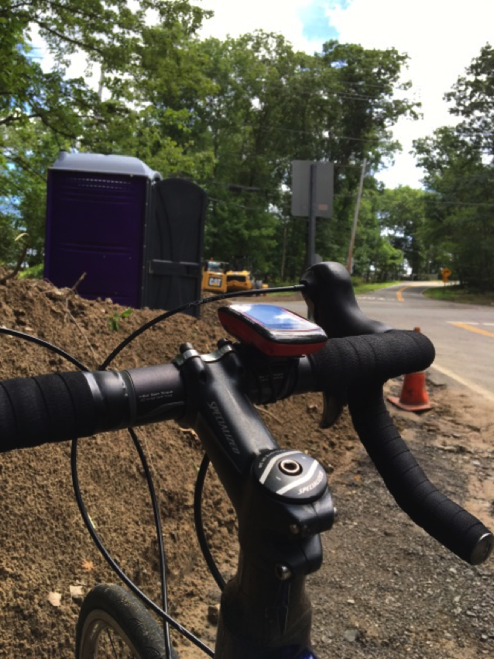 Later that month, in coastal Georgia, leroy wore the 100 Miles of Nowhere jersey for a Fahrenheit century.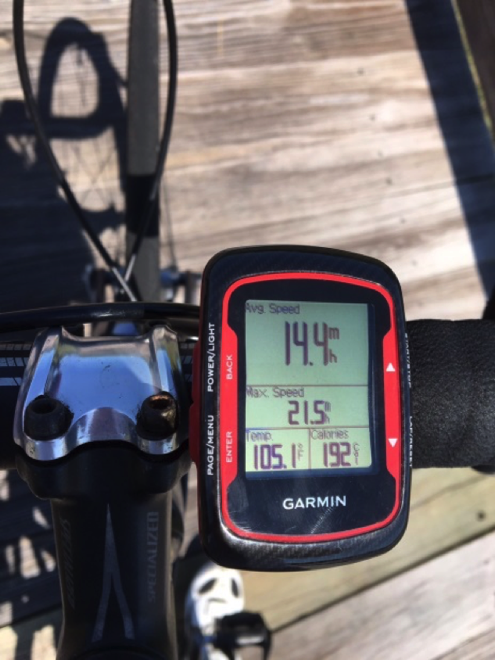 Finally, this past August, leroy tried out a new pair of Asolo bibs with the 100 Miles of Nowhere Jersey for a ride with no destination and no plan other than to meander on a nice day.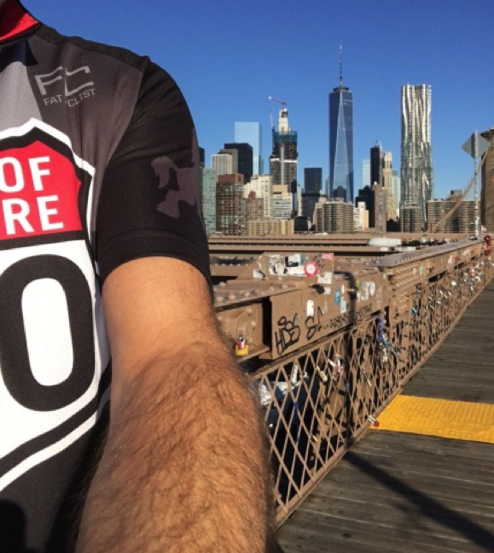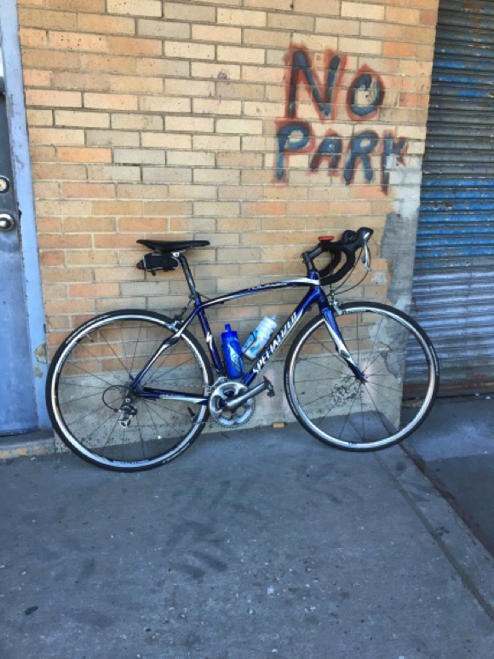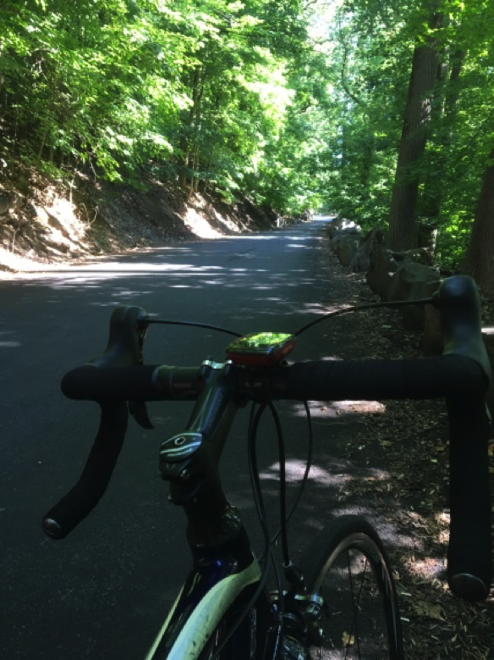 Near Piermont, I found a couch while leroy climbed a short hill that briefly touches 16 or 17% and leads to an unwelcome sign.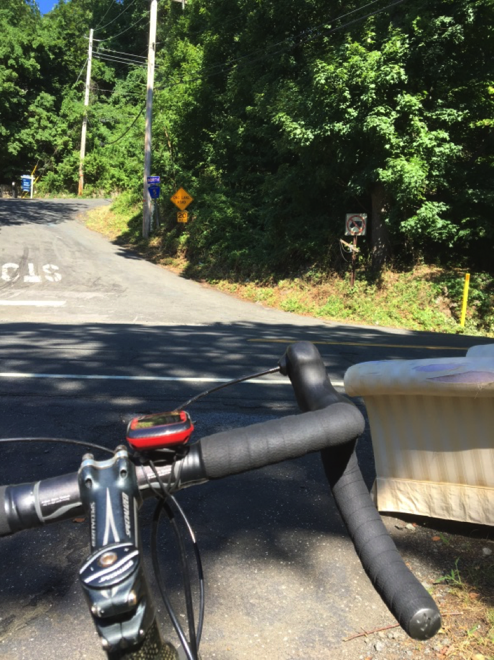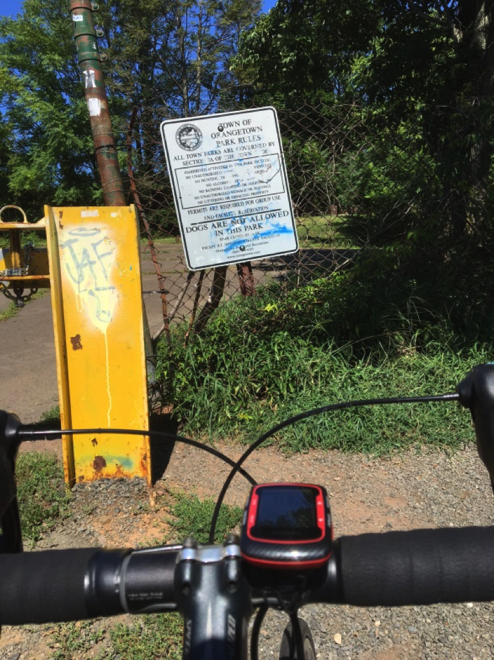 We wandered over a favorite lake and then climbed to the Orchard northwest of Nyack.
We headed over to the foot of Bear Mountain to ride a quiet road that's the northern end of the annual Escape New York Ride.
Then we moseyed along the Hudson River where they still discriminate against dogs.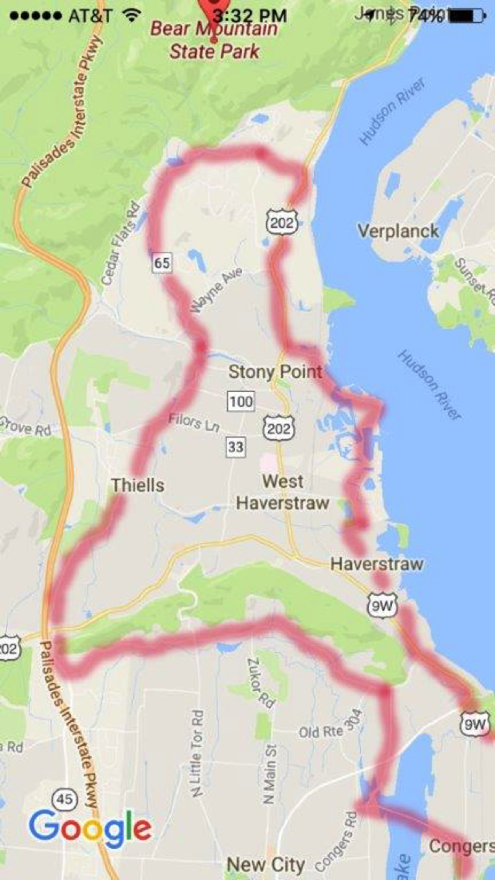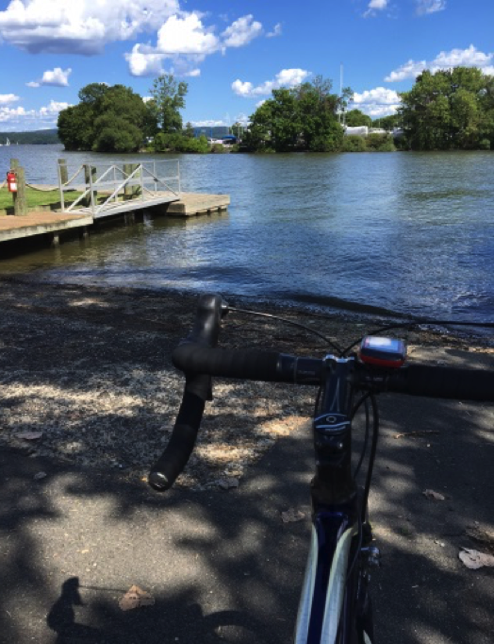 We made a stop in Nyack so late that most cyclists had already gone home. Then we went home with a dirt road detour in Tallman Park.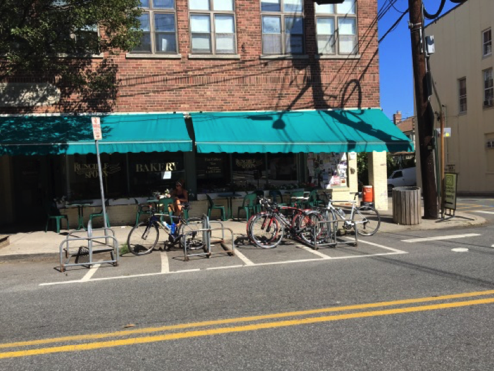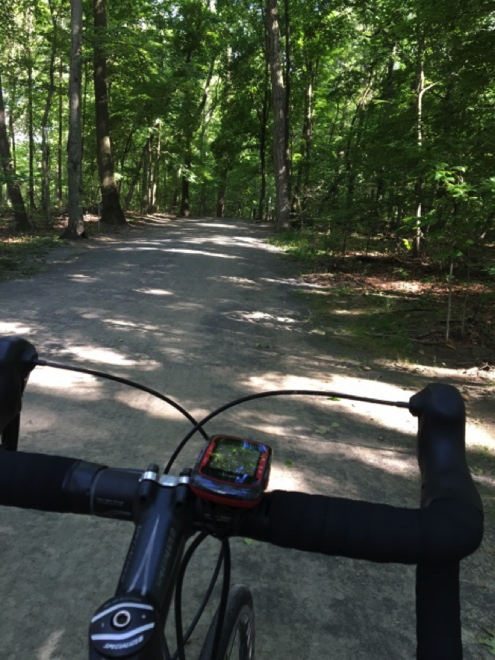 Without thinking about it, we had wandered for more than 100 miles. (I'm not sure how far because I forgot to turn the Garmin back on for a few miles after the Hudson River bathroom insult.).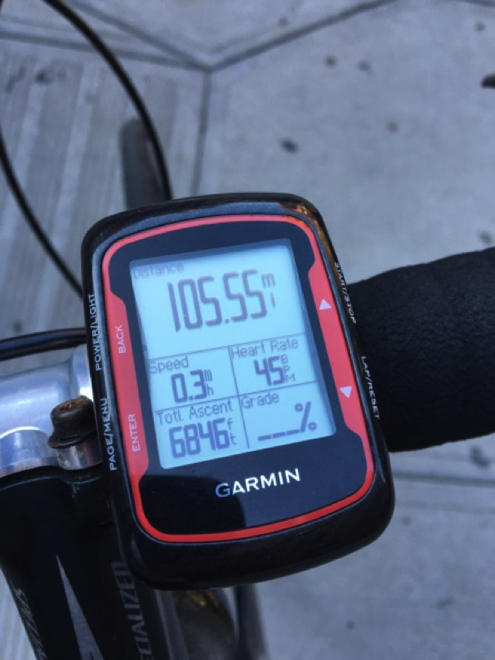 And this gives leroy bragging rights to the Lantern Rouge: completing the 2015 100 Miles of Nowhere 10 months after everyone else.
Of course, if someone wants to do a ride tomorrow of any distance and call it the 2015 100 Miles of Nowhere, they get the Lantern Rouge bragging rights because the rules are the way I like them: fluid.
Not a Shaggy Dog Story
So is there a point? Why yes, yes there is.
The 100 Miles of Nowhere is a wonderful, goofy, pointless event with a very important point. It helps Camp Kesem.
And Camp Kesem gives kids a break from the emotional toll cancer takes.
The irony: leroy registered for the 100 Miles of Nowhere to help Camp Kesem.
It turned out that the 100 Miles of Nowhere helped leroy more.
He's riding. He's fine. His head is as empty as it ever was.
And this year, when he heads out for the 2016 100 Miles of Nowhere, I'm planning a quiet little get together with friends. I'm thinking indoor beach party theme, tiki hut, luau, beach volley ball. That sort of thing.