A Note from Fatty: Thank you to everyone who has left encouraging messages and helpful feedback about doing the 100 Miles of Nowhere. It's been just what I need; we're definitely going to do it. I'm going to put together the necessary logistics (keeping it simple, though) and will have more to announce soon.
Prologue
I am a liar. You can go ahead and think about that previous statement for a moment and decide whether you want to believe it or not, but I promise you: I am a liar.
Here, for example, is a lie: I signed up for the Six Hours in Frog Hollow just for the fun of it.
The truth is, I signed up because I wanted to beat people. To feel, once again, how extraordinarily awesome it is to be the fast guy. 
I — secretly, of course, and buried under twelve tons of self deprecation — wanted to show that I am not slowing down. That when I said that last year was the fastest I'd ever be and that I'd never be that fast again, that I was only joking.
And in short, I wanted to prove that I have not aged, and also that physics (I'm about eight pounds heavier than I was this time last year) do not apply to me.
Is that so much to ask?
About The Race
The Six Hours in Frog Hollow, for most people, doesn't last for six hours. Indeed, the amount of time a person or team spends racing is almost guaranteed to not be six hours. 
Also, you're unlikely to spend any time whatsoever (leave alone six whole hours) in the hollow of a frog.
Which means, I guess, that the race name is almost purely ironic.
So here's how it works.
You — either as an individual or a team — start doing the thirteenish-mile course at 9:00am, and you do as many laps as you can. 
Once you cross the start/finish checkpoint after 2:00pm — five hours (not six) into the race — your race is done. So if you come through at 1:59 you can go out for another lap. If you come through at 2:01, you can't.
Got it?
Oh, and here's what the elevation profile looks like:

Ride uphill for about five miles, then mostly downhill for about eight. Rinse and repeat, as fast and often as possible.
The Race Begins
The thing is, for a racer like me, the course takes very close to an hour. So while I had great hopes that I'd finish five laps in under five hours — thus putting me in position to do a sixth lap and probably get on the podium — I really didn't know whether I'd be able to do it.
The morning of the race arrived. I was racing in the Men's Solo Singlespeed category. The Hammer was racing in the Women's Solo category (she's putting the singlespeed aside this year). And  in honor of Easter, she had decorated her helmet (and worn socks that say "Cute Chick" on them):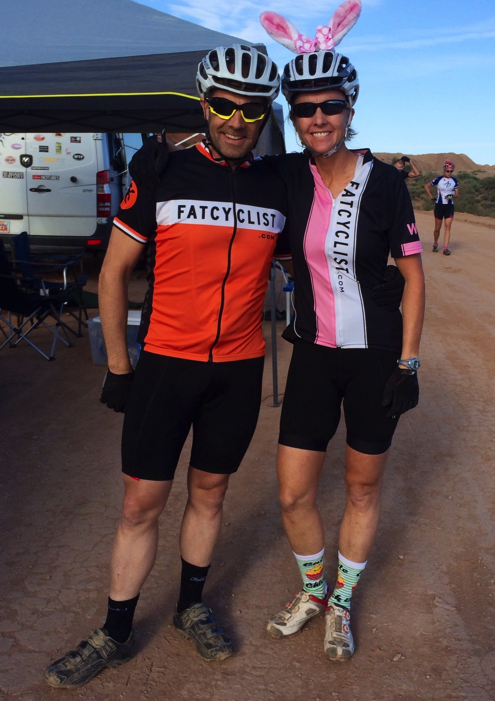 What do you mean it looks like I'm sucking my gut in? 
Starting together, The Hammer and I broke into a run at the Le Mans-style start. 
Quickly, The Hammer developed a lead. Which expanded considerably by the time she got to her bike, jumped on, and took off.
I grabbed my own bike and gave chase. 
And then my chasing gave way to marveling, because I was not gaining any ground on The Hammer. 
And hey waitasecond, what am I doing behind my wife during a race at all?
I stood and attacked. Which made me tired, but otherwise had no effect.
So I backed off to the pace that felt right to me and resolved myself to my new reality: I have a wife who is at least my equal on the mountain bike.
Meet the Cast of Characters
A mile or so of dirt-road climbing gives way to singletrack and fairly limited options for passing for the next mile or so. 
So I watched The Hammer disappear in front of me, while I pedaled in a slightly slower group, knowing that there were too many people there for me to bother trying to pass all of them. I'd have three miles of steepish dirt road climbing to do my passing soon enough.
I looked a little ways up ahead and saw two guys on singlespeeds. One on a reddish bike that I didn't really recognize, and one on a nice-looking steel Spot. That guy on the Spot, I would later find out, was Mike, from Boise, Idaho. I'll explain later how I learned his name and where he's from.
And why we wound up getting our picture together — like we're best friends, instead of guys who were racing against each other — at the award ceremony after the race: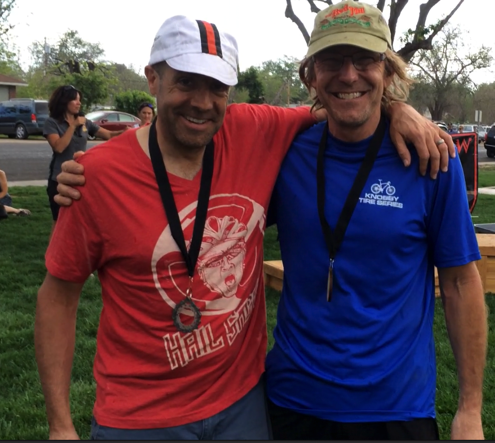 I love getting ahead of myself in these stories, dropping hints and stuff.
For now, I decided to mellow out and not worry about passing anyone for now. I'd attack the singlespeeds hard as soon as the road turned steep and up. Make a statement with my climbing, and then hopefully be gone before anyone had a chance to make a counterpoint, as it were.
My Big Move
And sure enough, once the big climb of the loop came, I stood up and did what I'm good at: rocking a singlespeed side to side while dripping sweat and snot off my nose onto my front wheel. 
I caught the guy on the reddish-orange singlespeed. "Hey," I said. Which, considering that blood was spurting out of my ears and eyes, was pretty darned friendly and outgoing of me.
Then I caught The Hammer. Yes, I am crowing about catching and passing my wife. "I love you, Beautiful," I said as I caught her.
I want to be very clear on how sweet I was as I passed. Why? Because this will figure in to the story later on, that's why.
And then I caught up with Mike. Knowing that I was only barely faster than he was on the climb, I wanted my pass to leave him unable to respond. So without announcing myself, I just settled in behind him, catching my breath. Gathering my strength.
Then, just before a steep grunt of a climb, I stood up and gave it everything I had. Attacked hard. 
And it worked. I had dropped him. He didn't try to stay on my wheel.
I didn't know what place I was in, but I knew it was better than it had been a minute ago.
I got to the summit of the climb, turned right onto the fast downhill singletrack, and rode my brains out, happy to know I had seen the last of Mike. I also figured — less happily, but also a little bit relieved — that I had seen the last of The Hammer 'til the end of the race.
In both cases, I was severely wrong.
Which is where we'll pick up in the next installment of this story.