A note from Fatty: Be sure to read part 1 before you read this part.
Melisa and Lisa had gone. They were going to be running around Turquoise Reservoir, coming back across the road in eight miles or so.
Which gave me plenty of time, I figured, to go pack up Lisa's and my stuff at our hotel, check out, and then go get Blake and Jeff. We'd then be able to meet them and cheer them on at several more points on the way to the finish line.
I hustled, picked everyone up, and got to where we expected to see them. And no sooner had we started looking up the trail for them than they came running out: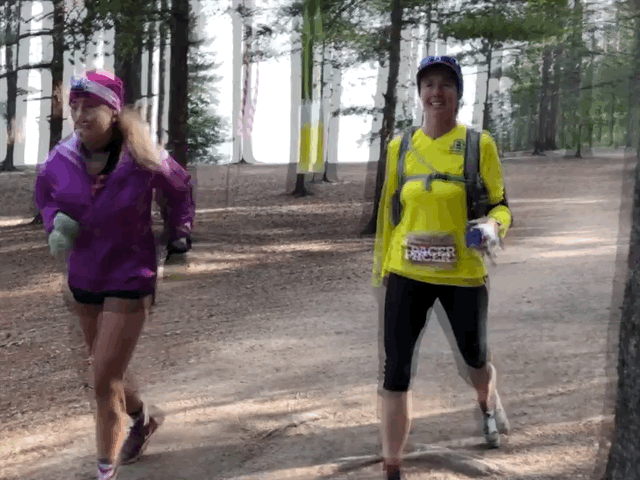 Melisa was smiling! And moving at the pace — as you can see — of a fast walk! And she was there minutes sooner than we had expected her.
She was 95 miles (my guess) into this race, and moving as fast as she needed to.
Everyone's spirits soared.
"We'll see you soon!" we cheered as they crossed the reservoir road and started down the other side.
But by the next time we saw her, things had changed. A lot.
Down
We had to drive a little bit of a circuitous route to get to the dirt road that connected to where we'd see them again,  but I'd stopped worrying.
Then we saw Melisa, and everyone started worrying again.
The happy, still-sort-of-running Melisa was gone, and in her place was the suffering, every-step-is-agony Melisa.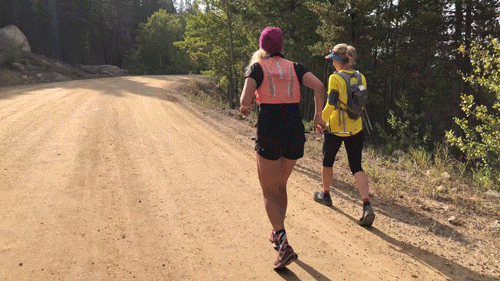 The short-but-steep downhill had been a last straw of sorts for Melisa's feet.
Still, we walked with the two of them, cheering them on. Staying positive. Being encouraging.
"YOU AREN'T HELPING," Melisa said. "I can tell that you're all just walking, so GO."
Banished, we left Lisa and Melisa to their misery. We'd have to content ourselves with tracking them on Lisa's phone's Find-a-Friend.
At the Top of the Boulevard
We drove to the top of the Boulevard — where the dirt meets the road, signaling you're in the homestretch of the race — and waited. Occasional runners would come by, all of them a mix of pain and elation. Each time one came by, we'd cheer and the course marshal — carrying a bongo drum — would hammer out an awesome beat.
I took turns looking at my watch, looking at Lisa's dot on Find-a-Friend — willing her to reach the turn that meant they were on the 2-mile-long Boulevard climb — and answering the dozens of texts coming in from family and friends, asking about how Melisa was doing.
From time to time, I'd text Lisa, asking how things were going, and then I'd relay her reply to everyone with me.
This was my first experience being an anxious racer crew, but I'm pretty sure I made up for a lifetime of it in the hour (or two? or ten?) we stood there.
Rejoining
It's tough to watch a dream fade.
As time went by we went from, "She'll get it" to "She has a chance" to "Who cares about time? The distance is what matters."
10:00am — the official finishing time — came and went.
The bongo drum-playing course marshal apologetically said, "I have to go help with course cleanup," and left.
Lisa's blue dot was at the bottom of the boulevard; it was difficult to tell whether it had moved in a while.
I was looking at it when Lisa texted me, "We're going to be a while."
I texted back, "Is it OK for us to come down and walk up with you?"
She replied, "Melisa says it's OK."
We all started walking down, except Jeff, who broke into a run. Which was adorable.
The Walk
We caught up with Melisa and Lisa and began walking with her. 10:00 had come and gone, and 11:00 — the time racers need to hit to get their name on the official finishers' list — was coming up fast.
Nobody mentioned time.
Sometimes we tried to talk; most of the time we were quiet.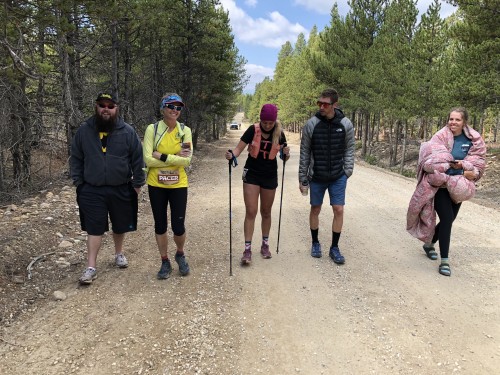 Lisa would ask, every few minutes, if Melisa wanted something to eat, or something to drink. After one of these questions, Melisa said, "YOU'RE NOT DOING A GOOD JOB OF PACING ME. EVERYONE ELSE PACED ME BETTER THAN YOU." I started laughing, then realized Melisa wasn't making a joke.
Lisa looked hurt, but could tell it was just pain talking.
Melisa would take a step, plant her poles, then take another step. Baby steps. Not quite one mile per hour.
Roughly one zillion people were texting me, asking what was going on. I did my best to keep up. Later, Melisa would tell me that her main memory of me from the day was that I was just texting all the time.
But I wasn't just texting. I was also taking pictures.
At which point she tried to do her usual smile-for-the-camera smile. "Cut it out," I said. "Just ignore the camera."
And then I got the best, most honest pictures of Melisa you could ever see.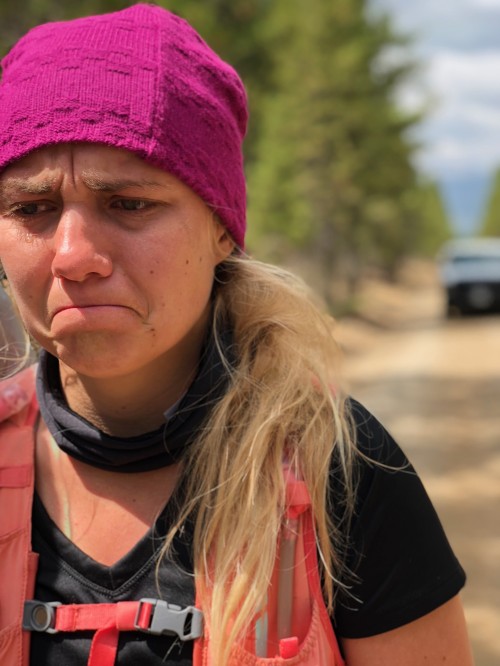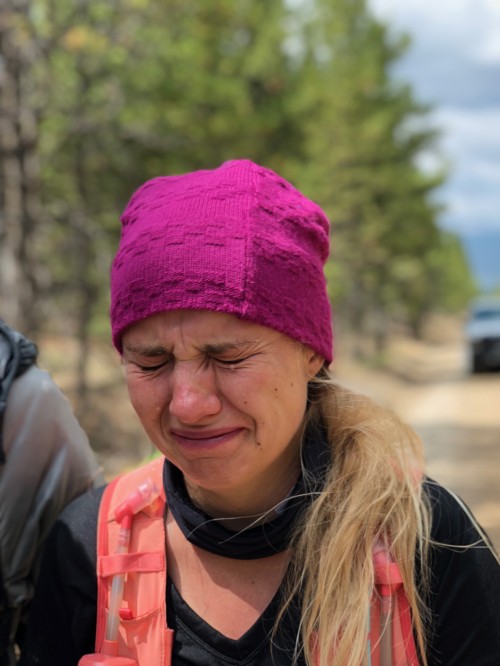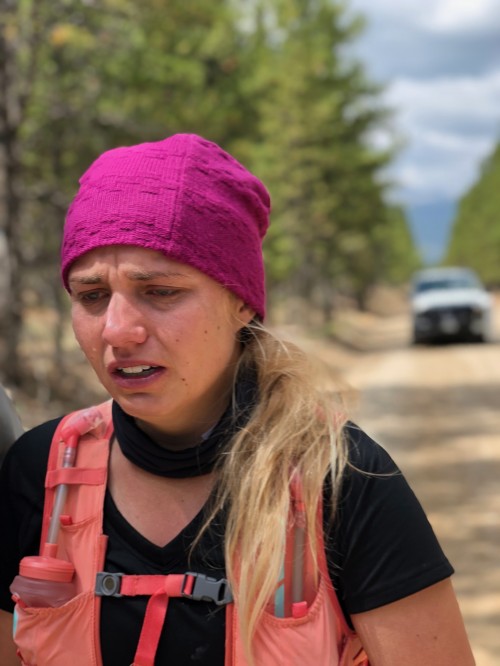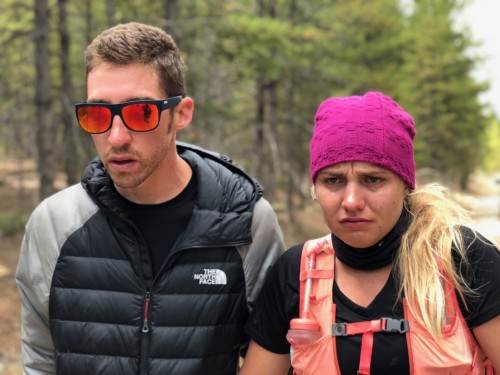 That's what giving everything you've got, and then going way beyond that, actually looks like. It hurts like hell and it's no fun at all.
And it doesn't — at least at the moment — feel glorious or brave or extraordinary. The people around you might see it, but you don't see or feel it yourself.
The Finish Line
Something you probably didn't notice in those photos is the white truck in the background. That's the EMT truck. The sweep truck. It stayed a respectful 50 feet behind Melisa for close to three hours while she walked the two miles up the Boulevard. Though it did pull up once when Melisa stumbled. "If she can't stay upright on her own I need to pull her," the woman said.
A fair demand.
So Melisa kept walking. Slower, but still going. I looked at my watch and saw it was 12:30. So the awards ceremony was going on. Who cares.
The woman in the truck pulled up and said to Lisa and me — not in earshot of Melisa — "You should know that the timing mat and finish line arch and the bleachers have been taken down. The street's open. She's doing this strictly out of her own determination."
We understood. That had been true for a while.
But Melisa was going slower. She was still moving forward, but so slowly now. You couldn't walk that slow if you tried. And she still had about 2/3 of a mile to go, even once she reached the pavement.
I couldn't imagine her walking that much further. I just couldn't. She was making walking motions, but she wasn't really moving.
And then a truck pulled up. It was a man from Life Time.
He walked up to Melisa and said, "Everyone knows this race is more than 100 miles. You've gone 100 miles, and this is your finish line. You've finished this race."
And he gave her a bouquet of flowers, and a finisher's medal. And a hug.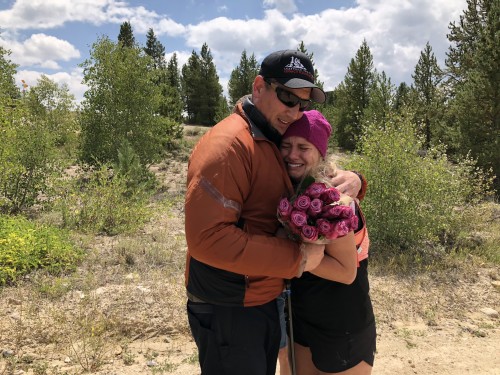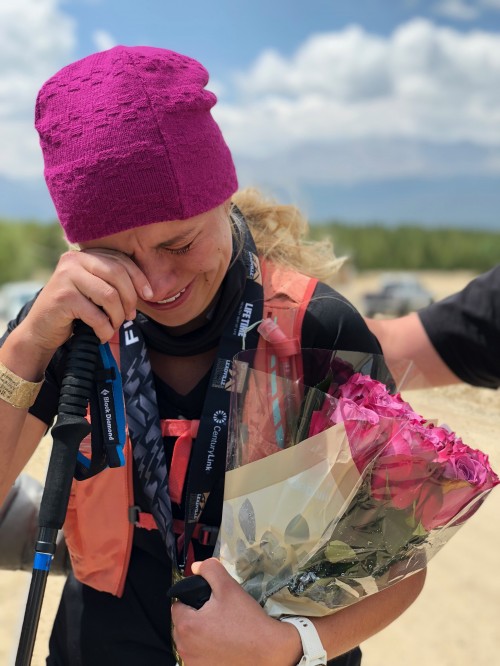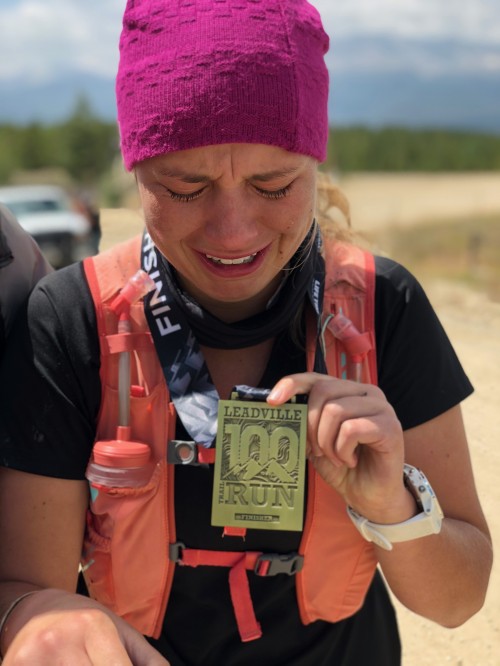 The Leadville 100 Trail Run results page shows Melisa as making it to the Mayqueen checkpoint, but not the finish line. The 2018 Leadwoman results page doesn't show her at all.
Which goes to show, results pages don't know shit.