A "Quick Links to Previous Installments" Note from Fatty: Here's where you'll find the parts to this story:
I'm down to the final installment of my race report. But before I begin, I want to show you a picture from earlier in the week: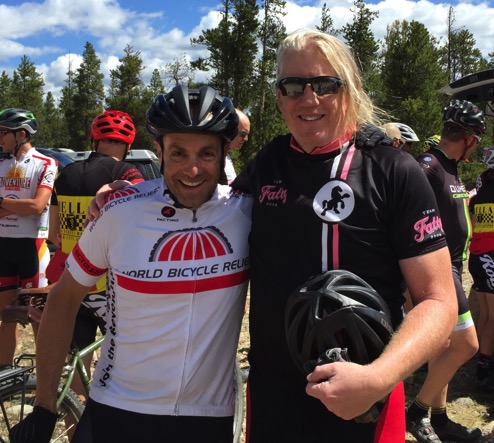 This is Dave and Me. Dave's been on Team Fatty since waaaay back. That 2009 jersey is legit.
And I'd like to call your attention to Dave's hair, and the length thereof. You see, a couple years ago, Dave told his wife he wanted to race the Leadville 100, and would need to invest the time and money into getting ready for it.
Negotiations began, with his wife starting from a position of "for every dollar you spend on cycling, I get to spend a dollar on a giant party."
Eventually they both realized that this would be a very pricey party, and so she changed the deal: Dave would not have to honor the dollar-for-dollar arrangement if he did not cut his hair until after he completed the Leadville 100.
As you can see, a couple years have passed, Dave's hair has reached Samson-like proportions, and as shown in this picture a couple days before the race, he is ready to go.
I will have more on his story in a bit.
Can You See Me Now?
Scott and his friend Kara are pretty amazing. I don't even know how many years they've come out to Leadville to crew for us, for one thing.
For another, it's bound to seem a little odd to them that they make this very long drive out to help us during the race, and then — due to The Hammer's and my new focus on fast transitions — seeing us for no more than one minute during that race.
And last year, things had gone kinda badly for The Hammer in the Pipeline Aid Station: she had ridden right by it, then had to double back.
This year, Scott had gone to some length to ensure this did not happen again: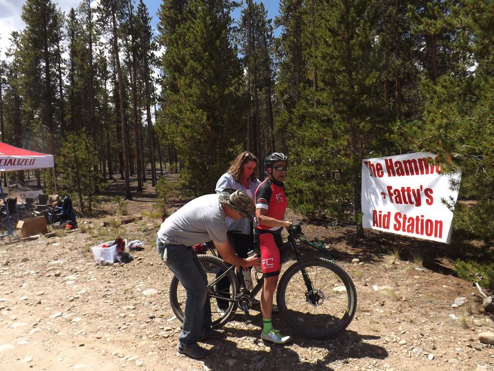 Big thanks to Alan Schenkel for taking this picture.
Scott had printed a giant — seriously, it's way bigger than it appears in the above picture — banner, reading "The Hammer's + Fatty's Aid Station." 
And sure enough, I did in fact see (and not ride by) this banner. Scott and Kara swapped me out with the most food and liquid I'd take on the whole day: two full bottles (one CR333, one water), six GU Roctane Gels, and another four GU Roctane Electrolyte Capsules.
In seconds — i.e., less than a minute — I was off. 
Powerline
It's strange to consider which parts of the LT100 I really look forward to, and which I really dread. 
I truly, in all honesty, look forward to what I consider the real crucible of the race: the Powerline climb. I love how it's so intense. How it demands you give it absolutely positively everything you've got. How, once you've summited it, you know that the rest is going to be (relatively) easy.
On the other hand, I dread the flat dirt road and pavement section between the Pipeline and the beginning of the Powerline climb. Because you're guaranteed a headwind. And you're guaranteed to feel slow. Beaten, even.
But this year, I was lucky on this flat section. I caught up with one rider, then another, and the three of us formed a train, taking turns and giving each other a moment's rest from the wind.
Then I turned off the pavement (forgetting to check my GPS to see what my mileage is, thereby ensuring I would not know how much of the four-mile Powerline climb I had done) and began the climb.
A quick flat section leads to a moderate climb, leading to a quick hairpin…and then I was at the Powerline march: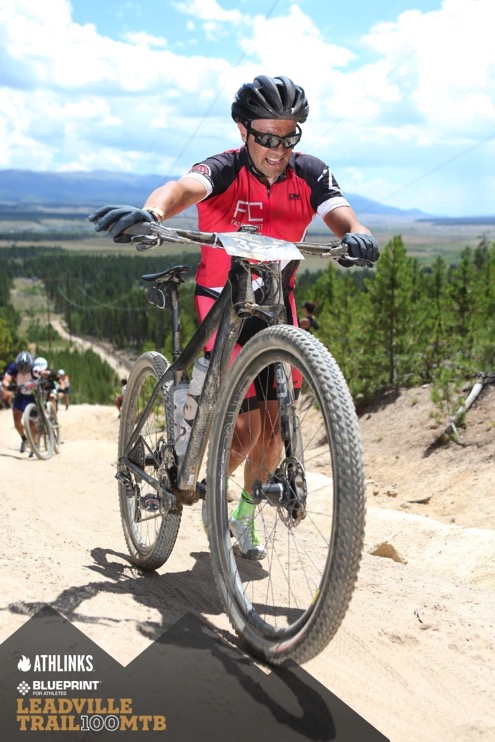 Earlier in the week, in one of Reba's and my group rides, I had ridden this section without ever putting a foot down. In fact, it wasn't even difficult.
Today, that was definitely not the case. Riding wasn't even a consideration.
Halfway up, some of the good folks from Oakley (one of the event sponsors), were handing out little cans of Coke. The day had become hot and the prospect of a Coke was glorious.
I saw one of the Oakley guys dig into an ice chest and run up toward me with a cold Coke. "Thank you…" I began.
And then he ran by me, handing the Coke to someone else.
"…Or not," I concluded, petulantly.
But then, he dashed back to his ice chest and dug out another Coke. "Keep going!" he yelled. "I'll bring it to you!"
And he did.
I was so happy. And I wanted that Coke so bad. When the Oakley guy handed it to me, I — for the only time during this race — stopped dead, planted my feet, and slugged the Coke down. 
I knew time was elapsing; I knew my average was dropping. I knew that I was, perhaps, eliminating my chance at beating my sub-8 goal and my "Beat 2009 Reba" goal.
In that moment, I did not care. This Coke was my whole world.
I finished, tossed the can, and resumed my march.
Then, about fifty feet later, I saw CarboRocket's Brad, who — as he had promised — was handing out Coke and Skittles.
I took a Coke from him, too.
And if there had been someone another fifty feet up the trail also giving out Coke, I would have taken a Coke from them, too.
Summit of Slowness
Once I was past this hard 0.6 miles, I got back on my bike and promised myself I would not march again for the rest of the race.
It was a good promise to make to myself, and one I kept.
I began passing people, feeling like I was really moving fast.
I was, as it turns out, wrong. Without realizing it, I was putting in the slowest climb of the Powerline I had done in years. Check out how I did, compared to previous years: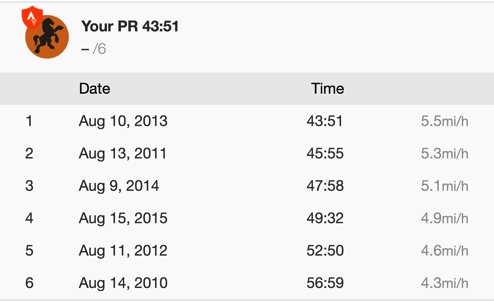 It's very interesting to me to note that two of the three of my fastest times were on singlespeeds, including my fastest time, back in 2013.
Why was I so much slower? One word: weight. While my power was great, the Powerline cares a lot more about your power-to-weight ratio. I was packing too much pudge up the mountain.
By the time I got to the summit of the Powerline climb, I was 6:49 into my race. To get a sub-8, I'd have to do the rest of the race — including a rocky descent, a three-mile paved climb, another descent, and a 2.2-mile climb to the finish line — in 1:10.
At that moment, I knew: my dream of finishing a sub-8-hour Leadville was going to have to be postponed to next year. If I want a sub-8, I've got to be this strong and at my lightest. It isn't good enough to be one or the other.
"But," I told myself, "If I give it everything I've got, I still have a shot at finishing under 8:14."
I determined there and then that I would not let that goal get away from me.
To the Finish Line…
I'm proud of the entirety of my race, but I'm especially proud of how I raced the final portion of it: up three miles of pavement to the Carter Aid Station, down St. Kevins, to and up the Boulevard, I gave it everything I've got.
I did not leave anything on the course. Nothing at all.
While I wasn't the fastest I've ever been up the pavement to the Carter Aid station (the power-to-weight thing again), from then on out, Strava shows nothing but personal bests.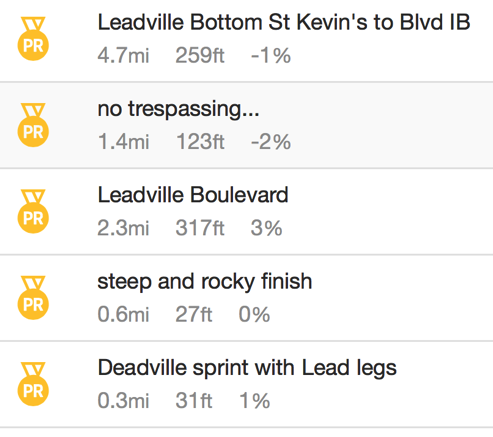 I was going as hard as I could, and — if Strava is to believed — I had never gone this hard before.
Soon after I had begun the Boulevard climb — meaning I had about three miles left to go, 2.5 of which would be climbing, I heard my GPS chime.
Eight hours.
I had thirteen minutes to do 2.5 miles of climbing.
Could I do it? I didn't know, wasn't in any state to do the math, didn't remember how long it usually took me to get from this point to the finish line.
I didn't know if I could do it, but I knew I could give it my absolute best.
So I turned myself inside out. Just gutted myself. And I turned in the fastest Boulevard time I have ever turned in. Including the times when I just tore up the thing for fun, not on race day.
In fact, I was a half minute faster up the Boulevard than my second best time.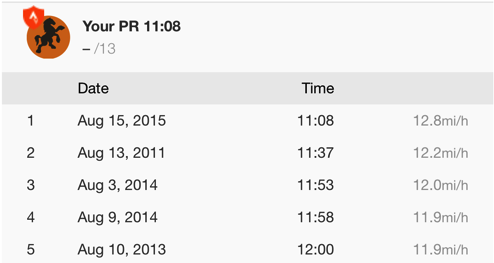 Those of you who have done the race multiple times before know that turning in a PR like this, this far into the race, is not a small thing.
Here's me crossing the finish line: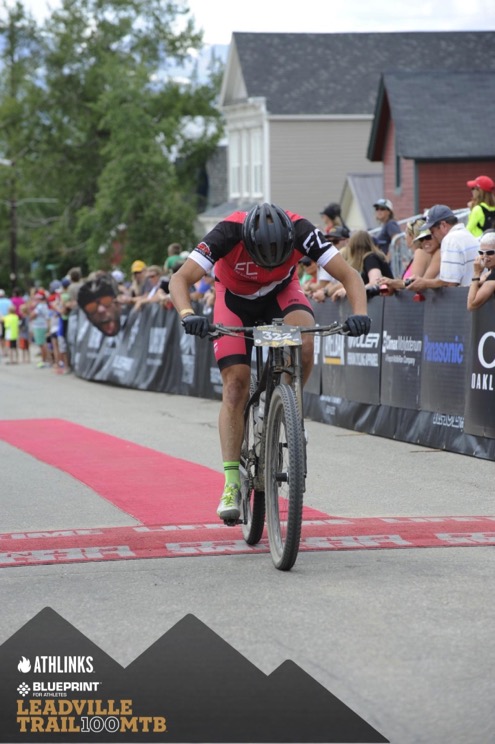 I kind of love this picture. I look exactly how I remember feeling. 
8:12. At age forty-nine, I had just gone the fastest I have ever done this race (beating my personal best by six minutes), in nineteen starts and — now I can say it — eighteen finishes.
I owed Reba Rusch a huge thank you. Without realizing it, she — or her 2009 time — had pushed me to go harder and faster than I ever have before, right up to the finish line.
…And Beyond
There's rarely anyone at the finish line waiting for me. I expect that. They're still out on the course, cheering on others. That's fine. 
But I am generally kind of messed up after a race, and it takes a force of will to take care of myself.
Which brings us back to Dave, with the Samson hair.
He hadn't had a great day racing; he'd missed one of the cutoffs. So he and his wife met me at the finish line, and they took it upon themselves to take care of me. One of them went and got bottles of water (I kept sending them back for more, eventually slowing down after I drank four), while the other watched over me, while I watched down the road, hoping The Hammer would come in soon.
I don't think I've ever appreciated help so much. I really really hope Dave hasn't cut his hair yet, and that he grows it for another year and then comes and tears this course up. 
Friends and Family
Once I felt well enough to walk, Dave, his wife and I went down to join the spectators, watching for racers to come in, probably fifty yards from the finish line.
When I saw The Hammer (I'm not going to reveal her time, because I'll be publishing her writeup soon), I broke into a run, hoping she'd catch me at the finish line.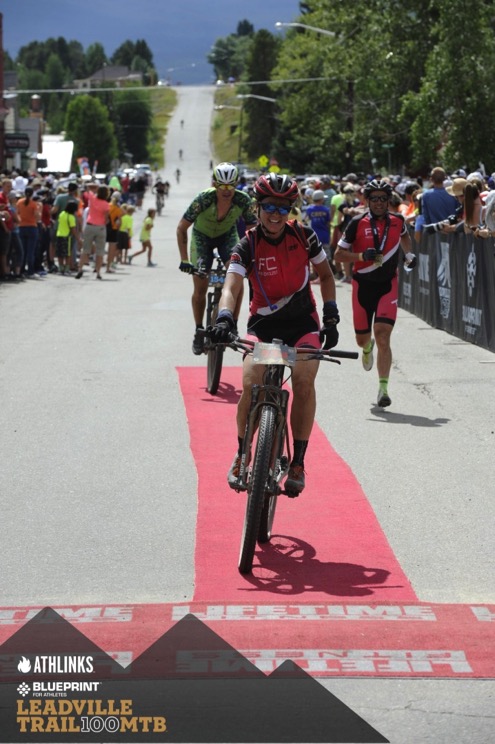 As you can see, she caught and passed me before the finish line.
That's The Hammer for you.
My friends — the folks staying at the house I had rented for the week — all had good races, too. Here's DJ on The Powerline, from earlier in the week: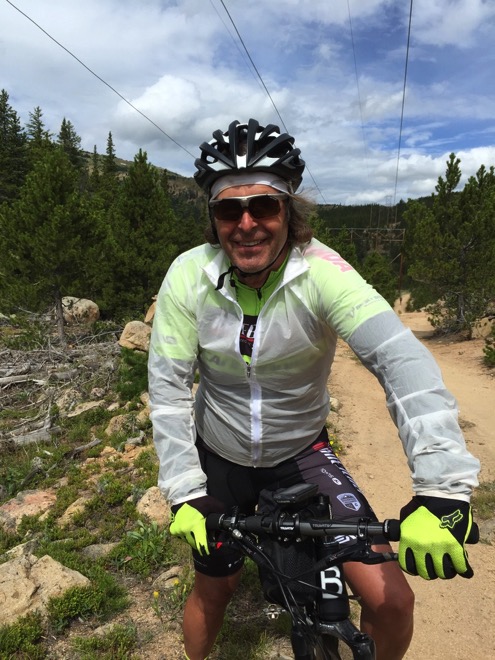 DJ overcame a painful rib injury to finish in 11:26. 
Cory, shown here (Cory's the one on the right) conversing with a Leadville local who wandered into the house we were renting, looking for whiskey, had a strong day on the course, proving you can do the race on nothing but cream cheese, pork rinds, and water.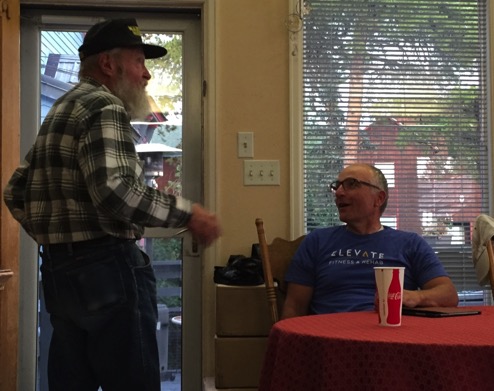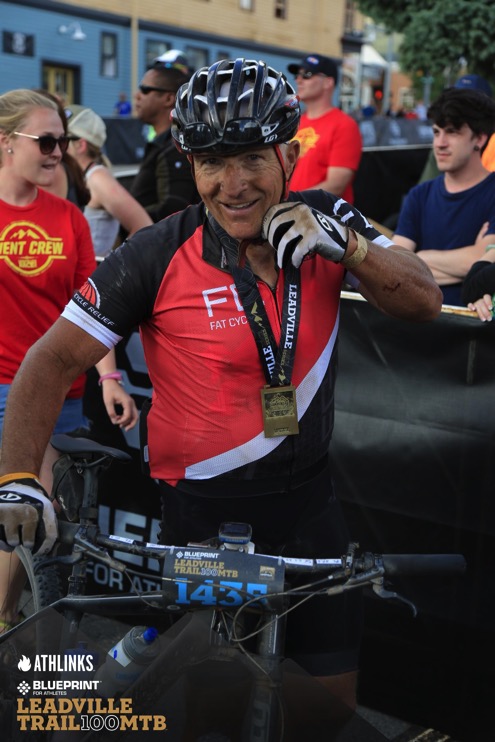 11:32 for Cory. Nice!
My brother-in-law Rocky learned, once and for all, that this race is not for him, getting pulled at Pipeline on the way back.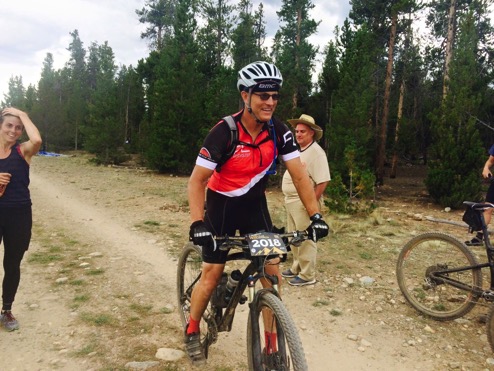 I admire the hell out of Rocky for trying so many times. The fact is, I don't even dare try doing the kind of riding (very very very technical stuff) he's good at.
The Hammer and I have been riding with my niece Lindsey and her husband Ben a lot this Summer. They're a good match for us, and make us feel young.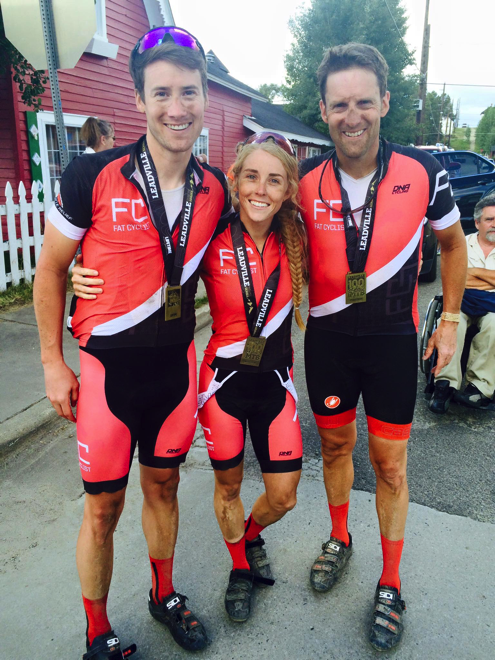 Ben got a 9:03 (SO CLOSE to sub-9 on his first try!), Lindsey got a 9:51 (a big improvement over last year), and Ben's dad Cory got an 11:10. Strong work by the whole family!
And then there were the Friends of Fatty, as I like to call them: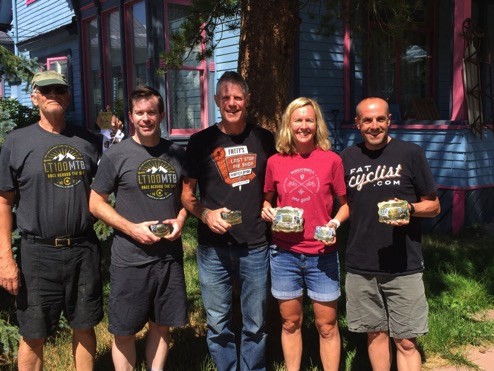 David Houston was the story of the day as far as I was concerned: he finished with a 12:51, meaning he earns the "never say die" award. I truly hope he writes his story up.
Jeff Dieffenbach, my Boggs teammate, got an extremely solid 11:30, riding a bike he had never been on before race week (my Scalpel 2).
Dave Thompson finished with a 9:28 — not as fast as he had hoped for, which is a good thing as far as I'm concerned, because it means there's no way he's not coming back next year. 
And I'll be back, too. For number nineteen, at age 50. 
And this time, I'm gonna get that sub-8. 
Watch and see.