A Note from Fatty: Installments of this story will resume Tuesday, September 8.
Looking for Other Installments in this Story? Here are links to all the parts published (so far) in this multi-part story:
I could see Lindsey up ahead of me; I knew that if I really pushed it, I could catch her. I opened a fresh GU and powered on. I'd close the gap and then she would power away on a descent.
We repeated this over and over. And you know what? I liked the game that we were playing (even if she didn't know we were playing it).
As we did the quick gnarly descent down Bitch hill and the subsequent quick up hill, Lindsey sped away and entered the singletrack ahead of me. As I approached the singletrack I pulled alongside a very muscular man, instantly recognizing him as Al Iverson. I knew Al had been chasing the sub-nine dream for many years, so the fact that we were riding together this far into the race was a good sign.
I did feel bad that I ended up ahead of him on the single track descent.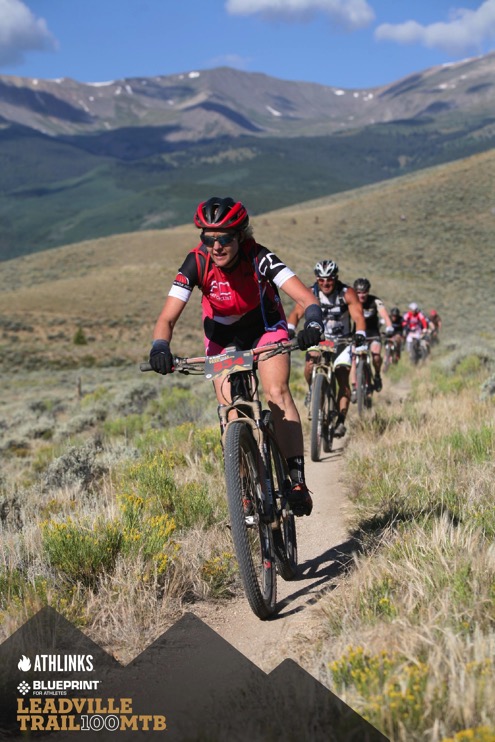 Thanks Al, for not riding my wheel!
Eventually I caught Lindsey and we rode together over the last few rollers into the Twin Lakes aid station. It must have been overwhelming for our crews to have two riders enter the aid station at one time.
But Lindsey had her crew (her mom, sister, and brother), and I had mine: Scott and Kara. They were fantastic. They got me a new Camelbak, packed my jersey pocket with GU (not the Bentos box; I had learned my lesson after losing everything during the Powerline descent! For the rest of the race, I would use the Bentos box for trash only), made me take four electrolyte capsules, and I was off.
Twin Lakes to Columbine
Lindsey was already ahead of me as we left the hoopla of the Twin Lakes aid station. I was feeling good, but couldn't quite close the gap between us. I love the cheering crowds on the road side leading to Columbine. They really buoy the spirits.
We rode by the GU van, where Kim and Yuri yelled encouragement to us (thanks!).
And then the Columbine Mine climb began.
The first half mile of Columbine is a killer. But I was pushing it hard and I could see I was slowly reeling Lindsey in.
And then, a voice from beside me: "Hey Lisa." Sarah again!
"What? Where did you come from?" I asked. "I thought you were ahead of me."
"I was until I had to take a bathroom break, you passed me right outside of the aid station."
And then she was gone.
Wow. What a strong rider. I'm usually the one doing the passing on Columbine, and Sarah passed me like I was standing still.
At the first hard right turn of the climb, I pulled alongside Lindsey. I told her she was doing awesome and reminded her not to slack off when the trail eases off.
Boy, I am awful — like a slave driver or — even worse — a motivational speaker. Someone needs to tell me to shut up. "How have I turned into this person?" I wonder to myself.
Having pre-ridden Columbine twice in the last week really helped me mentally as I climbed. The climb just doesn't seem to be as intimidating as it once was. I knew the distances between the switchbacks and I felt like I was doing well.
In retrospect, however, Strava tells me a different story. I was slowly losing time on the climb. My perceived effort was that I was going strong, but I was slacking (maybe that is why I felt so good). On the lower section of the climb, I ended up losing about 4 minutes over my time last year.
As I approached the goat trail section, I rode as far up as I could, then dismounted and began to walk. With each step my frustration level was growing.
I was exhausted.
I had ridden this same trail twice this week and now I was walking.
I was not only walking, but I was walking slow.
I went by Ken Chlouber, the founder of the Leadville 100; he was yelling encouragement and warnings to riders going up and down the mountain.
"Looking good Lisa," he said.
But I knew I didn't look good. In fact, I couldn't even look up at him. I was pushing my bike and I was cooked. "Thanks," I managed to mumble.
The conga line up Columbine didn't seem to be in any hurry to move up this mountain. On and off the bike. Walking was misery. We were moving like snails. I felt great when I was riding, but it was always short- lived and I'd have to get off the bike again.
I was on the constant lookout for Elden. In fact, I had a preconceived idea of where he should pass me if he was on his sub-8 pace…and like clockwork, he appeared. I could see him coming from a ways away. I started screaming his name. He looked fantastic! It was the highlight of my climb.
And then it was back to pushing.
The stream of riders coming down the trail was increasing as we continued our march up. It was very difficult to pass anyone while walking.
I kept looking at my Garmin. It read 4:24. My heart sank when I saw that time; that was when I had hit the turnaround with Reba last year. This year, I still had at least a mile and a half to the turnaround. I was frustrated with the group's progress and before I could stop myself…I was yelling.
Yes, I was yelling at the riders in front of me.
"We need to pick up this pace if we are going to make nine hours!"
A few riders turned and glared at me, but I do think they picked up the pace. We were soon back on the bike for the last rollers to the turnaround.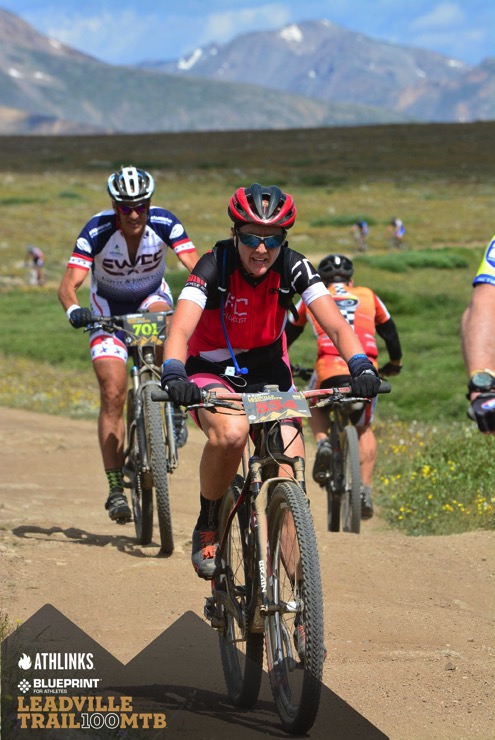 I was really surprised to see Ben (Lindsey's husband), just ahead of me. I crossed the aid station in 4:40 — sixteen minutes off last year and barely — barely — with a prayer of a sub-nine finish.
I would need to do a negative split, in a big way.
Columbine to Twin Lakes
I almost caught Ben on the quick climb out the aid station, but once the trail turned down he and the group he was with were gone. There was nobody in sight ahead of me.
I hate that. It means I'm holding up traffic.
I hate to say it, but I never once turned around during the whole descent. A few riders did pass me, but they were super cool and yelled it out as they approached. I kept it within my comfort zone and cruised down the trail. This year I didn't have Reba reminding me to "let up on the brakes" and "roll through it." I really did miss her.
The voice of Reba was replaced this year by my very vocal bike. I'm not sure what was happening with my bike, but my brakes definitely had a thing or two to say to me. They were screaming very loudly. It wasn't just the normal squeal that brakes make on occasion, either. This was a horrible sound like my rotors were about to combust. I have never heard them scream like this before.
I actually had people in the conga line coming up the hill yelling at me to "let up on the brakes." How embarrassing.
I crossed paths with Lindsey—she still had about a mile to the top. I think the altitude was taking its toll; I felt for her. I think coming up a week early really does help. I think altitude is why I was also slowly reeling in Ben.
The riders coming up Columbine were super supportive; I heard my name yelled out many times. I was concentrating so hard that I rarely was able to look up to see who was yelling to me. I did take Elden's advice and yelled words of encouragement to the riders whenever I could as I was descending.
As the road opens up, the squealing of my brakes was horrendous. I think I descended faster than usual on the lower part because I couldn't stand the noise and I was scared my front wheel would burst into flames if I used the brakes any more!
At the bottom of the descent I passed a gal who was down on the ground. There was another rider with her and people directing us to go around. Wow. Stuff like that puts racing into perspective. It's better that I go a little slower and stay in control. I would hate to have my race cut short because of an accident/injury.
I was happy to find that I was relaxed and calm as I finished my Columbine descent: much different from last year when I was hyperventilating and a tense ball of nerves. But Strava shows that I was about three minutes slower on the descent to the aid station.
Was it worth it to ride comfortably down?