I'd like to tell you a little story about a young man I once met. His name was Yann. Well, his name is still  Yann, but really, that's not the point. The point is, he and I met at a LiveStrong event, where I admired this somewhat-overweight young man's pluck for finishing a century ride, even though it depleted him so badly he had to be carted off to the hospital.
I am not exaggerating, nor am I making this up. Here he is, on his way to the hospital: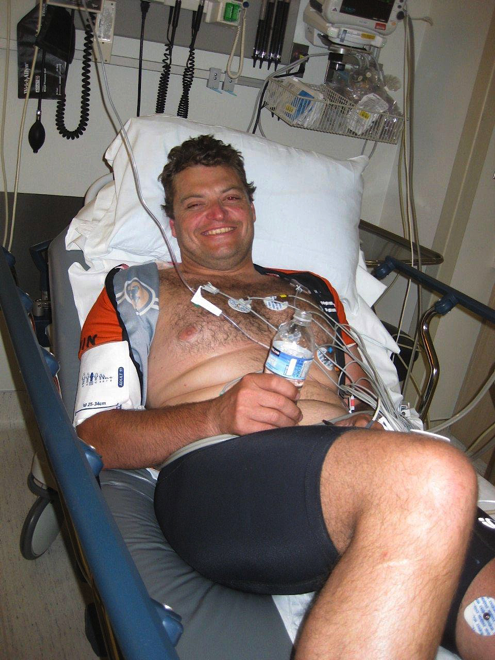 Since then, Yann has transformed himself. In a huge way. More to the point, he's transformed himself into a not-huge person. Even more to the point, now he's downright thin. Here he is, right before the start of the Rockwell Relay this year: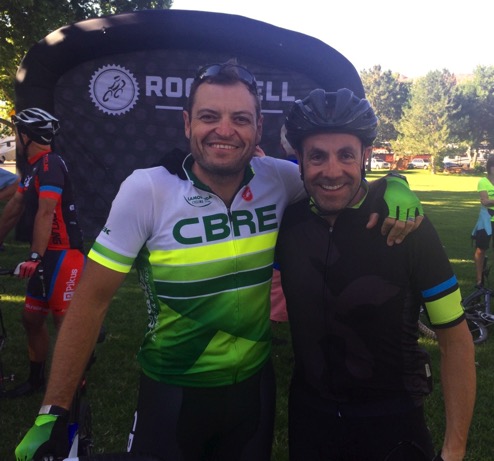 And here's another picture of us, after I told him we should get a photo of us with our game faces on: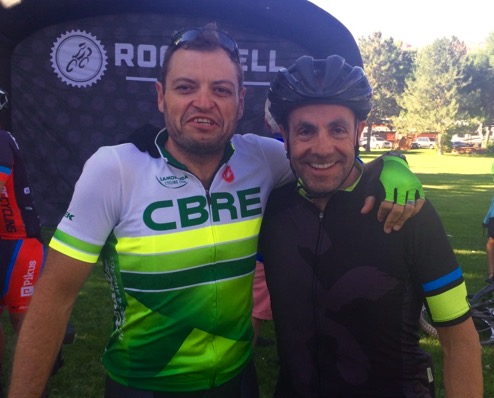 I can't believe he bought into that old trick.
So why am I telling the story of Yann's transformation here? Because at the end of my first installment of this race report I mentioned that I had a trick up my sleeve.
Yann — and in fact, his entire team, "What Were We Thinking, Part Quattre" — was that trick.
Yann has become a cycling monster. He, more than I ever have, has become the poster boy for how a committed person can become whatever kind of cyclist you want to become.
Yann is now, in short, freakishly strong, and freakishly fast. And he and I have been trading email during the weeks before the race. Which is a fact I'm pretty confident the folks in Teams V05R had missed as they conducted their oppo research.
If it turned out that three people from Teams ZIZRS attacked a solo rider from Team Fatty, they might find out that solo rider wasn't so solo after all. 
I had given Yann — and each member of his team — one of the super-new, super-secret, super-rare (only twenty exist in the world) FatCyclist jerseys…but I had asked him not to wear it on the first leg. No point in tipping our hand.
Sneakily, we didn't even stand quite together in the starting area.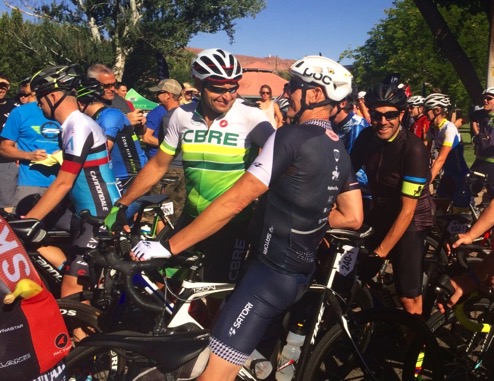 There was no contract, no bond that we'd stay together no matter what. Just a friendly agreement. Just in case, you know.
As it turns out, however, all this skullduggery wouldn't matter in the slightest.
Or would it?
Let's Go
I had good reason to want the possibility of some help in that first leg, because I knew that Team ZIZRS would be deploying three very strong riders against me: Marci, Mary, and Billy (OK, actually I didn't know about Billy being in leg 1; I can't hold that much information in my head at once), each of which had proven to be an incredibly strong adversary in 2015.
I had my doubts about whether I could hold my own against that power trio, especially Marci, who is a remarkable climber. Still, from what I understood, these three teams were bound together by their vehicle strategy, if no other way, which meant that they weren't going any faster than the slowest of the three.
Was I faster than their slowest rider this year? I wasn't sure, to be honest. But I was going to find out soon.
The gun went off, and — for once — I stayed with the group, restraining myself in spite of the huge surge of adrenaline I was experiencing. I would stay in the back of the lead group.
Yann and I got to within a couple bikes of each other, still not necessarily or obviously riding together, but within reach in case the RVRS teams did something heroic, like a three-person breakaway.
OK, I admit it: I really wanted them to try that, so Yann and I could play our hand.
But…that didn't happen.
Anticlimactic
I started the race marking Marci and Mary, but before too long, they drifted back toward the back of the lead pack. Billy, however, stayed near the front, even when the group started winnowing down.
"Hm," I thought to myself, "It looks like the men's team isn't attached to the coed teams after all."
Then I found out why Mary and Marci had disappeared. Billy said, "It's you're lucky day; Mary and Marci have been having all kinds of mechanicals."
"That's not good luck for me," I said. "We can beat them on the bike. We don't wish mechanicals on anyone."
Billy didn't say, "Sheesh, I was only joking," but he probably should have. The thing is, though, I wanted a straight-up competition, with no mechanicals or excuses. Because while I was 
Shortly after that, Billy disappeared. I didn't know it at the time, but it was to wait for Mary and Marci and then work with them. 
Thanks to an unlucky pair of flats, the Z5R teams (yeah, I was bound eventually to use the correct combination of letters and numbers) had lost fifteen minutes to us within the first hour of the race.
That said, that fifteen minute gap was still the closest they'd ever be to us this year. Apart from at exchanges, we'd never see them during the race this year. 
Which is not to say that we wouldn't have competition. It was just going to come from a different team this year. 
As I was about to find out.  
Which seems like a good place for us to pick up in the next installment of this story (Monday).
PS: OK, I'd be writing more in this post, but my flight's about to take off, and I won't have internet during this seven-hour flight. I figure it's better to post this much now than nothing at all.