Suppose, if you will, that I were going to, for some reason or other, start a circus. I would not call that circus a zoo, because it's not a zoo. If I were to call my circus a zoo, well…that would be misleading and would probably really disappoint the people who were hoping to see a real live woolly mammoth at a zoo.
Sure, they'd be disappointed even if I had started a zoo and called it a zoo, because my zoo wouldn't have the woolly mammoth they were hoping for. I don't think you could reasonably call their disappointment my fault, though. Unless I happened to name my Zoo the "Actual Live Woolly Mammoth on Premises Zoo." Which is something I probably would be prone to do, if I'm being honest with myself. So I guess it's a good thing I have no plans to open a zoo. Nor a circus.
Also, I no longer have any idea what my original point was when I started this argument. 
No, wait. Now I remember. You shouldn't give something a name that leads people to believe it's something it's not.
Which is a real shaggy dog approach (within this shaggy dog of a race report) to me saying that The Hammer and I reached the Carter's Summit mini-aid station, and then kept on climbing.
Which means Carter's Summit is no summit at all. So it should be called Carter's "Hey You're Pretty Close to the Summit" aid station. Or something like that, but maybe a little more concise and catchy.
Just a thought.
Big Pitch, Last Descent
I think both The Hammer and I were feeling elated at this point. Energized and excited about the fact that somehow, she had turned it around. Somehow, she had gone from maybe not even finishing as fast as her previous SS best to likely being twenty minutes faster.
The Hammer rides a strong second half. 
A little more climbing, a quick descent, a sharp turn, and one grunt of a steep pitch — one that most people, exhausted by what this race has done to them — walk.
We both rode it. Cleaned it. Crushed it.
We took our time descending St. Kevins. Not lollygagging. No. But not pushing it, either. In the nineteen times I've done this race, I've seen well over a dozen people flatted or crashed out on this "easy" descent. 
I got to the bottom a little before The Hammer, made the right turn onto the dirt road that leads to the pavement connecting to the last climb of the day, The Boulevard.
Everyone Knows It's…
I coasted, waiting for The Hammer to catch me. Then I stopped and put a foot down, wondering why she hadn't caught me yet. 
The Hammer flew by, yelling, "Can you feel this incredible tailwind?" 
I hadn't thought about it. But she was right. When we had turned onto the dirt road, this ordinarily flat part of the trail had felt distinctly…downhill. 
Now that I thought about it, this wasn't just a tailwind, it was a strong tailwind. A perfect tailwind. At the perfect place in the race.
I sat up straight and flung my arms out, making myself into as big of a sail as possible. No need to pedal, this wind was more powerful than we could spin a singlespeed gear.
"What if," The Hammer said, "we had a wind like this, but in our faces?"
It was a sobering thought. 
"I think," I replied, "that we'd have to say goodbye to that record you've been chasing."
We had been so lucky during this race. It had never really gotten hot during the day, and wind hadn't been a real factor — until now, when it was suddenly going to be a huge factor in our favor.
I thought another moment, then said, "The way things are, though, I think it might be time for us to start thinking about a new best-case finish time."
Our Finish
Somehow, the tailwind stayed a tailwind, even as we made the final few turns. Like it was intent on fiercely blowing us into town. Along the dirt, up the pavement, and even up the Boulevard.
Side by side. up the road, cresting it…and there it was: the red carpet. 
My nineteenth finish, but the first time I'd ridden this race with someone. My best finish. My most meaningful finish.
"I am so incredibly proud of you," I said. "I love you so much."
Out of the crowd, Couch and Car joined us, running behind us as The Hammer and I crossed the line, hands clasped.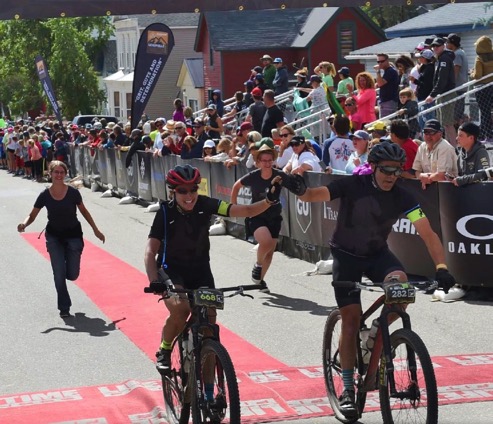 We each kept a hand on a grip, because neither of us are dared ride no-handed that close to another rider.
My only regret for the entirety of this race is that the twins jumped in after we had ridden by them; we never knew they were with us 'til we had crossed the line. Honest, girls, we would have slowed up for you.
9:26:19. A new women's singlespeed record (by almost exactly twenty-five minutes)…which had been, of course, also set by the current women's singlespeed record holder. 
Hugs and photos and laughing. Usually This had been the best finish in the best race I had ever done. Having my twins and wife with me here: incredible.
But there was one family member missing from this group: The Monster.
Now our wait for her would begin.
Return of The Monster
As The Hammer and I cooled down, David Houston came up to us. I was happy to see him — David is one of those genuinely nice people who loves to do things for others — but also sad: the last time we had seen him, he was riding up Columbine. This meant he hadn't finished. Next time. 
Meanwhile, in spite of the fact that he had ridden sixty miles with around 6000 feet of climbing and therefore had the right to feel plenty tired himself, David bustled around, taking our bikes from us so we didn't have to worry about them. Taking photos. Giving me the hat off his head I wouldn't burn.
Then The Hammer and I went back into the finishers' area and began staring down the finishing stretch. Watching for The Monster's blue bike, blue kit and blue shoes, and her very distinctive riding style. 
Twenty minutes goes by — the amount of time we had heard The Monster was behind us at Twin Lakes.
Thirty minutes goes by. The Hammer begins to get nervous. "I hope she's OK."
Thirty five minutes goes by. I'm also beginning to get nervous. People I know are crossing the finish line, and I'm giving them only perfunctory congratulations. I hope they understand. 
Christina Ross — The Hammer's competition on the singlespeed — comes in with a finish time of 10:00:01. How awesome, to have a palindrome for a finish time. (Better than a palindrome, really, because you could turn it upside down or look at it in a mirror and it would still be the same.)
"I should go congratulate Christina," The Hammer says. But she can't tear her eyes away from the finish line. And to be honest, I can't either. (And for what it's worth, Christina has about thirty people crowd around her when she finishes anyway.)
Forty minutes goes by. I'm worried now. I know that The Monster tends to just let the downhills fly, and that she crashes a lot. And there are a couple of big descents in the final twenty miles of the race.
Without saying anything to The Hammer — saying the opposite, in fact — I am becoming certain that The Monster has crashed, or at least flatted and was at that moment learning how to change a flat tire.
Then, at 10:12 — fourteen minutes less than an hour after The Hammer finished, for those of you keeping track of their contest — The Monster rolled in (alongside DB, another great Friend of Fatty).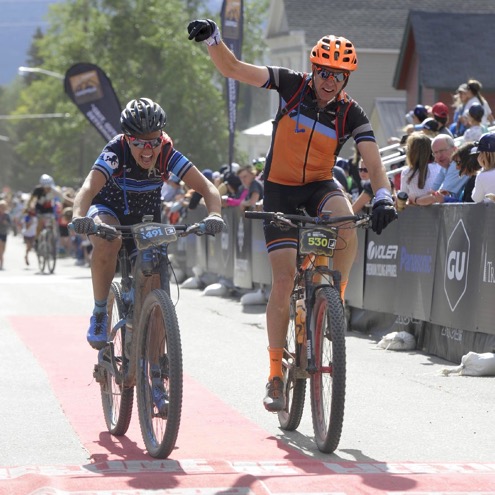 The Hammer grabbed her in a great big hug, and The Monster began to cry.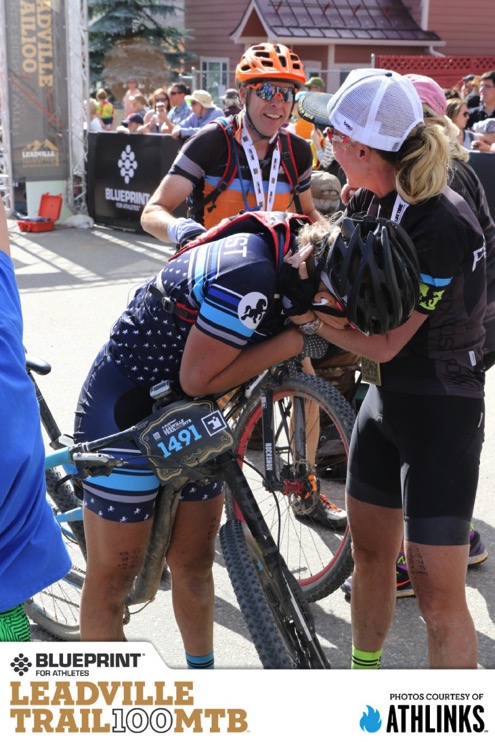 And cry and cry and cry and cry. Big huge sobs. Not because of pain, but just because. This race does that to a lot of people.
"I can't lift my legs over my bike," The Monster said. 
"Give me the handlebars and I'm going to lay the bike down," I replied, and The Monster stepped over. I couldn't help but laugh: I had done the exact same thing for her mother the first time she had finished the Leadville 100, sixteen years earlier.
I looked over at The Hammer. She had noticed.
Awards
The next morning, we went to the awards ceremony. The Hammer, of course, had won the women's SS division: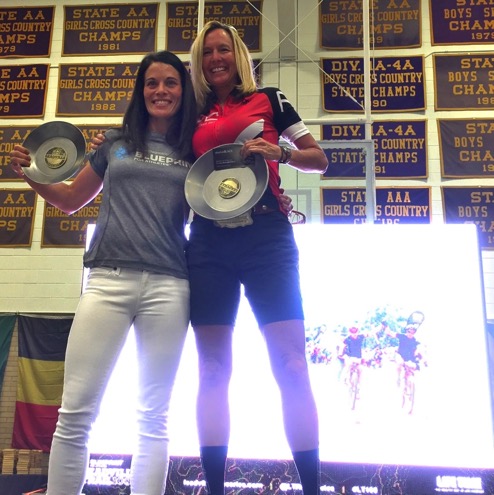 The Monster took second in her age group: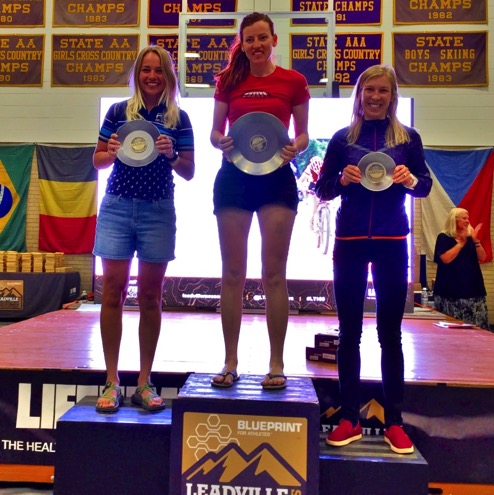 And they both were (and are) just straight-up amazing competitors — both as proud of each other as I am of both of them.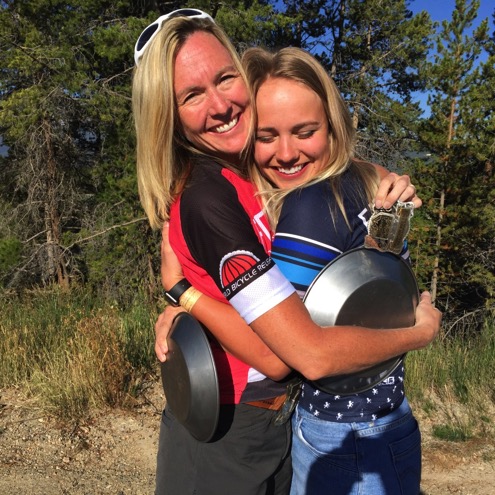 And I'm pretty sure that's about as happily-ever-after of a finish as a race report could ever be.
PS: I haven't included much of The Monster's story, because it's hers to tell. 
PPS: Many of you have wondered about the 2016 100 Miles of Nowhere. Details will be coming for it next week.