A Note from Fatty: The Hammer is racing the Ogden Marathon tomorrow. If you'd like to track her progress, you can do so by going to the Race My Race site, choosing Live Tracking, Add Racer, and entering bib# 11001. The race starts tomorrow (Saturday) at 7:00am MT.
I am just a man
Not unlike yourself
Save that I am more popular
And award-winning
And beloved 
And also
If you are a woman
I am unlike you
In that way 
As well
But I digress!
For my point is
I — like you –
Have things
I must do
Like a day job
For example
And betimes
That job calls me
To far-off places
Such as Connecticut
For example
I won't have time
To ride Or write
Or anything else
Really
Such is my state
That I am reduced
To bringing
Running shoes
(Running shoes!)
In the hope
That I shall have time
To exercise
Daily
And so I leave you
With this poem
To contemplate
And comment upon
While I am away
For a week 
(And it must be said:
Davidh-marin,ca
You are restricted
To three comments
Per day
At most
It is time for you
To admit
You have a problem) 
Do not forget me
I beg you.
Just pity me
For I leave this
– My new bike –
Having had Scarcely three rides
– Three glorious rides –
Behind
How shall I sleep?
Thank you.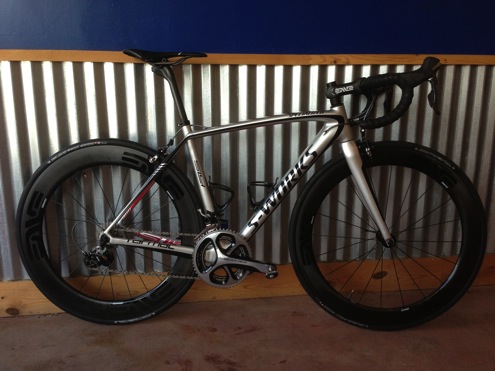 PS (for those who, like me, care deeply about this kind of thing): Specialized S-Works Tarmac SL4 frameset (Including S-Works seat post): 52cm; Shimano Dura Ace 9000 mechanical components (cranks, brakes, derailleurs, 11-25 cassette, shifters); ENVE Composites SES 6.7 Clincher wheels, 100mm stem, 42cm Compact Road Bar, Selle Italia SLR saddle, Speedplay X-series pedals
PPS: Full disclosure: linked items above sold at discount or comped.