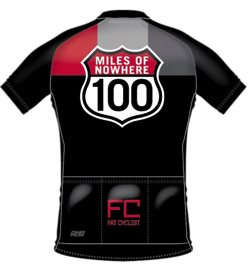 A Note from Fatty: If you were one of the people disappointed that you couldn't sign up for the 100 Miles of Nowhere because finances would be an issue 'til October 1…well, I trusted you were serious and over-ordered swag so you'd be able to sign up when October 1 rolled around.
And now it's October 1. Please click here to register, and thank you for supporting Camp Kesem by riding the 100 Miles of Nowhere!
A Note About This Multi-Parter: This is part 2 in The Hammer's two-part Lotoja race report. You can find part one by clicking here.
Salt River Pass and the Queen of the Mountain
Before I knew it, we had caught Lindsey. As we went by, I hoped she'd catch onto the train and we'd regroup at the top of this climb; there was a neutral aid station there. I knew I would have to stop at the top at the aid station: I had only a swallow of Gatorade and a swallow of water left in my bottles.
The day had heated up; I finished off the last of my water and Gatorade. Ellie kindly and offered me some of hers, but I told her I thought I could make it to the top.
We then passed the flags indicating the start of the queen/king of the mountain segment. Lotoja sets aside this one climb and records each rider's time. I think a prize is given to the queen and king of the segment. As we started up the climb, Ellie said she would see me at the top. "You're riding really strong and I don't think I can keep up," she said.
I reassured her we would ride the backside together once we restocked our water bottles at the top.
I could see that the lead group had now fragmented. Marci was so far ahead, she was just a speck on the horizon, but the rest of the women were now in reach. Three were together in group…and one of them was Mary, the rider that Elden chased at Rockwell Relay!
"Hey Mary, looking strong! And it's so good to see you again!" I said as I caught her. Mary said hi back to me. It really was fun to be riding with all of these strong riders I admire.
Next I caught a girl in a blue jersey, a woman I didn't know.
"Hey, how's it going?" I asked.
"Blue Jersey" (as I thought of her during the race) looked up at me, said, "Fine,"…and then took off. I would spend the next five hours riding with this girl, but that was the only word she said to me.
I guess she was taking this race very seriously.
Blue Jersey pulled ahead about fifty meters…and then stayed that far ahead. I wasn't able to close the gap, but she wasn't able to extend her lead, either.
It wasn't long before I could see the flags indicating the top of the QOM climb; I had made it. I was going over the top, in third place!
Woohoo for me!
…And then Ellie shot around me, gapping me by about twenty yards and beating me to the top. I need to stop being overconfident — there are a lot of sneaky people in this sport!
Star Valley
Six of us women gathered and refueled at the top; Marci had already started the descent. I wasn't too worried about her, to be honest, though: A seventy-pound little wisp of a woman doesn't stand a chance when soloing into a headwind. I was pretty confident we would catch her, and meanwhile she would make a great carrot.
I was anxious to get moving; my adrenaline was flowing. Ellie and I had done it: we had caught the lead racers before Star Valley.
I took the lead on the descent, and something amazing came over me. I honestly felt no fear. My Strava of the day shows a top speed of over 53mph. I have the fastest time of any woman on this descent at Lotoja this year. I have to brag about this because normally I am a horrible descender — at least I am at mountain biking: I spend most of my mountain bike races making up for the time I lose on the descents. 
Not descending on the road, though, not during Lotoja. I'm beginning to think I picked the wrong sport to be racing in!
I was giddy as I pulled into the Afton aid station. I picked out the green and yellow balloons Blake had bought and pulled to a stop by my crew. 
"Elden, I caught them!" I told my husband as he and Blake took care of me. "I caught the lead group of women! I'm not sure where Lindsey is. She was looking pretty hammered on the last climb, but hopefully it won't be long before you see her!"
Blake and Elden took good care of me. I downed a cold Coke, reloaded my pockets with GU, swallowed four more Roctane Electrolyte Capsules, and I was off.
All seven of us (yes, we had caught Marci) pulled out of the aid station together. For the next 33 miles and 1 ½ hours we formed a magnificent train. We would pull for approximately .5 miles and then drift to the back of the pack.
While we were riding, I thought a little about what an interesting sport road racing is. You can be the strongest person in a group, but if you don't race smart, you'll lose. It doesn't matter how fast you can go, you still only go as fast as the train.
I would pull for a few minutes and then spend almost 10 minutes coasting. In mountain biking this doesn't happen, in triathlon this doesn't happen. In running this doesn't happen!
I'm really reconsidering my choice of sports!
As we rode through Star Valley, I was reminded of when I was a kid. My dad was born and raised in Star Valley and I spent many family reunions right there. Star Valley has not changed much — the towns are small and the farmlands are immense.
And the wind is forever in your face.
Riding in a train, though, the wind was very tolerable. In fact, I hardly noticed it at all. The rumble strips, though, are brutal. They start and stop without warning and shake you enough that you could possibly lose all the fillings in your teeth!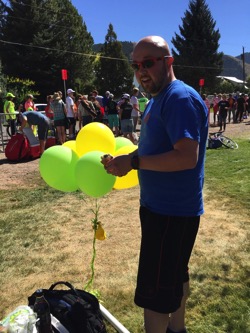 The Beginning of the End
The Bright yellow and green balloons were an excellent idea. I had no problem picking out my crew as I arrived at the Alpine aid station at mile 156.
Blake and Elden took excellent care of me again. My cold Coke was waiting (I'm a simple woman with simple needs). Elden said Lindsey's day was not turning out the way we had anticipated.She'd had a flat tire, but had changed it and was progressing on.
This was bad-but-good news: I had heard through the motorcycle that Lindsey had dropped out. I was glad to hear that she was pushing on!
I left the aid station behind Mary. I was surprised to see that she didn't stop and wait. She just rode away from the aid station. I eventually caught her. She seemed mad, saying Marci had left the aid station and was now way ahead. Mary thought she could see Marci's jersey a quarter of a mile up the road.
I thought that this was odd. Would Marci just leave us at the aid station? Well, they had left Chelsea earlier…. What do I know about road racing and its etiquette anyway? Not much, to be honest, so if Mary thought it was so I figured it could be. So together we pedaled on faster and faster, trying to catch Marci.
And then, a few minutes later, we were caught by a train of very angry ladies…led by Marci. She hadn't left the aid station early! Mary and I had been chasing a phantom. Ooops.
Podiums For All
All back together again, we rode up Snake river canyon, taking stock of our situation. There were three Cat 1/2/3 riders in our group. There were three Cat 4 riders, and Ellie was in the Masters 35+ category.
The motorcycle was now our constant companion. He informed us that there were no other women groups in the vicinity. We were the lead group of women and we would be crossing the line together.
That did it: there was no doubt. We would each be on the podium tomorrow, in our respective categories. There was no reason to not work together now, at least 'til the very end.
I think we all took a collective sigh of relief and then somebody asked for a neutral pee. Ohhh..how I love neutral pee's. This was going to make the final fifty miles a lot more pleasant!
Snake River Canyon
Snake River Canyon is beautiful. I was really glad to be leaving the monotony of the rumble strips of Star Valley and climbing back into the mountains. I was happy: I was well-caffeinated, well-fueled, had an empty bladder, and I was riding my bike in a beautiful canyon with the lead women in an epic race.
It doesn't get much better than that.
I couldn't contain myself and frequently blurted out comments, like, "This is the most beautiful canyon!"
Or, "Look at that huge bird soaring over our heads!"
And, "Look, the leaves are starting to change colors!"
"Isn't the water in the river the prettiest blue you have ever seen?"
"Wow, one of you guys smells really good…I keep getting a whiff of something and it smells gooood!"
No one ever replied. Maybe they weren't as happy as me. Maybe they think I'm a little coo-coo!
The "Bonk" 
All good things come to an end, and eventually Snake River Canyon ended. We were now faced with about twenty-five miles to the finish line.
And that's when things fell apart for me.
Out of nowhere and all at once, a stiff headwind started, the caffeine left my system, I became hungry, and everything on my body hurt. When I started expressing my complaints out loud, this time I was answered…with similar complaints!
Everywhere my body was in contact with my bike, that contact point was screaming in pain: my butt, my feet, my hands! Someone said they couldn't think of a body part that didn't hurt!.I would agree: even my eyeballs had salt in them.
At about mile 190, we passed a makeshift aid station with volunteers handing out water and Coke. I gratefully snagged a bottle of Coke only to find it wasn't opened. I fiddled with it for a minute and popped the lid off. I was greeted with a not-so-small geyser of Coke!
I was drenched.
Coke was all over my face, my hands, my legs, and my bike. Because it was hot outside, the fluid evaporated quickly and I was now a sticky mess. My hands were essentially glued to my handlebars for the remainder of the race.
But it was worth it.
The benefit of the Coke was almost instantaneous; I forgot about my body aches and pains, and I was ready to fly to the finish. It's amazing what caffeine can do to the body and mind.
The Finish
We were on the home stretch; we could smell the barn. I looked around at the other six riders in the group. I knew it was going to come down to a sprint finish (I've seen the Tour de France). I also knew that I would never win a sprint. In fact, I expected I would be the seventh one across the line — and I was okay with that. I felt great and I had made six new friends; I had had a fantastic day.
We passed the "5K to go" marker. Then the 4K marker. Ellie made a move. She shot from the back of the pack and rode by everyone. There was a slight acceleration by the group…and then it faded. Ellie was riding away. There was now a significant gap between our pack and Ellie.
Why were they letting her go? Why was I letting her go?
Racer and I had had a conversation just a few days ago about this exact scenario (though when we discussed it, I was the one who'd have been attacking the field at this point). Racer had suggested I go for it a ways from the finish line — put a gap between myself and the group. For a non-sprinter like me, that would be the only way to win.
Now it looked as if Ellie was heeding Racer's advice…and it might just give her a win!
Before I knew what I was doing, I was accelerating past the rest of the group, chasing Ellie down. But I wasn't as fortunate as Ellie; the train started chasing me! They weren't going to let two of us get away.
My heartbeat must have been well over 200, and I was sure I was going to vomit! I had just about caught Ellie…but doing that had cost me everything. I was dead!
The train swung around me and I was spat out the back end. I had tried, and I had failed.
But I didn't care. Yes, I was seventh woman across the line, just as I had expected. But I had at least tried, and I was proud of that. I was proud of my performance for the day and I had felt great as one of the riders in the lead women's group at Lotoja.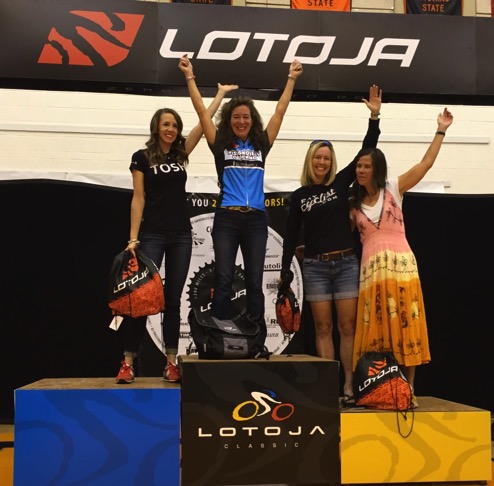 A Note About the Photo from Fatty: The woman standing on the second-place podium didn't place second. She took fourth and should actually be standing on the floor (second place isn't in the photo). The woman standing by the Hammer on the third-place podium took fifth and should also be standing on the floor.
Afterward
When I crossed the finish line, Blake was there to give me a hug, although he had to help me unstick myself from my bike before I could return that hug.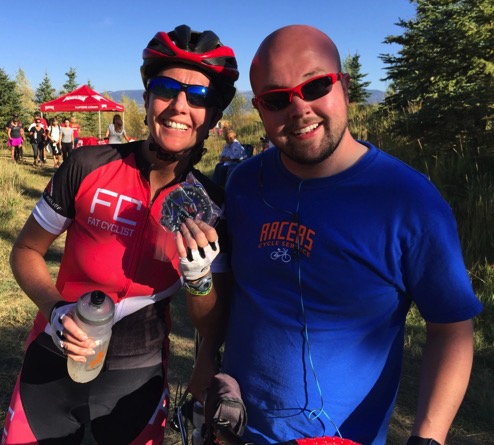 I was a little confused as to where Elden was, but Blake explained Elden was helping Lindsey out! Her ride had seemed to go from bad to worse, with a second flat and a bad stomach, not to mention having to do a lot of the second half of the race by herself. Even with all that, she still ended up finishing faster than I did my first time doing Lotoja.