A Note from Fatty About This Contest's Timing: In the contest I describe below, I'm very probably giving away two very nice road bikes and a very plush trip to Austin. Here's the thing: this contest ends at the beginning of the day this Tuesday. And since traffic's always low on this site Friday – Sunday, and Monday's a holiday, today is really the main and only day anyone's going to see or enter this contest. That's not very long.
Which means I honestly don't think as many people are going to enter this contest as usual.
And there are possibly three grand prizes I'll be giving away.
So you do the math: a contest that won't have as many people entering as usual, with three times as many big prizes as usual. Is it possible, then, that your chances with this contest are better than usual?
I kinda think so.
So maybe — just maybe – this might be a good contest for you to enter. You know, maybe just $5 or $10 or $25 or so.
At the very least, you'll have helped LiveStrong in their mission to fight cancer. And it's possible — perhaps more possible than usual — that you'll win something really cool. So please: go donate now.
The Davis LiveStrong Challenge is soon. Really soon. As in, a week from Friday we'll be hanging out at the Cycling Hall of Fame (RSVP if you haven't already: please email me with the subject line "Hall of Fame" with how many total will be in your party!).
And then a week from Sunday, we'll be riding together. And those of you who will be there will get an opportunity to see whether you can hang with The Hammer. (Good luck with that!)
I love these LiveStrong Challenges. They're an awesome time to get together and celebrate the good work we've done in the fight against cancer so far this year.
And because we have in fact done some really good work (Team Fatty – Davis has raised nearly $88,000 so far!), I'm hoping I'm going to be able to give away some really cool stuff this next Tuesday.
But I'm going to need you to help me out in order for me to be able to give away everything I want to.
Team Fatty and the Implications of the Coveted Fundraising Awards Sweep
Take a moment and look at the Fundraising Award categories for the LiveStrong Davis Challenge: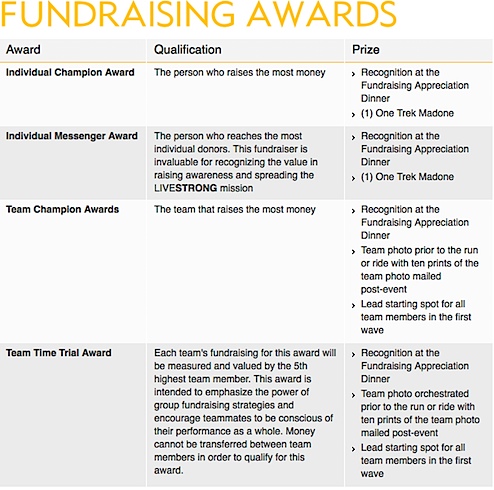 There are, as you can see, four fundraising awards. And you know what's cool? Team Fatty is in the running for all four of them. Yes, it's entirely possible (but by no means guaranteed) that we will win the Individual Champion Award, the Individual Messenger Award, the Team Champion Award, and the Team Time Trial Award.
We could totally sweep this thing. The competitive part of me loves this.
Why Our Award (Or Lack Thereof) Status Should Matter to You
Now, you may (or may not) have noticed that for both the Individual Champion and Individual Messenger awards, the winner gets a Trek Madone. Specifically, a Madone 5.2, like this: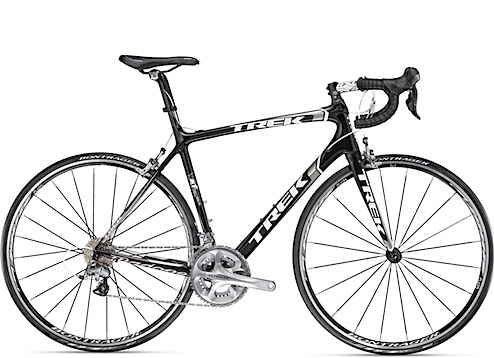 That right there is a fine bicycle. A very fine (MSRP $3249) bicycle indeed. With a 5 Series TCT Carbon frame, a Shimano Ultegra drivetrain and Brake setup, as well as Bontrager Race wheels, that is not just a beautiful bike (and make no mistake, that is a beautiful bike), that is a well-equipped bike.
And right now, I'm pretty sure that I'm the frontrunner to win two of them.
The thing is, I'd feel weird getting a bike (and doubly weird getting two bikes) because so many of you have been so generous in donating money in the fight against cancer.
So how about this, instead.
If I win either (or both) of these bikes, I'm going to do a drawing and give it (or both of them) away to a person (or people) who donates to my LiveStrong Challenge page between now and Tuesday July 5, at 9:00am Central Time.
Let me be clear on this: In order for me to be able to give these bikes away, I need to be the guy in the Davis LiveStrong Challenge who raises the most money, and be the guy in the Davis LiveStrong Challenge who has the most individual people donate.
I'll go into details on the rules, but if you already know how this works, you might want to go to my LiveStrong Challenge Page and donate now.
To wrap up and restate and recap and all that: If I win a bike, I'm giving it away to someone who donates to my LiveStrong Challenge between now and July 5, 9am CT. If I win both bikes, I'm giving them both away.
Or Hey, Maybe You'll Win a Trip Instead
For the past two years, I've gotten to be a part of the amazingly awesome Ride for the Roses in Austin, TX. This year, though, I want to share the experience with one of you. And since my fundraising has already past the "yellow jersey" level (the highest level there is), I get to give away this "Yellow Jersey" trip to someone.
What does that include? Check it out: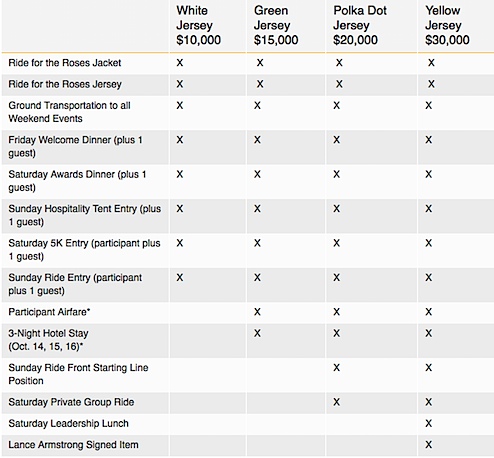 That's a lotta schwag. So much, in fact, that it's worth calling out the big-ticket items in case you missed them:
Participant airfare
3-night hotel stay
Sunday ride front starting line position
Sunday Hospitality tent entry (that's the VIP tent)
It's a pretty deluxe way to enjoy the Ride for the Roses weekend. And do win it, you've got to be the person I randomly selected who donates to my LIveStrong Challenge between now and July 5 at 9am CT.
How It Works
To participate in this contest, just go to my LiveStrong Challenge page and donate any multiple of $5.00. For each $5.00 you donate, you will be given a row in my contest spreadsheet. You must donate between now and Tuesday, July 5, at 9:00am CT.
Once I have heard from LiveStrong whether I have won any (or both) Madones, I will go to random.org and generate three random numbers between 1 and the number of rows in my spreadsheet (inclusive, natch). The order the winning numbers will be assigned to prizes is:
Yellow Jersey Trip
Madone (if I win one)
2nd Madone (if I win two)
I will immediately notify the winner(s) by email. However, because it's become nearly freaking impossible to notify someone by email that they've genuinely won something, the subject line will be something innocuous (like, "Followup to the 6/29 FatCyclist.com blog post"), and the message will tell you that I need to talk with you, and will include my phone number so you can call me back.
So watch for that, OK?
Stipulations and Stuff
The contest starts now, ends at July 5, 9am CT
Make sure when you donate, you use an email address that you actually check, for crying out loud.
Donations made for prior contests don't apply toward this contest.
You have to promise to keep and ride this bike, or at least to give it away to someone who will keep it, love it, and ride it. No re-prizing or ebaying (even though that's what I'm doing, but I got special permission from LiveStrong)
Contest only available to residents of the U.S. Sorry, international readers! I swear I'll do a contest soon that you can participate in!
Winning one of the prizes does not exclude you from winning one of the other prizes (if there is more than one prize). It's not probable, but it's not impossible.
If you have questions, post them in comments; I'll do my best to answer them either inline, or to edit this post to contain the answer.
Thanks for playing; I'm excited to find out who wins!