A Spoiler Warning from Fatty: As you know, I'm a big fan of the Paceline Podcast. I'm afraid, however, that in the current episode — the one that just came out today — I'm a complete blabbermouth. I tell not only how the race ended for us, but go into deep detail on the major event I will be describing over the next few episodes in this blog. So if spoilers are a problem for you, allow me to recommend you hold off on listening to this episode 'til I finish this multi-parter.
Ben is my niece's husband. Which makes him…my nephew-in-law, I think? 
Yeah, let's go with nephew-in-law. 
Ben is very mellow and easy to get along with. Here he is, in the back of the van, completely chill and mellow and not even remotely freaked out that it's his turn to ride next.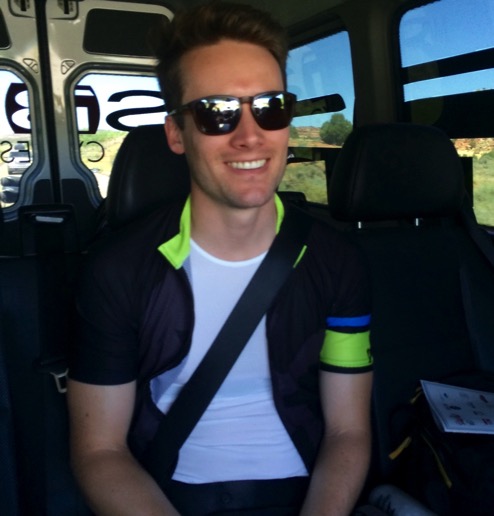 See what I mean? Completely chill. In fact, during the entire race, I never saw Ben get out of sorts or flustered. Including during a moment when fluster was 100% called-for.
I would like to point out that in addition to being mellow and easy to get along with, Ben is fast. As in, really he should have been racing leg 1 because I'm pretty darned positive that he's faster than I am. This hasn't always been true, but it definitely is now.
So perhaps it's not too big of a surprise that by the time we had loaded Lindsey and her bike into the van and caught up with Ben to do our first checkup on him — see if he needed any water or anything — he and the 50+ team had already caught another rider.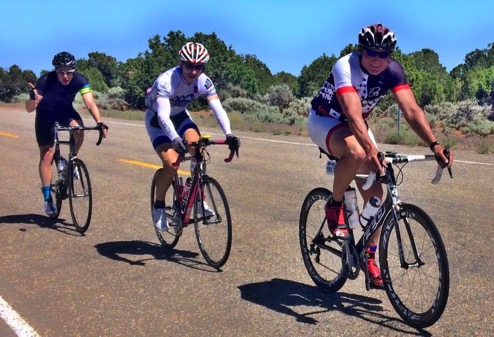 But this wasn't just any other rider. This was Farrell S, "The Beast" of the "Beauties and the Beasts" team. (Check out the arms and legs on the guy in front and you'll get a pretty good sense for why he's called "The Beast." Also, remember Farrell's name…because this is not the last time you're going to hear it in this story.)
Yep, Ben had finished catching us up. We were now tied for first in the Coed Competitive division.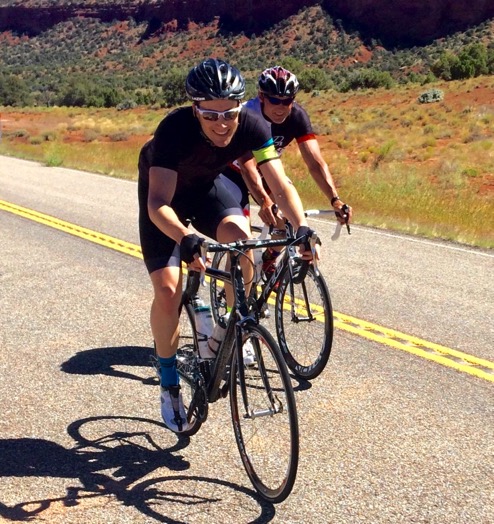 Yeah, that's something to smile about, I'd say.
The Strategy
But while it was clearly an awesome thing that Ben had caught up to this guy, it put us in a strategic dilemma. See, we knew — having watched teams come and go at the second checkpoint — that there was no other rider in catchable distance. And attacking this group of two with the intent to solo it would be pure folly, because the route was almost entirely slightly downhill with a headwind:

That's pure poison for a solo breakaway against two strong riders.
And so Ben's fate was sealed for this leg of the race: work with these two riders and plan on finishing this third leg more-or-less tied with our fiercest competition. 
But we didn't like that idea much, for one very important reason. We had met the next rider on team BatB, but we had no information on her. We didn't know whether she was stronger than, as strong as, or not as strong as The Hammer. 
But one thing we did know was that we needed to have a gap on her right off the line in order to keep her from drafting off The Hammer. That would be the only way The Hammer could build enough of a gap that Nate wouldn't be a lock for re-establishing BatB's lead.
And so we came up with a plan.
If you look up at that elevation profile, you'll notice it's almost entirely downhill. Forget any thought of breakaways there, especially into a headwind.
However, you'll also notice that at about mile 49, the road turns uphill and climbs for a couple miles. And that's a spot where a very thin, strong climber might be able to attack and gap a man with Lou Ferrigno's upper body.
So we pulled alongside, signaled for Ben to drop back, and told him: "When the road turns uphill at mile forty-nine, you need to attack with everything you've got."
"Forty-nine?" Ben replied.
"Yep, forty-nine."
And then we took off. We — so sadly — wouldn't be around to see this glorious attack and whether it worked. We needed to get The Hammer out to the next checkpoint and ready to ride.
The Execution
I wish we could have been there to watch the attack. I really do, because it worked. Worked beautifully. And I can tell it worked beautifully because Ben rolled in all by himself, the two guys he had been riding with nowhere to be seen.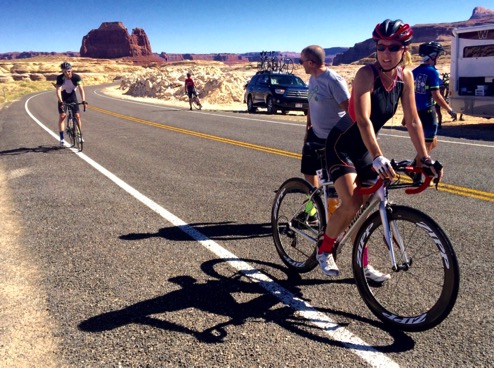 Ben had done it: he had broken the link to BatB and now The Hammer was free to fly: our best opportunity to preemptively reverse the damage Nate was certain to put into me in the next leg of the race.
A minute or two later, the guy from the 50+ team finished, and a minute or two after that the BatB rider rolled in, far enough apart that working together wouldn't be a "gimme" for them, either.
"Nice work, Ben; you did it," I said. 
We stood together, looking up the road, relishing the moment.
Which is when the guy Ben had been riding with — the one from the 50+ team — walked up to me, and let me have it.
The Blowback
"Is your fourth racer fast?" the racer on the 50+ competitive team asked me.
What a strange question, I thought to myself. Fast compared to whom? That said, I think it would be over-humble to not call The Hammer fast, so I answered honestly, "Yes, she's fast."
"Is she really fast?" he asked. Aggressively. Angrily. Like he'd rather be punching me than asking me a question.
I had no idea why, though.
"Yeah, I'd say my wife's very likely one of the fastest women racers here today. Why do you ask?" I asked.
"Because my team is going to drop your team like a rock," he said, spitting out the words. And then he turned to Ben. "Got it, compadre?" (And yes, he really said "compadre.")
Then he turned on his heel and walked away.
"I don't understand what just happened," I said to Ben. "I am pretty sure he's really angry at us, and I have no idea why."
"Whatever his reason is, I think his revenge is that his team is going to ride faster than our team," Ben replied.
"Why would we care what speed his team goes? We're not competing against them," I said. "And why would he care what speed Lisa goes?"
"I think maybe he's mad at me because I dropped him on the climb," Ben mused. "Maybe he thought we had some kind of alliance." 
"Did you give him a ring?" I asked.
"I didn't even ask him on a second date," Ben replied.
"Oh well," I shrugged. "This race sure just got weird." 
But it was about to get much, much weirder. And scarier.
Which is where we'll pick up on Monday.