A Note From Fatty: I've added more photos and video since originally posting this morning. Even if you've looked through this before, it's worth another look now.
Another Note From Fatty: This is the third in a series of four posts talking about last weekend's Seattle LiveStrong Challenge event. Part One is here, and Part Two is here.
Yesterday, I put up some of the starting line photos. Today, I've got pictures and stories members of Team Fatty have mailed me.
Let's start with a couple of my very favorite pictures of the whole event, sent in by Jonathan Schwarz: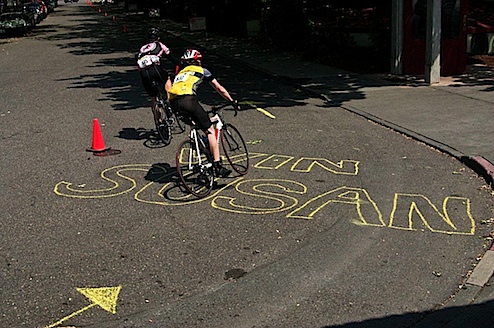 Here are a couple Team Fatty riders coming around the "WIN Susan" corner, chalked in close to the finish line. Whoever thought to do that, thank you.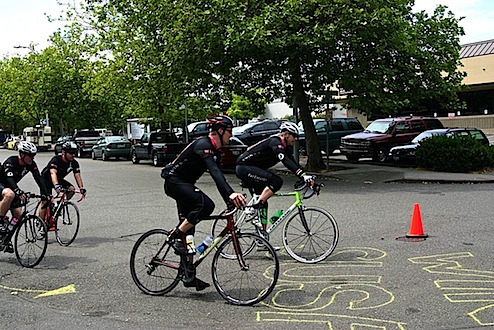 And another group of four coming around "WIN Susan" corner. I believe that's Jeff LaRock, Matt Kreger (on the Ibis Silk Carbon he won on this blog last year), Jeremy Everitt and Jonathan Schwarz.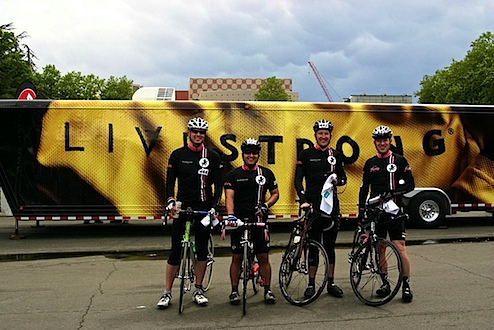 And the same group of four after the ride. I think we've got our new Team Fatty poster here!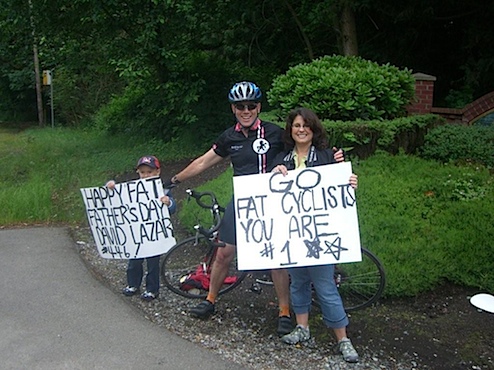 Here's David Lazar — a good friend, riding buddy, and mentor to me from when I was at Microsoft — with his family, along the route.
Matt Kreger took the time to take lots of photos along the route, giving you a sense of what the ride was like: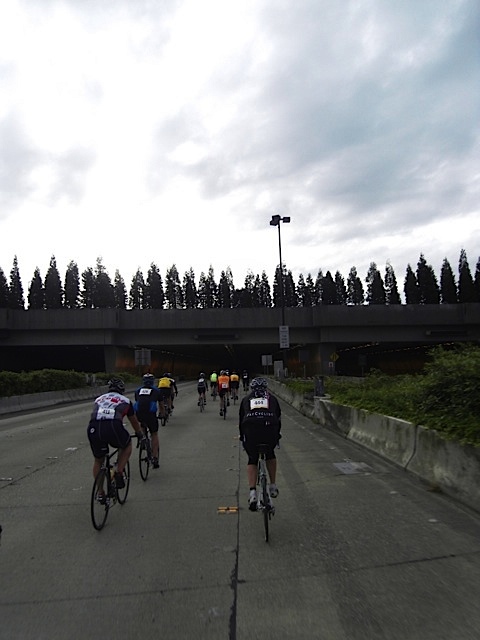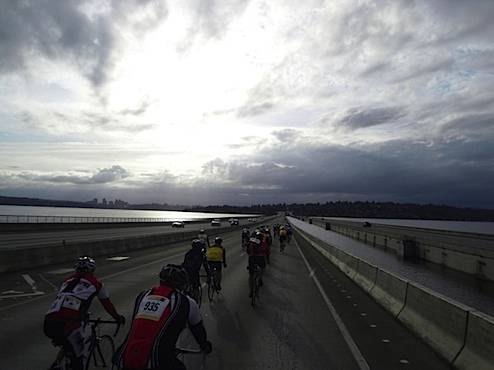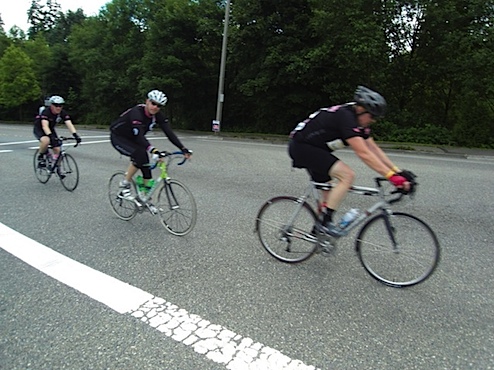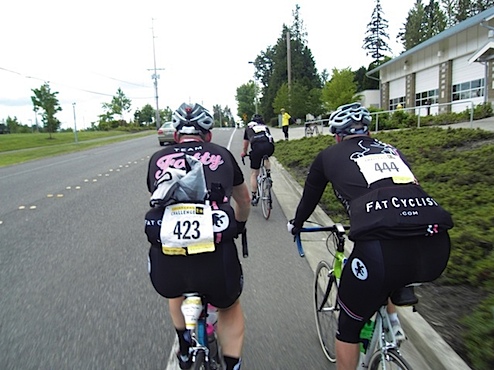 Several people noted the punishing bout of rain and hail that blasted folks during the ride. I didn't understand how bad it was 'til I saw this video Matt Kreger sent in from the event:
And I got a terrific story from a Team Fatty rider who stayed at the front of the group, James L:
I'd heard that in previous Livestrong Challenge events, Lance rides with a few of his core team from Austin. They drive the pace hard. Of course everyone wants to see how long they can hang with Lance. Eventually most if not all crack under the pressure and Lance and his gang ride off with the police escort.

Since I've never seen this, I'm not sure if this is accurate.

In any case, I started in the back of the Fat Cyclist chute, content to just find a good group to ride with and meet a few people, have a good time, and beat the rain. Well even with a police officer on every corner, the bulk of the Fat Cyclist team took a wrong turn only one mile into the course. Suddenly, I was at the front of the ride, chatting with another guy from Tucson, following the police car.

We got onto the freeway (surreal experience right there) and a very fast group quickly formed. To me it seemed like an unsustainable pace but I thought oh well it might be fun to see how long I could hang. There were a few Fat Cyclists in the group, but not many.

By the time we got around Mercer Island, there were about 8 in the group, still flying, still following the police escort. We skipped the first two food stops and ascended Newport Hill. By this time we had dropped a few more, I was the only Fat Cyclist left, and a couple of guys were still drilling it. I was just trying to hang on, but slowly my body was remembering the sensations of racing from many years ago. By the top, there were just three of us, two racers plus myself.

The rest of the story is we rode every weekend warrior's dream, the perfect training ride with a police escort! At every intersection, the police siren and lights came on. He corked the intersection for us and we rode through. There was also a follow motorcycle. They stopped at the rest stops and waited for us. We repaid by riding out of our minds to finish in just under five hours.

It turns out both my riding partners were cancer survivors. Quinn is 24, a bike racer from Portland, and had testicular cancer seven months ago and was very lucky to have caught it early. Kurt from Seattle had a similar story.

The message: check your nuts.
Congrats on a great ride, James. And that's sound advice, especially for men.
Video of the Best Team Jersey Award
In yesterday's post, I announced that the Team Fatty jersey had won the Seattle LiveStrong Best Jersey competition. Well, we've got video of Nick's speech now:
Once again, congratulations to Twin Six on creating what we can now call an award-winning jersey!
More Than Just Hard Riding
There was more than just a big ride for Team Fatty, though. Before all the official events began, Team Fatty-Seattle got together for burgers at Dan Vogel's place (thanks for letting us use your deck, Dan!):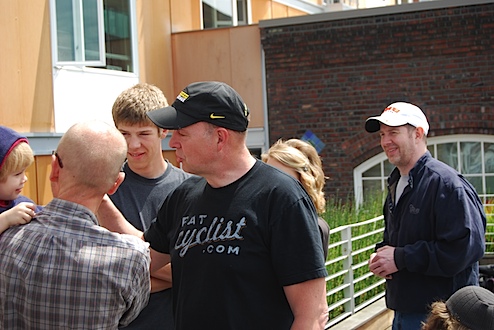 Team Fatty-Seattle Co-Captain Steve Peterson (ClydeSteve) tries not to frighten the children.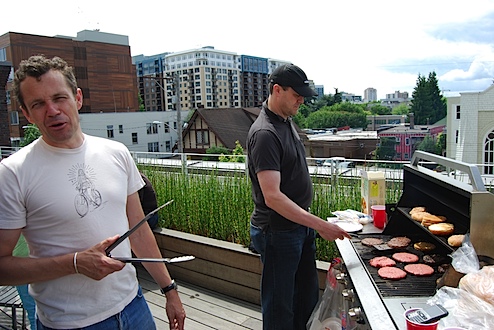 Nick mans the tongs, sporting the Twin Six WWJR (What Would Jesus Ride?) T-shirt. Dom Fulford works the grill.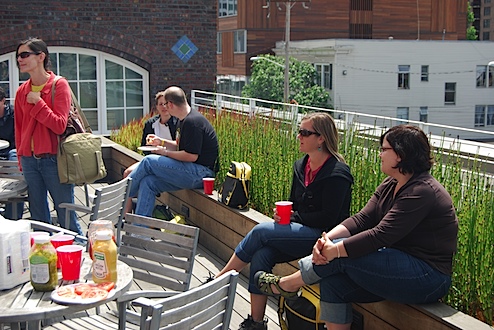 Team Fatty (and family and friends) enjoying a sunny day in Seattle. I'm pretty sure it was raining in Utah at the time.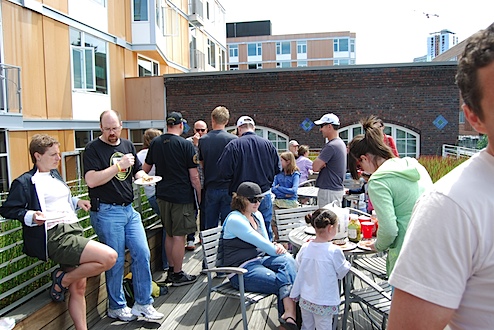 Pre-race ride huddle to discuss team strategy: "Let's take a wrong turn to confuse everyone else right out of the gate."
Tomorrow: Team Co-Captain ClydeSteve's Account
I'm going to do one more day of recapping this awesome event. Tomorrow will focus on the Award ceremony. By then I should have video, and ClydeSteve has promised to send his story of the day.
Once again, congratulations and thank you to all of Team Fatty-Seattle!