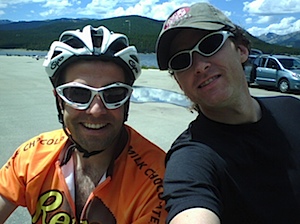 I'm pretty sure that the first person who ever asked to have a photo taken with me as "Fatty" was Mike Dion, four years (or so) ago. I was out riding with some friends, the day before the Leadville 100. This guy — Mike — approached and asked if he could get a photo with me. I of course said "sure" and he snapped a photo using the classic self-portrait method (none of my friends volunteered to take the photo; they were too busy doubling over with laughter at me being asked to be in a photo).
Mike wasn't racing the Leadville 100; it was a little too much for him. He was just there to watch.
Um, I think it's safe to say that things have changed since then.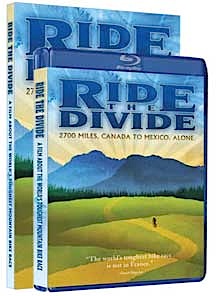 Watch Ride the Divide, Help Team Fatty Fight Cancer
Somewhere after Mike and I met, he got the crazy idea of riding the Great Divide Race: the 2700-mile mountain bike route from Canada to Mexico.. Mike says that I inspired Mike to start riding seriously, but I'm pretty sure he's just looking for a scapegoat.
A film crew followed him — and several other riders — on their adventure, resulting in Ride the Divide, an inspiring and honest look at what people go through as they try to ride this frankly overwhelming route.
And now Mike wants to help Team Fatty in our fight against cancer by offering a special "Livingroom LiveStrong" edition of the movie, with 50% (in other words, all profit) of the cost going to Mike's Team Fatty LiveStrong Challenge.
Mike is, in fact, awesome.
Schwagalicious
Here's what you get with the special version of this award-winning documentary:
A DVD or Bluray
A custom wood laser-engraved box (including the Team Fatty logo!) by karvt.com, with
A limited edition t-shirt by Mighty Karma
Tony Hsieh's Best Selling book – Delivering Happiness
Other sponsors goodies
Five Livestrong bands
A free iTunes download of 10 MPH, the director's first feature film
People for Bikes pledge sheets and stickers
Documentary Channel bumper sticker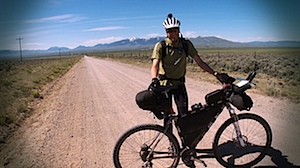 And — perhaps most awesome of all — The first 300 packages sold will automatically be entered in a contest to win Mike Dion's MOOTS he rode in the film. Yes, you could win his $7000 titanium wonder machine, custom bags and all, if you are one of the first 300 people to purchase a Living Room package.
There are only 500 of these special edition bundles being created, so you may want to hustle — especially if you want to be one of the people who has a chance at winning a really, really nice bike.
How to Order, What to Do
The Ride the Divide "Livingroom LiveStrong" package is $99, and is a huge bargain, especially considering how much schwag you're getting, the potential you have for winning a great bike, and the fact that half your money is going to LiveStrong. So click here to go to the order page.
And then, here's what you do to raise even more money in the fight against cancer.
Invite a bunch of friends to your house to watch this movie with you on October 2, LiveStrong Day.
Charge them each $10, and promise them snacks. Like, for example, you might promise them brats. Or the Best Cake in the World.
Donate the money you raise to your own LiveStrong Challenge page.
Have a great time watching a powerful, inspiring movie with your friends, knowing that you're doing something really good at the same time.
Oh, and one more thing. Be grateful you're not out there yourself riding the Great Divide. I know I am.